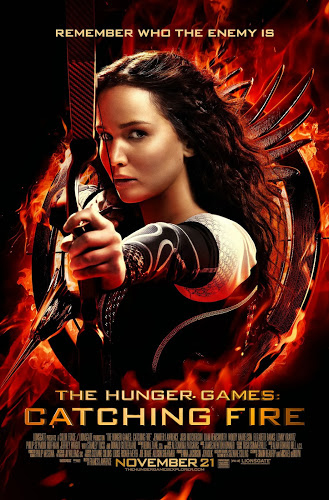 Have you ever flipped on the TV and there's a movie on but it's half way through? You watch it anyway but before it ends you get a call or get distracted and miss the ending? So you've managed to watch the middle. No intriguing build or climactic ending. Just a bunch of stuff. This is exactly how I feel after watching The Hunger Games: Catching Fire.
Catching Fire opens with Katnis, Jennifer Lawrence, in her element, hunting in the forest of district 12. While all looks peaceful and full of normalcy, we soon witness the toll that the previous games took on her. She's full of emotional scars that has her experiencing flashbacks.
Soon her and Peeta (Josh Hutcherson) are brought together with Effie, played to perfection by Elizabeth Banks, and Hamitch (Woody Harrelson). Together they embark on the Victors' Tour. They visit all the districts and ham it up for the cameras. But this time things are different. The districts are spirited. Katnis senses a rebellion brewing. Her defiance at the end of the previous chapter seems to have made her an inspiration and symbol of hope for the beleaguered districts. As the tour comes to a close Katnis, Peeta and the entire team learn that their journey is far from over. President Snow (Donald Sunderland) is not done yet. And neither is Katnis and her supporters.
Now I haven't read the books, so I had no preconceptions for the movie. I went in expecting anything, which is exciting. What I got was the setup for the next movie. That and a whole lot of the same from the first movie. Like Lord of The Rings: The Two Towers, Matrix Reloaded or any second movie in a trilogy, Catching Fire was more about heavy lifting than entertainment. Sure there are exciting bits and emotional bits but overall I was left wanting. And that's probably the plan because I will be purchasing a ticket for the third installment when it's out. I'm invested.
Pop That Corn or Stay Home
If you watched the first movie in The Hunger Games trilogy, then Pop That Corn. If you didn't, I'd wait until the trilogy comes out on DVD or iTunes in a few years and watch them back to back.
Rating:
6 kernels out of 10
This post was created by a member of BuzzFeed Community, where anyone can post awesome lists and creations.
Learn more
or
post your buzz!