This is the coveted Golden Kitty Award, given annually to the People's Choice at the Internet Cat Video Festival. It confers prestige both immense and immediate upon the recipient, here in the Internet and IRL.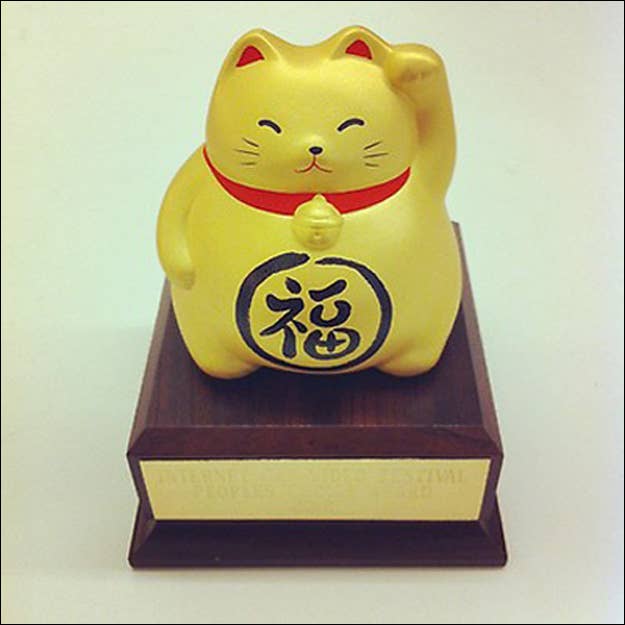 The winner of the popular online vote will be revealed – live – at the end of the

2nd Internet Cat Video Festival

at the

Minnesota State Fairgrounds

. Just like last year there is no shortage of cute, funny and heartwarming videos to pick from, and some will always be left out. But before you jump to any conclusions, keep in mind that some videos may have been intentionally left out of this particular

CATegory

because they are reserved for other categories or special honors such as the Cat Video Hall of Fame. All will be revealed on August 28th at

#catvidfest

. If you can't make it to the premiere festival for Internet Cat Videos in Minnesota hopefully you can make one of the several national and international tour dates scheduled for the coming year. The

voting

closes at midnight on July 31st. So jump to it.
Embedded below are the nominees, pertinent factoids, and my predictions...
1.
"The Original Grumpy Cat"
2.
"Catalogue"
3.
"Кот и пылесос (Cat Licks Vacuum)"
4.
"Cat In A Shark Costume Chases A Duck While Riding A Roomba"
5.
"Kitten Meets Hedgehog"
Snaps from the 2012 Internet Cat Video Festival, which drew more than 10,000 cat enthusiasts to Walker Field, adjacent to the Minneapolis Art Museum.