Londoners are very proud about heroically making it into work despite the horror of a Tube strike shutting down part of the transport network.
Meanwhile, in the South West: The waves have caused significant damage, unlike - say - a Tube strike.
Large parts of the sea wall at Dawlish have been washed away, which is worse than having to stand on a crowded bus. That's a problem, because the sea wall is right next to a major train line, which is now shut. Very, very shut.
The ground the railway line was resting on has washed away, you see, so the rails are now just suspended in mid-air. So that's the main rail line to Plymouth and Cornwall, kind of more in the sea than it's supposed to be.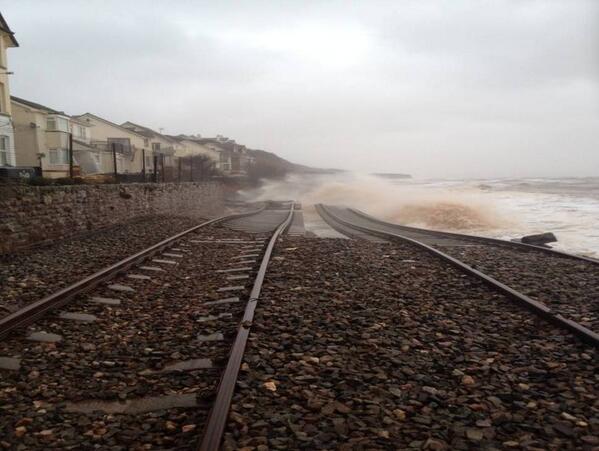 Also, there's a large chunk of the town itself missing. Still, at least they can always drive to w... oh. TV crews have been risking getting swept away to film the waves, which puts standing outside Finsbury Park station in a stiff breeze into perspective. While Londoners are undoubtedly very brave for walking to work this morning, it's perhaps not quite as bad as your workplace being repeatedly hit by enormous waves. The Tube strike is annoying, but is not actually causing structural damage to anything. Sennen Cove in Cornwall has been hit by waves THAT ARE BREAKING OVER THE TOP OF A HILL. So cheer up, Londoners. It could be worse. Your sign could be bent.