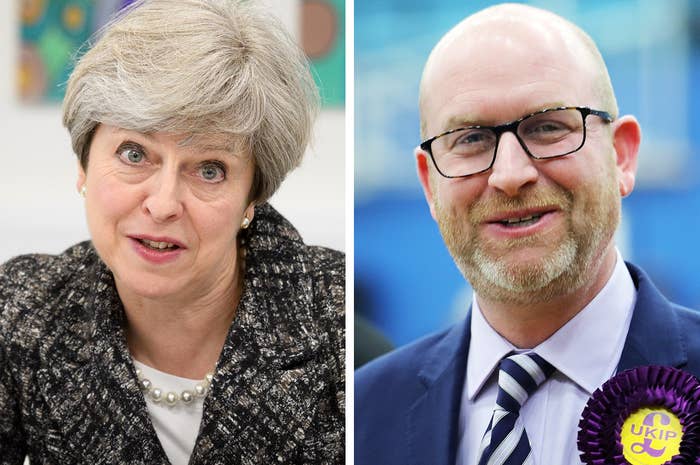 UKIP is not putting up candidates in at least 29 key marginal constituencies where its share of the vote could be enough to swing the seat to the Conservatives, a BuzzFeed News analysis shows.
The news will be a major boost for Theresa May, who was already hoping to capture a significant share of the UKIP vote with her Brexit-focused campaign. Where no UKIP candidate is standing, she will be confident of gaining the vast majority of the party's vote, making the Conservatives strong favourites in these seats – even before taking their current polling advantage into account.
UKIP leader Paul Nuttall had previously pledged to not stand candidates in some seats where either the sitting Conservative MP supported a hard Brexit or where the Conservatives had a chance to unseat a pro-Remain MP, saying it was his duty to put "country before party" and "advance the practical cause of Brexit in parliament".
These are the seats where UKIP is not fielding a candidate in this election and where their share of the vote in 2015 was big enough that it could have swung the seat.
BuzzFeed News
The 29 seats where UKIP's 2015 vote – if it went to the Conservatives – would be enough to swing the seat, and where the party is not standing a candidate in this election. In all these seats, the Conservatives finished in second place in 2015.
Affected are several prominent Labour MPs, including former minister Caroline Flint; Tracy Brabin, the former Emmerdale actor who was elected in Batley & Spen following the murder of Jo Cox; campaigning MPs such as Kerry McCarthy and Paula Sheriff; and current shadow cabinet member Cat Smith.
While many of the threatened seats are in Labour's traditional heartlands in the North of England and the Midlands, they also include several London marginals where MPs like Rupa Huq, Wes Streeting, and Tulip Siddiq are in tough fights.
In Ealing Central and Acton, the Green party – which got just 85 votes less than UKIP in 2015 – has also chosen to not field a candidate, in an effort to help Labour's Rupa Huq retain the seat. (The Greens are still standing in many of the other seats where they got a significant vote in 2015, including Bristol East, Hove, Brentford and Isleworth, and Hampstead and Kilburn.)
Most of the seats are Labour-held, but the SNP's Callum Kerr is under threat in Berwickshire, as is veteran Liberal Democrat Norman Lamb in North Norfolk.
These are not the only seats where UKIP is not fielding candidates: In one particularly controversial seat, the party is not running against Labour MP Kate Hoey, who was one of the most vocal supporters of Brexit despite her Vauxhall constituency being one of the most pro-Remain in the country.
The cash-strapped party's decision to not field candidates in many seats where that will advantage the Conservatives appears at odds with the comments of LBC radio presenter Nigel Farage, UKIP's former leader, who claimed on Twitter that a large Conservative majority would hurt the cause of a hard Brexit: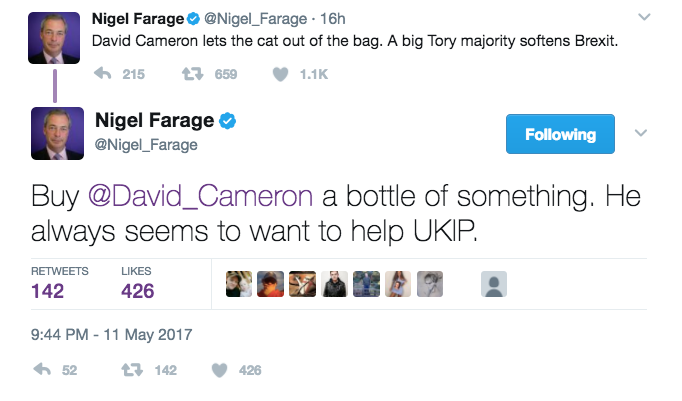 While it's very unlikely that every single UKIP voter from 2015 would switch to the Conservatives, polling suggests that around half of UKIP voters were already likely to vote for Theresa May's party even if UKIP was standing a candidate – with comparatively few switching to other parties.
A previous BuzzFeed News analysis showed that there are 71 seats in which UKIP's 2015 vote share would be enough to swing the seat to the Conservatives. Of those, very few would require 100% of UKIP voters to switch; some would require as few as 10% to change their allegiance.
Move the slider to see how many extra seats the Conservatives would win, depending on how many UKIP voters switch to them.
BuzzFeed News
Of the seats where UKIP is not fielding a candidate, one – the key marginal of Newcastle-under-Lyme – would flip at the 10% level. Others, like Ealing Central and Acton, Ilford North, Wirral West, and Brentford and Isleworth, would turn blue with just 20% of UKIP supporters backing the Conservatives.
In total, 26 of the 29 seats would be captured by the Conservatives if they can get 80% of UKIP's vote – unless Labour can persuade enough of the remaining UKIP supporters, many of them former Labour voters, to vote for it. Again, this is without taking current polling trends into account, which generally show Labour polling slightly worse than in 2015, and the Conservatives polling much better.
Of the 71 seats previously identified, three had not yet released their list of candidates at the time of writing: Bolton North East, Bury South, and Carshalton and Wallington. We'll update this article when they do.