In a letter to The Times, Stephen Hawking and 150 other scientists have warned that leaving the EU would be a disaster for British science. BuzzFeed spoke to other scientists to see if they agree.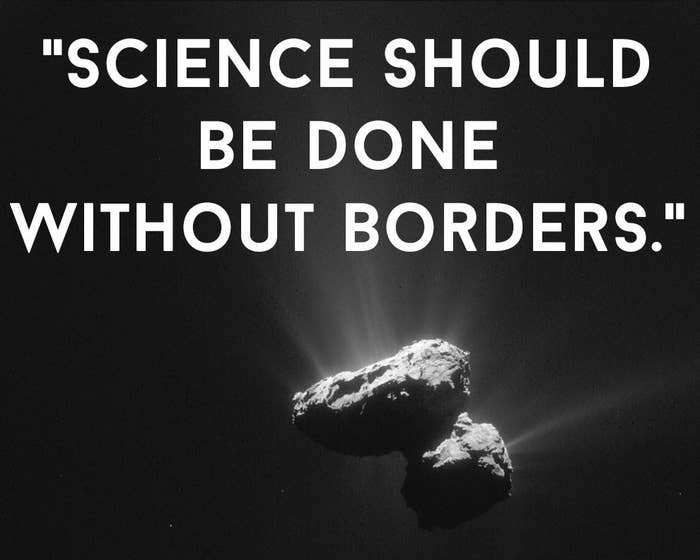 Dame Athene Donald, professor of experimental physics at the University of Cambridge.
"Science is an international enterprise. It should be done without borders. The UK benefits from the free mobility of researchers across Europe. I'm on the science council of the EU research council, and we do fantastically well with funding.
"A lot of the people working in British science are not UK nationals. Many of my department's lecturers are European, enticed here for many reasons. But what we notice is that the visa situation is deterring Indian students. However much Theresa May says there's no problem for visas, we've certainly seen a decline. We could expect something similar for Europeans if we left the EU.
"You only have to look at Switzerland to see what happens. They had a referendum and it restricted free mobility. They had been able to apply for European Research Council funding, and now they can't; they're cut off. There's no point pretending it won't have an impact.
"Science pays for itself economically. If we want this country to be economically strong, we want a strong research base."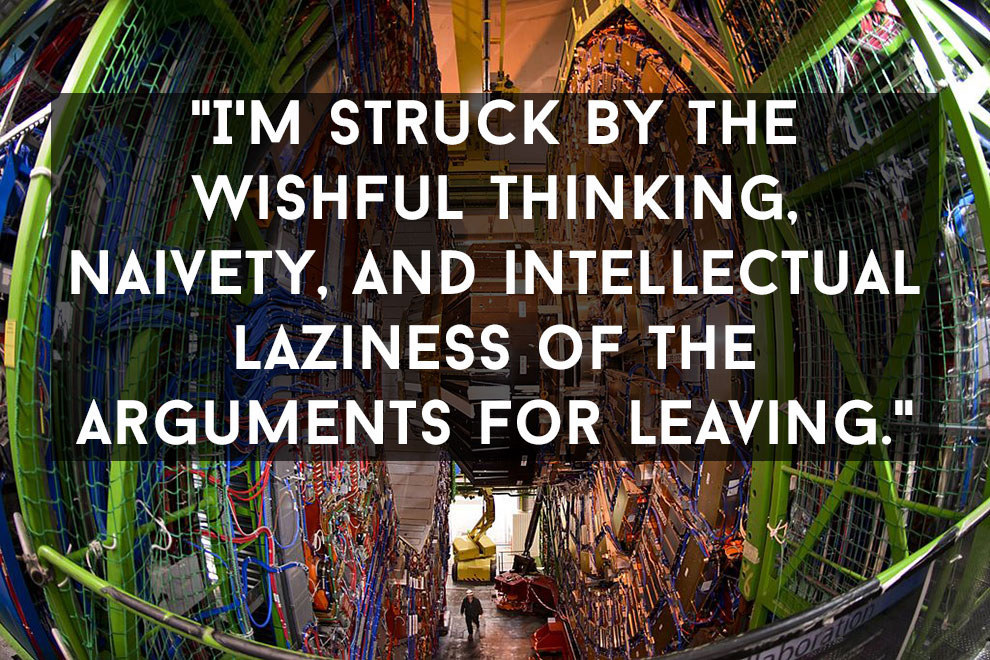 Sir Paul Nurse, Nobel Prize-winning geneticist and former president of the Royal Society.
"There is no question that science would be stronger inside the EU and weaker outside it. What is good for science in the UK is good for everyone in the UK. The EU is a science powerhouse, equivalent to China plus the US. We are only a part of that and we would be smaller if we left.
"I've been looking at arguments on the other side, and I am struck by their wishful thinking, naivety, and intellectual laziness. They're saying everything will be all right on the night. I don't think we should take those risks.
"Of course the world won't stop and collapse, we'll still be able to collaborate. But it'll be more difficult, more bureaucratic, we lose influence, we can't set the agenda. We will be left somewhat lonely and will not profit from the science that is nearby, and we're a long way from China and the US. We aren't crying wolf: Things will carry on, but it won't be as good."
Sir Paul Nurse was speaking at a briefing at the Wellcome Trust.
Alan Thorpe, former director of the European Centre for Medium-Range Weather Forecasts.
"The issues that we face in weather, climate, and environment science are global issues. The atmosphere doesn't know boundaries between countries, so climate science is inherently internationally collaborative.
"The EU allows a level of investment in supercomputing and other things that no one nation could afford – for example, the Copernicus programme, Europe's multibillion-pound satellite system to study planet and evolution. Only a body like the EU could make the investment to tackle questions on this scale.
"Legally binding decision-making and commitments to infrastructure no one country could afford – that's what the EU has allowed us to do. In my field of weather forecasting we're the envy of the world. After Superstorm Sandy, the conversation was 'how can Europe predict this stuff this so well when the US has been so poor?', and the answer is: because of collaboration."
Alan Thorpe was speaking at a briefing at the Wellcome Trust.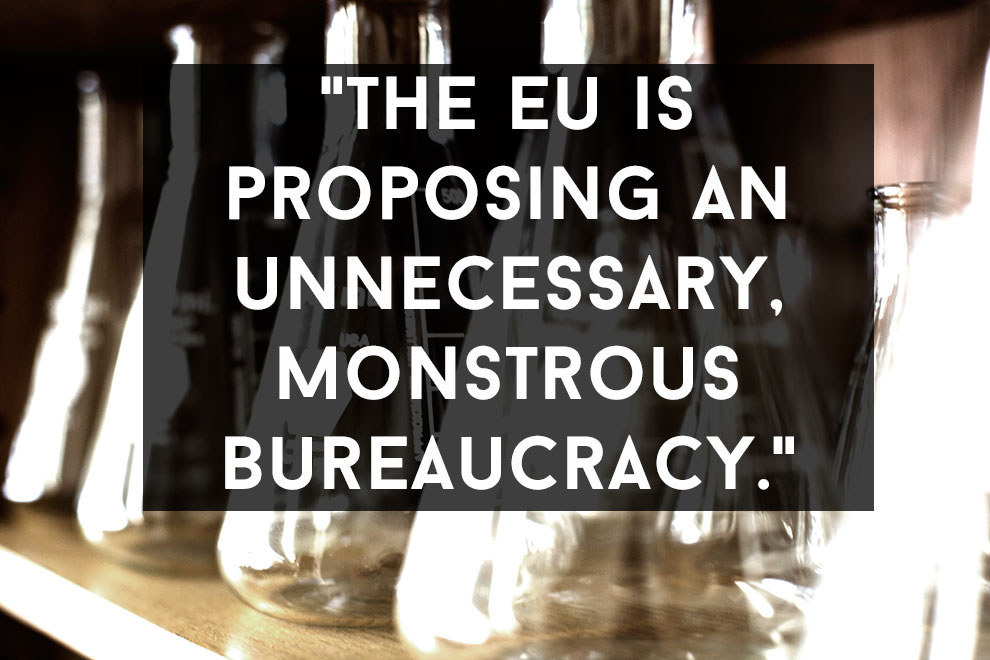 Patrick Round, a medical doctor who performs clinical trials for a biotech startup.
"The EU clinical trial directive has been very helpful. The directive gave us all a single format for applications to do clinical trials. It cuts down on bureaucracy and duplication. It's not perfect, but it's been going since 2001 and it's worked OK.
"But [the changes to the directive] that the EU is proposing now look like an unnecessary, monstrous bureaucracy. None of us can see how it's going to help, and it's going to slow down trials. Now, if you apply in the UK, you can get approval for a phase 1 trial in two weeks. After the change it could take three months.
"If we leave the EU it'll be a bit harder to recruit researchers from Europe. But I've recruited people from the US. We've had someone from Japan. There were visa issues, but it's fairly straightforward."
Sarah Main, director of the Campaign for Science and Engineering.
"The UK activity in science and engineering is a huge asset to us – we are absolutely extraordinarily strong in science and engineering – and is at least influenced by whether we're in the EU or not. The EU does a lot to support us; the flow of money is from the EU to the UK. There's a source of funding that would be in danger.
"We did a small opinion poll of 400 scientists, and their views of the EU were overwhelmingly positive. The reasons they valued it were not just money but access to collaborative networks, to large-scale facilities, to expertise. And they also value the reach and influence of the EU."
Sarah Main was speaking at a briefing at the Wellcome Trust.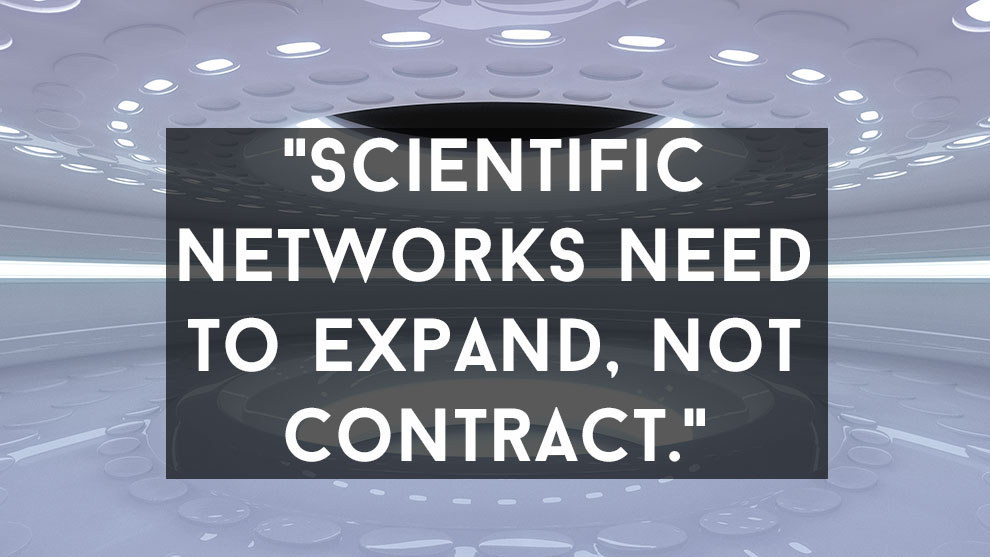 Suzi Gage, a drug and mental health researcher at the University of Bristol.
"I really hope we remain in the EU. The research I do relies on big data – combining datasets, often across borders, in order to get more power to find and understand associations, and ideally causality, in things that affect our health.
"So not only do we need to be able to share data across borders, but also travel to meet with collaborators and that sort of thing. Not to mention the number of EU research funds that exist that we would no longer be eligible to apply for. Scientific networks need to expand, not contract."
Siobhan O'Dwyer, a senior lecturer in ageing and family care at the University of Exeter.
"I recently moved to the UK from Australia. Part of the appeal of a job in the UK was the opportunity to collaborate with colleagues in Europe. When I was in Australia, the distance made these sort of collaborations almost impossible.
"If Britain leaves the EU, I'm concerned that these collaborations will once again be difficult to establish and/or maintain. The lack of access to EU funding schemes would also be detrimental to collaborative research."
Sir Robert Lechler, president of the Academy of Medical Sciences.
"If you want to engage in big science, you need collaboration on a scale we weren't familiar with in the past but which is essential now. The EU has been a catalyst for collaboration between institutions and countries.
"Regulation of research is also important. In clinical trials on rare patient populations, you need access to the European population. It's the same with animal trials. Our participation in EU research regulation has been important. If we were outside the EU, we could adapt our regulations to match the EU's, but the advantage of being inside is that we can influence it.
"The EU is like a catalyst for science. The reaction will still happen without it – A+B still makes AB – but being in the EU lowers the activation energy, the energy needed to make it happen."
Sir Robert Lechler was speaking at a briefing at the Wellcome Trust.
Bob O'Hara, a biostatistician at the Biodiversity and Climate Research Centre (BiK-F) in Germany.
"I think the freedom of movement is important for science. Personally it's made me move around Europe – I met people through European Cooperation in Science and Technology (COST) and ended up doing a postdoc in Denmark, then a project in Helsinki, then moving to Frankfurt.
"When I moved to Germany, the movement was easier. I could bring my cat with me, sign a couple of forms, and say hello, here I am. But my wife is American, and it was a huge pain, the whole system of registering.
"Where the EU feels like it had a negative effect is on the genetic modification debate.
"I'm not allowed to vote – I've been out of the UK too long. I want to vote in this. I'd definitely vote to stay, regardless of David Cameron's renegotiation."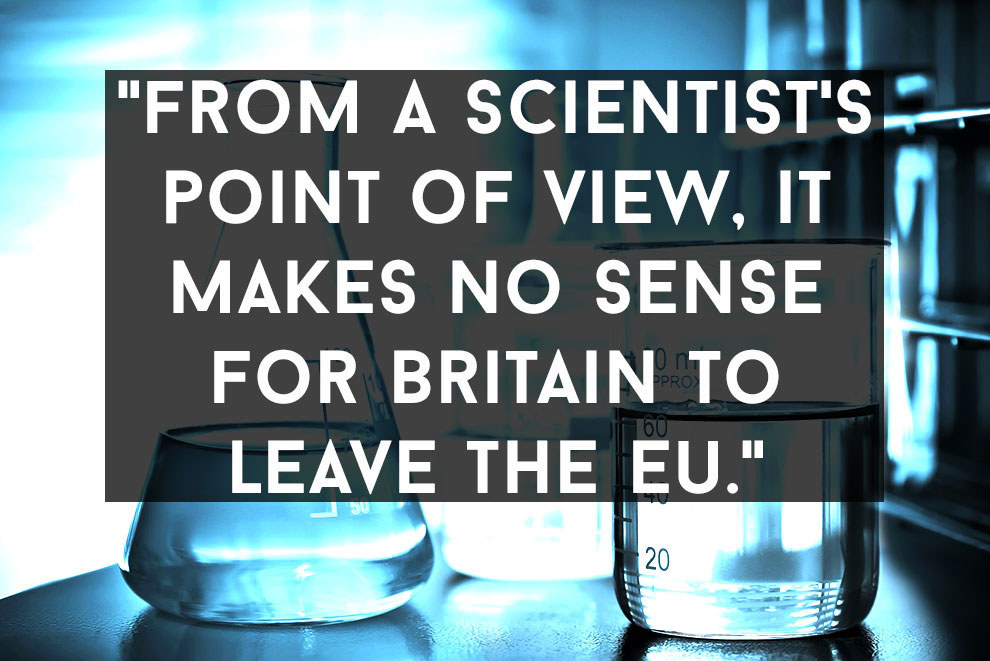 Samantha Hughes, a researcher in freshwater ecology at CITAB, University of Trás-os-Montes and Alto Douro, Portugal.
"Brexit would be a disaster for both the UK research community and the mainland European research centres that collaborate with them.
"Applied research in areas that support key European directives, such as the Water Framework Directive, requires an increasingly transdisciplinary approach, bringing together experts from different disciplines. Brexit would effectively shut the UK out from this process and damage our eligibility for major funding – such as the €80 billion Horizon 2020 programme – that supports such research.
"Many of the environmental problems we face, such as climate change and the impacts of pollutants, do not respect political boundaries. Finding solutions requires active and continuous collaboration. UK researchers have often been leaders in this collaboration. From a scientist's point of view, it makes no sense whatsoever for the UK to leave the EU."
Frances Jones, PhD student in molecular microbial ecology.
"Science is all about collaboration and sharing ideas, and leaving the EU would make this more difficult. A post-Brexit Britain would put up barriers to science innovation and the impact would be felt both in the UK and the EU.
"The EU provides a large amount of funding for science conducted across Europe, including in Britain, and we wouldn't be eligible to bid for this type of funding if we left the EU. Scientists would then have smaller budgets to work with and this will lead to lower impact and less science taking place.
"Ultimately, I think we should vote to stay in the EU and ensure we're still part of groundbreaking science which is carried out by international collaborations right across the EU."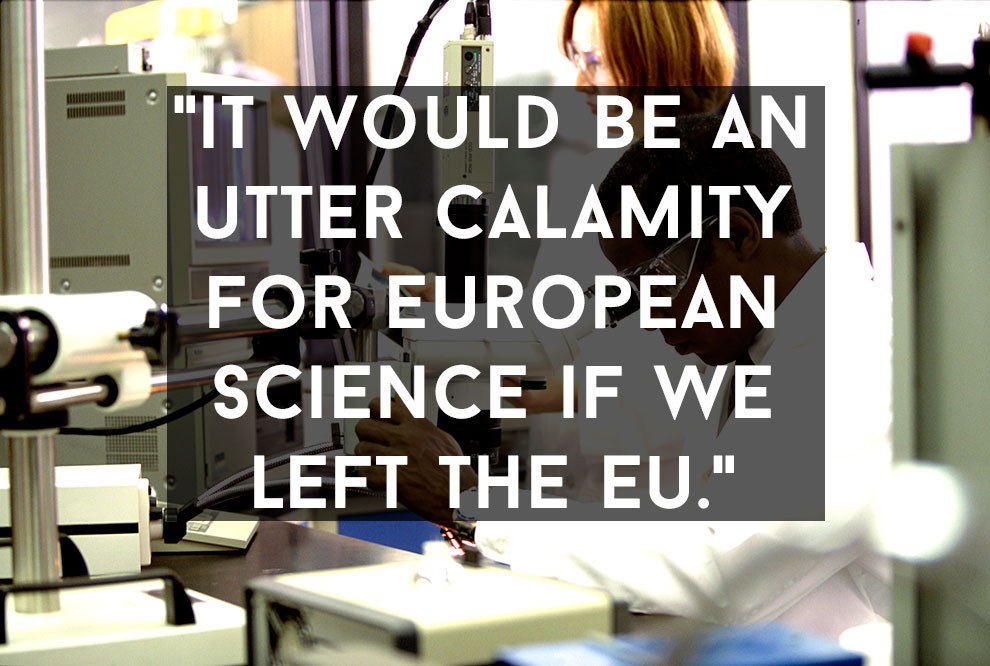 Malcolm Macleod, professor of neurology and translational neuroscience at the University of Edinburgh.
"I've been jointly running a European trial of hypothermia for stroke for the last few years, stewarding it through various hurdles (including the German sponsor). Recently I've been part of another clinical trial award, and this one (three years later) finds the regulatory framework much easier.
"I've also been involved in efforts to set up multi-centre animal studies, including engagement with the EU about whether regulatory approval in one member state would do.
"I'm in a couple of European collaborations, and find them really fruitful. I've also chaired a panel for one of the EU funding schemes, and am in Germany next week to sit on a panel for their ministry of health.
"So – as you might predict – I think it would be an utter calamity for European science as a whole (including the UK) if we left."
Jordi Juarez Jimenez, postdoctoral researcher at the University of Edinburgh's chemistry department.
"I am a Marie Curie Fellow working on a European Research Council-funded project. If not for the EU, my research would probably not even exist!"
CORRECTION
Stephen Hawking has a CBE but not a knighthood. An earlier version of this piece described him as "Sir Stephen Hawking".