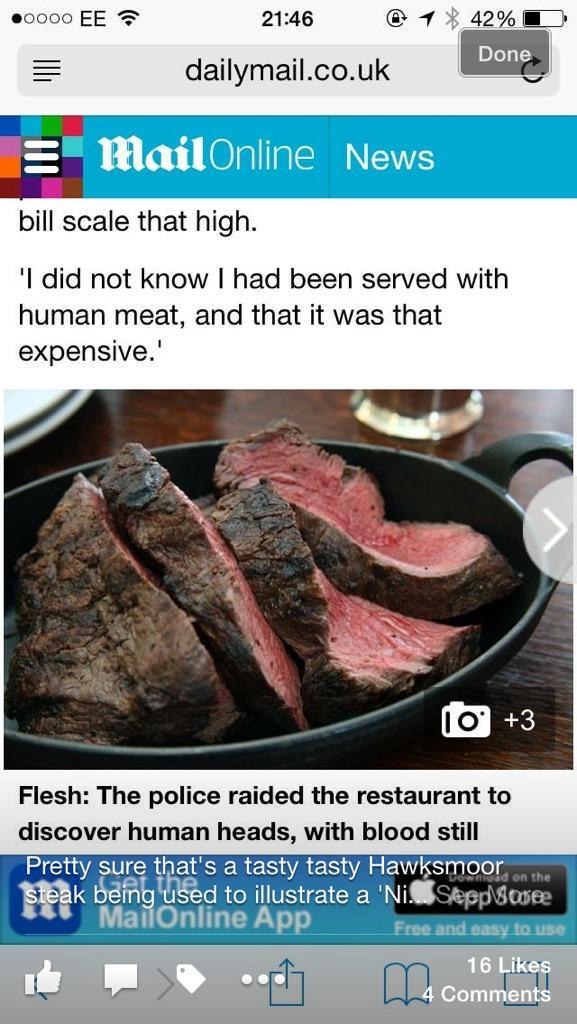 Unfortunately, the Mail illustrated the article with a picture of a steak from Hawksmoor, a high-class London restaurant.
Specifically, it's chateaubriand. And the restaurant noticed.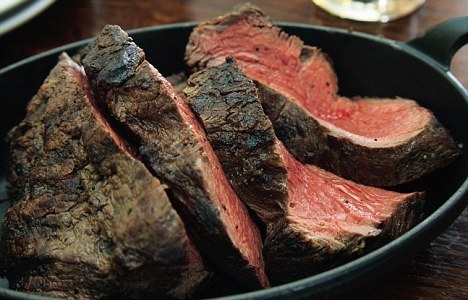 To further complicate the situation, it appears that the Nigerian cannibalism story is old, and possibly partly false.
Mail Online seems to have followed it from BBC Swahili, which ran a story on 13 May. However, the factchecking website Snopes investigated, and found that it is based on a 2013 story in the Nigerian tabloid Osun Defender.
The story has several "typical signs of fake news", says Snopes, including several unnamed sources and a flippant tone: a pastor who has eaten the human flesh expresses surprise that it was so expensive. Another newspaper, the Nigerian Tribune, also reported the story in 2013, apparently verifying that human heads were found in a hotel room, but there are still no solid sources saying that anyone ate human flesh.
A spokesman for Mail Online told BuzzFeed News that the story has since been taken down.
"The story was originally on BBC Swahili," he said, "but this morning they added a note saying that it was false and apologising for any 'damage or inconvenience'. They've now taken the story down.
""As soon as we were made aware of that we removed our own story, and published a correction for our readers."
The picture of the Hawksmoor steak had already been removed, he said, after Beckett's complaint was brought to their attention. "It was clearly marked as a file photo of a beef steak."