Until the age of 25, I was the poster child for FOMO. Always on the move and constantly on the lookout for fun. Recently though, I find I spend more of my time trying to figure out how to get out of obligations than doing fun things.
And I realized I needed to fix that.
When I signed up to run an epic 35-mile GPS drawing, I spent my prep time trying to describe the challenge to other people...and not actually comprehending what I'd signed up for.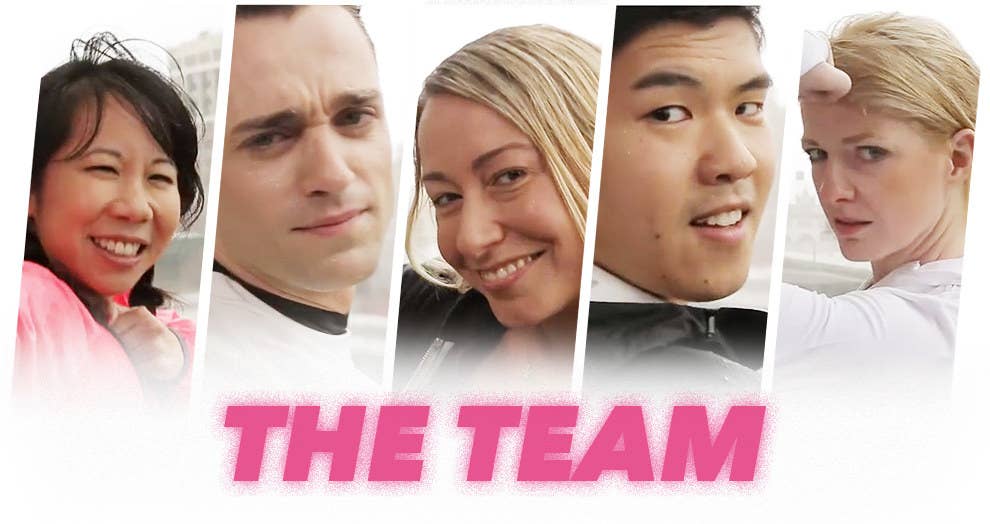 "We'll be running the outline of a giant drawing," I explained. "A whale. There are five of us on a team, and we'll each do six to seven miles. So it's, like, a 35-mile whale. And the runners won't have a map; we'll have someone at home base giving us step-by-step instructions over the phone."
Their immediate reply was usually, "But why are you drawing a whale?"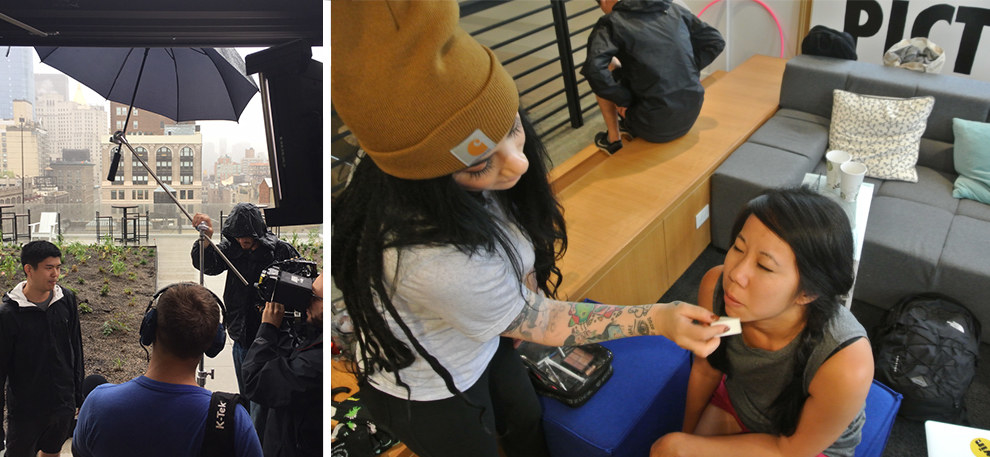 Because it's epic, I'd mentally reply. In reality, I'd shrug and say something to the effect of, "Because it's fun!"
As the date of the run slowly crept up, my enthusiasm started to shift into dread as I realized I would actually have to go through with this.
And then it rained. A lot.

My teammates — Christine, Lewis, JJ, Alexis — and I discussed why we were here. While the answers varied, they mostly boiled down to us wanting to participate in one of the coolest things about working for BuzzFeed: participating in a nutty stunt during work hours.
What none of us talked about was the rain.
There was no need to, as the cacophonous pounding against the windows made it difficult to hear each other, let alone ignore it.
This wasn't normal "oh, darn, it's raining" rain; this was "sideways, cats-and-dogs, monsoon-style" rain. It put a damper on the epic mood and my resolve to actually go through with this.
I glanced outside and saw the crew setting up for our pre-interviews. The rain brutally pummeled them as they held an umbrella over us during our talk.
I wondered if anyone else here was planning an elaborate escape like I was.
I then realized that if anyone did leave, it just meant that the rest of us would have to run even farther. Leaving was out of the question, and I accepted my fate.
Once we completed pre-interviews, we were shuttled over to the starting line in the West Village. Christine popped out of the gear van, and we all got our first glimpse of our race getup.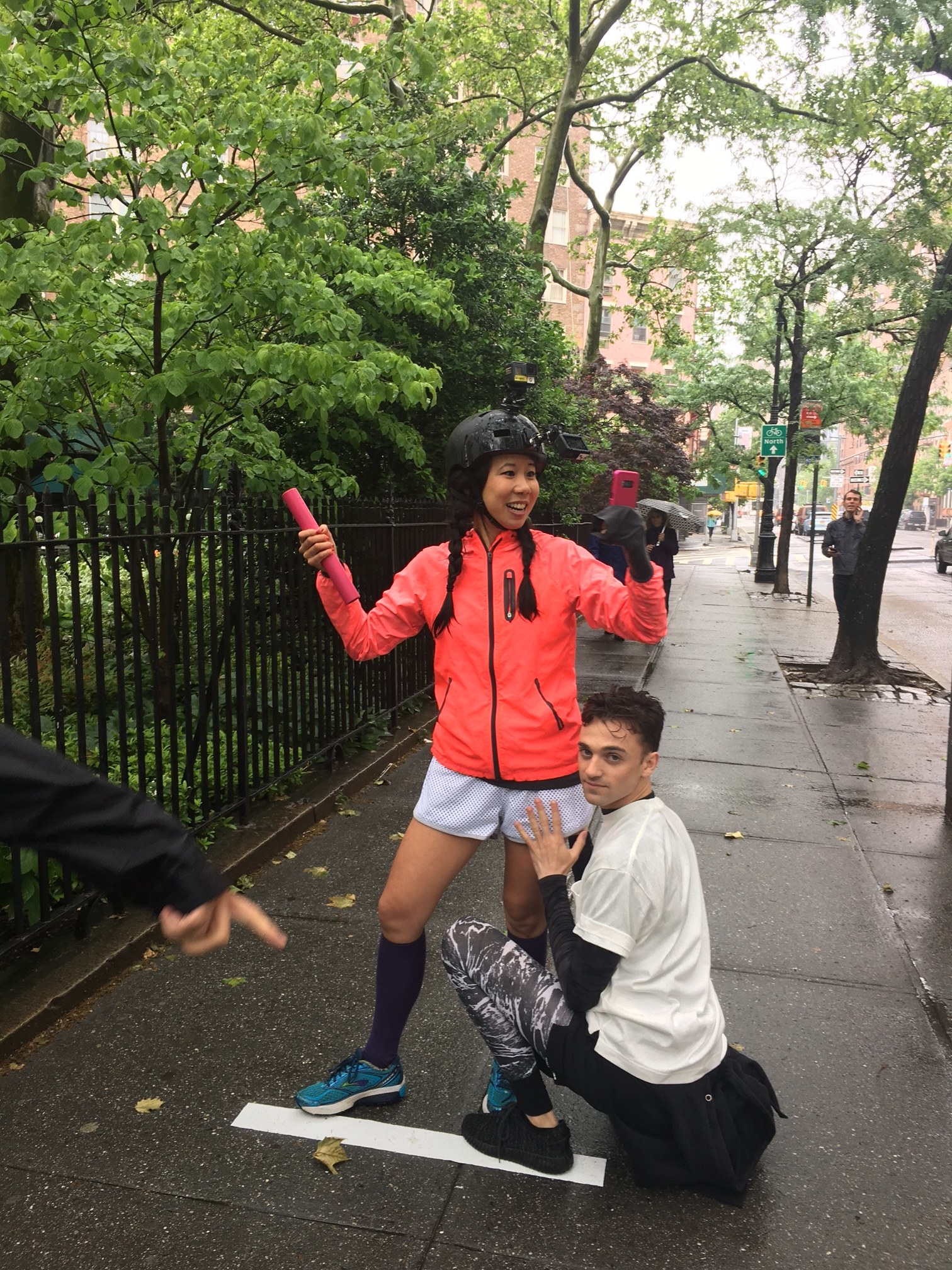 She was wearing a snug bike helmet topped with two GoPros — one facing forward and one pointed down at her face. In order to communicate with our direction-giver at home base, Rico, we'd also be carrying a cell phone and GPS-equipped baton.
She looked like a GoPro unicorn.
I was absolutely mortified at the idea of wearing this, let alone running in it, alone and out of context where people could judge me.

Then we began the countdown.
Our director, Michael, yelled, "Go!", and Christine took off down the sidewalk, my hopes of this being postponed fading into the distance like Christine's giant GoPro-adorned helmet.
Just as I thought, "This won't be too bad," a gust of wind blew frigid rainwater on us and we ran back to the van.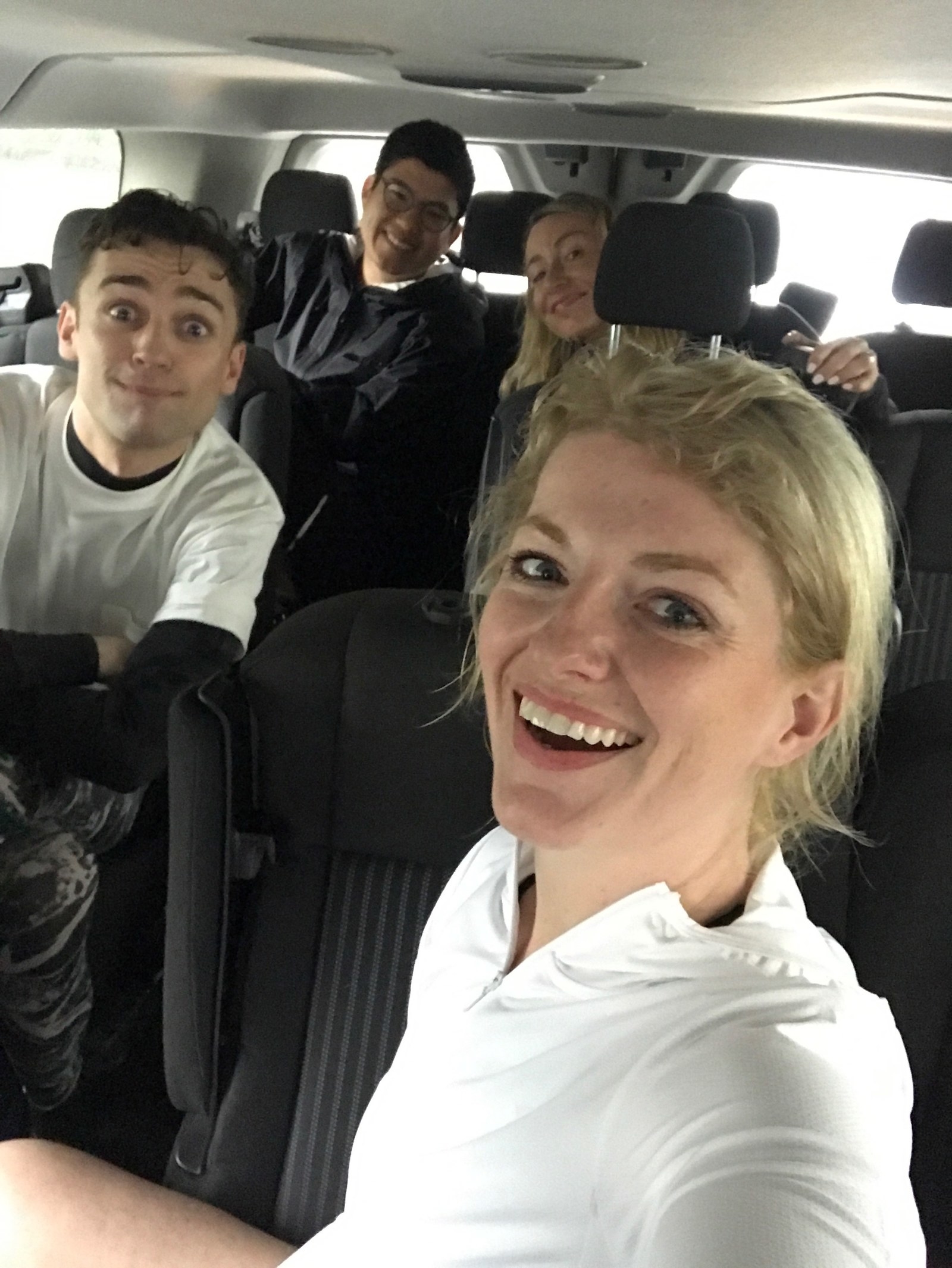 Having successfully handed her baton off to Lewis, Christine was now sprawled across the backseat of the van.
"Was it hard?" my teammates asked.
I asked, "Were people staring?"
Christine shrugged. My greatest fear apparently hadn't even registered with her.
The next runner, Alexis, was getting ready for her stretch. I'd now been pumping myself up for the run for so long that it felt like I'd already done it.
I made a last-ditch effort at getting out of it. "Hey, Michael," I said, "if you need to cut my part short due to time, that's totally fine."
I'm so noble.
He laughed and said nothing.

Finally, it came down to me. My final teammate, JJ, was finishing up his leg with infuriating speed and was closing in ahead of schedule.
We were just on the outskirts of Greenpoint, Brooklyn. If I were to assign a theme to our locations today, it would be "industrial cemetery." At one point, Lewis almost ran into a shipping container.
I saw JJ in the distance. He looked fine. He closed in, and we successfully made the handoff. I spun on my heel and nearly ate shit on a metal grate.
But then I was off and running.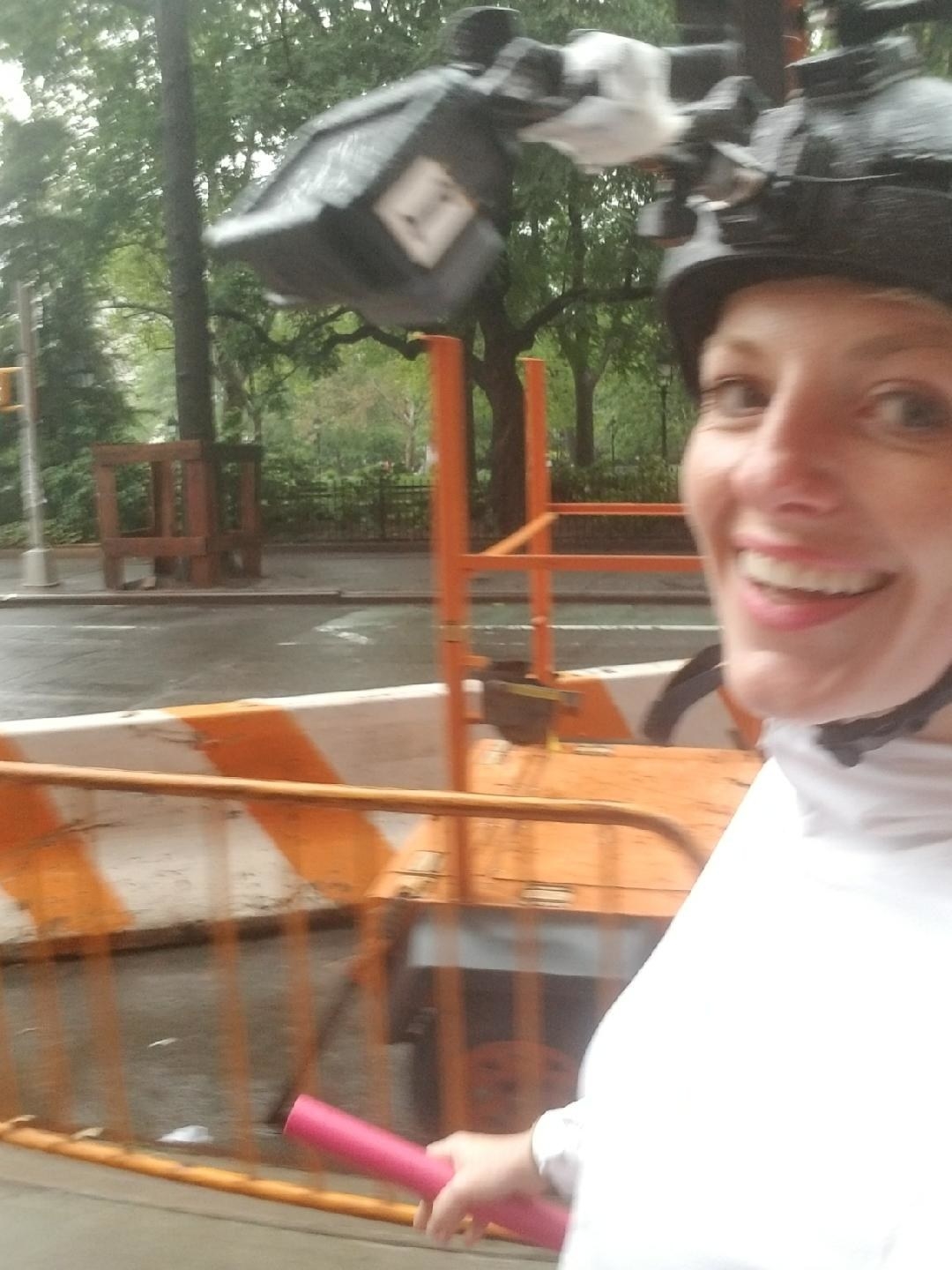 And all of my anxiety was gone because I was doing it. I was pulling off a wild stunt while bonding with coworkers, the very reason I agreed to do this.
Normally I hate running in the rain, but I barely noticed it, despite Rico thinking it was hilarious to ask me every few minutes if it was still raining.
Rico was surprisingly upbeat and chipper. While I sat worrying in the back of a van, he'd spent the last eight hours directing us and maintaining a high level of energy on camera, which is no easy feat.

The miles flew by, and I was actually a little sad when it was almost over.
The misery of the rain had made this whole experience that much more intense and memorable.
Rico told me I had less than a mile left as I wound my way through NoHo. Here, people just outright stared at me. Some even looked annoyed that they couldn't figure out what was going on.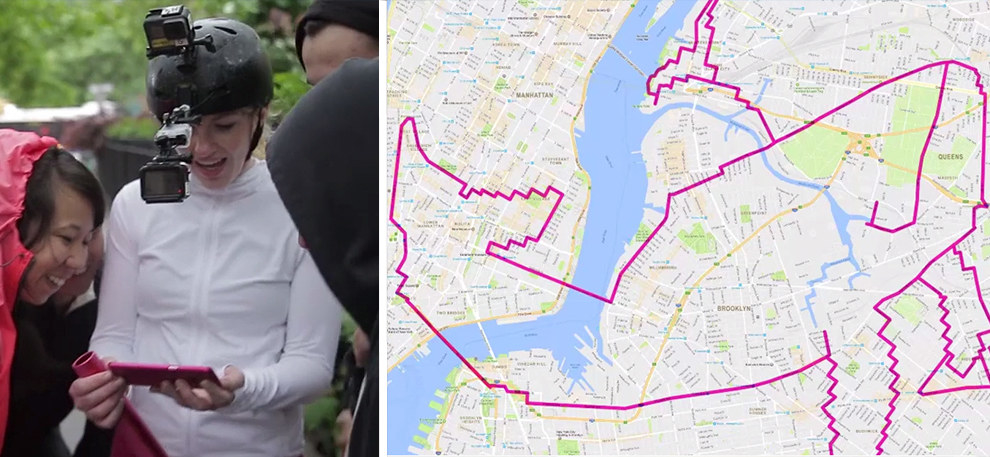 As I closed in on the finish line, a man stepped out and yelled, "Are you running a relay?"
"Yeah!" I yelled back. "An epic relay! We're drawing a whale."
He looked at me as if I were nuts, but I didn't care. I spun around, and in the distance I saw my teammates excitedly waving me in. So, I sped up and headed toward the finish line.

As we all piled into the van and headed back to the office, the rain stopped — basically as soon as I finished. We went through our photos and reminisced about the day.
It was bittersweet as we said our goodbyes, but I knew the next time an epic opportunity came up I'd be sure to embrace it. Rain or shine.
Images by BuzzFeed. Design by Lyla Ribot / BuzzFeed.
Check out our labor of love here!
Think you can do better? Show us your best GPS map drawings in the comments below!
For all your crazy stunts, choose T-Mobile, the most epic 4G LTE Network.