DIY Party Photo Backdrops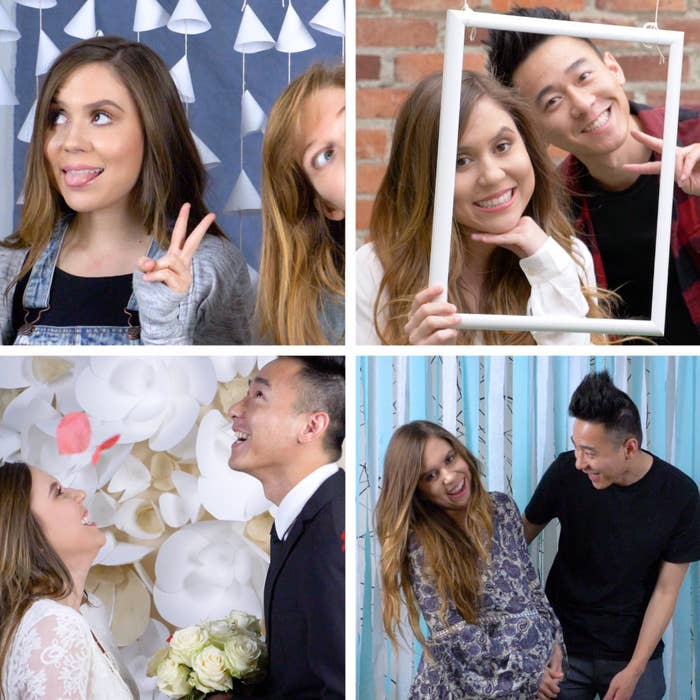 SUPPLIES
Paper
Bowl
Marker
Scissor
Tape
Skewer
Hot glue
Wood board
Streamer
INSTRUCTIONS
Paper Cones
1. Face a bowl down onto a piece of paper with half of it off the paper. Trace and cut.
2. Fold straight side into each other to make a cone. Tape edge together.
3. Tape string onto skewer and poke through paper cones from the inside out.
4. Tape cones onto string with some space in between each one.
5. Tie up stringed paper cones.
Picture frame
1. Remove picture frame backing.
2. Tie up frame.
Paper Flowers
1. Draw two sets of flower petals. One smaller than the other and cut.
2. Cut a straight line from the bottom of the petal.
3. Hot glue the two paper ends together to create a bend in the paper petal.
4. Repeat for smaller petal.
5. Hot glue petals together in a circle.
6. Hot glue smaller petal into the bigger petal.
7. Use hot glue to attached paper flowers onto wooden board.
Streamer
1. Hang up string.
2. Tape paper streamer onto string.