This post has not been vetted or endorsed by BuzzFeed's editorial staff. BuzzFeed Community is a place where anyone can create a post or quiz.
Try making your own!
116 Stars Assemble For Paramount's 100th Birthday
In celebration of Paramount Pictures' 100th birthday, photographer Art Streiber took this gargantuan photo for the July issue of Vanity Fair, assembling, "116 of the greatest talents ever to work at the studio." And Justin Bieber.
Regardless of how you feel about his music, it's a bit of a surprise to see Justin Bieber next to the likes of Robert Downey Jr. and Bruce Willis. Still, I guess the point here is that it's not just actors - it's also directors and other manners of stars. Perhaps even more surprising, however, is the inclusion of Rosie Huntington-Whiteley, whose sole acting credit is currently Transformers 3.
Nonetheless, it's an impressive array of stars, and quite the spread.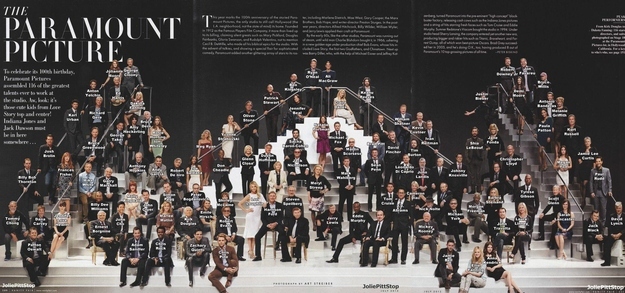 For prospective collectors, this seems like it might be a good one to pick up, so be sure to grab a copy and see the spread close up. The Vanity Fair July 2012 issue should be on stands now, and also features, as you can see, K-Stew and a very fluffy pup.
And everyone loves very fluffy pups, no?