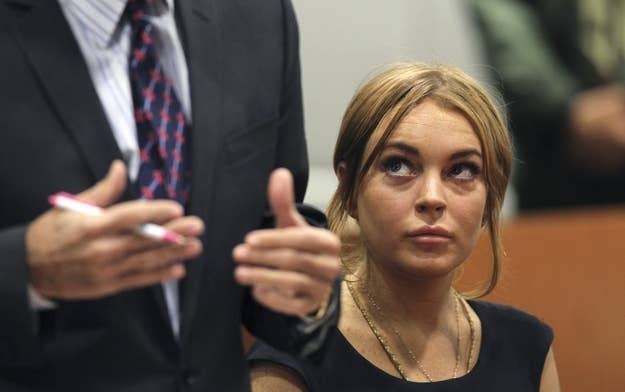 Is Lindsay Lohan really heading back to jail — this time for lying to police after a June car accident? Criminal defense attorneys familiar with the Los Angeles court system say, after exhausting the court's patience, she actually could be.
The actress appeared in a Los Angeles court Wednesday morning at a hearing to change legal representatives. Judge Stephanie Sautner granted the change and set dates for the pre-trial hearing and the trial itself. Both are scheduled to take place in March.
Criminal defense lawyers familiar with Lohan's antics think she's unlikely to find a sympathetic ear in Los Angeles. "The problem with Lindsay Lohan is that she's on probation for similar conduct to what she's being charged with now. Because of that, a judge is going to have little sympathy when it comes to sentencing her," said Manhattan Beach–based criminal attorney Decio C. Rangel.
Los Angeles criminal attorney and former prosecutor Steve Meister agreed. "If she's convicted of reckless driving, lying to a cop, that plus the fact that she's been to court 25 [other] times," it all might convince a judge to throw the book at her, Meister said.
Rangel was less certain. "She's been on probation before with some questionable results, which may test the patience of the court," he said, adding, "Still, this is relatively minor conduct, so it's unlikely that she'll spend any significant amount of time in jail. The reality is because of overcrowding, judges understand putting someone in jail doesn't necessarily mean that they will spend any time in jail."
Lohan's legal troubles stem from an accident on June 8, when her Porsche rear-ended a semi truck while driving on Pacific Coast Highway in Santa Monica. Lohan's assistant, Gavin Doyle, told police he was driving at the time of the accident, but while investigating the case, Santa Monica Police became convinced that Lohan was behind the wheel.
"There is definitive evidence as to who was driving. It will come out at trial," Sgt. Richard Lewis of Santa Monica Police said on Wednesday.
In November, Santa Monica Police charged Lohan with three misdemeanors: willfully resisting, obstructing, or delaying an officer in the course of their duties; providing false information; and reckless driving.
The first count carries a maximum sentence of one year in county jail, the second six months, and the third 90 days. Each count carries a maximum fine of $1,000 each. Lohan's situation is complicated by the fact that she was already on probation for stealing a $2,500 necklace from a Venice jewelry store. (Her probation was revoked in December.)
If found guilty, Lohan could end up serving consecutive jail terms for each of the three offenses, plus an additional term for violating her parole.
On Jan.15, Lohan pled not guilty to all charges, including lying to police officers. And it might help her case if she admits that she lied, said Santa Monica–based criminal attorney Lawrence Wolf. "If you're sympathetic and the judge is sympathetic and the judge believes you and the explanation that you give about why you're changing your story, it might help," Wolf said.
Judge Sautner did not appear particularly sympathetic to Lohan on Wednesday when challenging her attorney's claim that Lohan had a flu. But Sautner will be retiring from the bench before the March trial, so the real question is whether or not the replacement judge will be sympathetic to Lohan.
Lohan's trial is set for March 18.