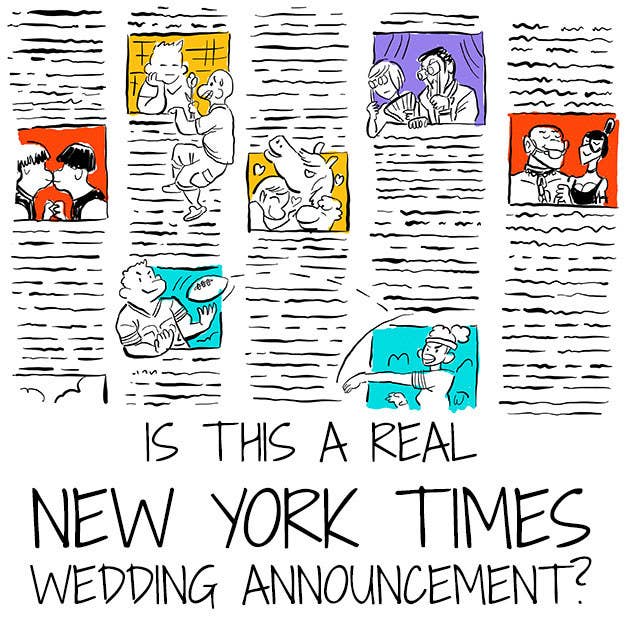 1.

"'She had Shostakovich playing on her stereo. I mean, really, how many girls listen to Shostakovich on a Friday night?' he said."

2.

"Part 'Brady Bunch' and part 'The Scarlet Letter,' their story has played out as fodder for neighborhood gossip. But from their perspective, the drama was as unlikely as it was unstoppable."

Carol Anne Riddell and John Partilla met in a pre-kindergarten classroom. They both had children attending the same school. They also both had spouses. The rest of their story is...a roller coaster.

3.

"The bridegroom had never eaten a hamburger, a fact he delightedly recounted on their first date in between bites of flash-fried seitan and kohlrabi."

Will Varner / BuzzFeed

There's never been a study on the number of vegans included in the Vows section, but we'd guess the number is in the thousands.

4.

"She rarely gets upset over things like parking tickets or bad-hair days. (Naturally pretty, she probably doesn't have many.)"

5.

"Having spent summers crafting decoy ducks at her parents' second home near Havre de Grace, Maryland, she immediately accepted his offer."

Will Varner / BuzzFeed

Crafting decoy ducks does sound like a clutch activity, though.

6.

"Neither the bride nor the bridegroom has ever been on Facebook."

Without Facebook, no one would even know who is married and who is single.

7.

"Instead of wedding cake, the couple served traditional Greek loukoumades, which they prepared by hand during the reception. 'Kneading dough into a delectable dessert felt appropriate for how we turned a friendship into a romance,' the bridegroom said."

This metaphor is a wedding announcement waiting to happen, though.

8.

"When she visited his house, she generally arrived with an armful of baguettes and pastries, leftovers from the bakery where she worked. 'I started referring to her as our "friend with breadifits,"' he said."

Will Varner / BuzzFeed

9.

"Before she started, she asked her new boss, Christine Riordan, then the provost of the university, if a boyfriend came with the job."

10.

"Their first meeting was both unusual and salubrious. The bride spotted Mr. Kitzmiller through a gap between her lithe thighs during a particularly strenuous downward dog at Yogaworks on Third Avenue."

Will Varner / BuzzFeed

We're not saying this *hasn't* happened, but it's definitely never been printed in the Vows section.

11.

"Both are writers and care deeply about words as well as opera, cooking, stick-shift cars, modern design and swimming in cold water."

12.

"After the ceremony, the couple walked to a meadow and planted a coast live oak sapling that symbolized their devotion to nature, in both their lives and their careers. At the reception, the bridegroom reinvented himself yet again, as a singer."

13.

"In a turn of events that surprised both sets of parents, the bride proposed marriage. 'I knew it might ruffle their feathers, especially after I told them I would keep my name,' she said. Fortunately, their shock quickly morphed into fulsome joy."

T-minus two years until the Vows section pulls back the veil on the "new trend" of women proposing.

14.

"She was shocked by his looks. Online, he had included mostly head shots and described his physique as 'about average.' In fact, he weighed 245 pounds. 'He looked like he was pregnant, literally,' she said, 'and he was wearing a pink linen shirt.'"

Timothy Nagler eventually lost weight, transforming him into marriage material for Nancy Coffey.

15.

"The wedding was like an anatomical lesson. The bride walked down the aisle in a gown with a long tulle skirt and a low back, showing off her shoulder blades and back muscles, which moved like the interior of a clock as she walked."

Will Varner / BuzzFeed

According to the Times, bride Megan Fairchild is "so petite and sinewy that she looks as if she might weigh about as much as a tutu."

16.

"Long before marriage was a tangible notion, Shasta Klein was sure of one thing: she would walk, not dance, down the aisle."

10/10 would watch a video of a bride dancing down the aisle, though.

17.

"The ceremony began with a juggler, then the entrance of eight hirsute groomsmen in gold-and-purple faux fur coveralls cut like tuxedos."

18.

"Each guest received a river rock, laser-engraved with an address on the outside and sent through the United States Postal Service. The rock was sliced and bound with wire, and inside were the laser-engraved details of the wedding."

That also happened at Lindsay Benner and Dan Das Mann's wedding!!!!

19.

"Mr. Ahnberg says that feminism is a factor for him when voting and when he's choosing which businesses to support. His feminist umbrage may be most on display when someone suggests that women cannot be funny."

20.

"The bride's gown, a silk faille Carolina Herrera, was trimmed with the same Honiton lace that adorned Queen Victoria's iconic dress from her wedding to Prince Albert in 1840."

If that dress does exist, we would like one, please.