1.
A small groove brush if you need help getting into those hard-to-reach areas of your sink, windows, sliding door tracks, and more. The opposite end of the brush is a scraper to help make getting gunk off of surfaces even easier.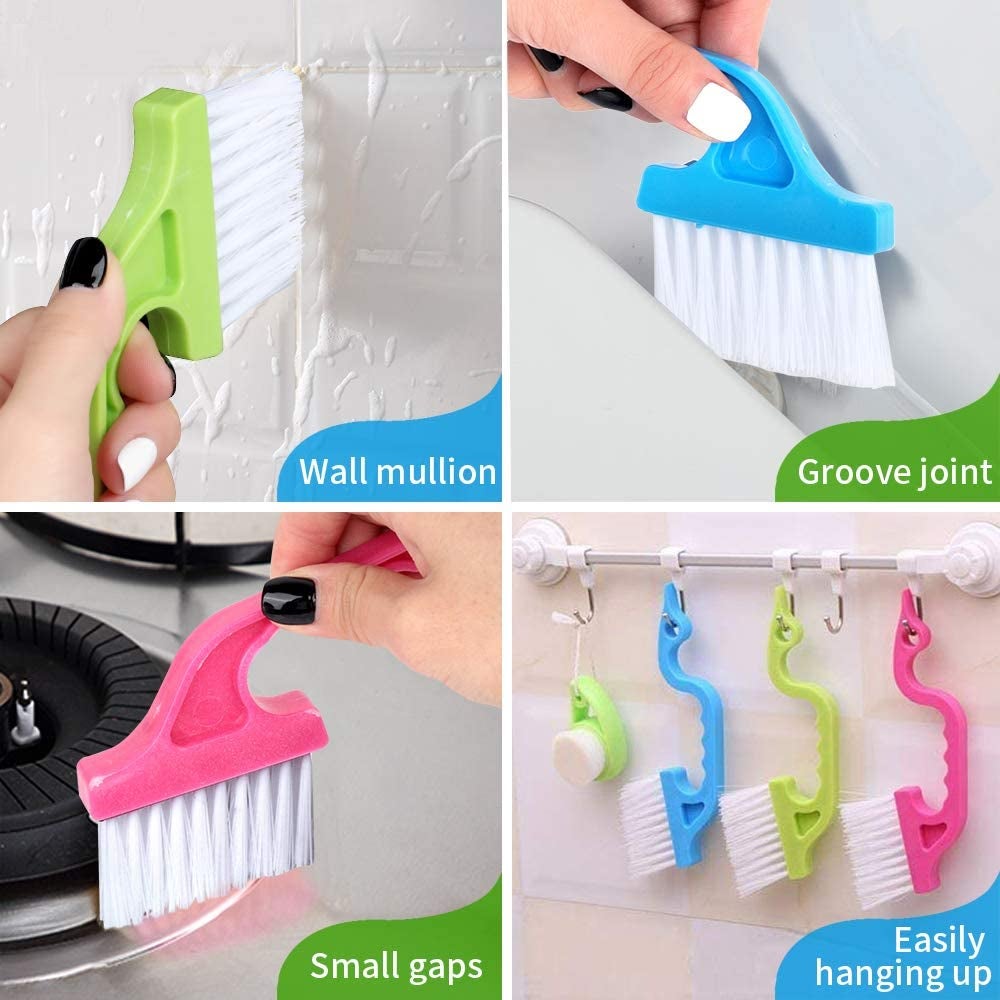 Check it out in action on TikTok!

This set comes with four groove brushes and a dustpan brush.
Promising review: "This purchase was entirely TikTok's fault. I follow a lady who cleans houses and she recommended them. They are amazing just like she says. They are comfortable to hold and have a good grip. The bristles are soft but they scrub just fine. The bristles are also long so they reach hard places. I'm very satisfied with my purchase. Thank you Vanessa Amaro for your recommendation" —Maria Aurora Valdez 
Get it from Amazon for $6.99.
2.
An ergonomically designed power scrubber because cleaning doesn't have to be an uncomfortable activity. With three brush attachments, you'll be able to scrub *anything* clean. Grout? Clean. Stove? Clean. Rims? You guessed it, clean.

Promising review: "You need one. Seriously. Saw this brush multiple times on TikTok. It sold me. When I got it, I went into clean mode and the darn thing is just amazing. You'll love it. It's so sturdy and works very well." —Kristin Haadsma
Get it from Amazon for $19.67.

3.
An extendable wall cleaner to easily and quickly get cobwebs out of the corners of your ceiling and any muck from your walls. Dust, dirt, grease, and grime will be a thing of the past.

4.
A pet hair remover so you'll be able to reclaim your couch from the mob of fur that's been calling it home in a few quick swipes. And because it doesn't use disposable adhesive strips, you can use this thing over and over and over and over and...
Promising review: "My cat sheds and I saw this on TikTok and very much thought of it as an impulsive purchase at first for its $25 price tag. But no, this is a very very necessary item in my day-to-day life. It does a wayyy wayyy better dang job than a lint roller or other products that rival this. My mother picked up something from a competitor and it did not clean up the hair as well as this did. I keep getting these for my pet-owning friends as gifts because it's truly a holy grail product. I like that it picks up human hair too because as a long-hair haver I can shed about as much as my cat does. It's a durable product too, I've had mine for about a year now and it still works like it used to and it's fairly easy to clean the inside." —Connie

Get it from Amazon for $24.95.
5.
Or a pair of double-sided lint removers for getting rid of lint, fuzz, and fur from your clothes and furniture. This long-lasting gadget will help you and your home not look like you've been invaded by a mob of Wookiees. 
Check it out in action on TikTok!
Promising review: "Love this tool!!! I bought it based off a TikTok hack I stumbled upon to help tackle pet hair. I have three cats who shed and sometimes I don't think my vacuum picks it up very well. Well I purchased this and it removed pretty much all the hair in the areas I went over my carpet with. I cleaned an entire staircase without breaking a sweat using this tool and it picks up so much hair!!" —Kymberlianne Brackins

Get a pack of two from Amazon for $9.99.
6.
The Pink Stuff multi-purpose cleaning spray so no oily ovens, streaky stainless steel, or gunked-up glass shall prosper against you or this versatile and easy-to-use cleaner. This can also remove those colorful drawings your kids left on your white walls!
Check it out in action on TikTok!

Promising review: "Glad I found this product on TikTok. Does 95%–100% of the job in seconds! Definitely worth the money." —Mother of 4
Get it from Amazon for $9.95. 
7.
A spin mop and bucket with a machine washable microfiber mop head to get your tiles, hard wood, or laminate clean lickety split. Oh and this mop works so well, you won't even need to use chemical cleaners. Just water will do!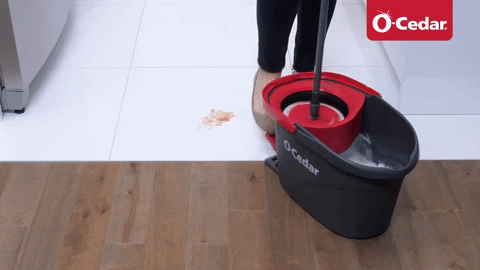 Promising review: "I had had it with my broken basic mop and bucket. I tried to just get a dollar store Swiffer to get us by, but that wasn't cutting it at all. With three boys and a dog who makes his rounds on all the furniture and every exposed corner, I had to do something. After seeing a TikTok where a woman demonstrated this mop to clean her walls, and hearing my boss raving about it, I decided to click the Amazon button. Let me tell you: I HATE cleaning, I HATE mopping, but I LOVE for things to be clean. I was able to mop the entire house TWICE (Because it was that dirty. Please don't judge.) within an hour. A few days later I mopped the entire house again within 10 minutes because they weren't quite as dirty. On another positive note, my boys love the spinner and think it's a toy! So, every time I get the bucket out my 10-year-old and 4-year-old ask to mop the house because they think it's fun. MAJOR BONUS!" —Molly
Get it from Amazon for $30.99.
8.
A pack of K-Cup cleaners if you haven't cleaned your machine in awhile and your coffee hasn't been tasting quite like coffee lately. Pop one of these nontoxic cups into your Keurig to give it the deep clean it's been needing.
Promising review: "I had no idea that cleaning a Keurig was a thing. I bought these because I saw them on TikTok, believe it or not. I wanted to give it a go because my Keurig isn't that old and I didn't think it would do anything. IT WORKS SO WELL! My Keurig wasn't as nasty as some I've seen lucky. I would highly recommend, keeps everything running correctly and clean." —Lauren
Get a six-pack from Amazon for $9.95.
9.
A foaming glass cleaner that won't leave a single streak behind. It's even great for marble and granite! It's practically magic.

10.
A set of four biodegradable Swedish dish cloths made of cellulose and cotton so absorbent, they'll help you cut down on drying time so you can do something you actually enjoy. A single one of these cloths can replace up to 15 rolls of paper towels!
11.
A microwave steam cleaner you just fill with water and vinegar to help melt all the food trapped on the walls and ceiling of your microwave. Then, you can quickly and easily wipe away all that yuck!
12.
A drain snake for removing massive (and nasty) clogs of hair and gunk you've let accumulate in the tub and sink without the help of any toxic chemical cleaners.
Promising review: "I saw this on TikTok and was tired of spending so much money on drain cleaner. I was blown away by how much hair and gunk came out of the sink and tub drain. Disgusting, but also so helpful to actually clean it out. I will recommend this to my family and friends." —Lisa S.
Get a set of three from Amazon for $6.55+ (available in two lengths).
13.
A bottle of Wet & Forget shower cleaner because no one wants to scrub their bathtub clean. With this, you'll just spray it on, wait 8–12 hours, then rinse it off. Super easy!
Promising review: "I have well water. Something in my well water reacts with copper plumbing and turns my shower tiles blue. Since my bathroom color scheme isn't on the blue spectrum, this is problematic. The well water also causes the shower glass to film up quickly. I've tried dozens and dozens of cleaners and scrubbed till my arms ached trying to get ahead of the blue and scumminess. My ambition in life is NOT to be a full time bathroom scrubber! I saw this stuff on a professional house cleaner's TikTok (sorry, don't remember which one) and thought 'what the heck, might as well give it a try.' Oh my goodness, the first day after my shower I sprayed this stuff all over and walked away. The next morning there was a NOTICEABLE reduction in the blue and the glass looked clearer too. Day two, sprayed again and walked away. The next morning the blue was gone except for a few spots on the floor tile and the glass looked amazing. Day three I sprayed the remaining spots and the next morning the shower practically looked new. NO SCRUBBING AT ALL!!!! This is my new favorite shower cleaner. The ONLY con I have is that it makes me sneeze while I'm spraying from inside the shower, but I can live with that." —L. J. Petillo
Get it from Amazon for $17.97.
14.
A rubber broom so you can keep your carpet free from your purrfect pet's fur. It's also great for mopping up liquid spills and squeegee cleaning your windows!
Promising review: "I saw this on TikTok and thought it was worth a shot. I have two dogs and a cat. Being one with a dust and dander allergy, I have to vacuum often, but the vacuum can't always get in deep enough. This actually works, and I was shocked at how well it does. I brush the carpet a few times and vacuum it up and the carpet even looks better!! I highly recommend this to everyone — especially pet owners." —Theo Ackerman
And read our FURemover broom review to learn more!

Get it from Amazon for $12.98.