1.
An exfoliating glove to help you bring the spa experience home. Easily lift away dead skin to reveal soft and glowy skin.
Promising review: "You might think you're exfoliating your skin but TRUST ME, you haven't been. You'll be SHOCKED and maybe even a little disgusted when you see how much skin comes off on these gloves the first time you use them. Take a long, warm shower, then, with no soap, use these mitts after you're all rinsed off. Scrub your body well in a circular motion. Then look at the mitts! They'll look like they've been sprinkled with flour! You'll never get that much skin off your body again with subsequent uses, so don't forget to look because it's incredible. And get ready to be bowled over when you dry off. Hello softness!!!" —isaidso
Get it from Amazon for $6.99+ (also available in a pack of two).
2.
A grout and sealant stain remover because your tiles deserve to gleam against a clean background. Just apply it, wait, and rinse the stains away. You read that right, there's no scrubbing needed!
Promising review: "The grout around our tub was DISGUSTING. It was never caulked right and it got gross very quickly. I would scrub. The cleaning lady would scrub. It would get worse. Well, I was scrolling through Facebook as you do and came across one of those BuzzFeed lists. I am a sucker for those lists. But this stuff made me curious. I don't know why it doesn't have 10,000 good reviews. Seriously. All I did was squeeze it on and walk away. I let it sit overnight. Check this out. Buy it. Like today." —KarynB
Get it from Amazon for $14.99.
3.
An anti-nausea acupressure bracelet that may help prevent any day-ruining queasiness caused by road trips and boat rides.
Read more about acupressure and nausea at Memorial Sloan Kettering Cancer Center.

Promising reviews: "I recently came back from a three-day cruise and I feel amazing. No nausea and no seasickness all because of these. I wish I found out about them sooner." —Eve
"I have now bought this for the third time. I wear them 24 hours a day, seven days a week because I suffer from extreme vertigo and when I wear this, I experience no vertigo whatsoever. They say not to wear them all the time, but it works!" —C51
Get the pack of two from Amazon for $8.51.
4.
A vegan and paraben-free self-tanner if you simply won't have the time to lay in the sun to get the glow you deserve. Get the tan of your dreams in just an hour!
Promising review: "If you use St. Tropez tan products or any fake tanner, do yourself a favor and try this. This stuff is AWESOME. Dries quick, lasts longer, does NOT make your skin stinky, applies evenly, and you get a fair amount of product!! Other tanners I've used become VERY noticeable when they start fading. Gross hand lines, patchy white spots, etc., but not this stuff. The best one-hour tan I have ever used!" —Amazon Customer 
Get it from Amazon for $9.97 (available in six shades).
5.
A pet hair remover so you'll be able to reclaim your couch from the mob of fur that's been calling it home in a few quick swipes. And because it doesn't use disposable adhesive strips, you can use this thing over and over and over and over. It'll likely even pick up hair that your vacuum couldn't!
Promising review: "I've had it in my possession for like two hours and I've cleaned everything. The couch, the blinds, the cat tree pad, the chair; I'm obsessed. I feel like this thing should win an award for being so awesome. I feel like it should be in raffle baskets and giveaways and silent auctions for every event that highlights 'things cat people need.' It's better than those sticky rollers, it's better than the one-directional velvet wand thing that I always use the wrong way. It's the best." —Meowser
Get it from Amazon for $29.99.
6.
A revitalizing hair protein treatment for conditioning and repairing dry, damaged, and over-processed hair. TBH I'm already obsessed with your hair evolution!
Promising review: "If you suffer from dry and damaged hair this is a must! I usually don't write reviews. Honestly, I don't write them at all but I just wanted to let you know this product is worth it. I've had dry and damaged hair for years due to coloring, weather, and bad care. I saw a post about this product and decided to give it a try. This is my second day using it and I see a huge difference! My hair is so soft, the ends feel healthy, it doesn't feel like I'm touching hay anymore. This is a must! I washed my hair with shampoo and conditioner, dried it with a towel, and waited about 5–10 minutes before putting the product. Let the product do its magic for about 25 minutes, then washed it and let it air dry. I strongly recommend buying this!" —Diego Jimenez
Get it from Amazon for $7.44.
7.
A bacteria-killing denture cleaner to remove any odors and discoloration caused by buildup on retainers, mouth guards, and Invisalign. Reviewers even say it works better than the Invisalign cleaning crystals!
Promising review: "I really loved this product. I am currently waiting for a new Invisalign set. My old Invisalign needed to be cleaned. I read the reviews and decided to purchase. OMG it worked! There was a fresh taste and they were clean. I wished I had found this product sooner. I did let them soak overnight only because I had been wearing them for the last four months. Nothing happened to Invisalign; there was no weakness or anything. Just very clean and fresh. If I could have given the product 10 stars I would have." —Lisa R.
Get 120 tablets from Amazon for $22.80.
8.
A skin-evening eyeshadow primer because you didn't perfect your pink-to-orange ombré and cat-eye eyeliner for it to melt before the whole world could see it! This clear, waterproof primer will have you thanking it later.
Promising review: "This product is magical. I have very oily skin that tends to mess with my makeup as a whole. I have hooded eyes and a little extra skin. This is all perfect for mascara on eye socket bone, shifting shadows, terrible eyeliner — this fixes it all. It holds my eyeshadow in place, no mascara gets on the bone, eyeliner stays on all day. It's so great. For reference, I have tried all the drug store options plus Urban Decay. Highly recommend and will be repurchasing." —TheGooGooMuck
Get it from Amazon for $13.99.
9.
Maximum strength antacids if you've been having trouble falling asleep because acid reflux keeps you up at night. Each chewable tablet has 1000mg of calcium carbonate to help relieve heartburn, indigestion, and sour stomach. These vegan tablets are also free from talc, dyes, parabens, artificial sweeteners, dairy, and gluten. 

Plus, its packaging is 100% plastic-free!
Wonderbelly is a small business!
Promising review: "I discovered this last year and I have not used another antacid since. The strawberry milkshake flavor is phenomenal. It is fast acting and I have never had to take more than one. This has really improved my life with GERD." —Marissa

Get it from Wonderbelly on Amazon for $11.99 (available in three flavors).
10.
A reparative K-beauty snail mucin essence with a hydrating and hypoallergenic formula that'll help remove dark spots and fine lines.
Promising reviews: "I absolutely love this product!! I recently added it to my daily skincare routine and I see and feel a tremendous difference. My face feels more supple and very hydrated. I suffer from dry skin and this has helped me transform my skin." —Pia
"This stuff is incredible. I have suffered from minor acne for almost two years and I finally realized the products I was using were far too harsh for my dry, sensitive skin. After using gentle products and eventually moving onto K-beauty, I found this to lighten all the scarring from the years of picking at my breakouts. My scarring is still a bit noticeable but it was gotten tremendously better thanks to this product and this product alone." —Marc

Get it from Amazon for $22.87.
11.
A pack of teeth-whitening pens so you can get shiny white teeth for far less money than you might've thought. This pen's soft-bristle brush is perfect for anyone with sensitive teeth. It even makes application as easy as saying CHEESE!
Promising review: "This worked quick! I noticed a difference in three days. And it's super easy to use." —Amazon Customer
Get it from Amazon for $19.99.
12.
A vegan and cruelty-free skin-tightening Sol de Janeiro body cream made with coconut and açai oil. Its caffeine-rich formula stimulates circulation for smoother-looking skin.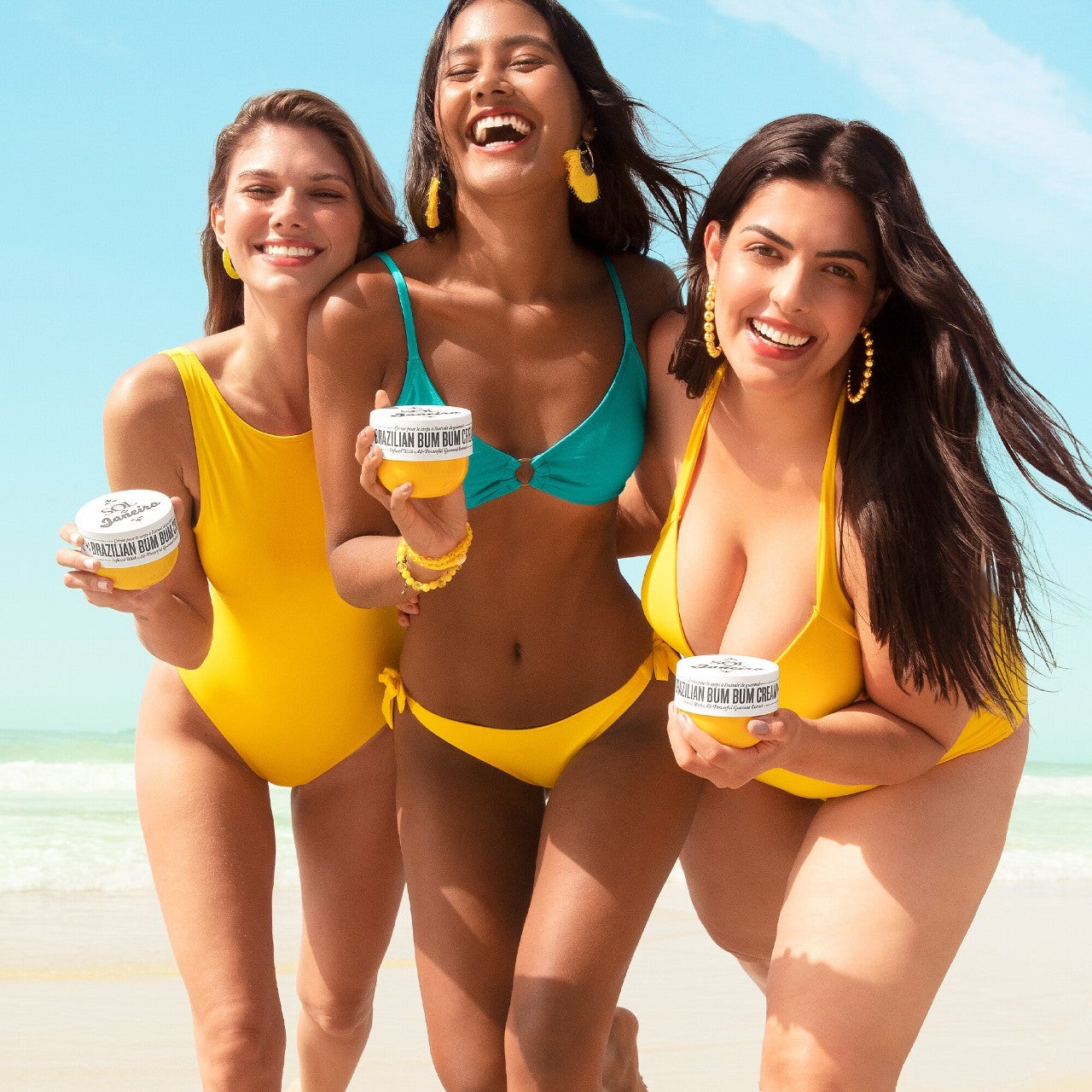 Promising review: "I think it's safe to say this will always be a repurchase! The smell is absolutely everything and it keeps my body moisturized until my next shower!! Love how smooth it makes my skin feel!" —madelinelloydp
Get it from Amazon and Sephora for $22+ (available in two sizes).
13.
A jetted tub cleaner scientifically engineered to get all the yuck from soap and body oil buildup out of your tub's jets in 15 minutes!
Promising reviews: "This product is magic. Magic that exposes your grossest secrets but definitely one you need if you like having a spa bath without sharing it with doodie flakes." —Epiphany
"Oh my gosh! You think your tub is clean and then you see what comes out with this! I followed the directions (fill tub over jets, pour in cleaner, turn on jets), and almost immediately, disgusting residue shot out. And then more came out as the formula had time to circulate. So glad I got this cleaner instead of sitting in filth, especially because we just bought a new house and I thought, 'Maybe I should try to find out if there is a special cleaner for these tubs.' Glad I did and can know my tub is cleaned out." —Aaron Johnson
Get it from Amazon for $17.84.
14.
A garbage guard if you've ever opened your trash can to be welcomed by a host of pests. These not only kill insects but also prevent future infestations. And don't worry, it's completely odorless (though I can't say that about your trash).
Promising review: "Got an outdoor can, the kind the mechanical arm on the garbage truck picks up and tips over, with the lid opening by gravity. Placed this on the inside of the lid, near the hinge to lessen the chances of it being scraped off during emptying and no flies/maggots! No apparent odor, just seems to put a big hurt on the fly party that used to be my trash can (litter box contents, remnants of meat, etc.)." —Michael E. Bradley
Get it from Amazon for $8.95.
15.
An anti-blister balm because there's no way you're throwing out those cute wedges that rub against your ankles! Just apply this to help prevent blisters.
Promising review: "I love wearing my Tevas and Chacos at Disney, but no shoe can help all the walking sometimes. When my friend let me borrow this to use, my life changed forever. It's magical and is small enough to fit in any bag. It lasted the whole day and kept all blisters at bay. This is an absolute must for any Disney trip or when there's a lot of walking or hiking or running involved!" —SarahK
Get it from Amazon for $9.