1.
A pet hair remover so you'll be able to reclaim your couch from the mob of fur that's been calling it home in a few quick swipes. And because it doesn't use disposable adhesive strips, you can use this thing over and over and over and over. It'll likely even pick up hair that your vacuum couldn't!
Promising review: "I've had it in my possession for like two hours and I've cleaned everything. The couch, the blinds, the cat tree pad, the chair; I'm obsessed. I feel like this thing should win an award for being so awesome. I feel like it should be in raffle baskets and giveaways and silent auctions for every event that highlights 'things cat people need.' It's better than those sticky rollers, it's better than the one-directional velvet wand thing that I always use the wrong way. It's the best." —Meowser
Get it from Amazon for $29.99.
2.
A high-voltage bug zapper because being outside is supposed to be fun, not a battle against the bloodsuckers. This will also get at those annoying gnats, moths, and flies zooming around.
Promising review: "You will not be disappointed. I just moved out to the country and have been working out in the garage late at night. With the weather getting warmer, I've had the garage doors opened and mosquitos, gnats, and everything else have been finding their way into my garage, so I had to do something about it. I bought this and hung it next to my garage door opener because there's an outlet there and it is way better than expected. I have dead bees, stink bugs, gnats, mosquitoes, and other bugs that I do not know what they are. My 8-year-old son keeps asking me to remove the bottom tray so he can see all of the dead bugs that got zapped. Again, you will not be disappointed, I'm extremely happy I bought this!" —Chris & Jenny
Get it from Amazon for $36.99.
3.
A Scrubbing Bubbles cleaning stamp since rings have been forming around the inside of your toilet. This will keep your toilet bowl fresh and clean with every flush. Just plop some gel inside the bowl and let it work so you don't have to.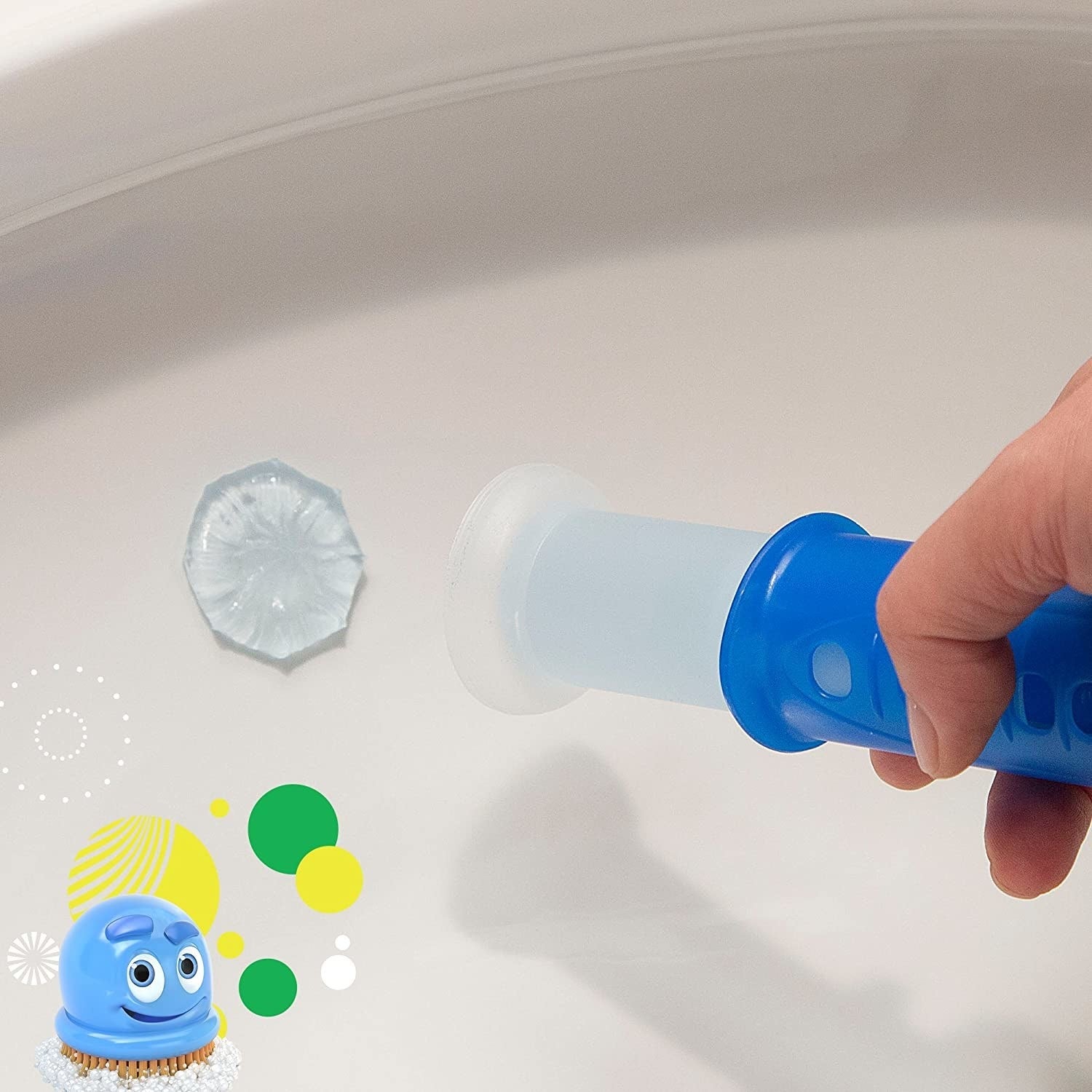 Promising review: "I absolutely love these things! I have five kiddos. These gel stamps keep my toilet cleaner and fresher smelling for longer, which is a definite plus with four boys. These have an easy, no-mess application. I finally just put them on my Subscribe & Save so I always have them ready." —Alyssa M
Get six stamps from Amazon for $4.99.

4.
Some Glisten garbage disposal cleaner that'll foam up and scrub your disposal, leaving a fresh scent behind instead of icky drain pipe odors.
Promising review: "It seems counterintuitive to put a little packet down your garbage disposal to clean it, but this does actually seem to work, at least for getting out weird smells that baking soda and vinegar don't really touch. I scrub the sink down first, especially around the garbage disposal area, rinse it down, and then just follow the directions on the package. I have used it with single, large-size sinks and with double sinks — only difference is that the double sink will have blue cleaning foam rise up the drain, which you rinse away when the disposal sounds clear again. I have tried the foaming cleaner in a can, but unfortunately it stopped coming out of the can about 10% of the way through. Went back to this tried and true." —KS
Get a pack (good for four uses) from Amazon for $3.78.
5.
A jetted tub cleaner scientifically engineered to get all the yuck from soap and body oil buildup out of your tub's jets in 15 minutes!
Promising review: "Oh my gosh! You think your tub is clean and then you see what comes out with this! I followed the directions (fill tub over jets, pour in cleaner, turn on jets), and almost immediately, disgusting residue shot out. And then more came out as the formula had time to circulate. So glad I got this cleaner instead of sitting in filth, especially because we just bought a new house and I thought, 'Maybe I should try to find out if there is a special cleaner for these tubs.' Glad I did and can know my tub is cleaned out." —Aaron Johnson
Get it from Amazon for $17.84.
6.
A garbage guard if you've ever opened your trash can in the summer just to be welcomed by a host of pests. These not only kill insects but also prevent future infestations. And don't worry, it's completely odorless (though I can't say that about your trash).
Promising review: "Got an outdoor can, the kind the mechanical arm on the garbage truck picks up and tips over, with the lid opening by gravity. Placed this on the inside of the lid, near the hinge to lessen the chances of it being scraped off during emptying and no flies/maggots! No apparent odor, just seems to put a big hurt on the fly party that used to be my trash can (litter box contents, remnants of meat, etc.)." —Michael E. Bradley
Get it from Amazon for $8.95.
7.
A fume-free oven cleaner so you can get rid of the cheese disaster of 2010. Honestly, it's so powerful you might just convince yourself you replaced your oven altogether. This heavy-duty cleaner can remove grime, stains, and caked-on food!
Reviewers suggest letting it sit overnight to remove really tough stains.
Promising reviews: "This is a great product. Removed stuck on gunk from oven without a toxic odor. Works like a charm." —Debbie Goins
"So cleaning my oven is not my strong suit, but I ordered this and it easily removed the spots from the oven window and the bottom of my oven! Definitely a keeper!" —Amazon Customer

Get it from Amazon for $8.98.
8.
The Pink Stuff cleaning paste because no sticky saucepans, streaky stainless steel, or gunked-up glass shall prosper against you or this versatile and easy-to-use cleaner. This paste has got you covered from your caked-on stove top to your dirty rain boots. It can even remove those colorful drawings your kids left on your white walls!
Promising review: "I don't write many reviews and I was totally skeptical but OMG I'm in love! I've purchased so many products to try to clean the marks in my sink and nothing worked. I used it on my stovetop and was amazed how well it cleaned it that I moved on to my sink." —Christina

Get it from Amazon for $5.97.
9.
A Luminoodle — an LED strip that'll backlight your TV so you get HD quality at a severe fraction of the cost!
Promising review: "OK, people. I don't write reviews. But this thing is so amazing that I am compelled to tell you that you need it. Seriously. It made my TV look HD. Even better, my eye strain is gone! Amazing. I will be getting more of these for all my TVs." —linschaos
Get it from Amazon for $11.99+ (available in six sizes).
10.
A six-outlet wall charger designed to house larger chargers as well as USBs (and those ports offer fast-charging). It even functions as a night-light if you tend to work into the wee hours.
Promising review: "Love this. I have many items to plug in now that I have to office at home. There's plenty of room to plug in two laptops, a computer, a monitor and my Alexa safely. It's a little bulkier than I was expecting but that is due to the room your items will need." —Jennifer
Get it from Amazon for $17.97.
11.
A pack of Bottle Bright cleaning tablets since regular ole soap and water haven't gotten rid of the tough stains and odors in your travel mugs and water bottles. The best part is, there's no scrubbing involved. So you get super clean gear with minimal effort!
Promising review: "So let me start by saying I don't typically write reviews. Something has to be reeeaallly amazing or horrendously bad for me to write a review on it. That said, I've tried everything imaginable to get the coffee stains out of our 'stainless'-steel coffee pot. Nothing has ever worked, and after 5ish years of using this specific coffee pot, it looked particularly atrocious. I found these on a random BuzzFeed article and figured eh, why not. For 8 bucks, even if it doesn't work I'm not losing much. I ran plain water through my coffee maker, dropped in two tablets, and let it sit for two hours. I dumped it out expecting to have to scrub a little or even run it through another time, but nope. It took out EVERY. SINGLE. STAIN. Like it was nothing. It looks like a brand-new coffee pot, and now I'm annoyed that I've spent so much time and effort trying to get this stupid pot clean. It also leaves no smell behind whatsoever, so nothing to make your coffee taste weird. If you're on the fence, trust me, this will be your new best friend." —Kindle Customer
Get 12 tablets from Amazon for $8.
To learn more, check out our Bottle Bright tablets deep dive.
12.
A pack of light-dimming sheets so your digital alarm clock doesn't keep you up with its glaring numbers. Oh the irony.
Promising review: "These are simply awesome! Such a small thing can make such a big difference. At night when I opened my eyes, I was flooded by little dots of light intruding my space from all my electronics: the TV and cable receiver, the modem, the routers, the electric blanket control switch, the microwave, the smoke alarms, cell phones, etc. And it doesn't take much to interfere with a good night's sleep. These will mute and soften those bright lights so they don't bother you anymore. Thanks for a great 'little size, big results' product!" —Ziapetlady
Get it from Amazon for $5.49.
13.
A cutlery organizer with stacked compartments for each set of utensils. Now you can easily reach for and grab a butter knife instead of having to search through a cluttered drawer.
Promising review: "I have a tiny kitchen with only three drawers, so space is at a premium. My silverware organizer took up almost all of one drawer, so this organizer is a godsend. You can fit quite a few spoons, etc. in each slot. My beater attachments fit perfectly into the top two hollows. I will say I have to flip my forks over face down in order to be able to shut and open my drawer, but then the drawer itself is kind of shallow. You NEED this if you have a small kitchen with few drawers!" —mialro
Get it from Amazon for $11.24+ (available in two sizes and four colors).