1.
A BioLite headlamp to brighten up your path as you walk to go to the bathroom in the middle of the night. No spooky ghosts are jumping out from behind trees with this light on your head. 
"I love to camp and am planning a backpacking trip, and was desperately in need of a reliable, bright headlamp. I love this one from BioLite! It sits flush against your forehead to provide the most comfort and least slippage possible. It's moisture-wicking to combat sweat, is rechargeable, has multiple brightness levels, and can be adjusted to face downward if you need to see ahead of you on a trail (the BEST feature!). I'm really looking forward to using it more on future outdoor trips, but honestly currently use it on occasion to read at night since I'm apparently too lazy to go out and buy a reading lamp. ¯\_(ツ)_/¯" —Rachel Dunkel
Get it from Amazon for $59.95 (available in three colors).
2.
A pack of Bounce Dryer Sheets, to effectively repel bees and wasps away from you because you just want to eat a quiet lunch without a Barry B. Benson wannabe bothering you. 
"Here's the deal: I'm absolutely TERRIFIED of anything even slightly resembling a bee or wasp, but I LOVE eating outside. Predictably, I didn't make it through a single outdoor meal on my porch this summer without jumping out of my chair and flailing around because of a bee invasion. Eventually, I'd had enough. I didn't want to buy anything that would kill them, because bees are really important and also generally nonaggressive if you don't mess with them. When I heard that dryer sheets repel them without harming them, I figured it was worth a try, and it ACTUALLY WORKED! I used coasters to hold them down on the table, and any bees that came anywhere near my porch would quickly make a U-turn and hightail it outta there. "TELL YOUR FRIENDS!" I'd bellow into the cool evening air, and I like to think that they did." —Jonathan Mazzei
Get it from Amazon for $10.16.
3.
An Anne Cate skyline mini emergency kit, filled with first aid essentials because you got a splinter while looking for firewood and OF COURSE you accidentally left the bandages on the kitchen table.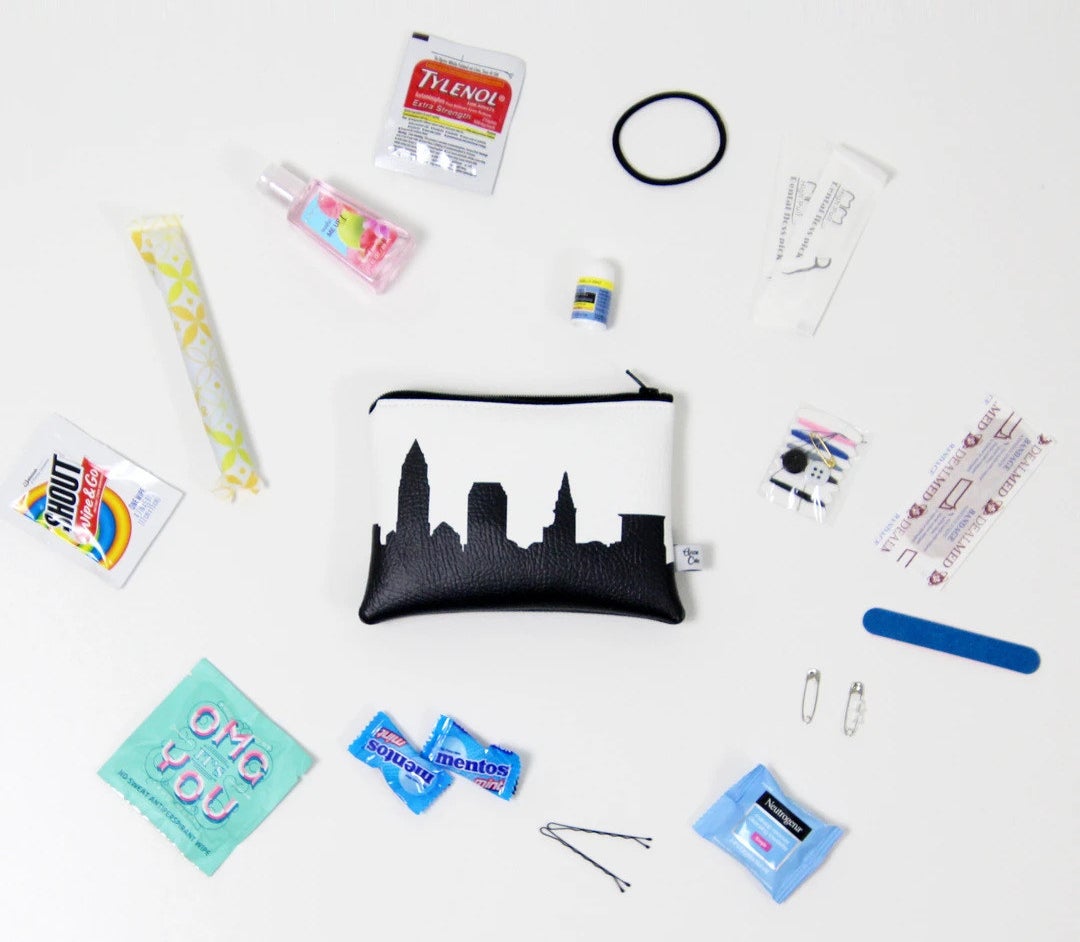 Anne Cate is a Cleveland-based small business creating minimalist keepsakes to commemorate your favorite locations, with over 100 hand-designed skylines depicting cities and colleges from around the world!
What you'll get: Inside your mini wallet, you'll find a hair tie, lip balm, two floss picks, sewing kit, Band-Aid, emery board, two safety pins, two earring backs, makeup wipe, two bobby pins, two mints, deodorant wipe, SHOUT wipe, tampon, hand sanitizer, and pain relief.
"I, your resident forgetful person, bought the NYC skyline version of this at the start of COVID-19 to keep in my work tote. Unfortunately, I haven't touched my work tote in months because...*gestures at the world around*...but it's a really handy kit I know will save me a ton whenever I regularly leave the house again. Everything from Anne Cate is super high-quality. The wallet on its own is adorable and could be used for a million different things." —Danielle Healy
Get it from Anne Cate for $25 (available in 46 styles).
4.
A TheTentLab The Deuce #2 — a lightweight trowel so you can dig a hole for when you need to use the restroom in the forest. This simplifies the process so you don't have to worry about a stick breaking while you try to cover up your business. 
"I was so excited when my Deuce came, I literally sent this photo to all of my friends and family. But it's so funny and cool! The trowel barely weighs anything, coming in at 0.6-ounces, which when you're backpacking is what it's all about. I tucked this into the outer mesh pocket of my pack so it was around in case of emergency. It's easy to dig with (as long as you pick a spot with few roots). I don't know what else there is to say except 'This makes it easier to dig a hole in the ground to poop in.' And I fully believe this would make a great gift — amusing *and* super practical? No better combination." —Rachel Dunkel
Get it from REI for $19.95 (available in three colors) or Amazon for $19.50+ (available in 23 colors).
5.
A pack of Natrapel Insect Repellent Wipes to defend against mosquitos that like to use you as their favorite buffet spot, the moment you step outside.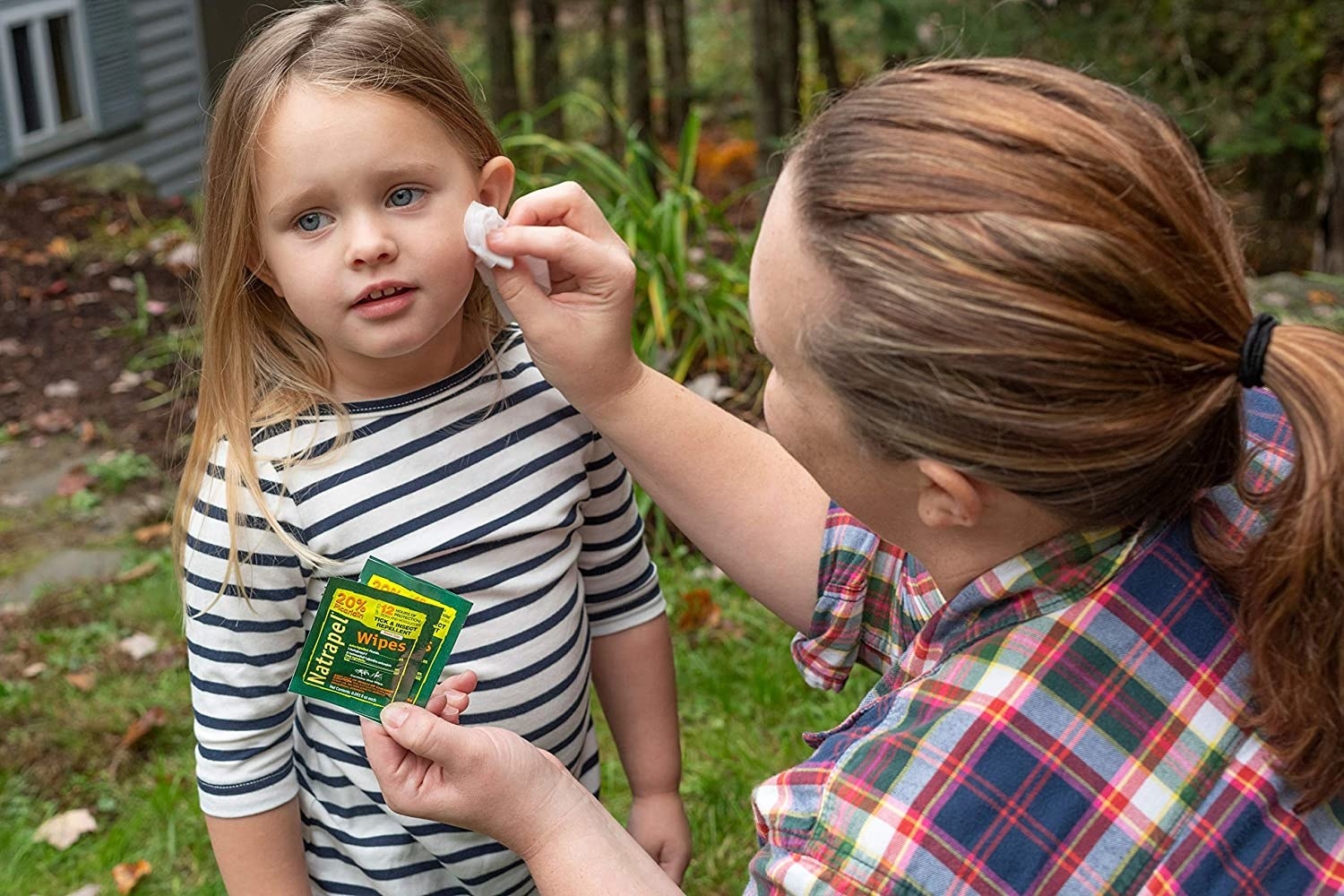 "When I was a kid, someone told me that mosquitoes love me because I'm so sweet. And I FULLY believe that as an adult because I still get eaten alive if I'm out for long periods of time without wearing some kind of repellent. I've used these wipes on several park days here in NYC (sitting on a picnic blanket drinking wine with friends is more or less screaming COME GET ME to skeeters). But I've really found success with them on a recent hot weekend trip to Savannah, Georgia. I don't notice any smell when using them and have found one wipe to have enough repellant for my arms and legs. So basically, a one and done. I don't think that I've gotten *any* bug bites on days I've used these wipes. Plus, I have extremely sensitive skin but haven't had any irritation from these seemingly powerful wipes!" —Elizabeth Lilly
Get three packs of 12 wipes from Amazon for $18.87.
6.
A rechargeable VersionTECH mini handheld fan for cooling you off during those long hikes in 90 degree weather, because it always seems to be a scorcher when you decide to go out and do something.
"I bought this to take on a summer trip to Disney World and let me tell you — it's the only way I survived!! Every day got well into the '90s, but I kept this pointed at my face whenever I wasn't soaking up air conditioning. I was seriously impressed with how powerful it was and how I instantly felt less sweaty. The charge lasts about a day if you use it sparingly (or a few hours of continuous use) so make sure to charge it nightly if you're on a trip. The fan has three speed settings, and it folds so you can prop it up on a table." —Ciera Velarde
Get it from Amazon for $15.99+ (available in five colors).
7.
An affordable Hiearcool waterproof phone pouch that will protect your phone from water damage when you go white water rafting because let's be honest, no one's got time to be sitting around with a bag of rice, hoping to get the moisture out of their phone. 
"This phone pouch is one of those products I've admired from afar awhile as a person writes about products for a job. So when I booked a Greek isle–hopping vacation that involved boating, I knew I needed it. Early on in my trip we spend a full eight-hour day sailing around the island of Milos on a catamaran (highly recommend!) and I became the designated dad for photography purposes thanks to this simple-but-airtight pouch! So what can it do? As long as you keep it clean of sunscreen (which was honestly an ongoing battle with my pale-ass skin and deathly fear of sunburn), it'll deliver pretty decent pics. I captured a video of dolphins swimming under our boat, took tons of group pics, jumped off the boat and into the water while wearing the lanyard (and holding onto it tightly!), floated in the Aegean Sea as I captured swimming pics of friends, and handed it off to our tour guide Manolis to capture a video of an octopus changing colors underneath the water as he snorkeled.
If you're going to be using this thing while swimming, I only recommend doing so if you're a *strong* swimmer. It took me a bit of work to get the hang of treading water and taking pics with this at the same time, but I was able to do it! I also figured out while snorkeling that if you're going to be taking a video of it, it's best to tap your phone to start while out of the water and then submerge the pouch because I found it was a bit harder for my phone to pick up the sensor of my finger on the screen while underwater. This pack comes with two and after that day of boating (and tons and tons of sweat and sunscreen) it was a bit hard to get the pouch as clean as it was before use, but these come two to a pack so I think it's a solid under $10 investment for any seaside or water-based shenanigans!" —Elizabeth Lilly
Get a two-pack from Amazon for $9.99 (available in seven color combos).
8.
A resilient Sawyer Squeeze water filtration system that helps provide clean, drinkable water, even from the most questionable sources. Just fill the pouch and squeeze. In less than a minute, you will have filtered water.
The set comes with the filter, two reusable 32-oz, BPA-free collapsible pouches, a drinking straw, one set of Sawyer Inline Hydration Pack Adapters, a cleaning syringe, and a mesh storage bag. It weighs 3 ounces. It removes bacteria, such as salmonella, cholera and E. coli as well as protozoa, such as giardia and Cryptosporidium.
"I adore this water filter for its ease of use, adaptability, small size, and zero wait time. To use, you just fill the bag, screw on the filter, and roll the bag to squeeze the filtered water into your bottle. You don't need to wait for it to be done like with water treatment pills or gravity systems, and there's no funky taste — just fresh, clean, crisp water. If even the quick bag-filling situation sounds like it would take too much time, you can also screw the filter DIRECTLY ONTO A WATER BOTTLE and drink straight from it. Game changing. Either way, it's a quick, lightweight system that I completely recommend." —Rachel Dunkel
Get it from REI for $38.95.
9.
An eco-friendly Hommaly portable cutlery set that will allow you to avoid using disposable plastic utensils. While the travel pouch is small enough to fit in your bag, it is roomy enough to fit all your silverware needs. 
This set includes: a knife, fork, spoon, chopsticks, straw cleaning brush, straight straw, bent straw, and a carrying case.
"In a pre-COVID world, I was someone who worked in an office and often ate lunch at said office. I was not loving how much plastic cutlery I was going through every day bringing lunch back to my desk, so I bought this little set to keep in my work tote. It makes it so that when I grab a takeout lunch, I don't have to use any plastic cutlery in the process. And I always have a straw on me when I grab a coffee or smoothie!" —Danielle Healy
Get an eight-piece set from Amazon for $8.99+ (available in four colors).

10.
An investment-worthy Leatherman Free P4 Multitool that provides you with 21 tools in 1, so you don't need to bring an entire toolbox on your next camping trip. Cutting ropes so you can put up your tent will be SOOOO much easier now. 
"When my Leatherman went missing for a few months, I finally realized what a time-saver it was. Instead of grabbing the multitool from the junk drawer, I'd now have to drag my heavy metal toolbox from the back of the closet, no matter the size of the job. Such is apartment living.
So when the kind folks at Leatherman offered to let me test the Leatherman Free P4 Multitool, I couldn't reply to the email fast enough. This gorgeous stainless steel model (that's made in the U-S-of-A) is bigger than the one I lost and packs in 21 different tools including pliers, wire cutters, knives, a saw, scissors, screwdrivers, and package and bottle openers to name a few. Plus it comes with a nylon sheath with a belt loop so I can look like even more of a dad.
If you're not looking to invest in a fully-stocked toolbox just yet (again, apartment living) please don't buy that one from Ikea that everyone gets when they move in and leaves when they move out. Go for the Leatherman instead. Consider it an investment for that future toolbox."  —John Mihaly
Get it from Amazon for $149.49.

11.
A thermal S'well speckled water bottle to keep your water cool in sweltering temperatures. It is BPA/BPS-free, reusable, and has a large enough rim to fit in ice cubes.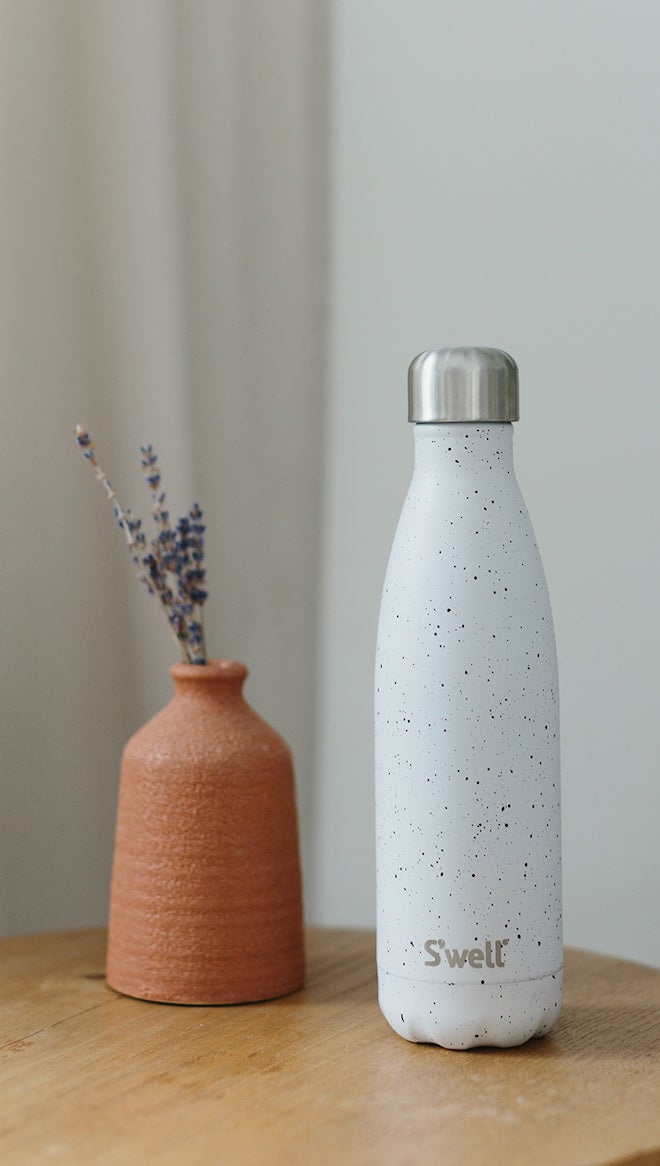 "I've been using my S'Well bottle for years now (the same one!) and it's held up perfectly. It keeps my water cold and is my go-to for when I'm headed out to the beach, a workout, or just for the day. They come in so many fun styles, but this speckled one caught my eye for it's simple but stylish look." —Heather Braga
Get it from S'Well for $35.
12.
A Bespoke Post compact camp chair that fits in a small bag, letting you easily travel without it being too cumbersome. This is sturdy, lightweight, and has a side pocket to hold your drink while you lean back and enjoy watching the beautiful sunset.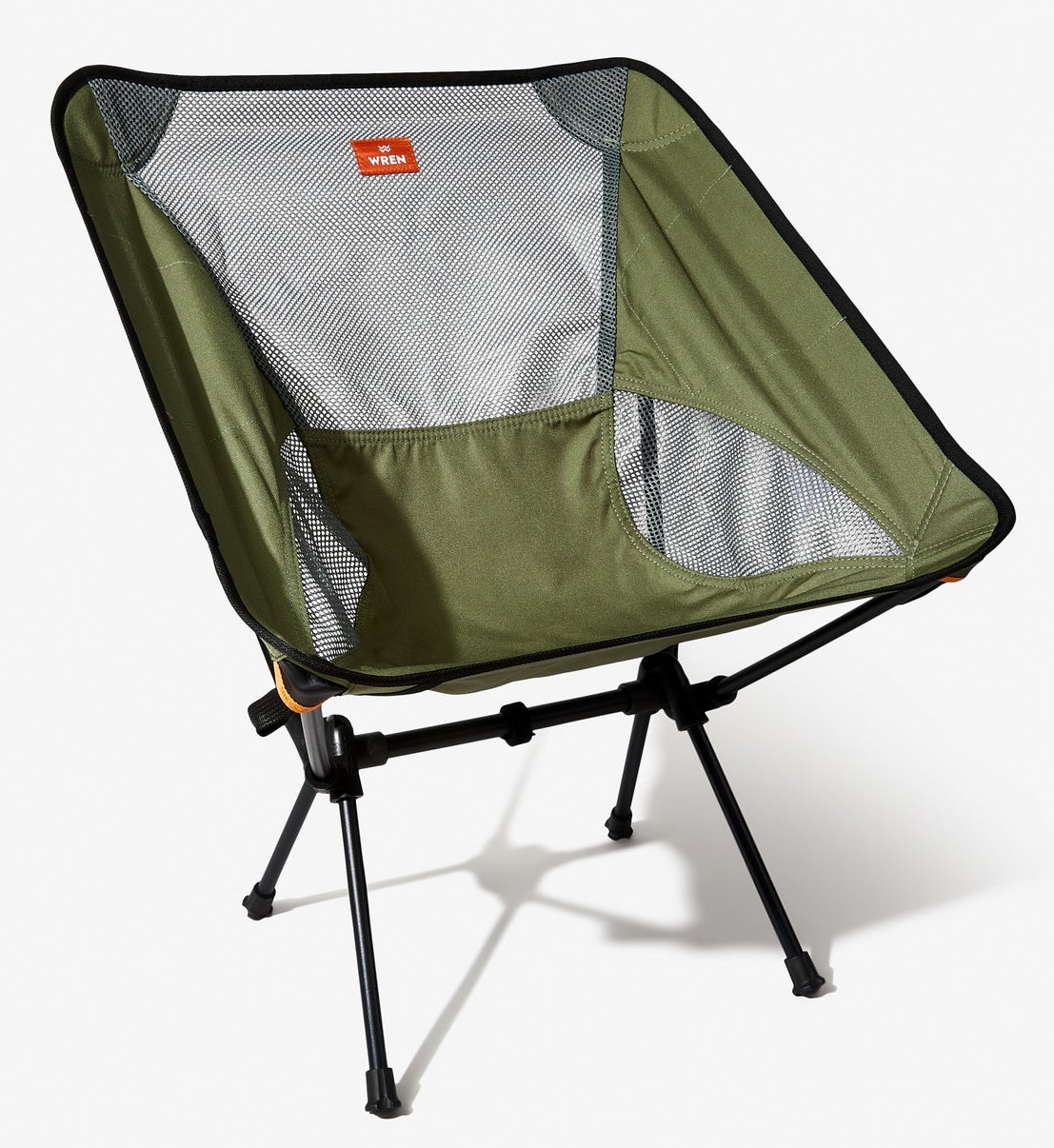 "I own this! I'm originally from Utah, where I used to live on a mountain and hike (literally) every day. After spending most of my life outdoors, I'm really picky about the products I use. This camp chair is easily something I'd recommend. If you're doing a short backpacking trip and plan on having something to sit on at your site, this is a solid choice! It's also my go-to when hanging out at a park or spending long stays at a campsite." —Mallory Mower
Get it from Bespoke Post for $75 (available in three colors).
13.
A large Rumpl outdoor blanket, a portable, waterproof quilt that is dirt-resistant and well insulated. It is easy to clean, extremely comfy, and made from 100% recycled materials. The only thing you'll be wondering is why it took you so long to get this? 
"I have a Rumpl and absolutely adore it. It packs down well into its little stuff sack, making it perfect for bringing on car camping trips or day trips out and about. In the summer, it's great for sitting on, and in the winter it's perfect for snuggling under. It is a little pricey, but it's the best-of-the-best for durable outdoor blankets, so definitely a splurge-worthy gift! The Rumpl is also machine washable and dryer-safe — a huge win, especially since it'll probably be getting dirty. That said, I've put mine in straight up dirt many times and everything just brushes off, so I actually haven't washed it yet!"  —Rachel Dunkel
Get it from Amazon for $99.
Leveling up your camping game like: