1.
A three-pack of that *iconic* cleaner, The Pink Stuff, because I tried EVERYTHING to get the dye out of my tub and this was the first thing that worked. 
"Look, anyone who knows me, knows that I am always covered in dyes and paints. So sometimes my shower gets dyed and normally it's not a big deal. Until I used a new brand of dye that literally just didn't want to wash out my tub. I tried all the usually cleaners, before ordering a tub of The Pink Stuff off Amazon as a last ditched effort. And it worked! I did have to let it sit on the tub for like 10 minutes before scrubbing with a brush. I've also used it for other things and it always works." —Tasia Bass
"Upon moving to a new house, I discovered I'd inherited some not-so-well-maintained white bathroom tile, with white grout to match. At least, the grout had been white at one point. Woof. After having heard nothing but raves about The Pink Stuff, I decided to see how well it would work on what has probably been my most trying cleaning task to date. Well, I'm happy to report that after a bit of light scrubbing, The Pink Stuff was able to lift most of the muck off of the grout, revealing a much lighter surface underneath (GIF for proof!). While I think it might take a few more applications for the grout to *dazzle,* I'm super impressed by the difference I was able to see right away, and with not very much elbow grease to boot. I mean, it is white grout, so if it was able to work wonders on that, I can't wait to see what it does for my crusty pots and pans!" —Brittany Ross
Get a 3-pack from Amazon for $19.99.
2.
A Mrs. Meyer's basil-scented room spray can knock out strong odors while being subtle enough to not overpower your senses. Will be having you singing "so fresh and so clean" 🎵
"I've been using Mrs. Meyer's basil room spray for lit-er-al years, and it now has a permanent place in my bathroom. It's unique in that it's just sliiightly floral, but more savory than sweet. It never smells cloying to me, just crisp and refreshing, and as someone who sneezes at the drop of a hat, I can say with confidence that this hasn't had an adverse effect on my sniffly tendencies." —Brittany Ross
Get it from Amazon for $5.49 (also available in four other scents).
3.
A Force of Nature All Purpose Cleaner, an eco-friendly all-in-one cleaner, deodorizer, and disinfectant. Plus making the cleaner every couple of weeks is sooo much fun that it will make you actually want to clean. 
"I was a little skeptical originally but I actually really like this. For one, it doesn't have a strong smell which makes cleaning days so much better when I don't have to open every window, just so I can breathe. The starter kit came with the electrolyzer machine, a spray bottle and five disinfectant capsules. I definitely suggest you read the instructions fully before you use it the first time. It seems very complicated at first, which is why it took me so long to use, but it is quite simple to use. I think my biggest fear was that I was going to mess something up but it's really 3 easy steps: pour in the water, add in the capsule solution, and then press button. Plus it's fun to watch! It's like a cool science experiment you would do in school lol. The cleaner lasts about two weeks, which actually isn't too bad if you use it for daily wipe downs. It works on counters, mirrors, and even in the tub. I did spill acrylic paint on my desk and it took a little bit of elbow grease, but it was able to get the paint off without ruining the wood. I also like to spray it in my garbage can after I throw away veggies or fruit scraps to make sure it doesn't smell." —Tasia Bass

Get the starter kit from Force of Nature for $80. 
4.
A Weiman Gas Range Cleaner to help get rid of any grease that accumulated, especially after those nights of frying up donuts at 2 a.m.
"This stuff is THE TRUTH. My roommate is the best, but let's just say wiping down the stove after cooking is not one of her favorite activities. I'm not particularly fond of doing the dishes, so I guess we're even. Anyways, I spray this on a few times a week, let it sit for about five minutes, then wipe with a cloth and it removes EVERYTHING. Like, every little spot of caked-on grease and burnt crumbs come off with just one wipe." —Daniel Boan
Get a two pack from Amazon for $11.50.
5.
Or a biodegradable Weiman glass cooktop cleaner for easily washing off grime, dirt and more from your stove top. Gleaming so bright, you wouldn't believe it's not brand-new. 
"My snowbird grandparents have been sending me to check on their summer home occasionally while they quarantine in Florida, so I've had the fun job of shoveling snow off their deck and finagling a million envelopes out of their overstuffed mailbox over the past few months. On my most recent visit I decided to stay for a few days, and was intent on cooking myself a lavish meal. Well, I've never really used an electric stove before and, I don't know WHAT I did, but there were giant streaks and marks all over it after I was done. I tried everything to get them off, and I am definitely NOT overreacting! I finally mustered up the courage to tell my grandparents I ruined their stove, only for them to break out in laughter. Grandma instructed me to use get this cleaner below the sink and, well, the rest is history. It literally wiped the streaks away before my eyes. Magic." —Griffin Gonzales
Get it from Amazon for $6.16.
6.
An all-natural Humble Suds scour paste that'll remove even the toughest film and grime off any surface! No more sticky cabinets. 
Humble Suds is a Denver-based Etsy shop creating plant-based cleaning solutions that are safe, effective, and come in cute packaging (Bonus!).
"I recently moved into a new apartment, so lately I've been cleaning A LOT. Shortly after moving in, my partner and I went to store something on the top of the kitchen cabinets only to find them caked in a thick layer of grime 🤢 After going at it with regular multipurpose cleaner (with little success) we broke out the scour paste as a last-ditch effort and OH BOY did this miracle product deliver (pics above). If it can handle that grossness, it's going to have no problem with day-to-day messes like soap scum and burnt-on food. Plus, it smells delightful and comes in minimal, low-waste packaging!" —Danielle Healy 
Get it from Humble Suds on Etsy for $14.95+ (available in two sizes).
7.
A game-changing Furemover broom for those who are constantly battling the dreaded shedding pet (and human!) hair all over their house. 
"An embarrassing confession: I do not have a pet, but I shed like nobody's business. My hair gets so ingrained in the carpet that a vacuum truly does nothing for it, so I often was just unrooting clumps of hair from the floor with my hands (sorry for the visual). I bought this broom and it immediately started pulling it up GOBS of hair. My carpet, like, genuinely changed color (turns out the pink was supposed to be much pinker, whoops). Anyway, do with that semi-horrifying information what you will — you can read my full review of the pet hair broom for more deets." —Emma Lord
Get it from Amazon for $12.98.
8.
A Folex stain remover, the mighty carpet cleaner that will clean up basically anything you spill. Trust me, just spray, blot, and tadah! The spot is gone. 
"When I say this is a game changer, I literally mean it. I am a painter and unfortunately very clumsy. So sometimes I accidentally knock my paint all over my carpet and have to figure out how to clean it up. This is the first carpet cleaner that works and is easy to use. I first will clean up the excess paint, spray a little of the cleaner, then slowly blot the stain until the stain lifts. No more stress." —Tasia Bass
"It works on both old and new stains (including red wine!), and on any color-safe fabric that you can safely wet with water (read: not dyed silk or wool, probs, or anything that says "dry clean only"). I recently used this on a mystery stain in the lining of an old purse and worked like a charm! I did end up spraying, agitating, then letting it dry twice before I got the whole stain out, but that had more to do with the various folds in this purse lining than the product, I think. The key is to use enough of the product, then to gently agitate it with your fingers — then stains really do vanish in front of your eyes." —Natalie Brown
Get a bottle on Amazon for $12.25.
9.
An EcoTools makeup brush shampoo to clean out all the gunk, oil, and impurities that builds up without ruining the brush. 
"After reading about how necessary it is to actually clean your makeup brushes (I know, I KNOW, I should've been doing this for years) I was super grossed out and motivated to order the right supplies to do the job. I've heard good things about Ecotools makeup brush-cleansing shampoo so I figured I'd start there. The Amazon listing also suggested buying a silicone makeup brush cleaning pad to go with it so I figured... why not? Well, now I'm patting myself on the back because ordering these two items was a LIFE CHANGER!
I could not believe how much residue came off my brushes in just one cleaning. You only need to use a little dab of the shampoo, so one bottle will definitely last a long time. The silicone pad made it super easy to thoroughly lather the brushes without leaving my bathroom sink in shambles. I also loved how each section was labeled with which brush should be cleaned in each area. My brushes look brand new! Don't hesitate like I did — buy both the shampoo and the mat ASAP." —Heather Braga
Get it from Amazon for $7.99.
10.
A MyKirei foaming hand soap in a yuzu citrus scent, that also pumps out in the shape of a flower. It is filled with vitamin C-rich Yuzu extract and soothing Rice Water, leaving you with soft, nourished hands. 
"I've been using this soap for two weeks now, and not only is it super hydrating for my hands (lol @ constantly hand washing now and forever!), the yuzu scent is just calming and lovely, and I'm obsessed with how light and frothy the foaming suds are from the soap. The best part is that the bottle is totally reusable; you buy the dispenser once, and then you can get refills of the foaming soap for $12.50 from then on out." —Emma Lord
Get it from Amazon for $18.
11.
An Oxo soap dispensing dish brush that'll spare your fresh manicure from being ruined while scrubbing hard food stains off dishes. 
"Yet another excellent Oxo product I've been using at my parents' house! I actually put this in my dad's stocking last Christmas, but it was a gift for us all. The handle is the perfect length and thickness to give you lots of control while keeping your hands clean, and the soap-dispensing button is so easy and satisfying. It does need frequent refills, but those are easy — just unscrew the handle! I also didn't even realize it has a built-in scraper on the end till just now, so I can't wait to try it out and potentially fall in love with this thing even more than I already have." —Katy Herman
Get it from Amazon for $11.99.
12.
A splurge-worthy Dyson Outsize cordless vacuum to suck up all the hair and dust that is residing in your carpet. 
What's included: High torque XL cleaner head, hair screw tool, crevice tool, stubborn dirt brush, mini soft dusting brush, combination tool, wand clip, docking station, two chargers, and two batteries.
"I've personally had this baby for a few weeks now and it is incredible. When I tell you it pulls up a startling amount of cat fur and dust from my area rugs, I mean a STARTLING amount. I have an inexpensive robo vacuum that I used to rely on to clean them but who knew so much more was hiding in there!!! I LOVE that the Dyson Oversize comes with two batteries because I am terrible about charging things. I am also just so dang impressed with the pure amount of power this thing has and the fact that it swivels so smoothly! I can get it into corners and under my couch and coffee table without any extra effort. Ofc, the various cleaning tools are also super helpful and the fact that they're so easy to attach/detach. TBH I didn't read the directions and figured everything out myself — that's how intuitive it is." —Chelsea Stuart
Get it from Amazon for $740+ (available with torque drive or outsize).
13.
A solid kitchen sink strainer can prevent food from falling down your drain, stinking, and becoming a nursery for fruit flies. This is to catch the food, so you can easily toss it in the garbage before it spoils.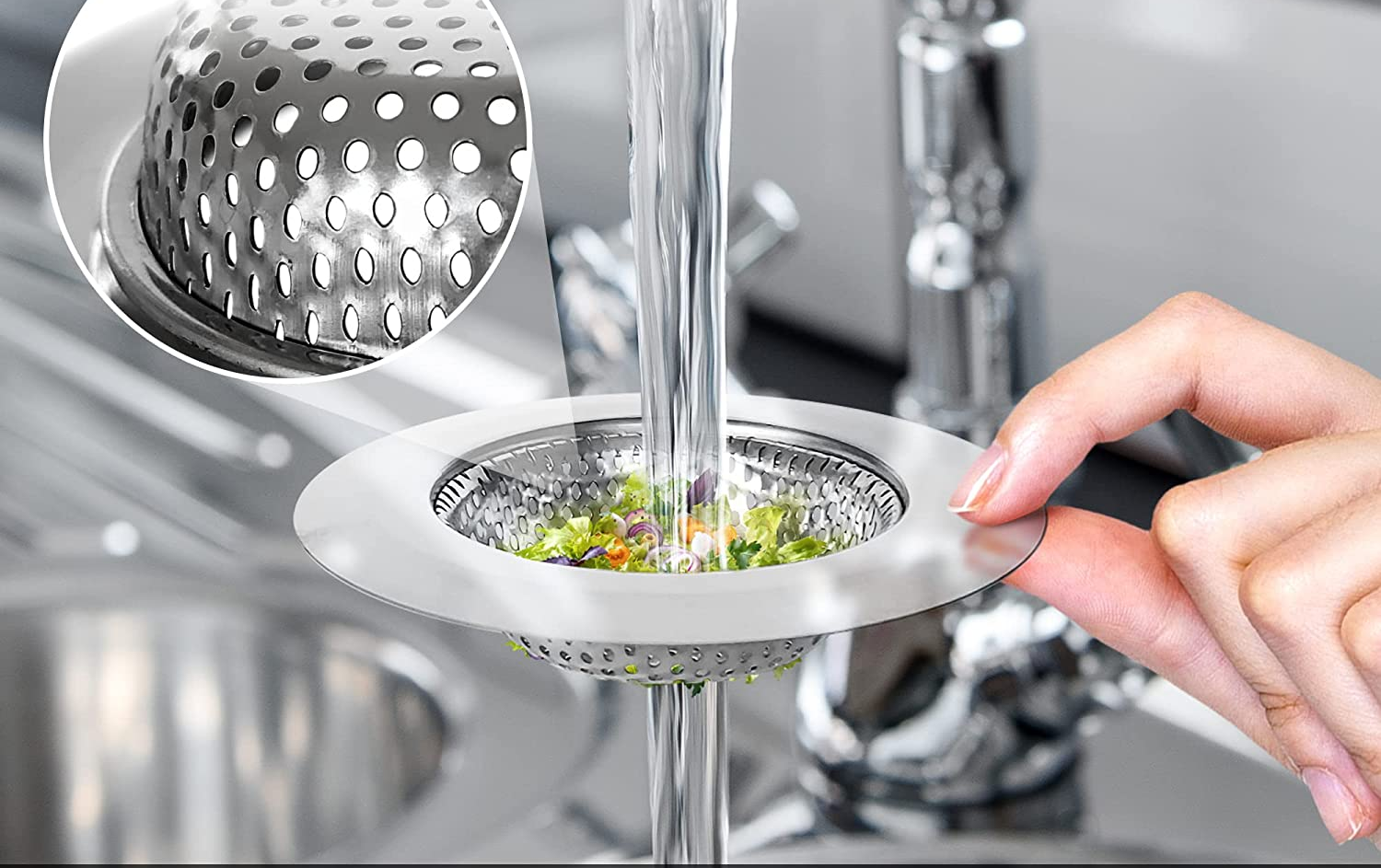 Plus, they're dishwasher safe! So when it comes time to clean the strainer itself, that'll be easy to do too!
"Going from living in a house with a sink that has a garbage disposal to living in an apartment that doesn't was something I didn't realize would take a little bit of getting used to. I was so used to being able to just turn on the disposal when needed and there are so many great products out there to help with smells in your garbage disposal like this one from Glisten. The strainer that came in my apartment was rusty, old-looking, and did not work to prevent food from going down. I bought this set of strainers with very low expectations and my goodness, they are WONDERFUL. It is so easy to dispose of food that ends up in the sink when I'm rinsing off dishes or cooking." —Sam Wieder  

Get a set of two from Amazon for $9.99.
14.
An O-Cedar Spin Mop & Bucket so you don't have to use your hands to wring out gross mop water. 
"I've been using this regularly for the last six months and I never thought I'd be so impressed by something so seemingly boring. The foot-operated wringer is a lifesaver for a lazy cleaner like me, and the microfiber mop dries quickly and stays fresh in between uses." —Daniel Boan
Get it from Amazon for $53.99.