People just love telling women what the *rules* are concerning their appearance. Tall? "You can't wear that, it'll be too short on you + it'll make you look trashy". That haircut? "Gross. Don't do it or it'll make you look *manly*". Plus size? [Side note — can we all agree to do away with the term *plus size*. We are humans, not soft drink sizes at a fast food chain, your body is beautiful — regardless of size!]. "That's disgusting, don't even think about wearing that".
With body shaming running rampant on the internet, one woman decided to take things into her own hands + show the world that enough is enough — it's time to stop shaming each other.
A sophomore at Bowling Green State University, writer + editor for the Odyssey Online, Sara Petty joined CHAARG at the start of this year. Prior to joining CHAARG her relationship with fitness was mediocre: "I was like okay, I'll just go bike for an hour + sit in the sauna + leave."
After having a *bad* semester, which she defined as "eating a LOT + workout a LITTLE" ++ hearing how CHAARG had positivity transformed her friends + girls on BGSU's campus, she realized that she wanted to take the next step in her health + fitness journey… so she joined CHAARG: "Now I work out so much harder, have done so many new [fitness activities] + have truly loved it."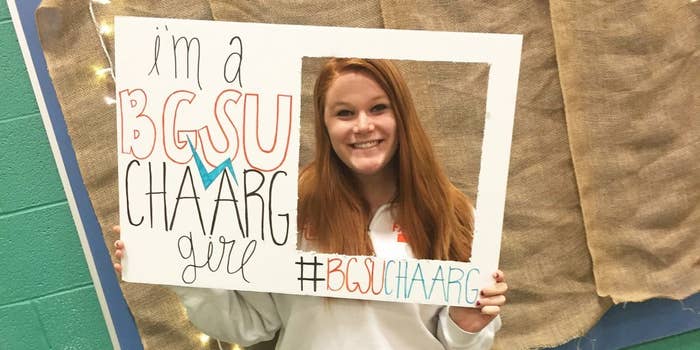 Sara's favorite part of being #inCHAARG? "It surrounds me with girls who want nothing more than to see you succeed + love yourself. It is more than working out, it is changing your lifestyle with SO many girls to help you."
This is Sara's first semester in CHAARG ++ she dove into it head first by participating in the CHAARG Spring Break FitPlan. She shared that she's learned SO much throughout the past five weeks ["most importantly, I learned how to use machines other than only the bike ; )"]… one of the most important things she learned:
"THIS BODY IS MINE, NO MATTER WHAT IT LOOKS LIKE. CHUBBY WITH CELLULITE OR TONED WITH A SIX PACK, THIS BODY IS MINE. IT IS MINE TO LOVE ++ TO CARE FOR, BUT NO MATTER WHAT SHAPE IT'S IN, IT'S MINE. SO I BETTER LOVE IT IN ALL OF ITS FORMS."
"I weigh 219 lbs today. When I first bypassed 200, I was humiliated. I'd look at our football lineup ++ compare my weight to the guys on the team. I cried. I pitied myself. I never wanted anyone to know. At some point during the CHAARG Spring Break FitPlan, a man looked at my weight on the scale [I believe I was about 223]. A grown man laughed at my weight. ++ something crazy happened — I didn't care. I pitied HIM, not me. Because finally I wasn't sad. I was working so hard… too hard to let a low life bring me down. Something that would have crushed me before I started the FitPlan, I was able to brush off. That wasn't me — that was CHAARG. I could not be more thankful if I tried."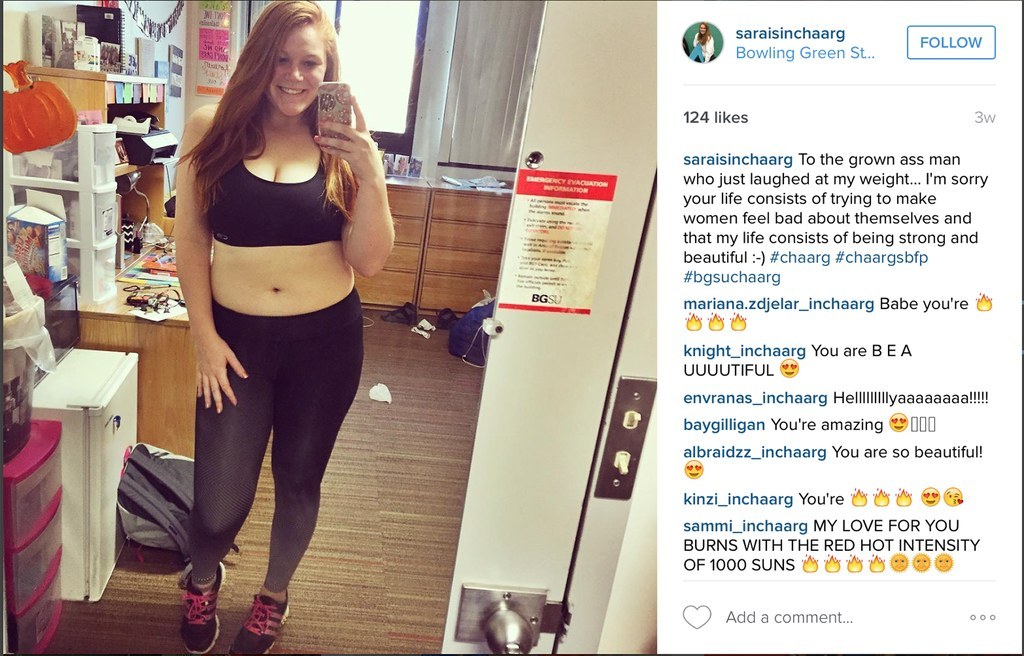 With so many girls standing by her side, Sara felt it was time she took things into her own hands. ++ what better place to stand up against body shaming than social media? Sara turned to Twitter + started to search words such as "200 pounds bikini" or "200 pounds crop top" to see what people had to say. Enraged by the tweets, she was inspired to challenge what she found — "It was actually on the last day of the CHAARG Spring Break FitPlan, I was down 8 lbs, I was feeling so confident, + I went for it. I knew I could subject myself to hate + body shaming, but I was hoping it would be inspirational to at least someone!" ++ with a dose of confidence, Sara tweeted the following: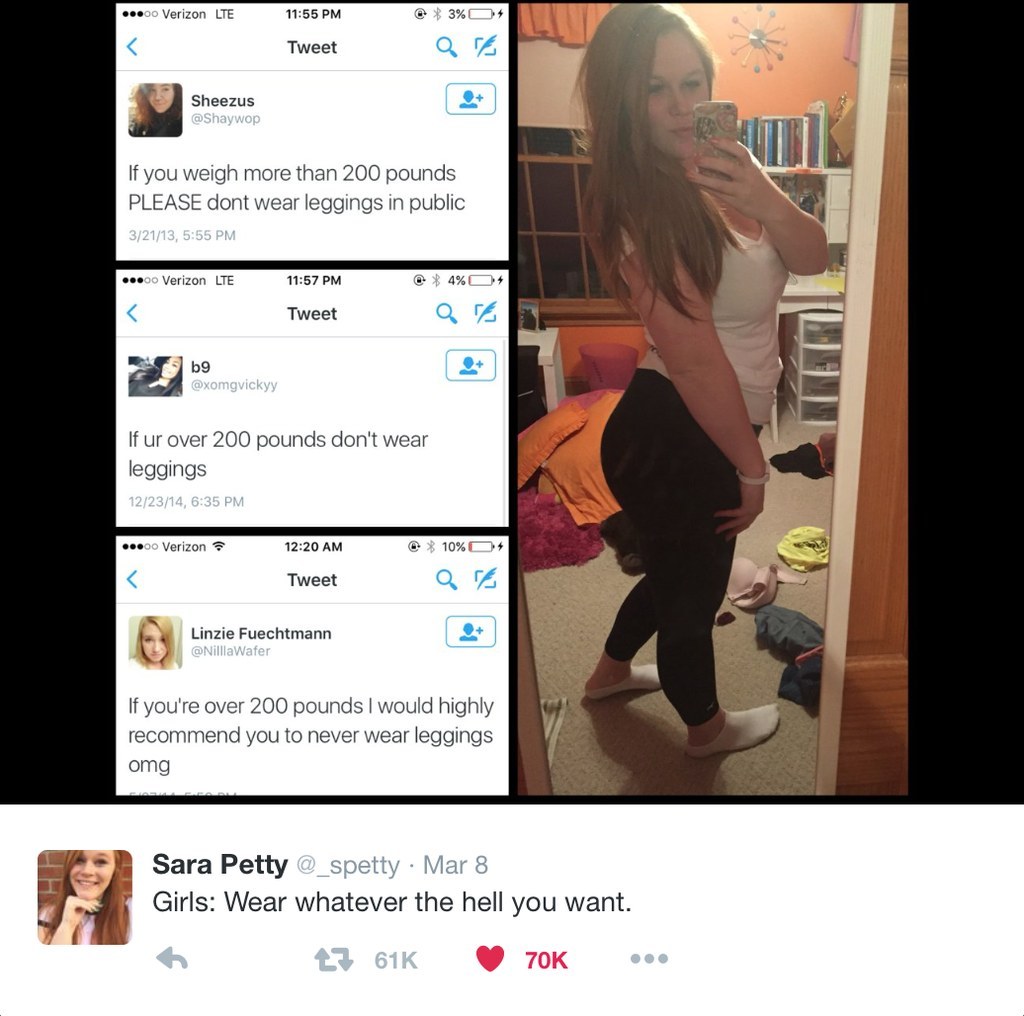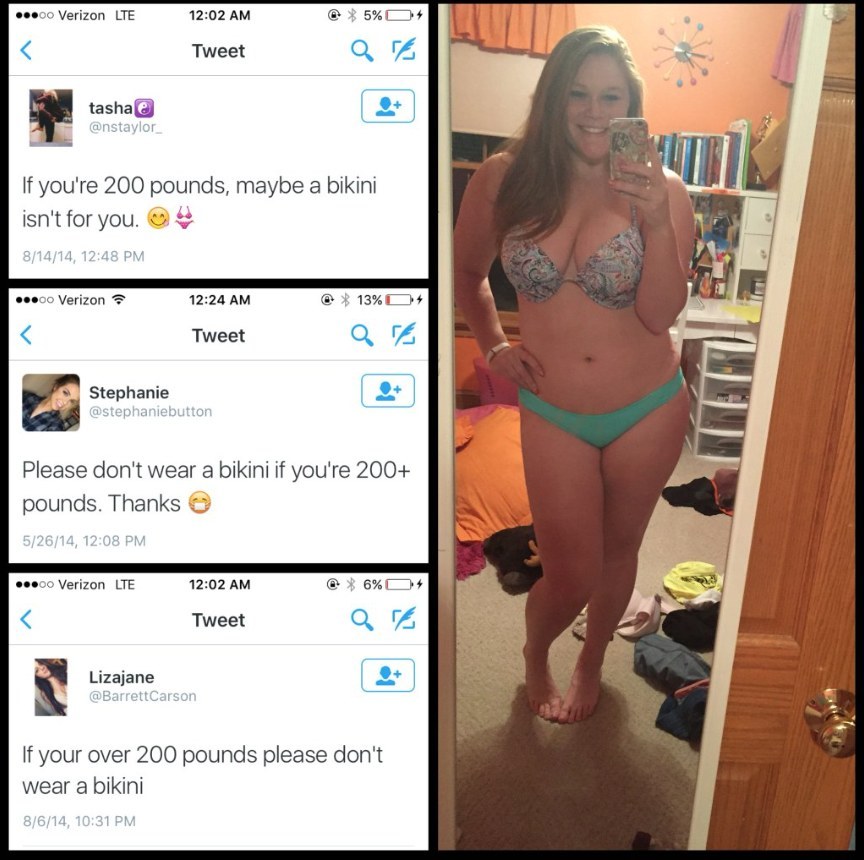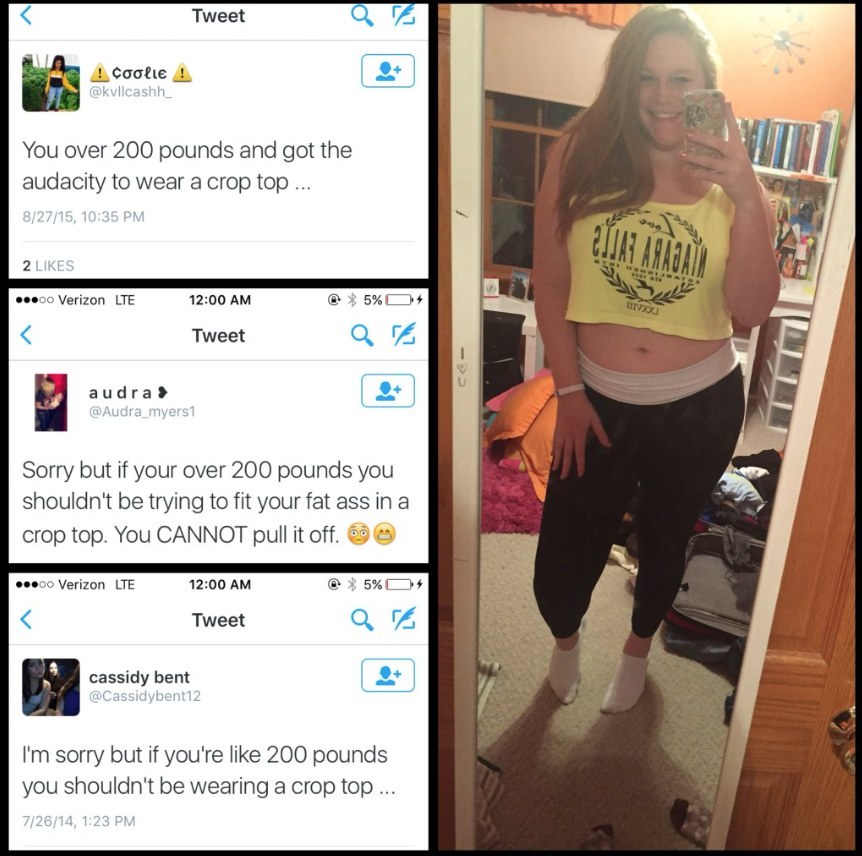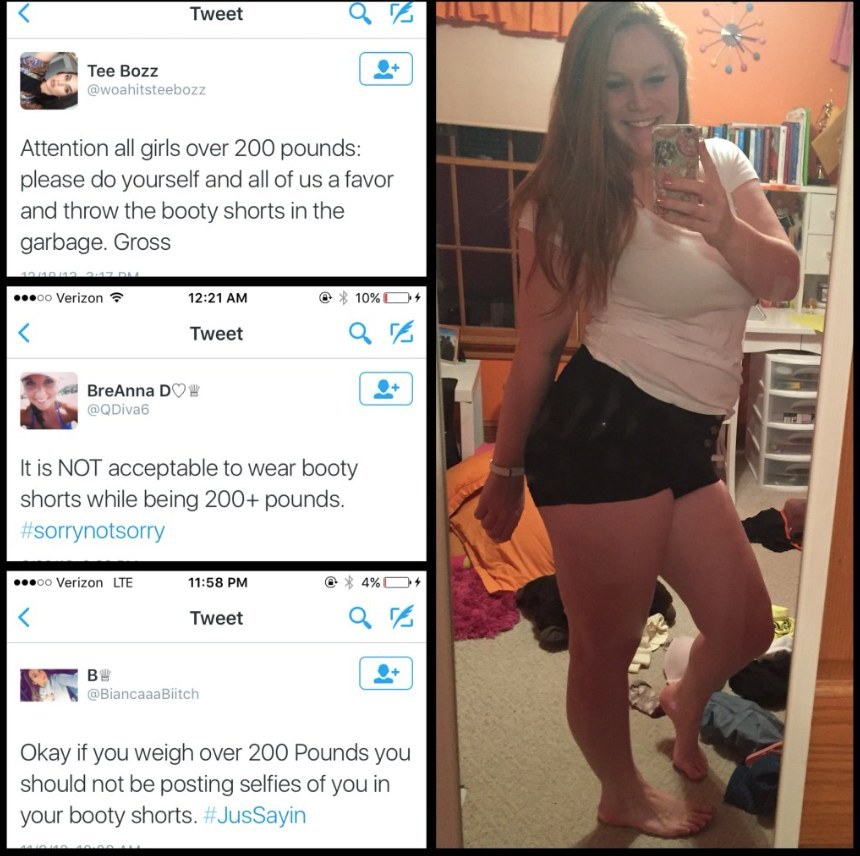 The message she wanted women everywhere to know? "You can love your body + still actively work to change it. Your body is yours whether you're at your biggest or smallest, so you have to love it in all of its forms. Regardless of if you're in the gym trying to gain more muscle or lose 10lbs, you need to love yourself through it all."
"YOU SHOULD LOVE YOURSELF IN YOUR *BEFORE* PICTURE AS MUCH AS YOU LOVE YOURSELF IN YOUR *AFTER* PICTURE."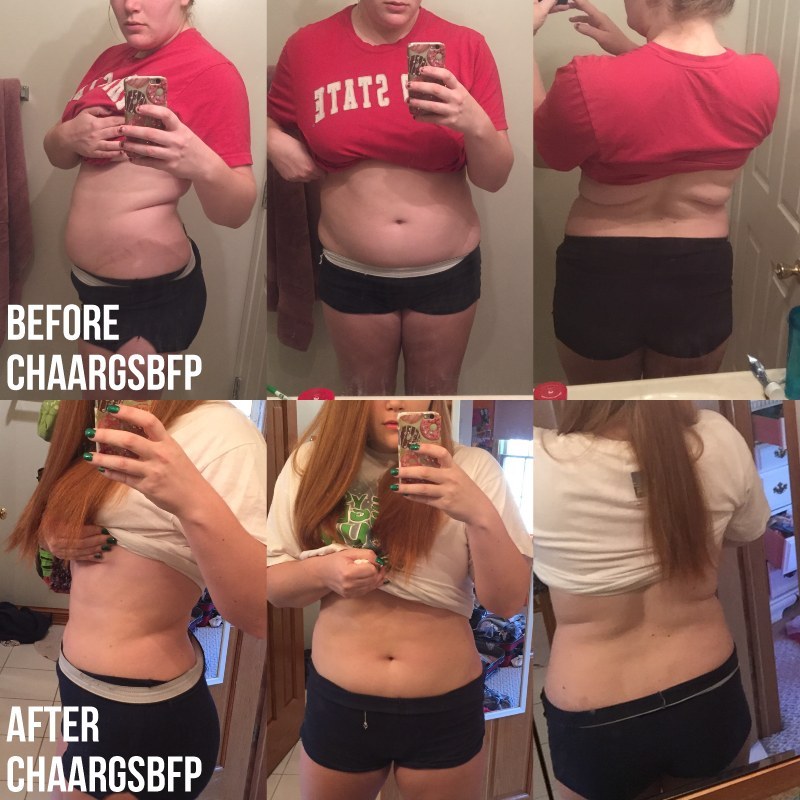 Crushing stereotypes + helping girls learn to love themselves is a typical day in the life of a CHAARG girl, but going viral because of it? Not so much. Sara opened up to us, "I'm a little bit overwhelmed, but so many girls have told me how I inspired them to wear clothes they wouldn't have worn before, + so I am incredibly happy. I've gained a lot of followers on both Twitter + Instagram, so I've got a platform now + I intend to use my voice for good! Through this, I've learned that I have a voice worth listening to, so I will definitely use it for good, including challenging stereotypes… especially stereotypes about women's body image!"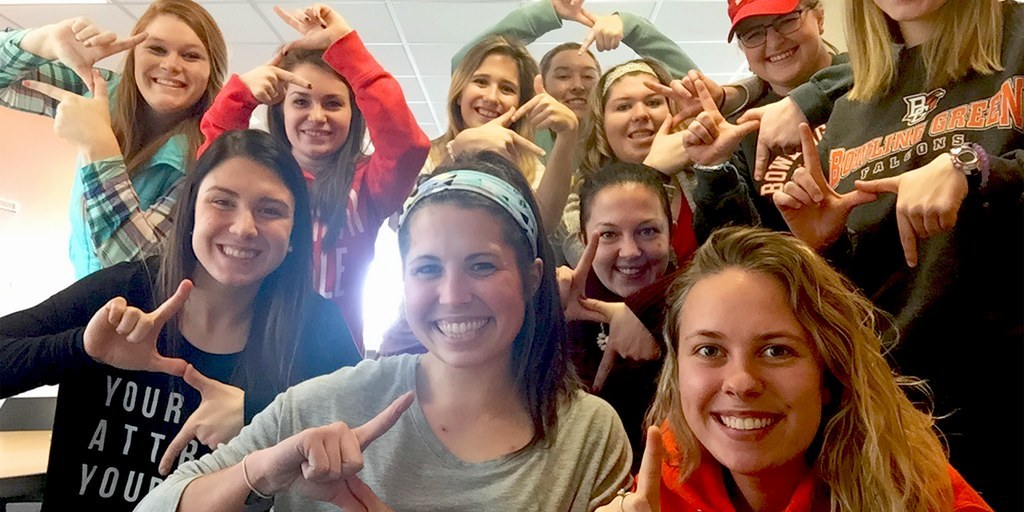 We love you, Sara, ++ are so thankful to have you a part of the CHAARG Community!
CHAARG is a heath + fitness organization aiming to liberate college-aged girls from the elliptical + inspire them to embrace a happy + healthy lifestyle. we are currently at 29 universities nationwide [+ have a Virtual Community for girls who do not have a CHAARG Chapter yet, as well as post-grads] + hope to someday be at every university across the nation -- if not the word -- to show that working out can + should be fun.
Join The Movement // CHAARG.com
Follow us on instagram // @CHAARG
++ Teresa [@tasandoval]