45 Incredibly Touching Moments From Sandi And Debbie Toksvig's Wedding Vows Renewal
In celebration of the legalisation of gay marriage in England and Wales, Sandi and Debbie Toksvig renewed their vows at the Southbank Centre in London this morning.
1.
The first same-sex marriage ceremonies took place in England and Wales today. 2.
To mark the occasion Sandi and Debbie Toksvig decided to renew their vows, seven years after they entered a civil partnership.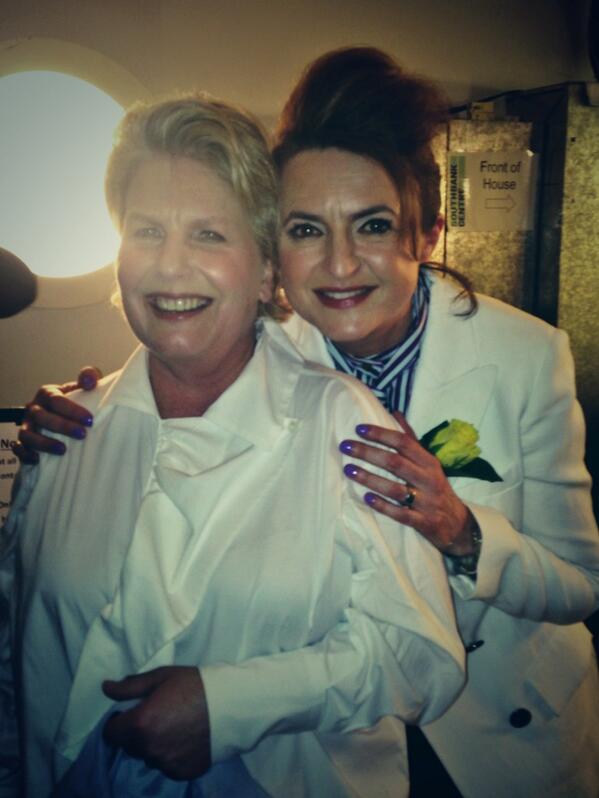 3.
Hundreds of people turned up at the Southbank Centre in London to help the happy couple celebrate. 4.
The London Gay Men's Choir kicked off proceedings with a beautiful rendition of "I'm Getting Married In The Morning".
5.
Which put everyone in the best possible mood. 6.
And pretty much the whole audience was crying before the first song had even ended. 7.
John McCarthy, who has been a family friend of Toksvigs for over 40 years, described the event as a "historic moment which will finally bring equality." 8.
Jude Kelly, the artistic director of the Southbank Centre, held back tears as she told us that "deep change happens through love." 9.
She read a letter from Jóhanna Sigurðardóttir, the former Prime Minister of Iceland, who was the first out lesbian to lead a nation. 10.
The choir sang as the Toksvigs' family and friends took to their seats. 11.
And as they sang, they looked out upon a sea of smiling faces. 12.
Literally everyone was in a good mood. 13.
Everyone was just so happy. 14.
By this point, it was time for Sandi to enter the stage. 15.
Sandi was led by her gorgeous daughter, Megan. 16.
Megan was Sandi's Best Woman. 17.
And she was the proudest Best Woman the world has ever seen. 18.
Sheila Hancock gave a heartwarming reading 19.
And Sandi joked that the Daily Mail would be irritated to see how well her kids turned out. 20.
She held it all together, until she said "I thought this day would never come." 21.
At which point she broke down. And Debbie got up to offer her support. 22.
They shared a tender hug. 23.
And sat back down again. 24.
Sandi's son Theo was next to speak.
25.
His mum was so proud of him. 26.
And he was proud of her too. 27.
And then the vows began. 28.
Sandi and Debbie promised always to love one another.
29.
Of course, Theo, Jessica, Megan and Mary were standing by their side. 31.
And looked into each other's eyes. 32.
And looked like the happiest couple in the world.
33.
By this point, there were no dry eyes in the house. 34.
Everyone was hugging. 35.
But also crying. 36.
Sharon D Clarke took to the stage to sing. 37.
Of course, everyone knew the words. 38.
Sandi and Debbie shared a kiss.
39.
And as they held hands, they looked out towards a crowd of support. 40.
Knowing that they can now enter a legal marriage.
41.
Debbie looked at Sandi with nothing but love. 42.
And then everybody danced. 43.
Sandi threw her bouquet into the audience. 44.
An audience of people who, as of today, can marry whoever they fall in love with. 45.
No matter what their sexuality.