1. Vienna started getting busy a whole week before the final. Fans travelled to Austria before the first semi final on Monday and stayed the whole week.
2. Which meant that every hotel, every bar, and every traffic light was Eurovision themed.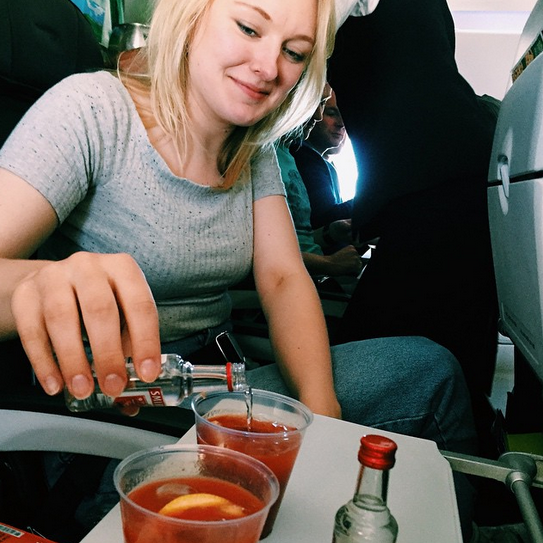 3. The press centre was absolutely packed 24 hours a day for the whole week. Journalists from the same country tended to sit together to watch dress rehearsals.
4. Pretty much the only snacks available were strange Austrian waffles that kinda tasted of Nutella. We are now 60% waffle by mass.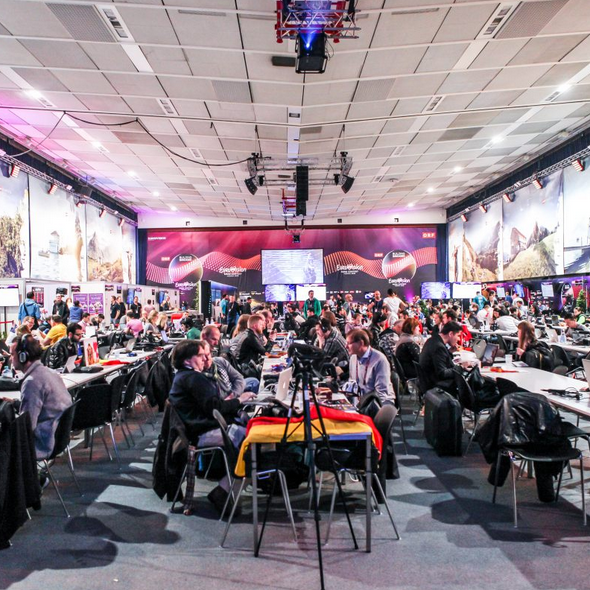 5. The acts' dressing rooms were right next to the press centre. Which was very handy for stalking sexy Eurovision men. Not that we did that. Obviously.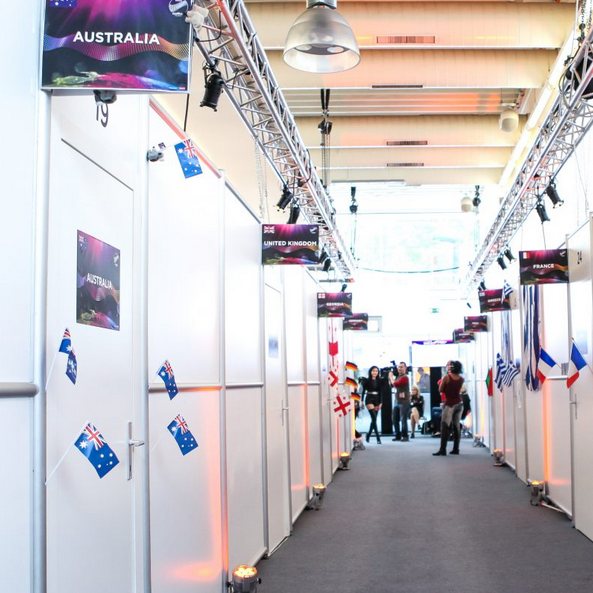 6. And whenever one of them came into the press centre, the journalists went crazy.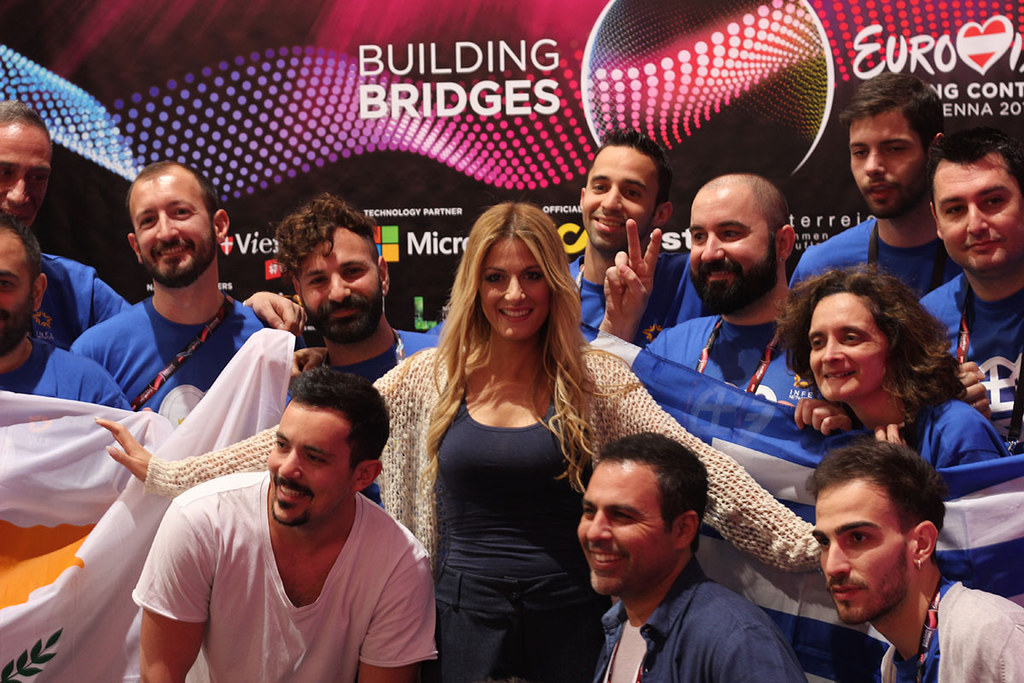 7. We met up with Nadav, the 16-year-old Israeli act, and fell head-over-heels in love with him. After our interview, his management met up with me to give me a "Golden Boy" T-shirt. "He'll never forget you girls," they told us, as our hearts broke.
8. But then we got drunk after the main show and text him this emoji:💋. Which we regretted.
9. We also chatted to Måns, who is even more sexy IRL. We were slightly delirious and very sleep-deprived by the time we met him, but he seemed preeeeeetty flirtatious. He even kissed our cheeks and gave us bracelets that match his, so we've basically made out with Måns. No biggie.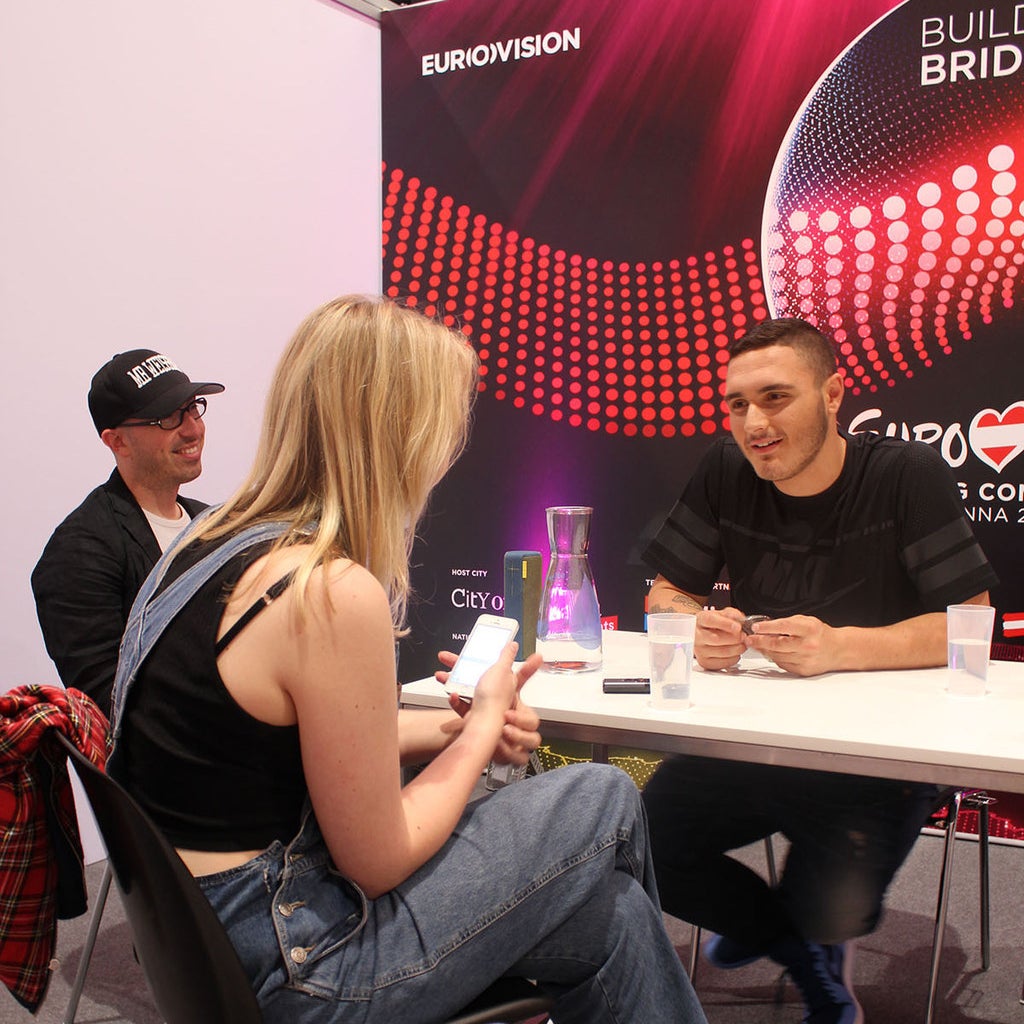 10. There was a Eurovision Village set up in central Vienna, which was supposed to be a central hub for fans. But because the weather was so crap all week, no one really hung out there.
11. In fact, it was mostly just full of tourist information desks from all the participating countries.
12. Fan clubs from each country hold parties throughout the week. We went to the UK's party, and found out that everyone was rooting for Sweden, no one wanted to go to Russia if they won, and everyone was delighted that Australia were taking part.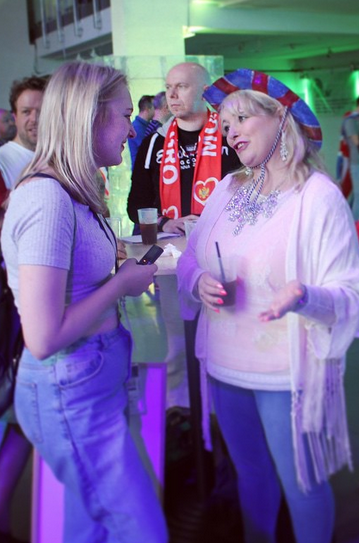 13. Hanging out in Vienna made it pretty easy to predict who would win. Aside from our biased love for Nadav, our predictions weren't bad.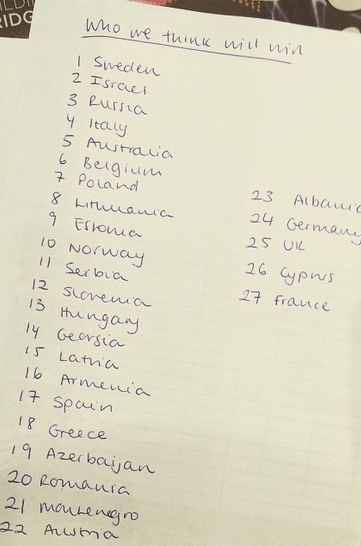 14. But really, we were rooting for Måns. We even got manicures to prove it.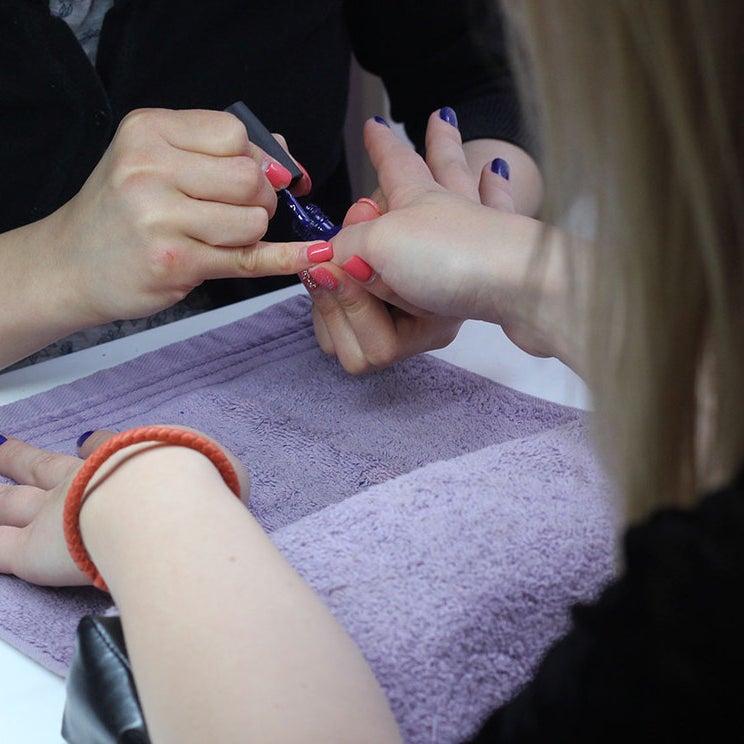 15. On the night, before the show began, VIP guests walked down a red carpet. There were press taking photos of people in amazing outfits, but nobodies like us were ignored.
16. Then we were treated to a buffet dinner and limitless booze. Before entering the main arena, we were served some bready dumplings and unidentifiable veg that was actually quite nice.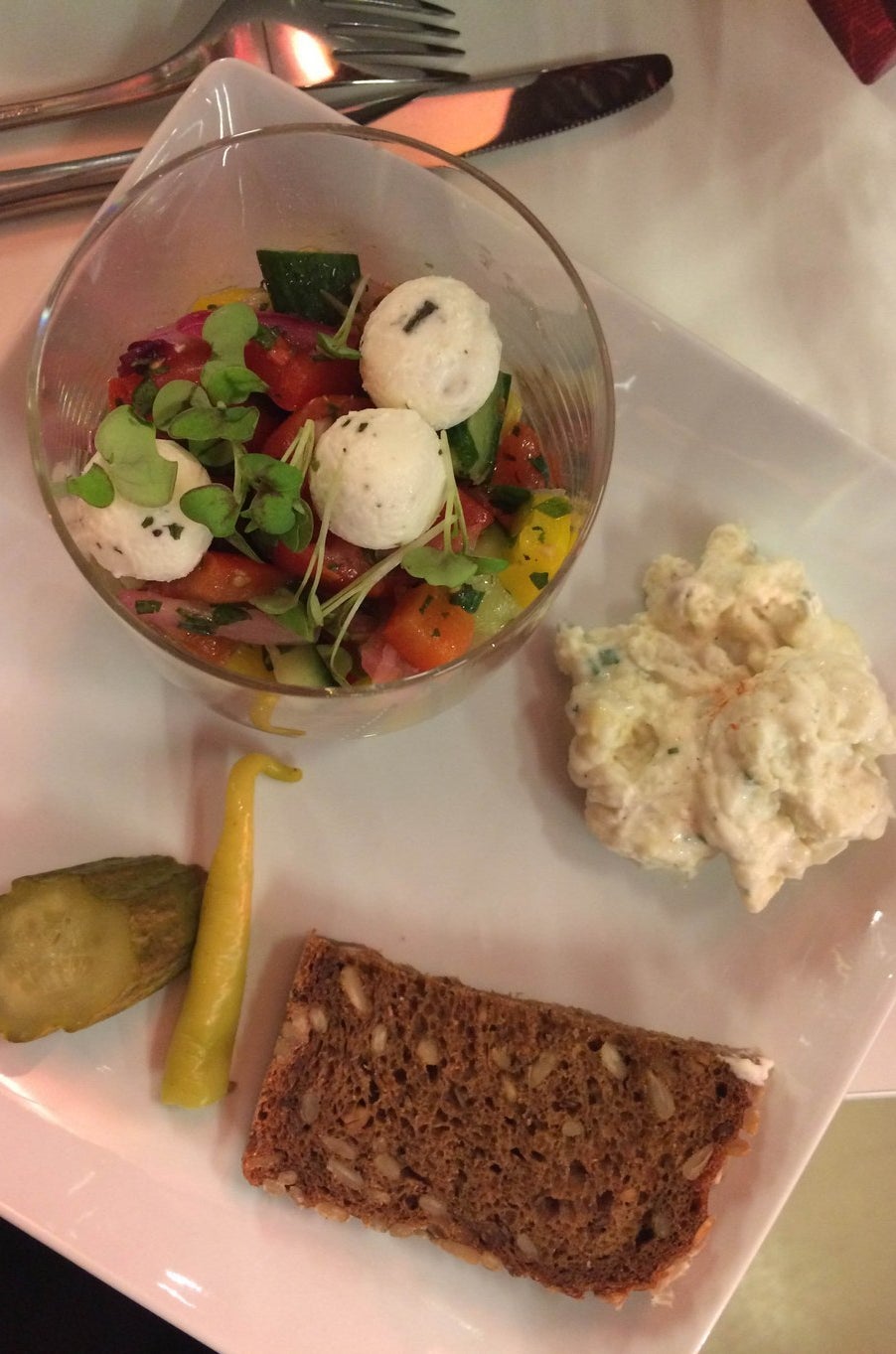 17. Once we sat down, a man in a white suit shouted "HELLO VIENNA" repeatedly to get the audience warmed up. It went on for aaaaaages, but it meant that when the lights finally dimmed, the crowd went nuts.
18. The Austrian chancellor was seated right in from of us, and so was the health minister. CoOoOoOoL.
19. The audience was mostly full of German flags, which was slightly awkward seeing as they got nul points. And, for some reason, someone was waving a South Korea flag.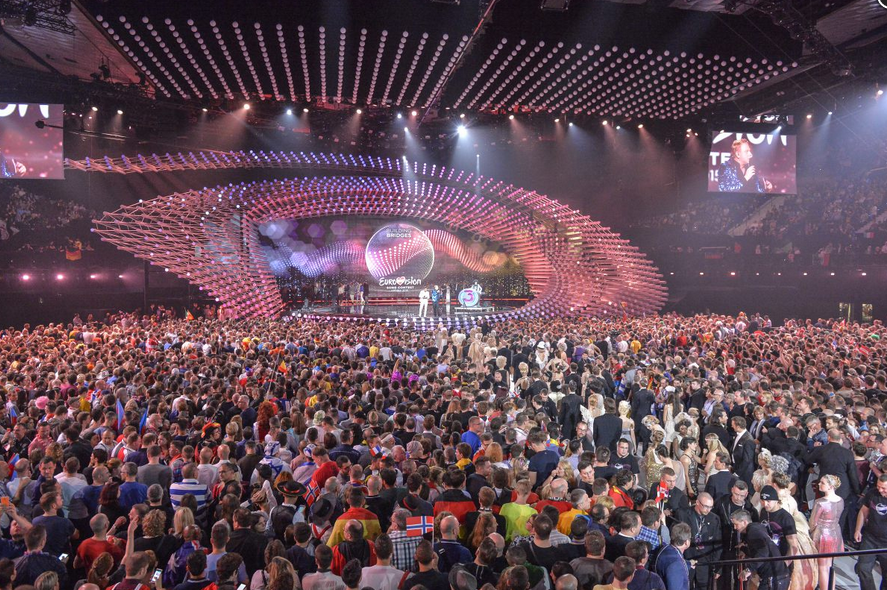 20. There are people whose job it is to dance in the aisle between the stage and the delegation area.
21. There are also people whose job it is to wipe glitter from the stage in between acts. They move so fast, it's like they're taking part in a curling match.
22. When Conchita flew through the crowd, everyone collectively lost their shit.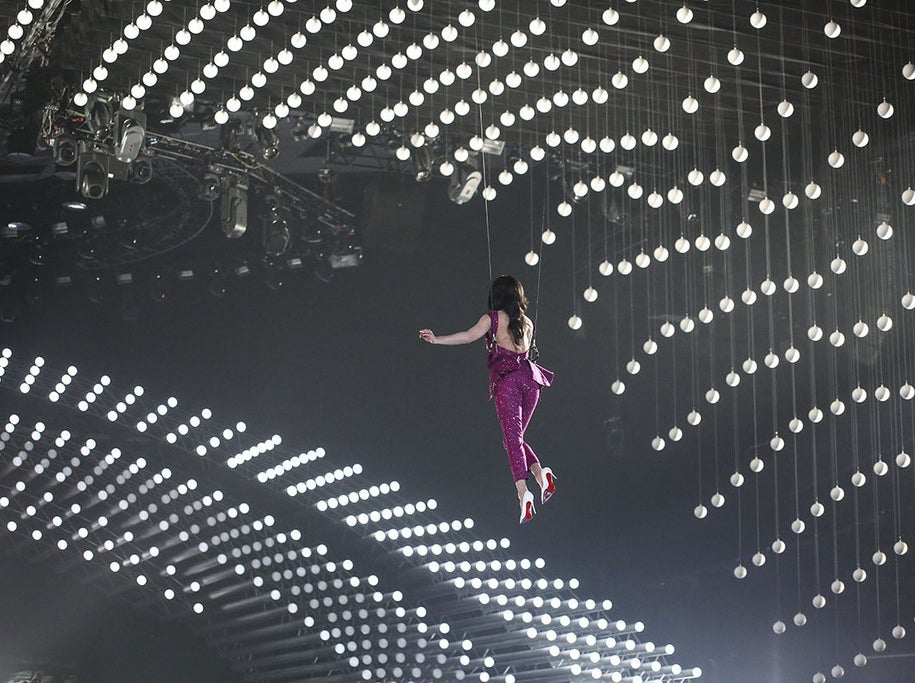 23. Before Maaraya, Slovenia's act, opened, Ray gave Marjetka a motivational talk and kiss. She looked super nervous.
24. Maria-Elena Kyriakou, the Greek act, spent the whole night taking selfies.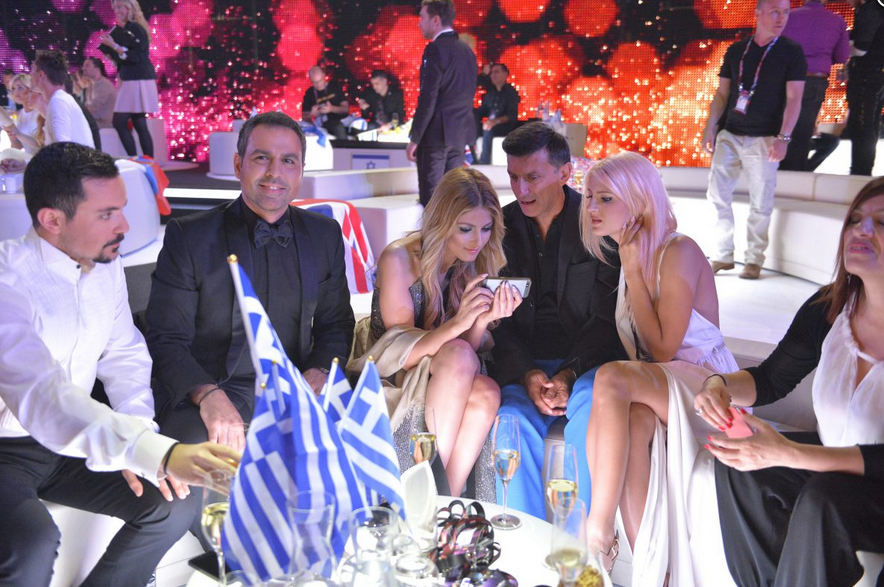 25. Literally no one cheered for France, the UK, or Germany.
26. Nadav, Israel's entry and the cutest man alive, jumped really high before he went on stage. And he was the first act to get the audience on their feet.
27. The lights on the delegation boxes always lit up to match the lights on the stage. So if the stage was pink, so were they. And the stairs to the delegation area were lit up like the Austrian flag.
28. The audience members at the very front of the crowd rotate. So when Serbia went on, for example, Serbian fans were summoned to the front.
29. Bojana, from Serbia, got the biggest reaction from the crowd. Even though she didn't score that highly, the audience loved her.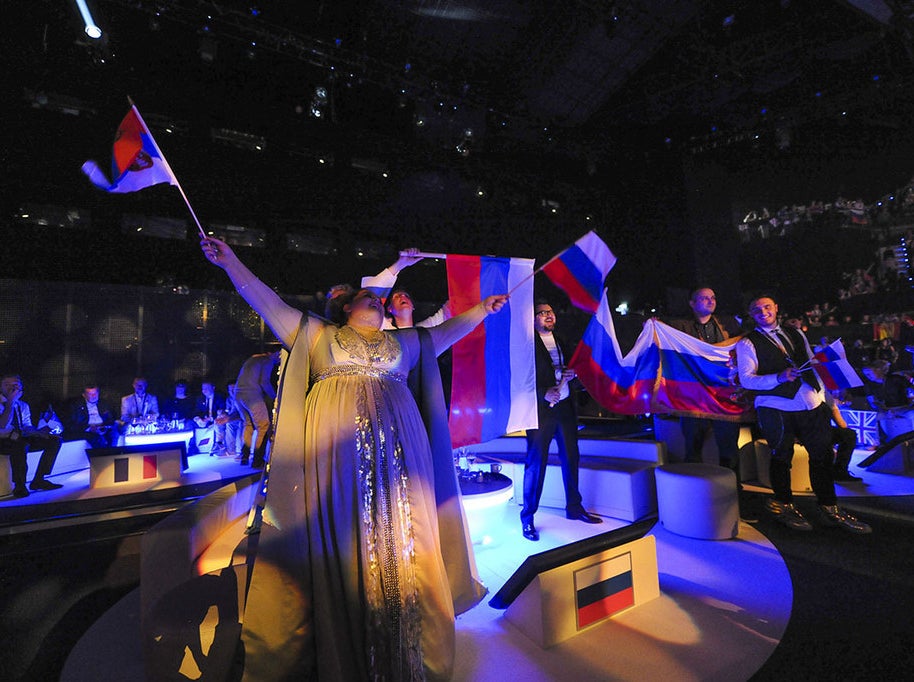 30. And once her performance finished, she spent the whole night dancing.
31. Debra from Norway has the most mesmerisingly thick hair we've ever seen in our lives, and we think we might be in love with her.
32. Måns Zelmerlöw, aka Swedish sex god, took about 5 minutes to set up. His staging was super complicated, and it was even more awkward when he went on stage at the end for his winning performance.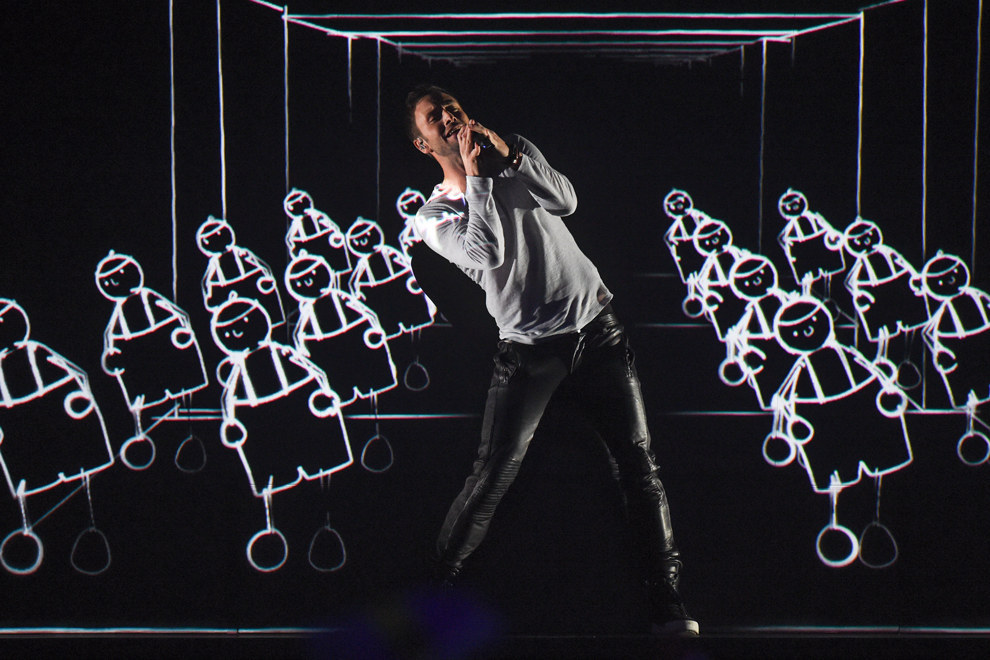 33. The reaction to Guy Sebastian was huge. Everyone was really pleased to see Australia there.
34. Loïc Nottet from Belgium was the most interesting act to watch live, because he had such a complicated dance routine. In fact, acts with backing dancers got a much bigger crowd reaction than those who just sang power ballads and stood still.
35. No one stuck around for Nenad Knežević Knez from Montenegro's performance. As soon as he came on, the crowd headed to the bar.
36. As the night went on, the acts got more and more pissed. Booze was being served to the delegation tables all evening.
37. Whenever a slow song came on, the audience were shown a sign that said "Turn your cell phone lights on".
38. Except when Voltaj from Romania performed. Then, the sign said "Turn your cell phone lights off."
39. When the Makemakes performed, the audience could literally feel the fire from the piano. It was so hot.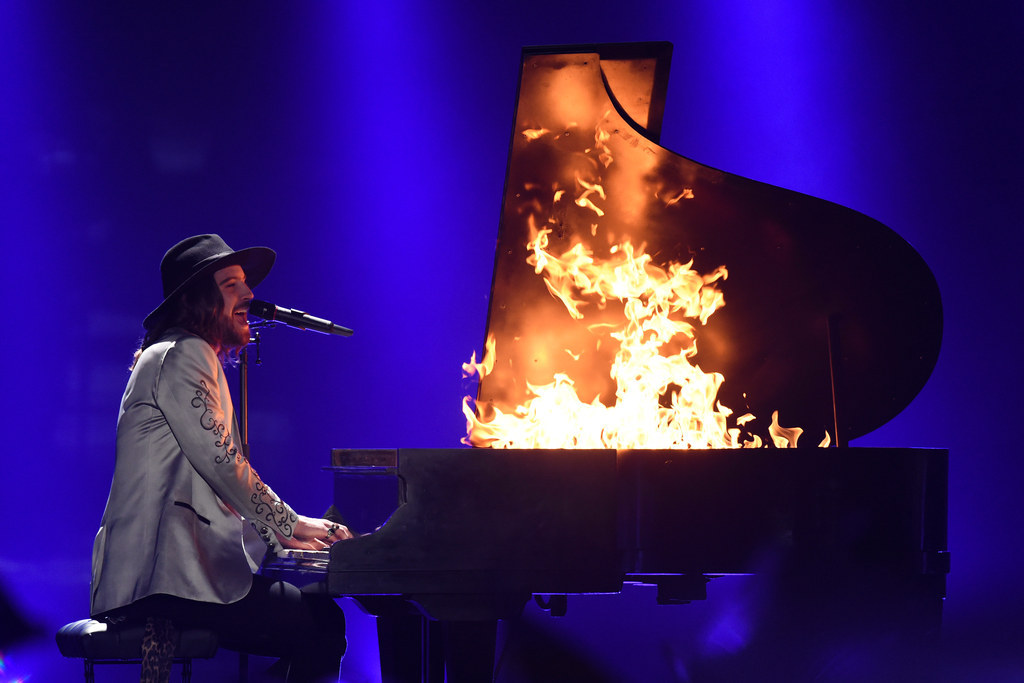 40. Polina from Russia needed someone to carry the back of her dress onto the stage. Once her performance was over she seemed really overwhelmed and her backing dancers helped her get off stage.
41. Throughout Polina's performance, Bojana from Serbia waved a Russian flag. And the audience waved pride flags.
42. When the interval percussion act came on, the audience was literally pushed out of the way by massive moving drums.
43. About quarter of the audience had left the arena by the time the voting started getting announced.
44. Every time Russia scored highly, the crowd booed. It was almost deafening. And Polina spent the whole night crying. We felt pretty sorry for her.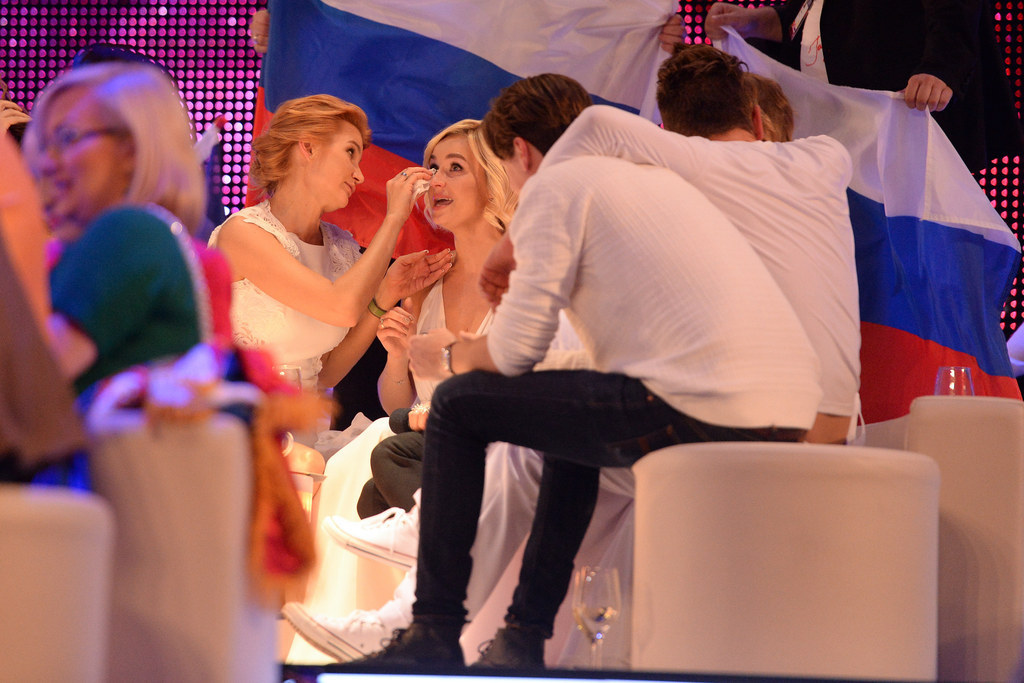 45. Whenever a country awarded Australia lots of points, Guy Sebastian would run to that country in the green room and thank them. What an actual cutie.
46. At one point, everyone started chanting "Sweden, Sweden, Sweden!". It seemed like, as long as Russia didn't win, everyone was happy.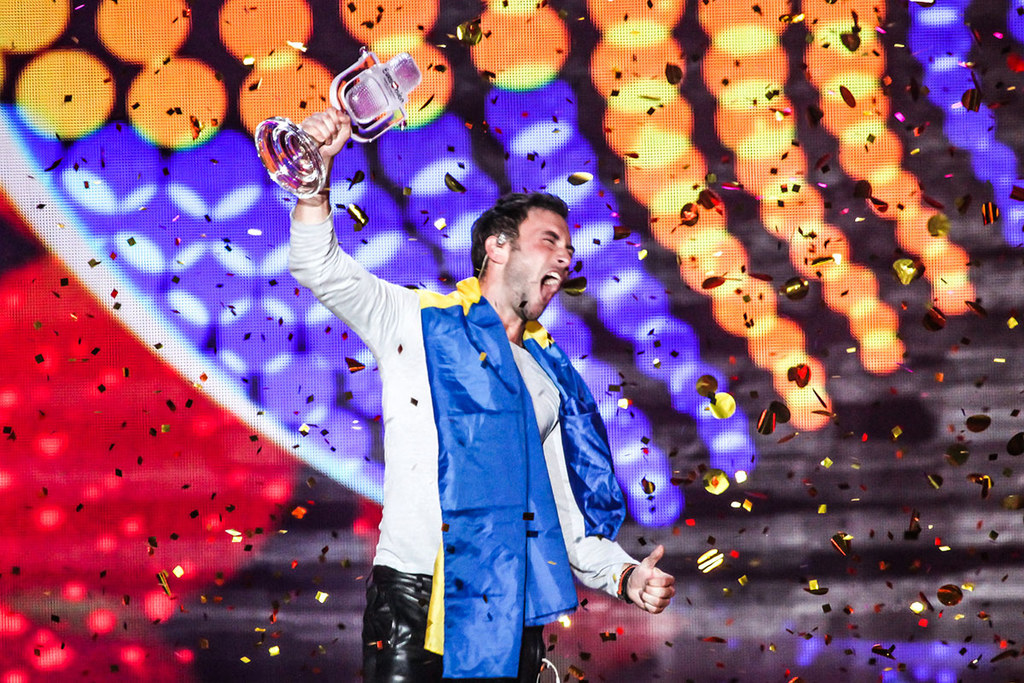 47. After the show, everyone headed to the EuroClub in town. It was held in the Ottakringer Brauerei, and was filled with a mixture of fans, press, and delegations.
48. We met Lys Assia, Eurovision's first ever winner, there. Everyone was queueing to get their photo taken with her, and she was an utter babe.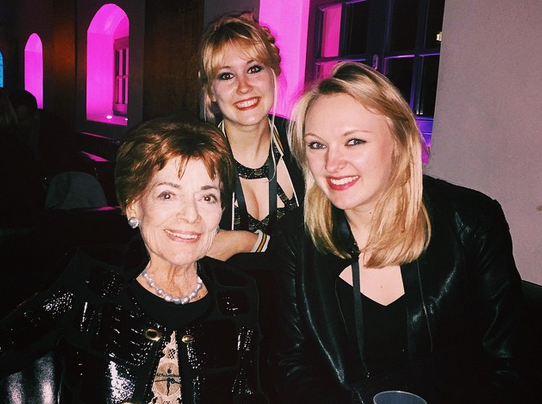 Correction: A previous version of this post said that an audience member held up a "pace" flag for some reason. We now know that reason is that "pace" means "peace" in Italian. Scusate.