So, my friends...I have recently come across what I consider to be the VERY BEST Instagram account of maybe all time — @yaboi_toby_toad.
It chronicles the daily life of Toby, a simple garden toad residing in Florida, who occasionally drops by his human friend Savannah Mikell's house and hangs out in her dollhouses.
"Toby is a happy little porch toad — he lives freely in my walled courtyard and has been hanging out in windows and flowers pots for probably about a year now," Savannah told BuzzFeed. "Toby stood out to me because he is so sweet and loves to be fed bugs!"
As for how they got started, Savannah said she found a fan club in the Facebook group Frogspotting: "I posted a photo of Toby on a little couch and it blew up! I knew Toby was special when I realized how many people he made smile, so I kept it going."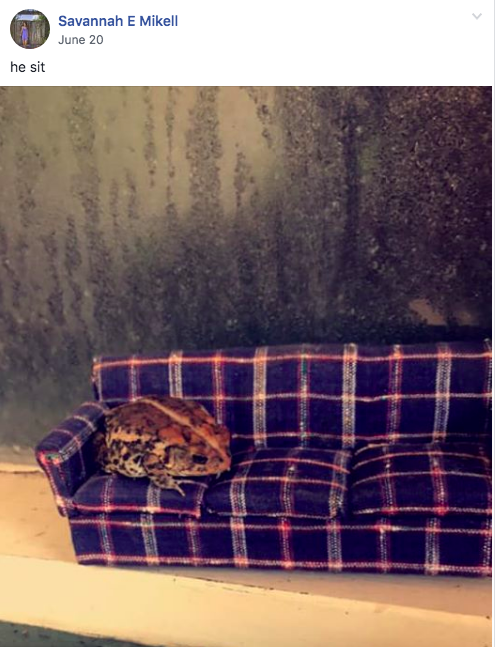 Conveniently, Savannah owns two INCREDIBLY intricate dollhouses that her aunt, a fine miniatures artist, made for her!
So, yeah — they have plenty of opportunities for different sets and scenarios. Like showering:
IDK, I just love Toby!!!!!!!!!
OK, that's all!!!!!!!!!!!!