Can you believe it's already almost Thanksgiving? On one hand, we wait all year for the best food holiday out there. On the other hand, planning, cooking, and hosting the big day can be really stressful.
This year, my Colorado family celebrated Thanksgiving early — for Canadian Thanksgiving. 🇨🇦 For anyone who might not know, Canadians celebrate Thanksgiving on the second Monday of October. My husband is Canadian, so it's a holiday we celebrate twice each year — and for that, we can definitely be thankful!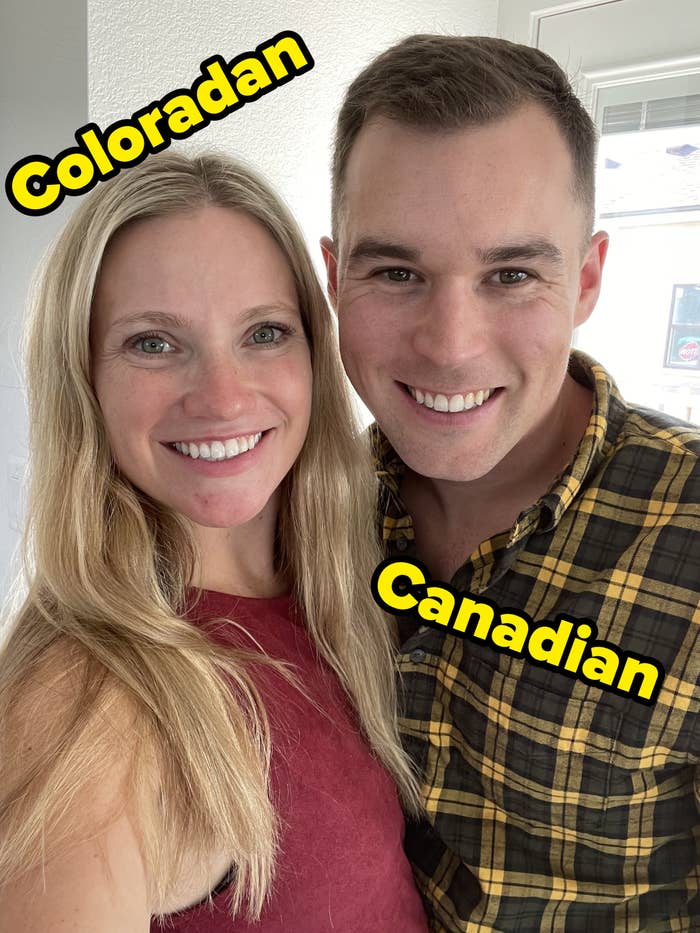 I wanted to share my family's Thanksgiving menu this year — the recipes, grocery list, prep plan, and the even things I wish I'd done differently in hindsight. Cooking for the holidays is tough! Hopefully this can help make it easier for some.
Similar to my typical week of meal planning on a $100 budget, I wanted to also keep the big Thanksgiving meal under that price point. This year, in addition to my own family of five, we were also hosting some guests for Thanksgiving — so I knew it would be a challenge.
Every Thanksgiving, I make a mix of recipes that my family already knows and loves — plus a few new ones. Once I settled on a lineup this year, I pulled everything into a grocery list. This list includes everything I needed to make the meal, except for dried spices, olive oil, and drinks.
Here's everything that was on the menu this year:
Back to the groceries: Everything — other than the turkey — rang in at $85.79. I knew the turkey would be the most expensive part, so I price-shopped it elsewhere.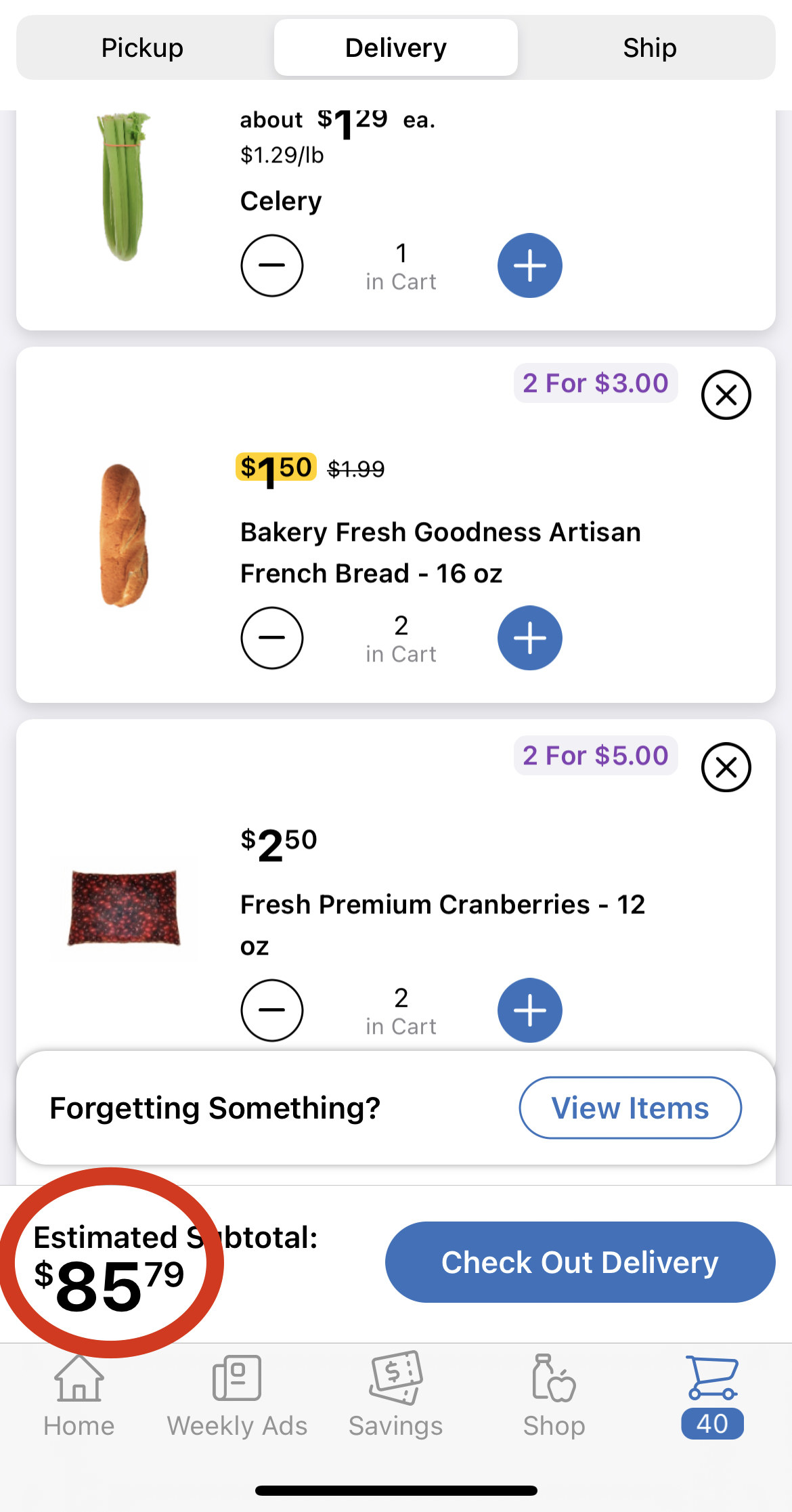 Trying to find a whole turkey in my town in October is far more challenging than one might think. It took a bit of work calling around to different stores to see if they had any in stock, and for what price. Thanks to an amazing Target employee who was aware of a recent shipment, I scored the deal of the season: a 15-pound turkey for $12.17.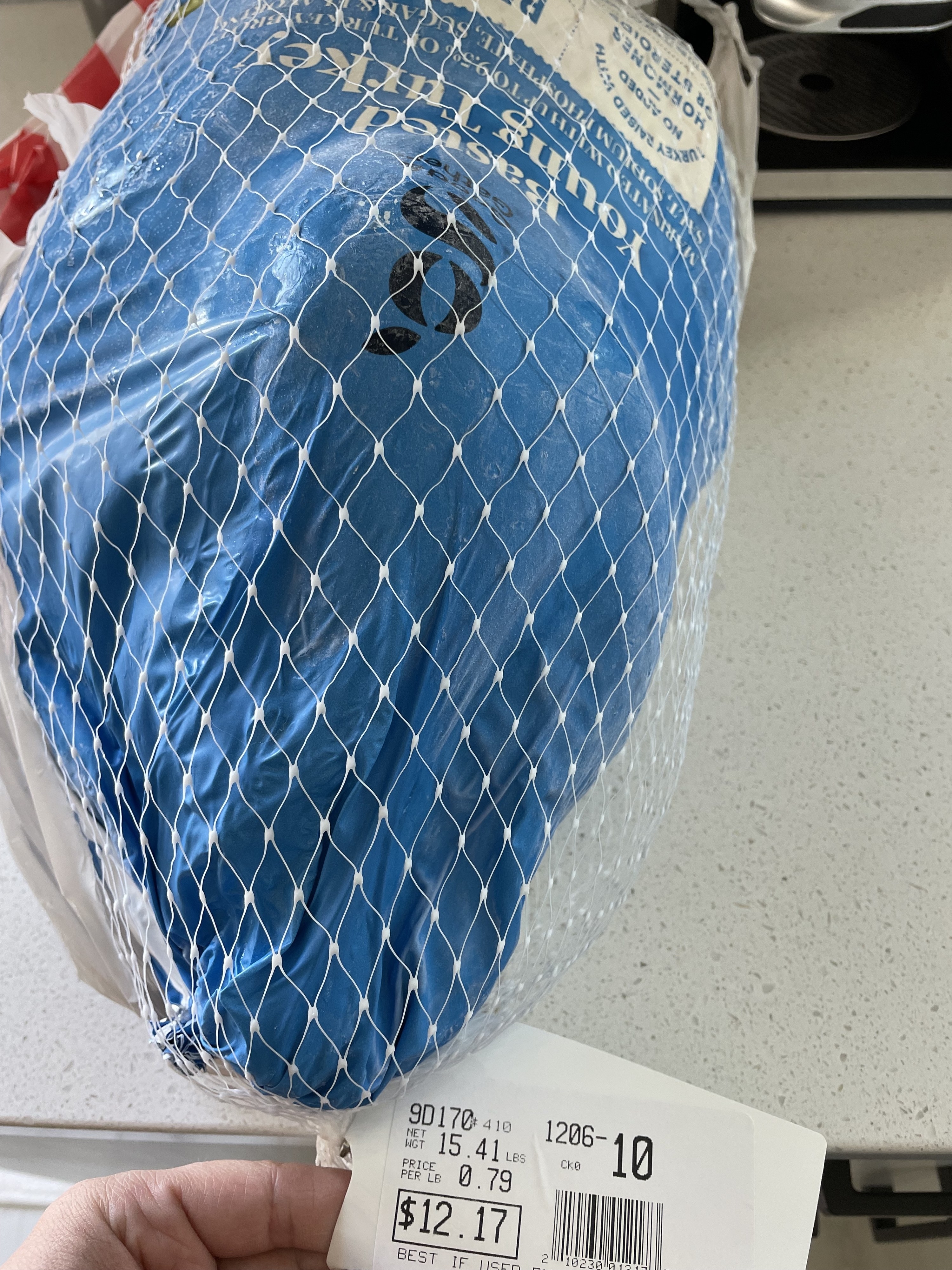 When I added the turkey back into the rest of the haul (pictured below), the total came to $98.79.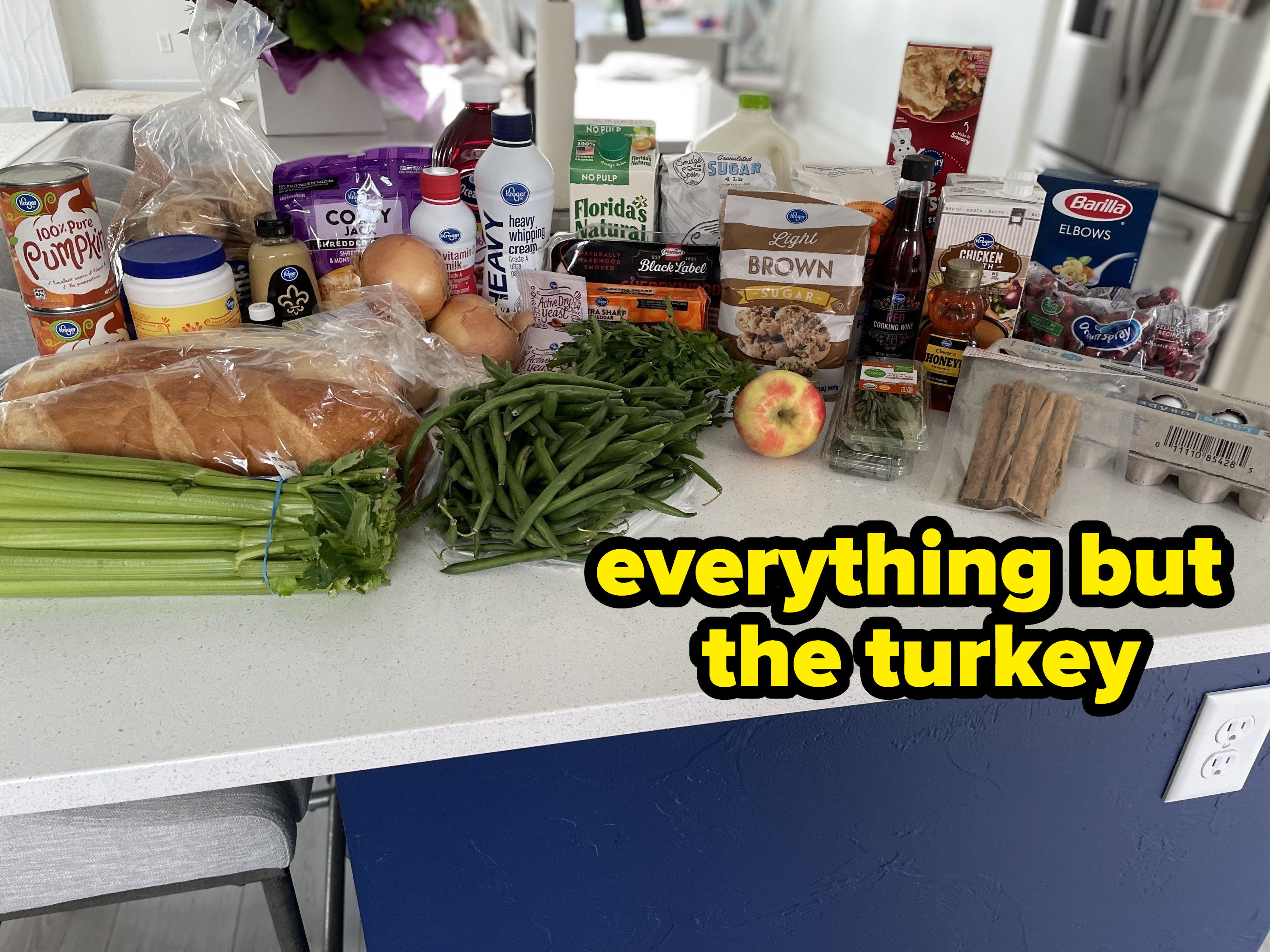 When it comes to the actual cooking, the biggest lesson I've learned over the years is to make everything you can in advance. Here was my game plan this year:
THE NIGHT BEFORE:
• Make Dinner Rolls
• Make Cranberry Sauce
• Make Dressing (note: I prefer making this the night before so the flavors can fully soak in overnight)
• Wash, peel, and cut potatoes for Mashed Potatoes
THE DAY OF:
• Roast Turkey in oven
• Make Gravy
• Make Green Beans
• Make Mac 'n' Cheese

• Finish Mashed Potatoes
• Make Pumpkin Pie (note: in hindsight, I should have made this the night before)
I cooked everything solo — so know that these time estimates can definitely be decreased if you have help. But for me, cooking things the night before took about 2 ½ hours, and the day of took about 4 ½ hours. (Though for both, a lot of that was just waiting — for the rolls to rise, the turkey to roast, the oven to free up, etc.)
Here's a more detailed rundown of everything. Spoiler: Not everything went perfectly (and TBH, not every recipe landed), but hey — that's the holidays for you! Here we go...
The night before, I got started cooking. The first thing I made was Simple Dinner Rolls, which was a new recipe for me. I have made homemade rolls in the past so I was eager to give this recipe a try.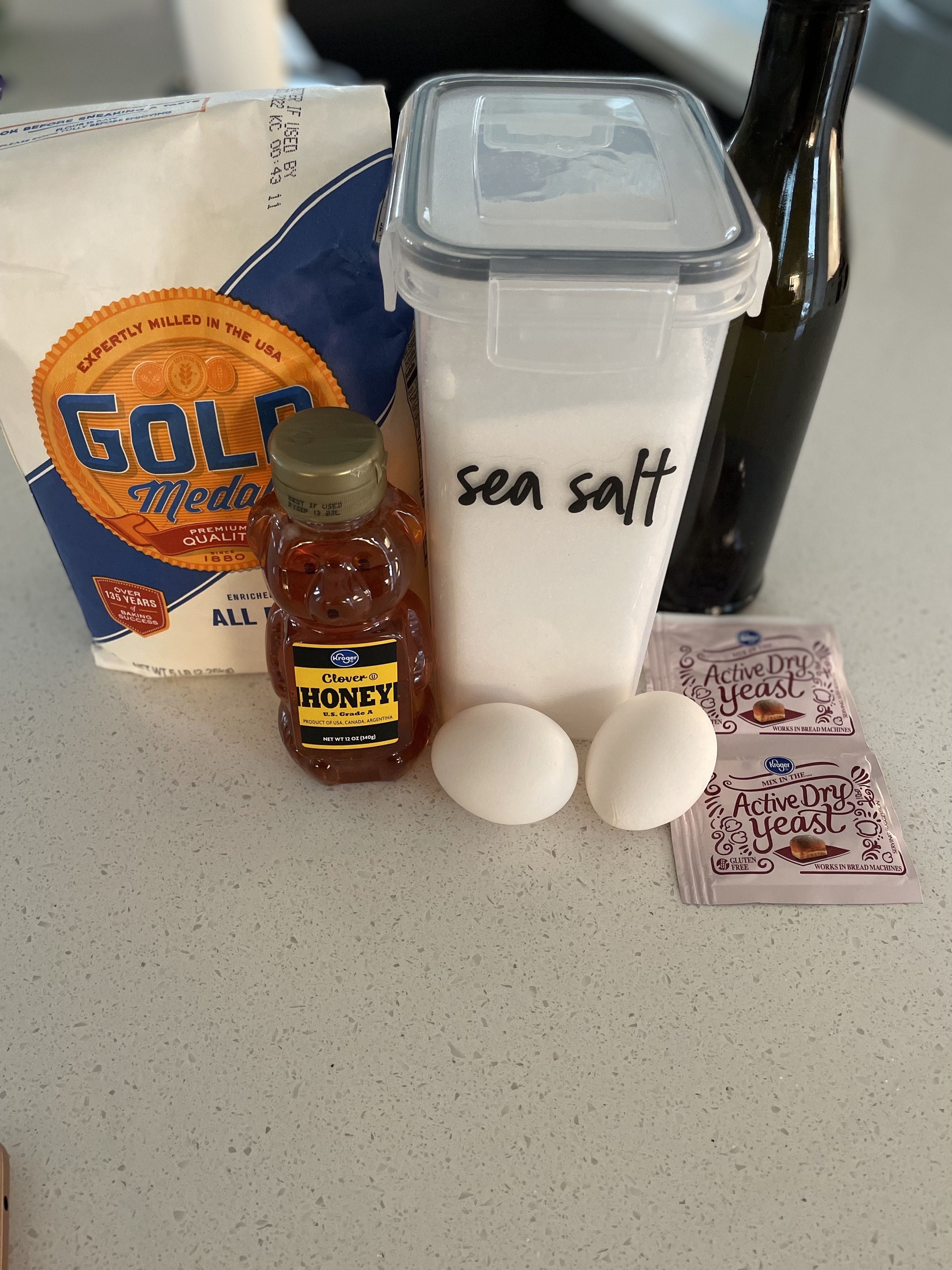 I added the dough ingredients to the mixer and let it proof until things had doubled in size.
I did double this recipe so I cut out 16 pieces of dough and made them into a rolled shape. I did this by pinching bits of the dough from underneath my ball and pulling it to the top to create a "perfect" circle.
Despite the setback, the rolls came out of the oven looking amazing. They had a nice golden brown color and smelled great...but I wouldn't make them again.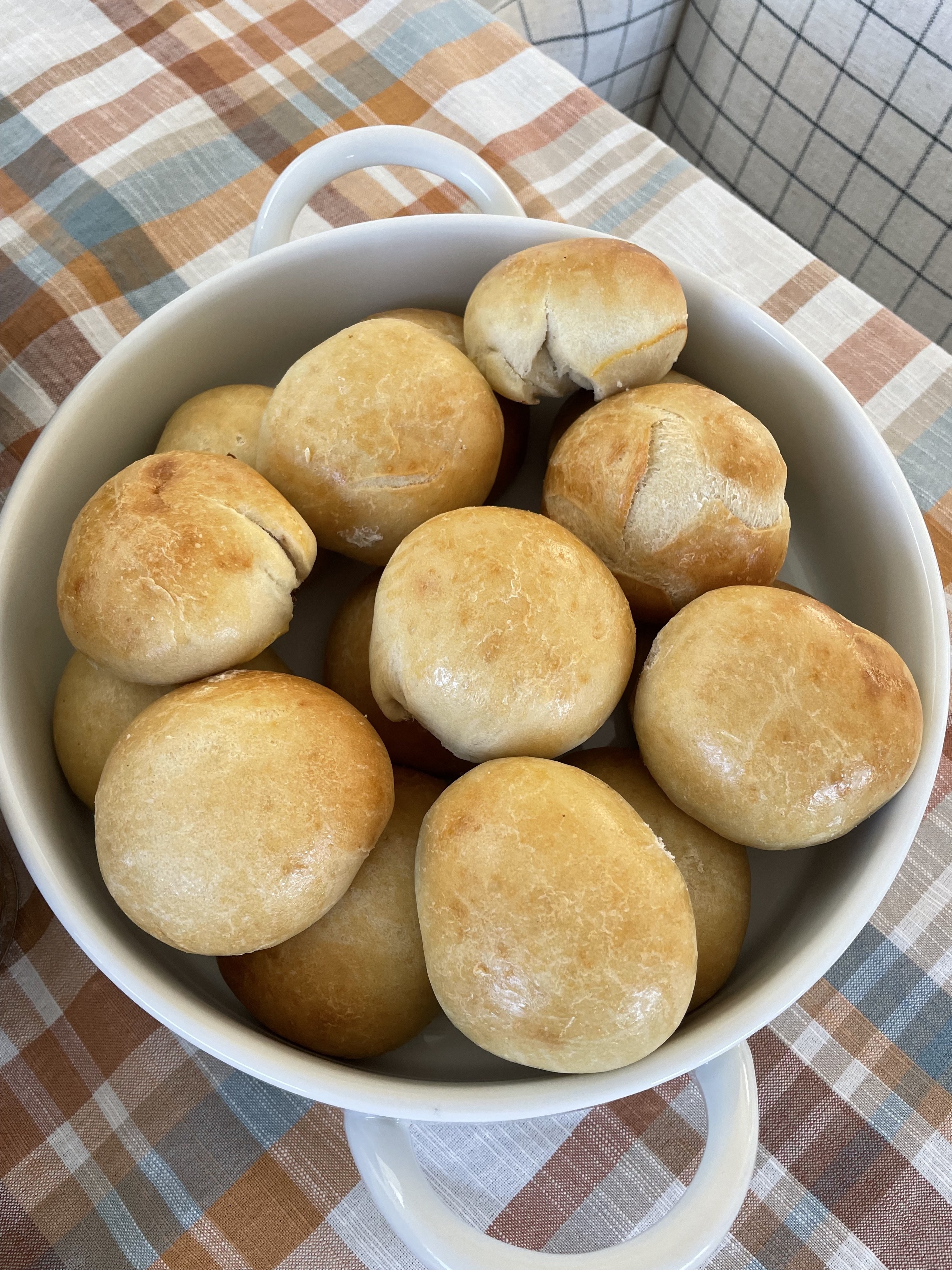 There was a lot of downtime while making the rolls, so I got started making a couple more things! While the rolls were proofing, I started the Cranberry Sauce. This Alton Brown is one I make every year.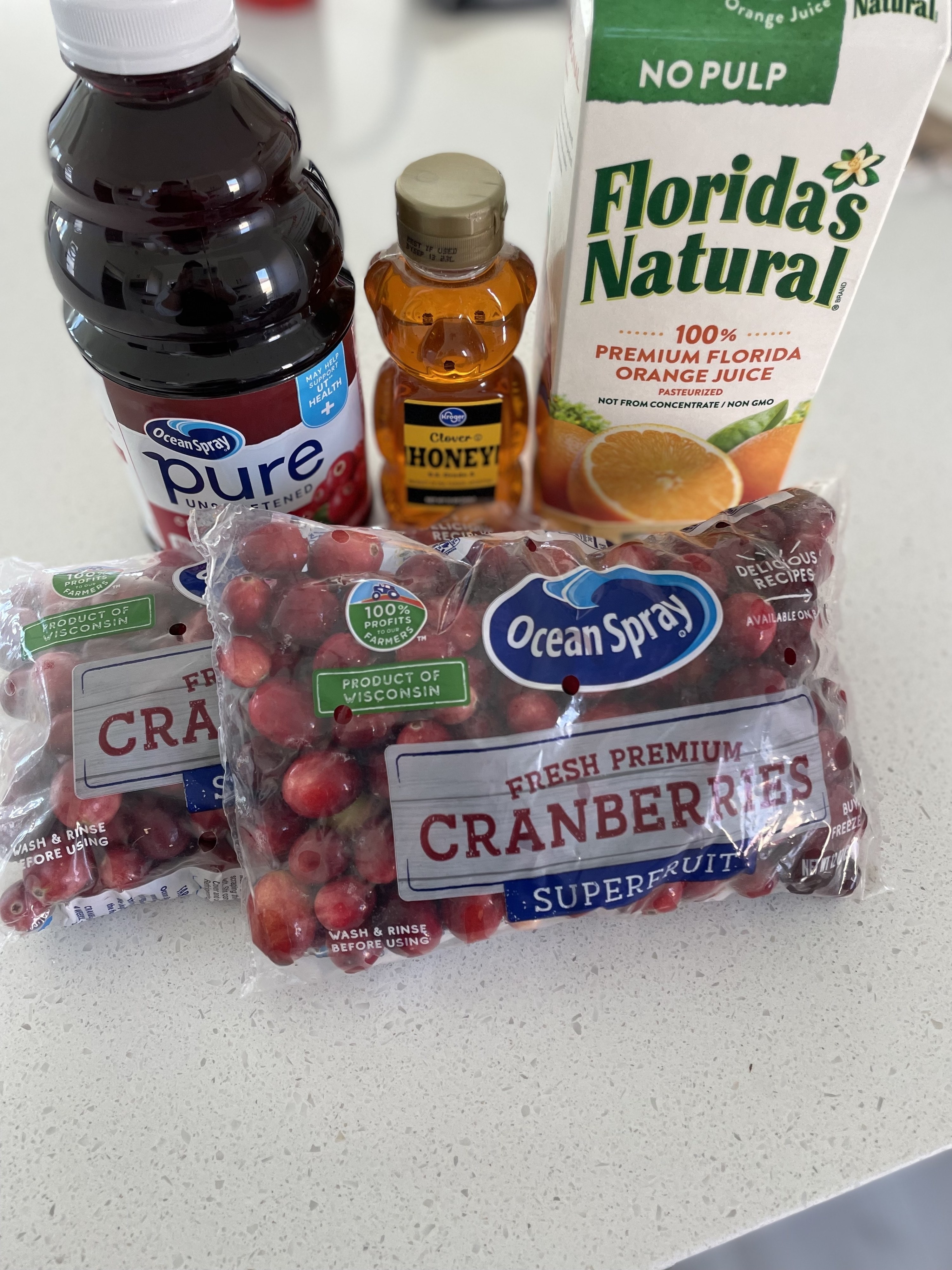 The cranberry sauce takes 20 minutes or less to complete — so it really couldn't be easier.
Once the honey and juices were boiling, I added cranberries. It's very important that you do not cook the cranberries for more than 15 minutes. Once cooled, you can put the cranberry sauce in a mold and place in the fridge for the next day.
I didn't use a mold — and just put it all into a bowl and called it great! (Although I probably should have at least served it in something a little nicer.)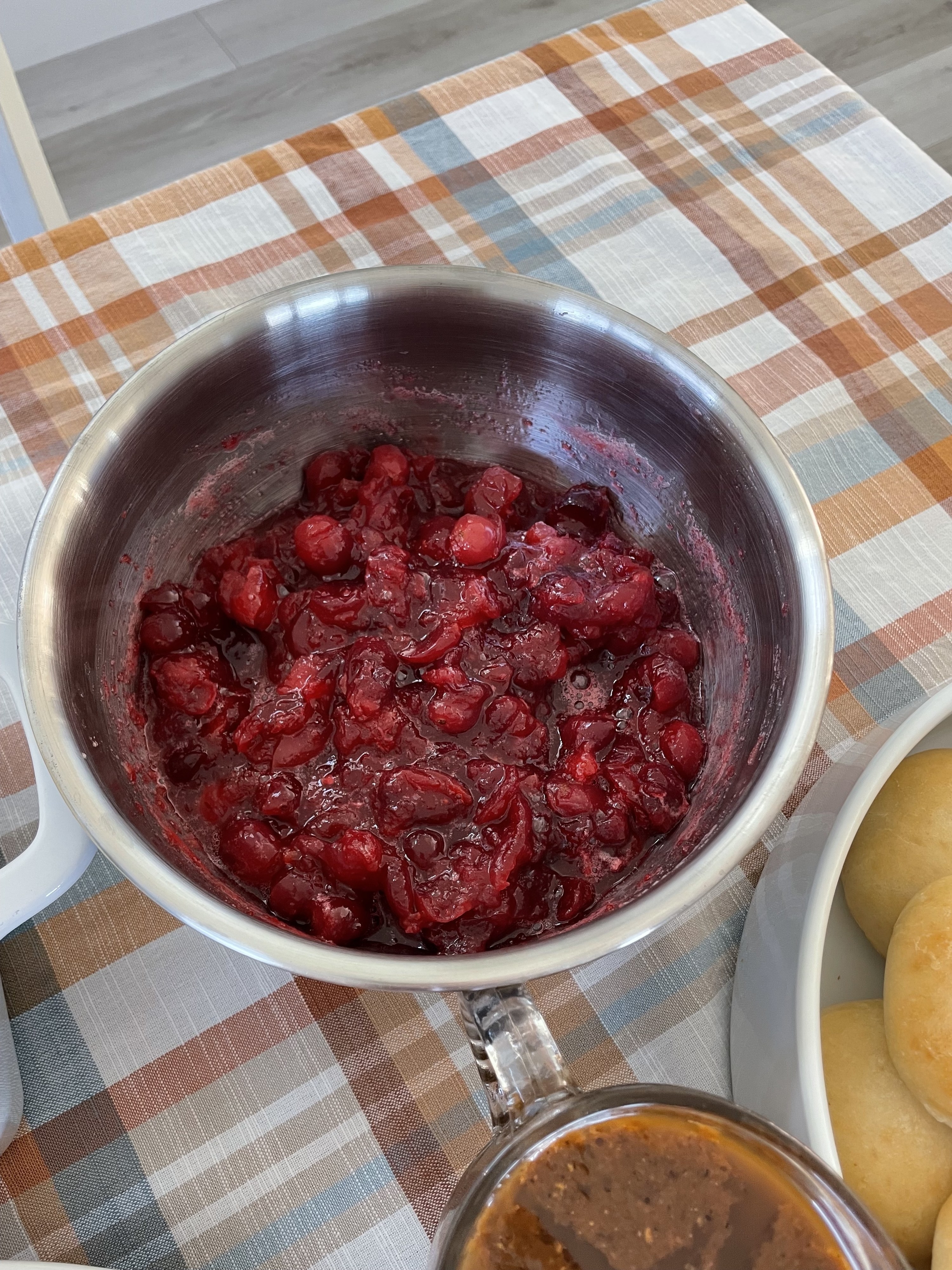 Another Thanksgiving debate: dressing or stuffing? I always make dressing, although I typically go back and forth between my two favorite recipes. This time I decided to go with Simple Is Best Dressing from Bon Appetit. I prefer making this dressing the day before because I think it gives it time to absorb all the nice juices and flavors.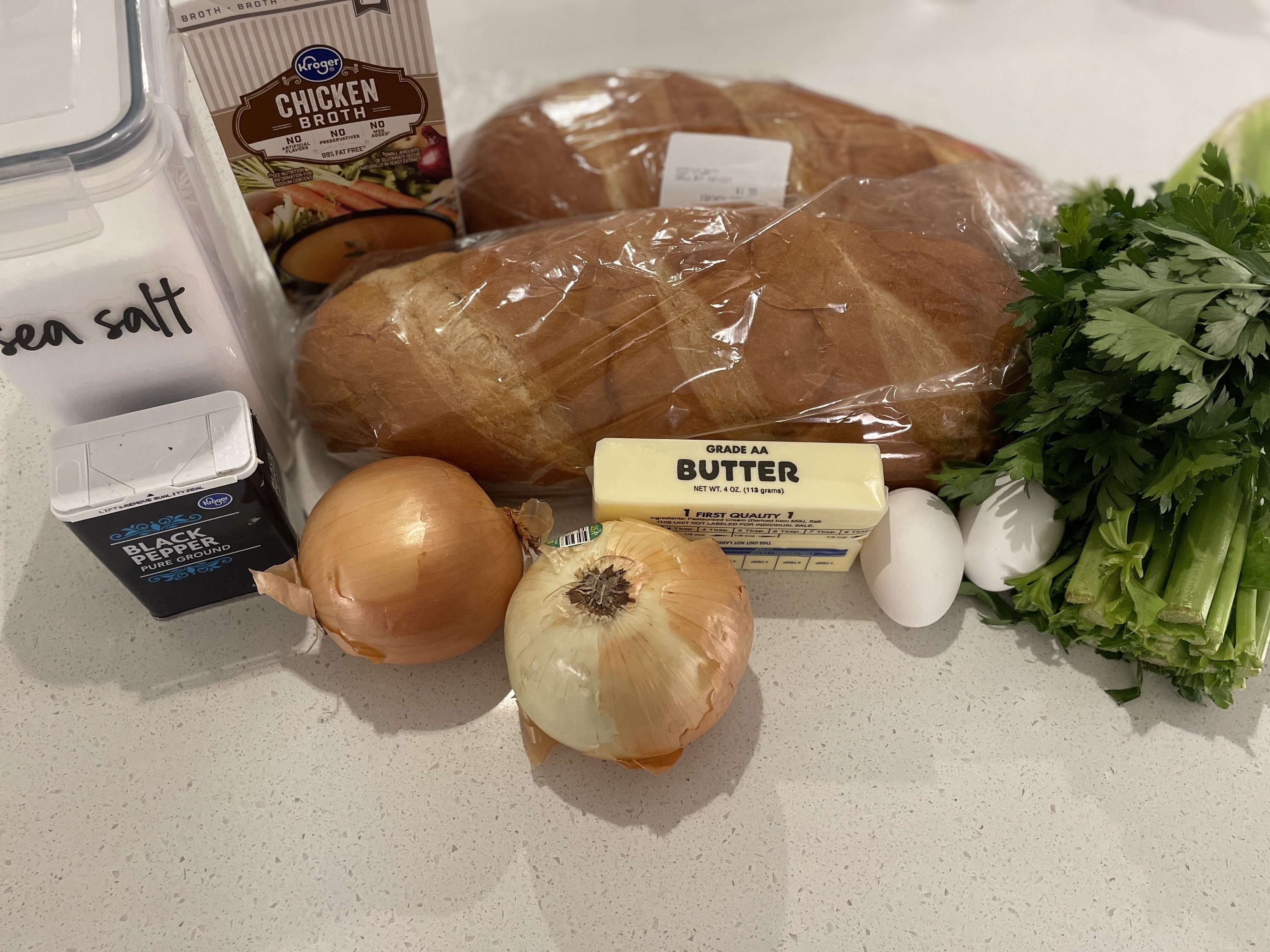 The first step in this recipe is to dry out the bread in the oven on very low heat. I cut my bread into cubes and spread them out onto sheet pans.
While the bread was in the oven, I chopped all the herbs and veggies. I sautéed the veggies in butter then added all the components together in a bowl with the bread.
After the 40 minutes, I let everything cool then moved the entire tray of dressing into the fridge. That meant that the next day, the only thing left to do was to it in the oven just before serving.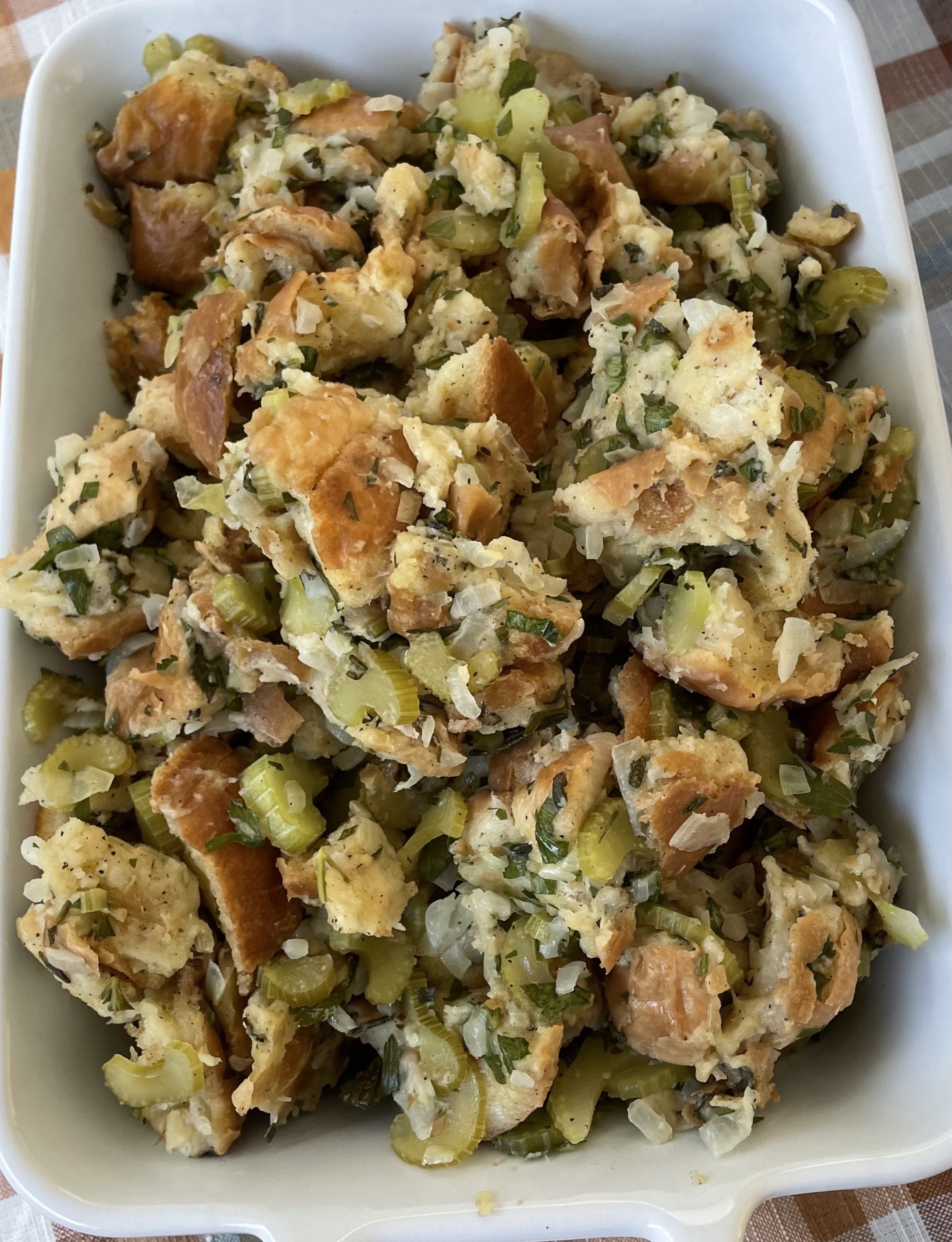 The final item I prepared the night before was my prepping the potatoes. I clean, peel, and cut them the night before, then save the day of for boiling. I find that you can save a lot of time and stress by having this step completed! Just soak the peeled potatoes in water overnight and you'll be set up for success.
On to the big day! I know everyone has their favorite method when it comes to cooking their turkey. However, I always go with a classic roasting method. This Good Eats Roast Turkey recipe has been my go-to for years now.
I love the way this recipe puts fresh produce and herbs inside the turkey to use aromatics to develop the turkey's flavor.
Once you take the turkey out of the oven, make sure to let it rest. During one of my first years making my own Thanksgiving meal, I lightly covered my turkey with foil to try and keep it warm. Rookie mistake! The turkey got dried out and it wasn't necessary at all.
Once my turkey rested and I was able to move it to the cutting board, I started the gravy. I kind of go with the flow with my gravy, but this gravy recipe is an excellent guide.
My gravy thickened to a consistency I was happy with and I poured it through my mesh strainer to get it nice and smooth.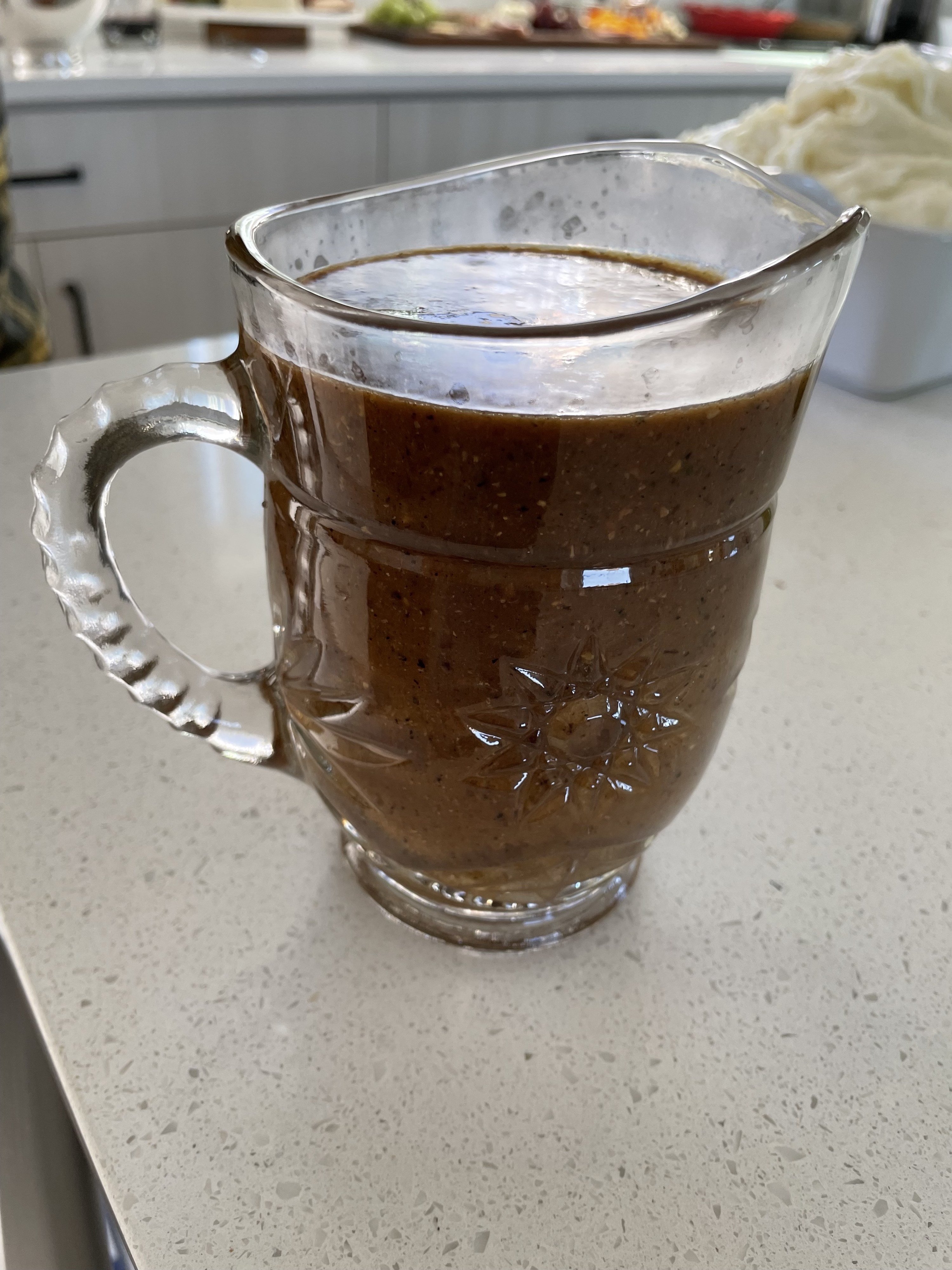 Moving on to the next side, I decided to try this Southern Macaroni and Cheese because 1) it's a staple for a lot of people, 2) my toddler thinks mac 'n' cheese is an entire food group and I knew she would eat it, and 3) it sounded delicious!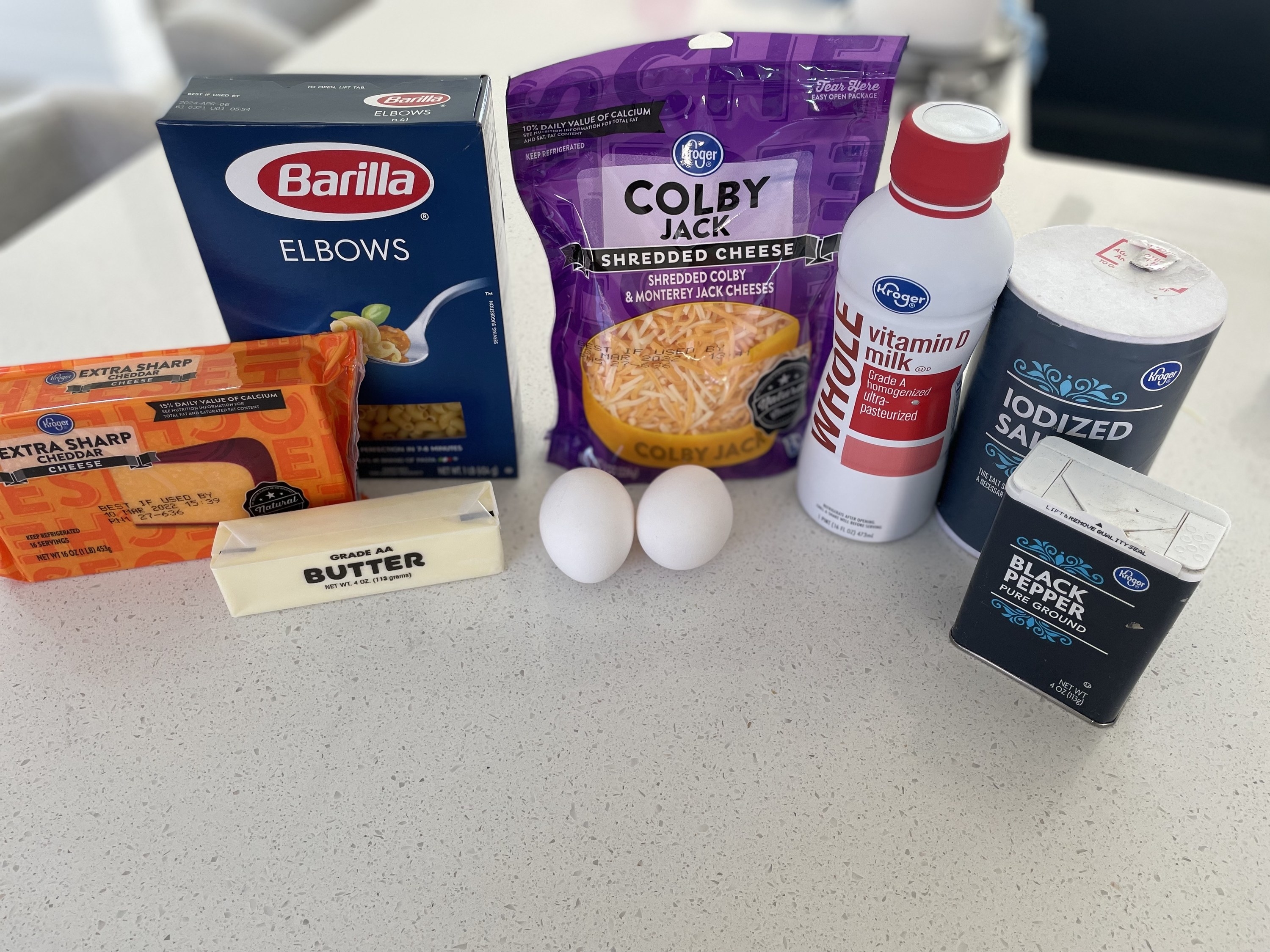 The steps for this recipe were very simple. Boil the noodles, then combine cheddar, eggs, milk, salt, pepper, and Colby Jack. More Colby Jack then goes on top!
Things with this dish were going miraculously. Then... [insert scene in "The Santa Clause" where Tim Allen is putting out a fire from his Thanksgiving turkey and they end up at Denny's.]
At this point, my track record thus far for my new recipes was 0 for 2. That's most likely due to user error, but thankfully, it was time I went back to my basics to turn out a recipe I knew would impress.
This recipe comes together in about 30 minutes and I save it as one of the last things I do prior to serving dinner.
When I say we make these beans every year, I mean we make them for both Thanksgivings...and usually even Christmas!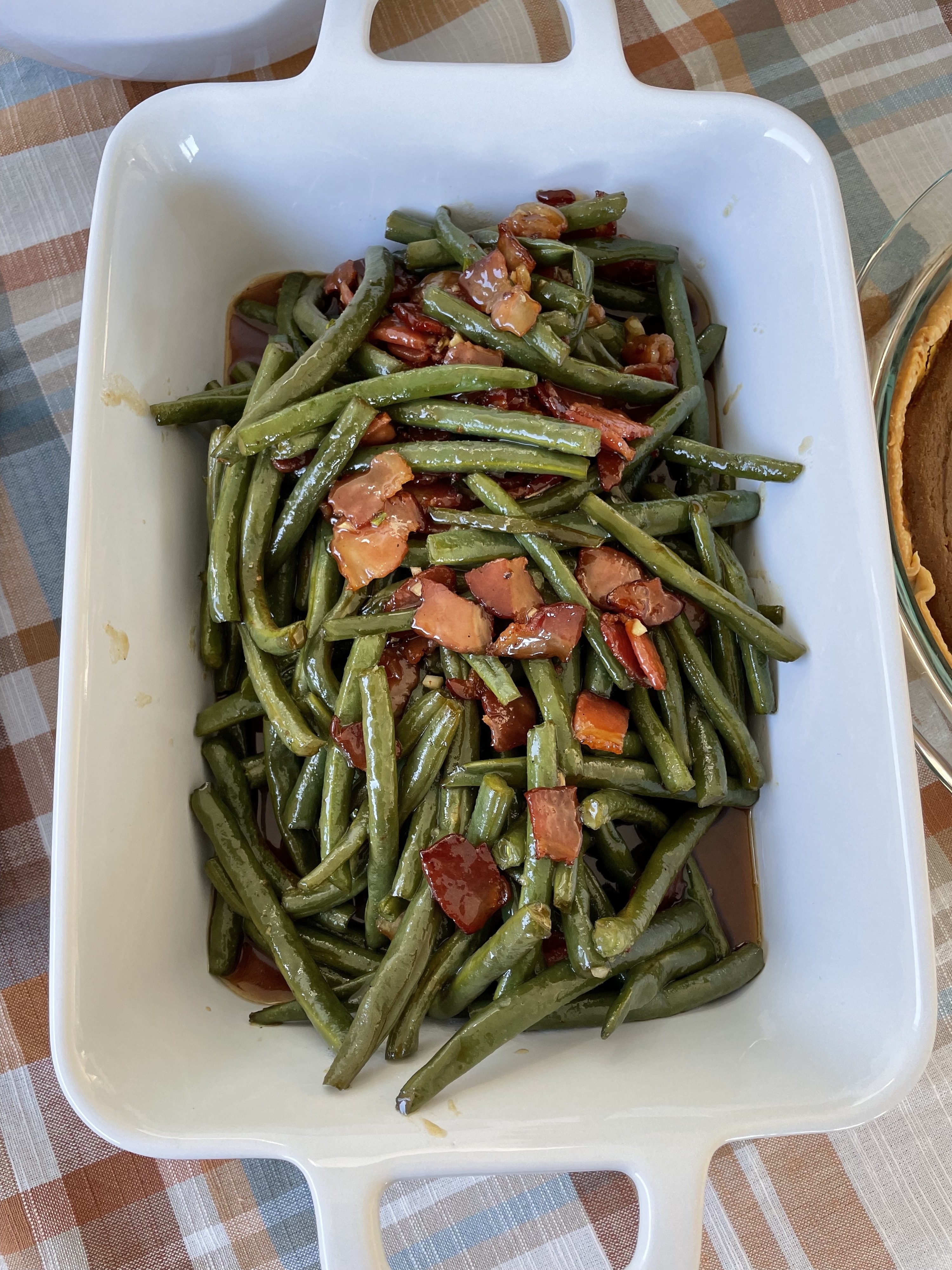 In my opinion, Thanksgiving is all about the pie. I always grew up eating apple and pumpkin pie. But given that I'm still in the process of trying to perfect my grandmother's famous apple pie, I went with something easier this year: pumpkin.
This Perfect Pumpkin Pie recipe is the recipe I make anymore. I love the complexity of flavors and the guarantee that the meal will end on a high note.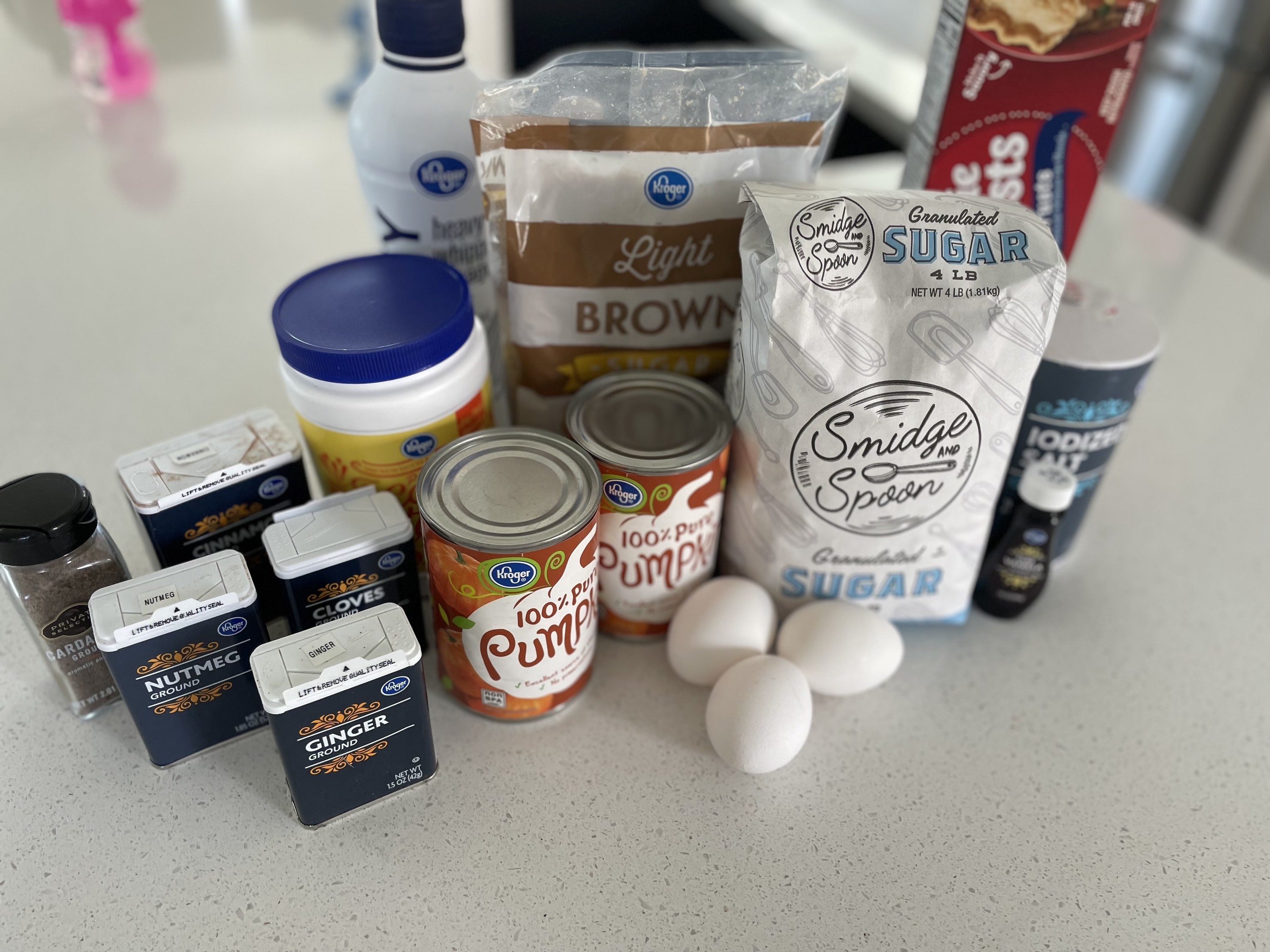 All the legwork for this recipe is done on the stovetop. Just mix all the ingredients together until you have a nice, smooth consistency. Then pour it into a premade or homemade crust. (I went with the former to save time and effort!)
The pie bakes for about an hour and then is meant to cool in the fridge. Looking back, I should have made the pie the day before. In my mind I was going to have it fresh out of the oven to serve, but I easily could have just warmed it up in the oven during dinner.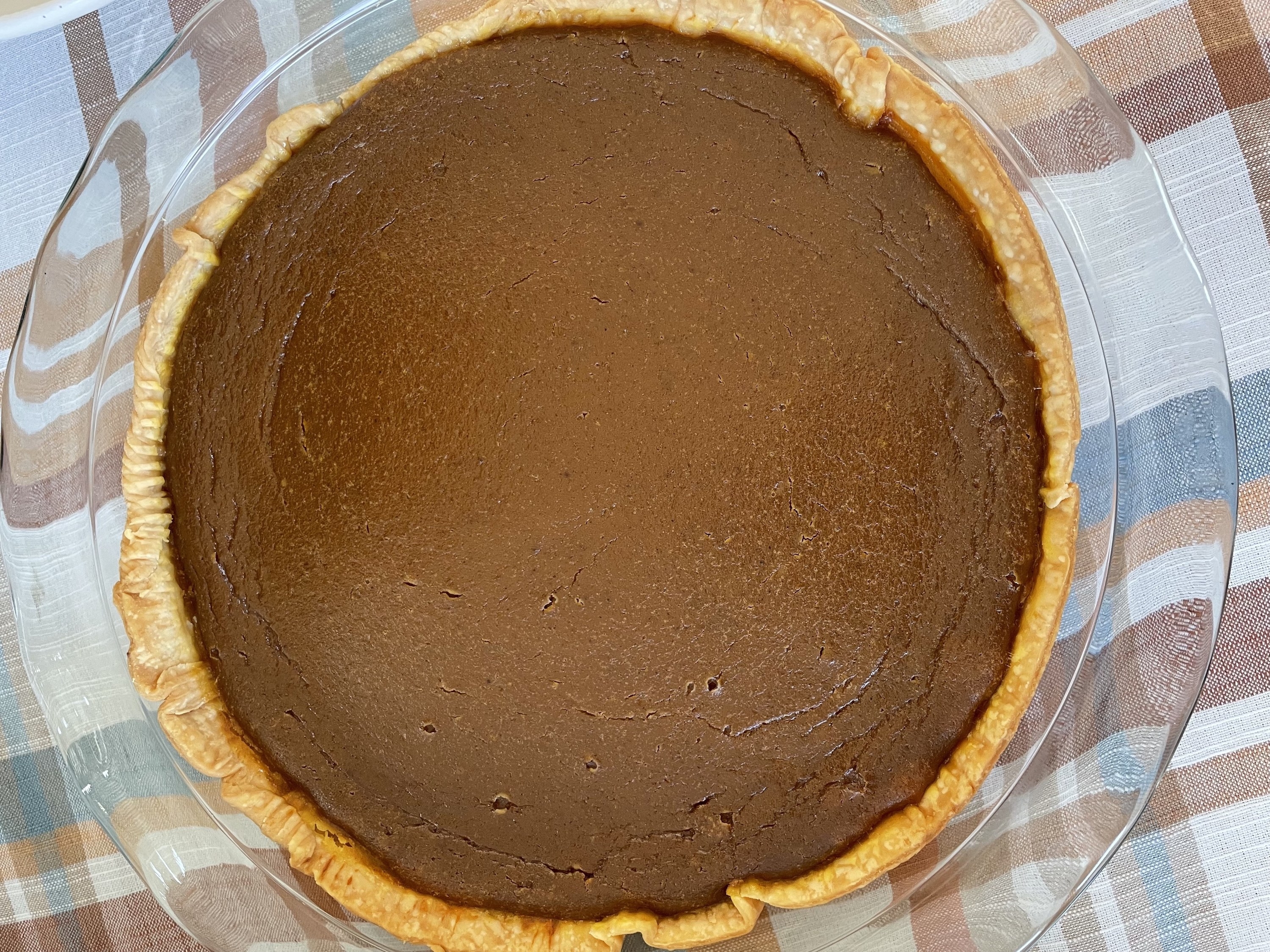 And that was the meal! Overall, I was really happy with dinner and more importantly grateful I was able to spend time with my family and friends, being thankful for who and what we all have in our lives.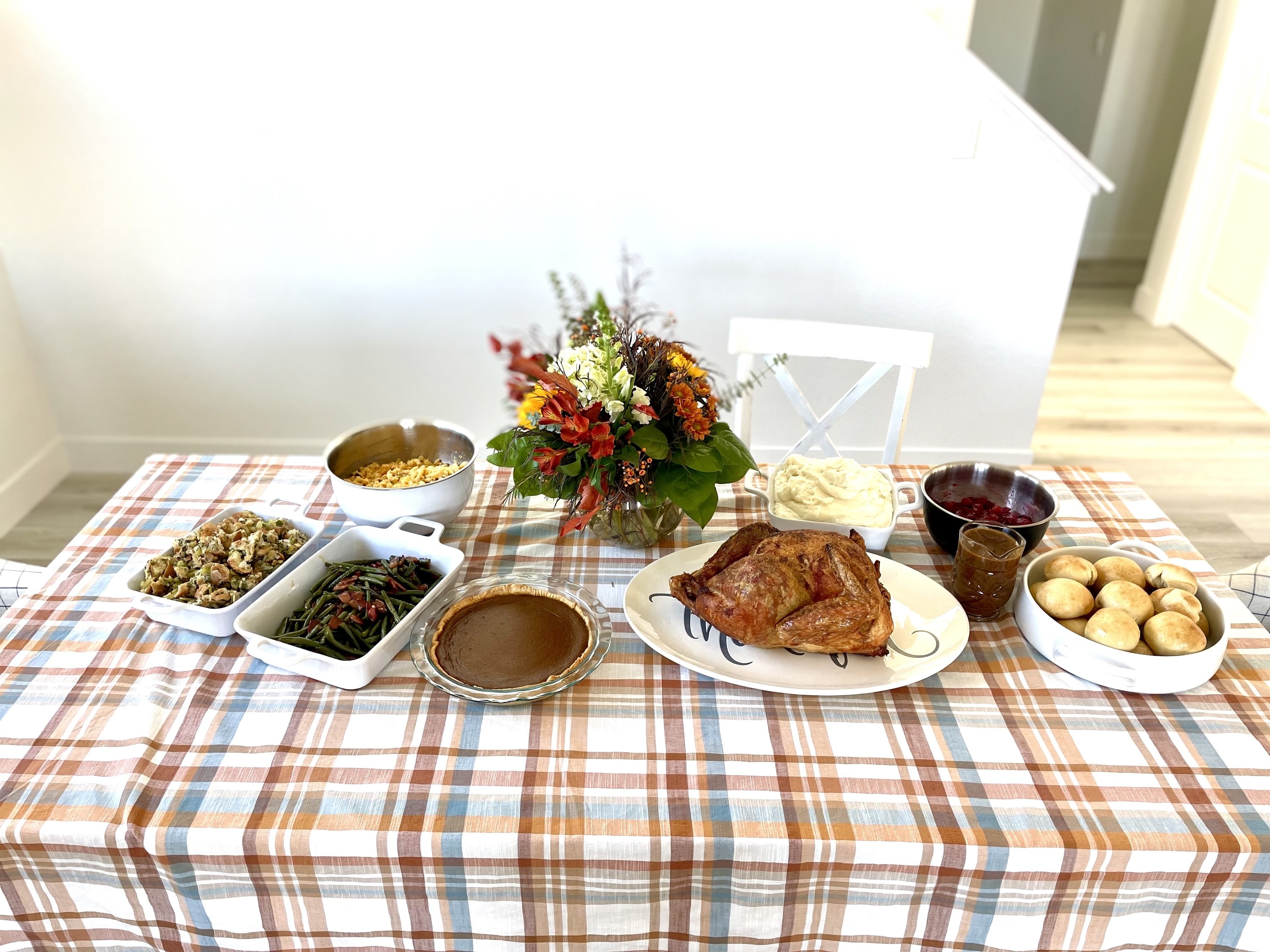 I hope this was helpful as you plan your Thankgiving menu this year! If you have family favorites you make every holiday, I'd love to hear about them in the comments.
And if you're looking for more day-to-day inspiration, find more of my weekly meal plans here, or follow me on Instagram at @sydneyinsuburbia. Happy Thanksgiving! 🍽