This post has not been vetted or endorsed by BuzzFeed's editorial staff. BuzzFeed Community is a place where anyone can create a post or quiz.
Try making your own!
Baauer, The Man Behind The Harlem Shake's Phenomenon
This real story of the man who created Harlem Shake
Scoot over Gangnam Style, the other new style of dancing has arrived, it's Harlem Shake. Harlem shake's phenomenon has been such a buzz for the last few weeks. It seems like every segment of groups have created their own viral video of Harlem. If you are still questioning about "What is harlem shake?" well, Harlem Shake viral video starts with "con los terroristas!" followed by one person does a repetitive move, being calm down, with a helmet, or just say it the video is led by one person as the starter for the next fifteen seconds, after that, the pure chaos part begins! You can be as crazy as you want, wearing strange outfits, doing a sexual move, or something that can be described as outrageous.
But, Who is actually the mastermind behind this harlem shake wave? It's all started by Baauer, a 23 year old man who has been dedicating himself for hip-hop ever since he was 13. He was born in West Philadelphia with a name Harry Rodrigues. His life as a boy wasn't surrounded by a hip-hop culture, he spent his early age in Germany. And it didn't stop there, after spending from age 4 to 7 in Germany, he moved to London until he turned 13 then to Connecticut for the next four years. His nomads life happened due to his father employment as a financial consultant for an international company. His father is not even a hip-hop person, he often played jazz and classic rock, meanwhile the young Baauer discovered a hip-hop life in a suburb side in Connecticut. Baauer's influence was just being the 180 degrees view to his father's music idol. His father is pretty much into Led Zeppelin and Baauer digs into Dr. Octagon, Madlib, and MF Doom.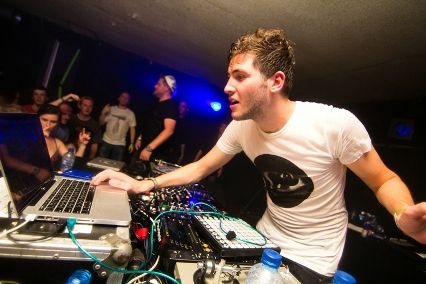 His way in becoming a DJ was caused over a night when he surfed on Youtube, checked out amount of videos of The DMC World DJ Champions, and by that moment, the seed of his DJ's life began. His debut gig was at the local place in Connecticut, at Toquet Hall Teen Center. In 2007, he moved to New York and continue his study in Audio technology at City College. If you think his journey to the stardom was a cakewalk, they you are wrong. Baauer went to a bunch of unsuccessful projects in producing dance music. Then he took a different side of it, became more influenced by hip-hop, and he decided to change his name into Baauer. That name was not inspired by Jack Bauer or even a iced hockey company called Bauer, but he took that name from his middle name, Bauer, then later he added more "A" to make some differences. There it came the name, Baauer.
As he said to The Daily Beast "This time last year, I had just started the Baauer project and I told myself I was going to really commit to this one thing and pursue it full-time. So I just started practicing all the time making beats. I'd start a beat and make myself finish it by the end of the day.".
The Birth of Harlem Shake
To Baauer, Harlem shake was not born because of the swiveling shoulder move in 1982, but originally the track's sample, Philadelphia rapper Plastic Little's "Miller Time". He stated "A friend had shown me that track where he says, then do the Harlem shake, and it just got stuck in my head for a while, so I used it," . Then people started posting some crazy viral videos to his facebook page. The underwater one is one his favourite works.
Azealia Banks even put her harlem shake version, which apparently pretty much has become an issue for Baauer. Previously, Baauer has warned Banks to not releasing it because he and his partners don't like how her version works. After a couple of warnings from his side, Azealia Banks dropped a bomb, she released her own Harlem Shake online. It's actually not a huge surprise to Baauer, because some people have said that Banks likes to put a beef with some music producers.
AZEALIA BANKS - HARLEM SHAKE REMIX
from
Rony Alwin
on
Vimeo
.
Baauer doesn't want to put more spices into his beef with Azealia Banks and decided to be more focus in his future career. He has done some meeting with Columbia Records and f upcoming festivals, including SXSW in Austin, WMC in Miami, and Coachella in Indio, plus will be a co-headliner with a rapper Danny Brown in Australia and Europe. Harlem Shake itself has hit 175 million views on YouTube and this song peaks on the chart in US, Australia, and New Zealand.
Well, hope we will see some great works from Mr.Baauer in the future. And his career doesn't end up as a fever which will be gone in the next few moments. So, Let's do the harlem shake! (Alcander Alonzo)