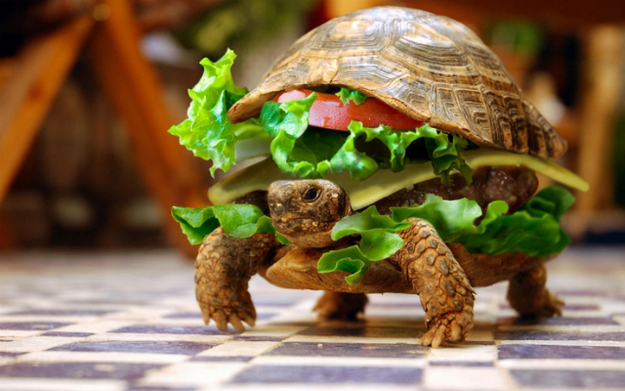 A man attempted to sneak his "beloved" pet turtle through security at China's Guangzhou International Airport by disguising it as a KFC hamburger, according to The Telegraph.
Last Monday, during a routine scan through the security X-ray machine, officials noticed tiny extremities protruding from a KFC hamburger tucked inside the passenger's bag. Upon closer inspection, they saw what looked like a turtle stuck between two sandwich buns.
The passenger, identified as a Mr. Li, insisted there was nothing unusual about his pre-flight snack.
"There's no turtle in there, just a hamburger," Li reportedly told officials. "There's nothing special to see inside."
Officials rescued the reptile from the KFC takeout box, and Li admitted that he had indeed dressed his turtle as a sandwich in hopes of traveling with it. He phoned a friend to take care of his pet and boarded his flight turtle-less.
The turtle's name has yet to be released, yet it probably still has sesame seeds lodged inside its shell.
This post was created by a member of BuzzFeed Community, where anyone can post awesome lists and creations.
Learn more
or
post your buzz!