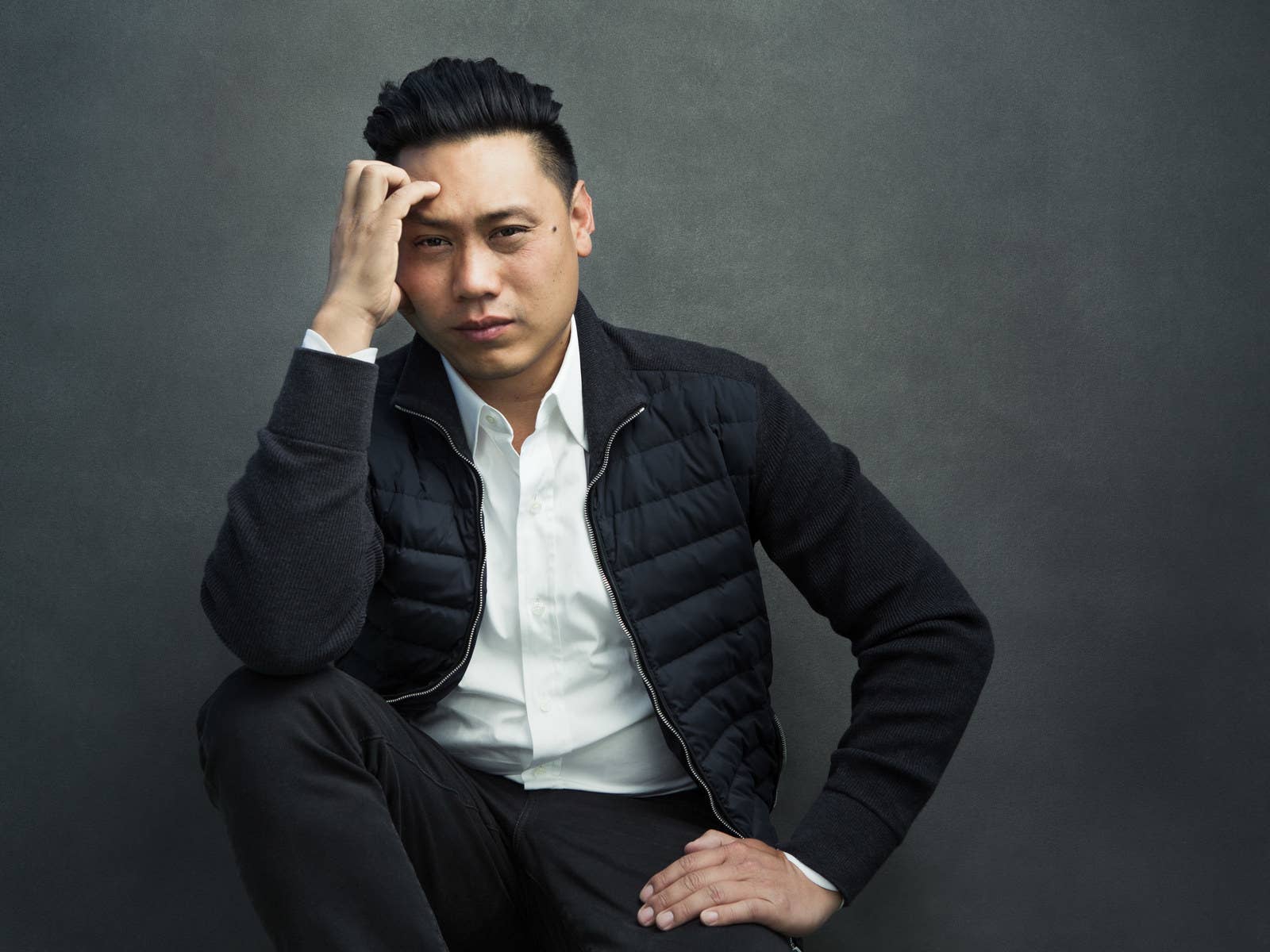 Director Jon M. Chu has never infused his Chinese heritage into a film the way he does in Now You See Me 2. It's not overt, but Chu made certain choices in an effort to challenge those who may have come to see magic to also re-examine their understanding of what it means to be Asian or to be seen as "foreign."
For example, the movie kicks into action when the Four Horsemen, the troupe of magicians introduced in the first Now You See Me film in 2013, are outsmarted by an unknown third party and are forced to flee their own stage in New York. They narrowly escape capture by leaping into a giant tube on a rooftop... and, much to their surprise, somehow end up on the other side of the world in China. None of them speak the language or have firsthand experience with the culture.
"Originally in magic, white magicians would dress up as Asian people to create this [sense of] exoticism," Chu told BuzzFeed News in early June at the Polo Lounge in Beverly Hills. He made the conscious decision not to portray China and its citizens the way they so often are in Hollywood. "What I don't want this to be is, Oooh, this mysterious land of these aliens," he said.
With that in mind, Chu recruited Taiwanese megastar Jay Chou for the small role of Li — "not Bruce Lee," the shopkeeper breezily clarifies to the white magicians. Li, with his swagger and cool, collected demeanor, stands in stark contrast to the stereotypically emasculated, nerdy Asian men Hollywood typically projects on the big screen. "Jay Chou really brings a coolness to it," Chu said, the thrill evident in his voice. "He oozes with coolness, which is really great, as an Asian-American male myself. When you look at him, you're like, I want to be just like that guy."
In that same scene, one of the Four Horsemen, Danny (Jesse Eisenberg), tries to communicate with Li's grandmother (Tsai Chin) by amplifying his voice and enunciating his words slowly. "Just because you talk slower and with your hands doesn't mean she can suddenly understand English," Li explains, to which Lizzy Caplan's character, Lula, plainly adds: "You're a racist."
"It's a delicate balance. Even I was like, Is that too much?" Chu said with a grin. "[As Asian-Americans], we have a specific sensibility: We were born here, we grew up here, we watched these movies," meaning the ones that have portrayed Asians as "others" and typically, the laughingstock. Chu said he grew up idolizing white characters onscreen because he didn't relate to the few Asian characters Hollywood presented to him. "A hero that doesn't look like you makes you want to be something else," he said.
Closer scrutiny and the correction of past narratives and stereotypes are now at the top of Chu's agenda. For the past eight years, he's been making major studio films like four Step Up movies, two Justin Bieber concert documentaries, and G.I. Joe: Retaliation, but his career began at the University of Southern California's School of the Cinematic Arts. That's where he made the musical short film When the Kids Are Away, which got him signed to William Morris Agency and which was also featured at Tribeca Film Festival in 2003.
Chu said "it's hard for [him] to know" if he has ever encountered professional setbacks because of his ethnicity. "Because even if there was, it wasn't in my face," he said. "They wouldn't have said it in front of me. And even if there was, I'm not sure I would have recognized it anyway," which is something Chu attributes to his upbringing. "I was taught to keep your head down and do your work," he said, before quoting his mother and father. "Do the work. Make your work so good, they can't ignore you."
Chu was born in Palo Alto, California, to immigrant parents, who left China to start a life in the United States 46 years ago. His parents own a successful Chinese restaurant, Chef Chu's, in nearby Los Altos, but they refused to let their children work there. From a young age, Chu, now 36, was encouraged to explore different hobbies and to find his passion. "They wanted us to get used to doing other things first … They were like, Do everything you can. You can always have the restaurant."
"Do the work. Make your work so good, they can't ignore you."
He credits his ascension in Hollywood to numerous scholarships, film festivals, Asian-American organizations, and that encouragement from his parents. "They always said when you encounter [discrimination], just keep moving 'cause it's in the past."
But recently, it's been hard for Chu to just keep moving when Chris Rock is making racist jokes about Asians at the Oscars, or when Scarlett Johansson is cast as a beloved manga character, or when a campaign for Marvel to cast an Asian-American Iron Fist goes ignored. #WhiteWashedOUT, the hashtag movement protesting Hollywood's continued erasure of Asian-Americans that began in May, was especially inspiring for the Chinese-American director.
"I have the same complaints, and I deal with the same people who make some of those decisions, and I hear their explanation of why certain things are the way they are," Chu said. "When you're in a system, you get used to the rules. But when you hear the outside person, you're like, Is this bullshit? Then you get to question those things. You discover systemic shackles that have been created that you didn't even realize were there — and that is both scary and freeing at the same time."
Chu acknowledged he hasn't chimed with other prominent Asian-Americans in the entertainment industry on Twitter. "If you don't have a public that's upset, then when I get upset, everyone's like, You're crazy, dude. You're just trying to make a controversy," Chu said, noting Hollywood executives have finally started paying attention. "Whereas when the world is upset, and I'm sitting there like, Guys, let me help you figure this out. … That's a powerful position to be in."
And it's not one that he takes lightly. "I realize that the reason why I've been able to [get where I am] is because other people have fallen on the sword for me and created a path for me," Chu explained. "So it becomes only more important as I get older, and as I progress, to open more doors for people that are behind me."
After the subtlety of Now You See Me 2, Chu intends to more directly address the issues surrounding Asian-American representation with his film adaptation of Kevin Kwan's 2013 novel, Crazy Rich Asians. The book centers on "ABC" (American-born Chinese) Rachel Chu, who travels to Singapore with her boyfriend, Nicholas Young, for a family wedding. There, she discovers her boyfriend comes from a world of over-the-top wealth, and drama ensues. Basically, it's Gossip Girl aged up and set in Southeast Asia.
"We're not that sexualized female. We're not that nerdy computer geek. We're so many other things."
"These are characters who have never been seen on the big screen before: Some are totally immoral. Some are completely materialistic. Some are total assholes. Others are super kind. It just runs the gamut and shows there's not one Asian," Chu explained. "So we get to play in that arena and say, 'Yeah, we're complicated people. We're not that sexualized female. We're not that nerdy computer geek. We're so many other things.'"
Although Chu couldn't say much about Crazy Rich Asians, which he hopes to shoot next, he did promise "a cream-of-the-crop Asian cast." "As soon as the announcement came out, everyone was like, Yeah right, they're going to do all-Asian casting," Chu said, recalling some of the comments he read on Twitter. Those tweets, he said, were indicative of "how much we don't trust Hollywood, how we expect the worst thing to happen, [that] there's no way in hell they would put all Asians in a movie ... And that's so sad, too."
But things are changing for the better, Chu affirmed. He's currently talking to Hollywood executives about the lack of Asian-Americans onscreen and how, when they are represented, it's often offensively. "The fact that I'm in meetings, and we're having diversity conversations, which we did not have two years ago, means a lot has changed," he said earnestly. "It means it's gotten through. Now we have to do something about it."