1. When Jimmy Pearsall hit his 100th home run in 1963, he ran the bases in the correct order but facing backward to celebrate.
2. Babe Ruth's top salary was $80,000 (in 1930 and 1931). Adjusted for inflation, that's the equivalent of a little more than $1.1 million today (a little less than middle reliever Antonio Bastardo made last year).
3. During World War II, the U.S. military designed a grenade to be the size and weight of a baseball, since "any young American man should be able to properly throw it."
4. Pitcher Jim Abbott was born without a right hand and had a 10-season baseball career, including throwing a no-hitter for the New York Yankees vs. Cleveland in 1993. 5. Bobby Richardson won the World Series MVP in 1960 after hitting .367 with 12 RBIs — he played for the losing team.
6. Bank robber John Dillinger was once a professional second baseman, although he never made it to the major leages.
7. Eddie Gaedel was the shortest man to ever play in a Major League Baseball game. He was 3 feet and 7 inches tall. St. Louis Browns owner Bill Veeck put him in the game as a stunt, saying, "He was, by golly, the best darn midget who ever played big-league ball. He was also the only one."
8. Geddy Lee from the band Rush had a huge collection of autographed baseballs from the Negro Leagues; he donated over 200 balls to the Negro Leagues Baseball Museum in 2008.
9. Ralph Kiner is the only player ever to lead the league in homers for seven years in a row — his first seven years as a major league player. 10. There is an actual minor league baseball team named after the Springfield Isotopes of The Simpsons episode "Hungry, Hungry Homer." They are the Albuquerque Isotopes.
11. Every single MLB baseball is rubbed in Lena Blackburne Baseball Rubbing Mud, a unique "very fine" mud only found in a secret location near Palmyra, New Jersey.
12. Many major league baseball players, including Moises Alou, Jorge Posada, and Kerry Wood, have admitted that they pee on their own hands during baseball season to "toughen" their grip.
13. Herman "Germany" Schaefer stole first base on Aug. 4, 1911. he first stole second base, then ran back to first, then got caught in a rundown while trying to steal second again, his original intention so that his teammate on third could run for home. 14. In his very first at bat as a 28-year-old rookie pitcher, Hall of Famer Hoyt Wilhelm hit a home run. His career lasted for 21 more years and 493 plate appearances, but he never hit another home run.
15. Pitcher Dock Ellis says he threw his June 12, 1970, no-hitter while under the influence of LSD.
16. At a 1978 Texas Rangers–Baltimore Orioles game, George "Doc" Medich (who had been a medical student at the University of Pittsburgh before becoming a professional baseball player) saved the life of a fan in the stands who was suffering from a heart attack.
17. Johnny Bench could hold seven baseballs in one hand.
18. The world's largest publicly available collection of baseball cards is housed at the Metropolitan Museum of Art. It has over 31,000. 19. The commissioner who negotiated the agreement that banned Pete Rose from baseball was A. Bartlett Giamatti, who is the father of actor Paul Giamatti.
20. Derek Jeter made $269,841.27 per at bat last year.
21. According to Bill James, "Sunny Jim" Bottomley requested a cow when his fans wanted to give him a retirement present. They obliged and he named the cow Fielder's Choice and took it to his farm.
22. Joe Sewell only struck out three times during the entire 1930 season (353 at bats). Two of them were in the same game.
23. Jackie Mitchell, a 17-year-old female pitcher for the AA Chattanooga Lookouts, once played the New York Yankees in an exhibition game and struck out Babe Ruth and Lou Gehrig in succession. 24. In 1999, New York Mets manager Bobby Valentine was ejected from the game. In the clubhouse, he put on regular clothes and a fake mustache and returned to the dugout. The commissioner's office fined him $5,000 for returning after an ejection.
25. In the mid-1800s, you could be put out between the bases by having the ball thrown directly at you. Players were resistant when the rule was changed — "patching," as it was known, was an important and masculine part of the game.
26. Joel Zumaya once missed three games in 2006 after injuring himself playing Guitar Hero.
27. Rickey Henderson walked 796 times in his career when he was leading off an inning. That's more times just leading off in an inning than Lou Brock, Roberto Clemente, Luis Aparicio, Ernie Banks, Kirby Puckett, or Ryne Sandberg walked in their entire careers.
28. In 1904, James E. Bennett patented a new proposal for catcher's apparatus that would replace the glove and helmet altogether with big wire cage through which the pitched ball would pass through, hitting a padded mattress on the chest. It didn't catch on. 29. Rollie Fingers first grew his iconic handlebar mustache because A's owner Charlie Finley offered his players cash for growing a mustache by Father's Day as part of a stunt. Fingers got a $300 bonus for growing the mustache, as well as $100 for a jar of mustache wax.
30. The first baseball uniforms were worn by the Knickerbockers in 1849 and included straw hats.
31. Minor league baseball pitcher John C. Odom was traded by the Calgary Vipers of the Golden Baseball League to the Laredo Broncos, in exchange for 10 Prarie Sticks maple bats. He left the team shortly thereafter and was found dead of an accidental drug overdose a few months later.
32. The Sandlot is 20 years old, and here's what the cast looks like today: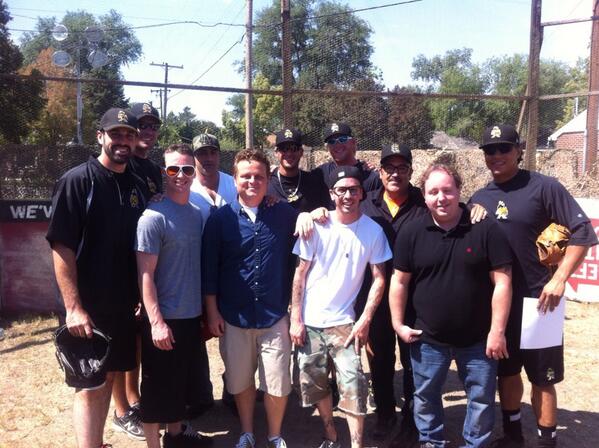 33. Cal Ripken Jr. played in 2,632 consecutive games from 1982 to 1998.
34. In addition to being the first to break the color barrier in baseball, Jackie Robinson was also the first African-American vice president of a major American corporation — he served as vice president of personnel for Chock Full O' Nuts coffee from 1957–1964.
35. A curveball thrown on Mars would become a screwball, and hitters would have the advantage since balls would also travel almost three times as far.