Lance Armstrong allegedly hit two parked cars while partying in Aspen, Colorado, late last year, but let his girlfriend take the blame, according to multiple media reports.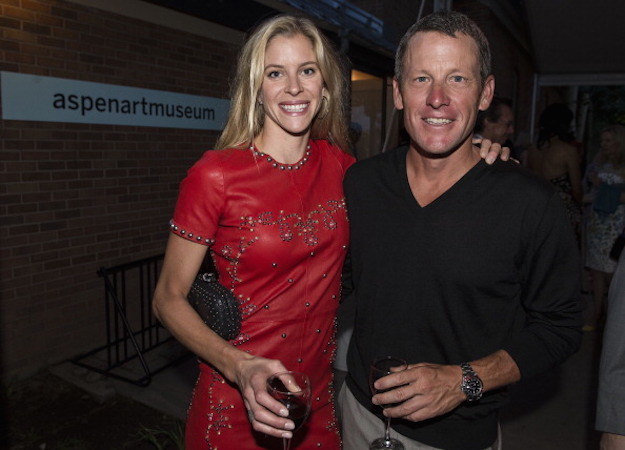 The former champion cyclist was cited for not reporting a vehicle crash and speeding in the Dec. 28 incident after his girlfriend Anna Hansen admitted she had lied for him, Aspen police told the Associated Press.
Hansen had originally told authorities she lost control of the vehicle and hit the cars after attending an Aspen Art Museum party. She said she had been driving because Armstrong had been drinking, according to the AP.
However, Officer Rick Magnuson was suspicious of Hansen's account, the Aspen Daily News reported, and interviewed a valet at the event, who said he had seen Armstrong in the driver's seat.
Magnuson confronted Hansen, who insisted she had switched seats with Armstrong and started driving after stopping at a store, the Daily News reported.
However, a man whose relatives were renting the damaged cars also contradicted her story. He told police that Hansen had ran up to him and told him Armstrong had hit their cars after slipping on ice.
Magnuson confronted Hansen again last month, and she finally admitted Armstrong had been driving, the Daily News reported. She claimed he was not drunk at the time.
"I asked Hansen if Armstrong asked her to take the blame for the accident once they got home," Magnuson said in a police report, according to the Daily News. "She replied, 'No, that was a joint decision, and, um, you know we've had our family name smeared over every paper in the world in the last couple of years and honestly, I've got teenagers, I just wanted to protect my family because I thought, 'Gosh, Anna Hansen hit some cars, it's not going to show up in the papers, but Lance Armstrong hit some cars, it's going to be a national story.'"
Magnuson decided not to file charges against Hansen because she came clean, the Daily News reported. Armstrong has a court appearance in the case on March 17.
Armstrong was stripped of his record seven Tour de France titles in 2012 after he admitted to doping.