Tomorrow X Together Talks About Their New Album, The Growth Of K-Pop, And Making Music For Gen Z
"It's an honor and rare opportunity to receive so much love and support from so many people."
Last week, K-pop icons Tomorrow X Together (also known as TXT) released their repackaged sophomore album, The Chaos Chapter: Fight or Escape.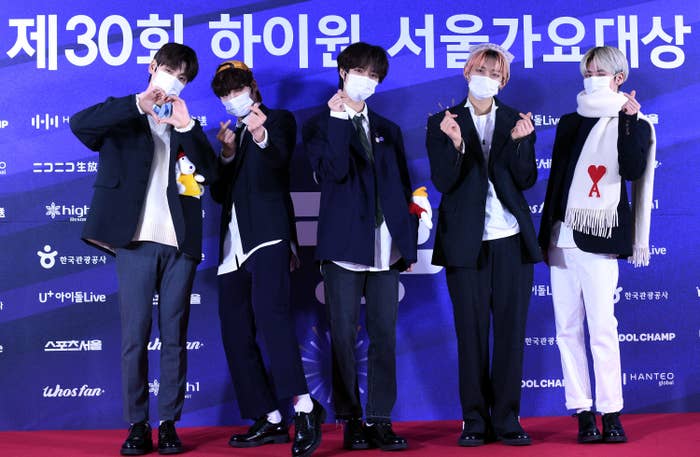 The album builds on their last installment of their "Chaos Chapter" series with new art and two new songs — a grungy rock title track "LO$ER=LO❤️ER," and a sweet pop ode to their fans (known as MOA), "Dubaddu Wari Wari (MOA Diary)."
Recently, the South Korean band sat down to chat in a partnership interview with BuzzFeed and Facebook App about their latest release!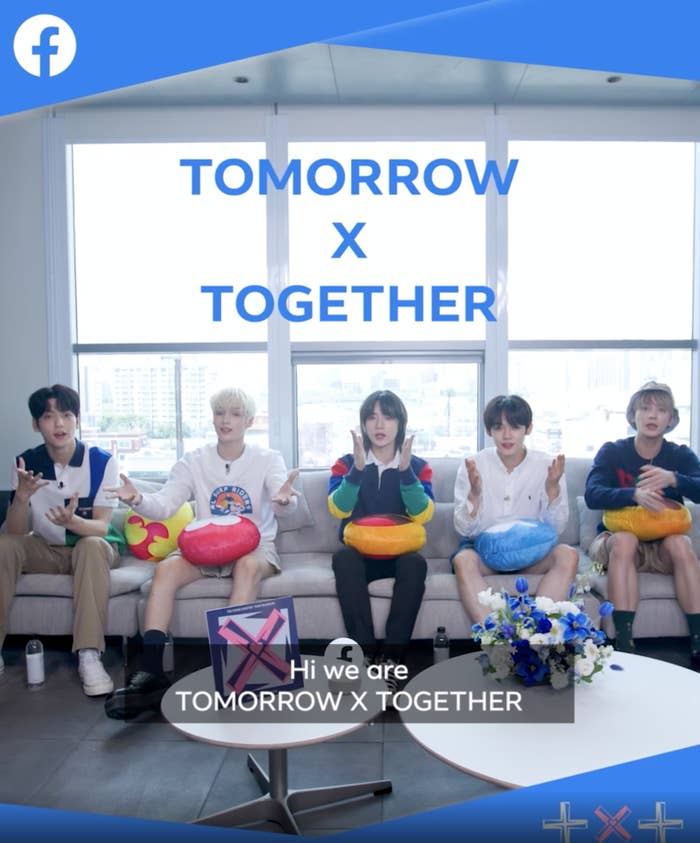 As certified MOA, we had a lot of questions to ask. Like, a lot.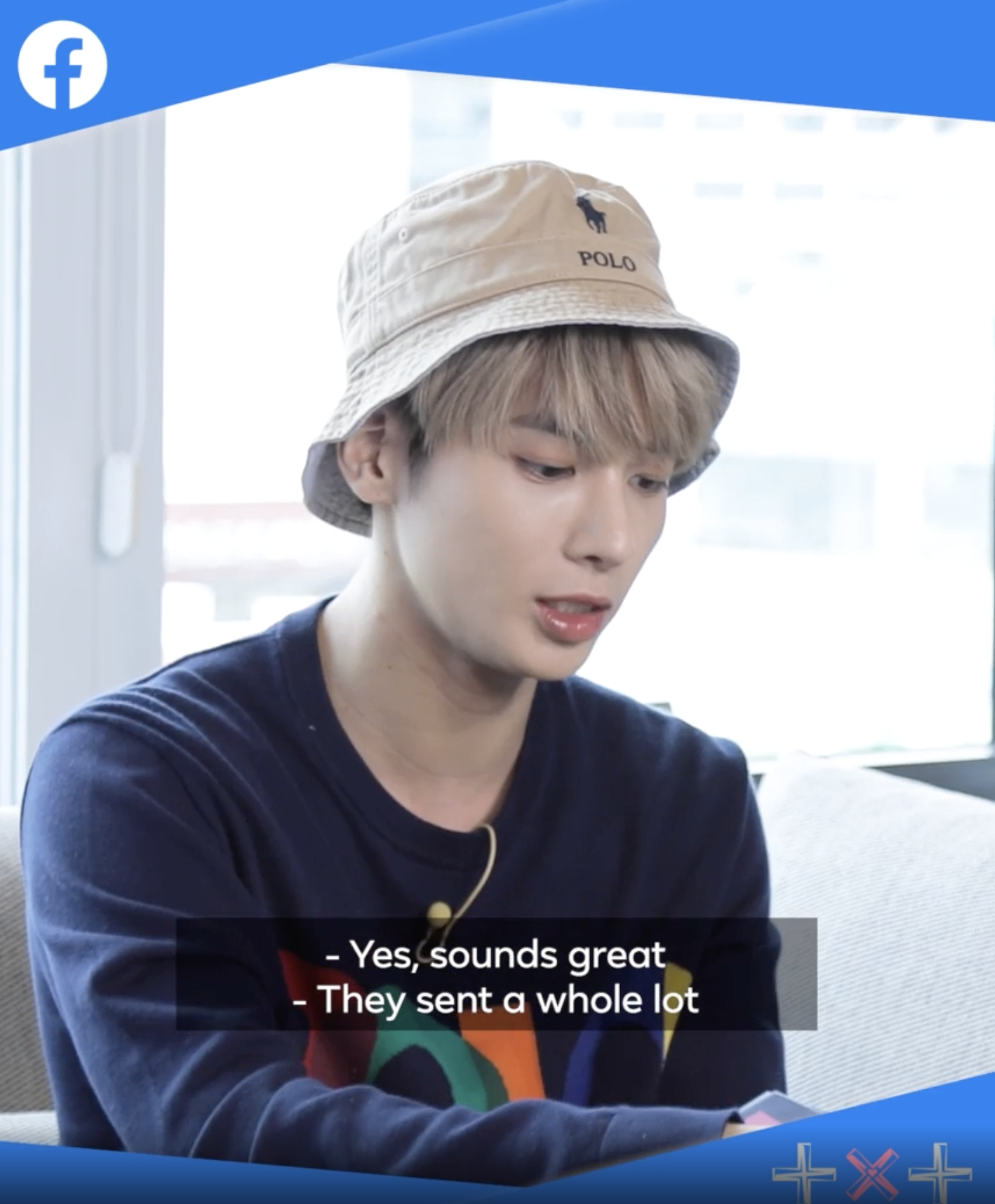 So here's everything we learned from our chat with the five talented artists known as Tomorrow X Together:
1.
The group describes the lyrics of "LO$ER=LO❤️ER" as expressing "the feelings of a boy who may look like a 'loser' in the eyes of the world but wants to become a 'lover' to you and save each other."
2.
When asked what song best describes their life right now, Taehyun and Yeonjun both picked "LO$ER=LO❤️ER." "The song is a great representation of Generation Z feels, so it's more relatable," eldest member Yeonjun explains. "It's a song perfect for this day and age."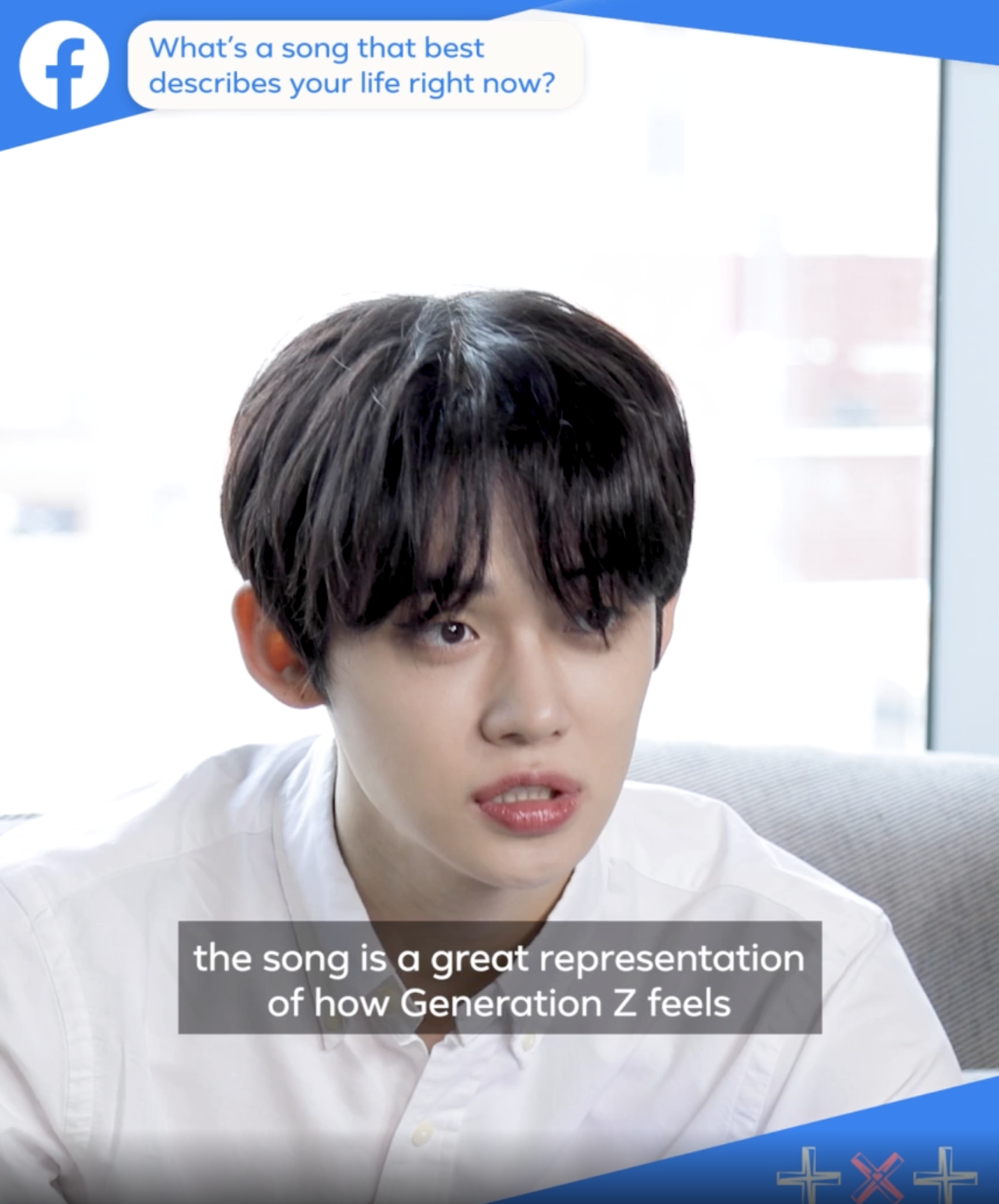 3.
Soobin chose "Our Summer" from their past work, but also told us that he's been listening to a new release by K-pop group ONF, "Popping." He gasps, "It's so good!" Beomgyu agrees. "We've listened to it four times together!"
4.
Soobin also says that because all the members are Gen Z (born between 1999 and 2002), it's easy for them to sing about what young people are going through, as it's authentic to their own lives.
5.
Since the concept of the album is "fight or escape," we also asked: "Since you have a song called 'Can't We Just Leave the Monster Alive,' if there were a monster in front of you right now, would you fight or escape?" Beomgyu immediately answered, "I would escape, why would you fight?"
Yeonjun: "You have to fight!"
Heuning Kai: "Of course you have to escape!"
Soobin: "You need to fight, everyone. You have to try!"
Taehyun: "But the monster is six meters tall and weighs one ton."
Beomgyu: "The ground shakes every time it walks."
Heuning Kai: "Think of the monster as a dragon as big as the HYBE [the group's label] building. Are you going to fight it??"
Taehyun: "Yeah, it rips people."
6.
Huening Kai thinks their growing fanbase has helped them work much harder and provided a great experience for them.
7.
Taehyun says the pressure doesn't affect them, despite their rising popularity, and everyone agreed.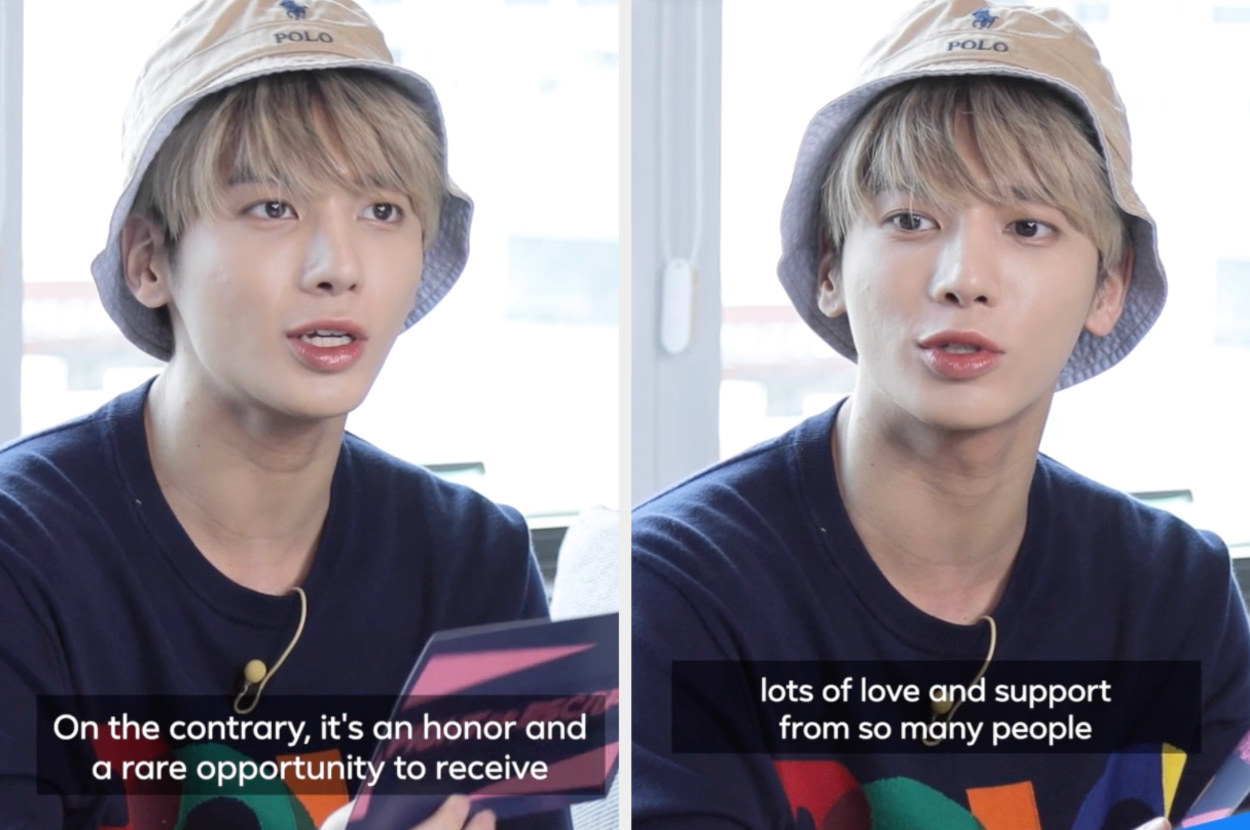 8.
"For now, our goal is to get back on the road. We say this all the time, we want to tour overseas and meet MOA," Huening Kai reflects.
9.
"We want to repay all that love with good music and good performances," Beomgyu tells us.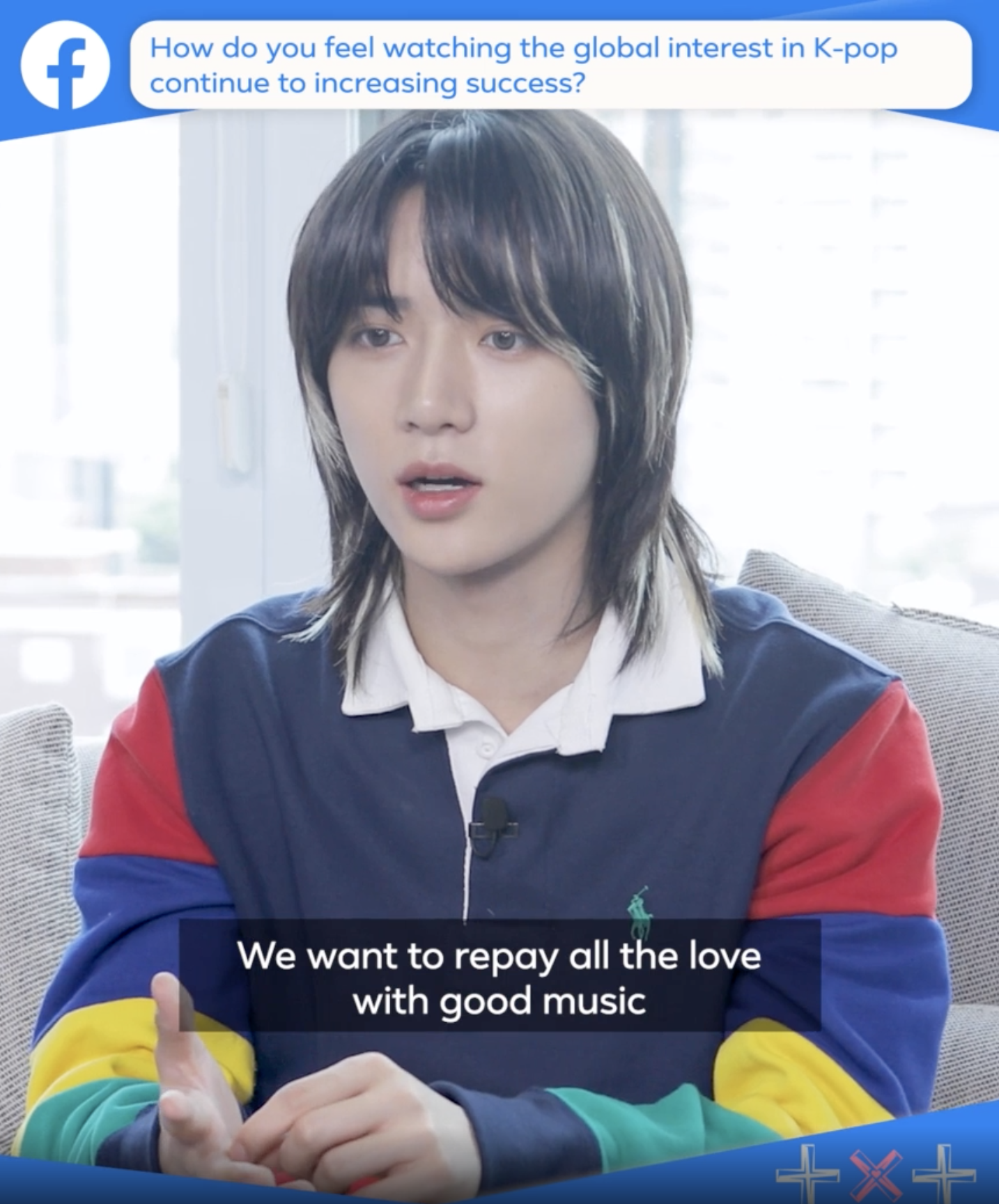 "Don't you think it's fun? Just doing music?" he asked his bandmates.
10.
And, of course, we wrapped it all up with a surprise: