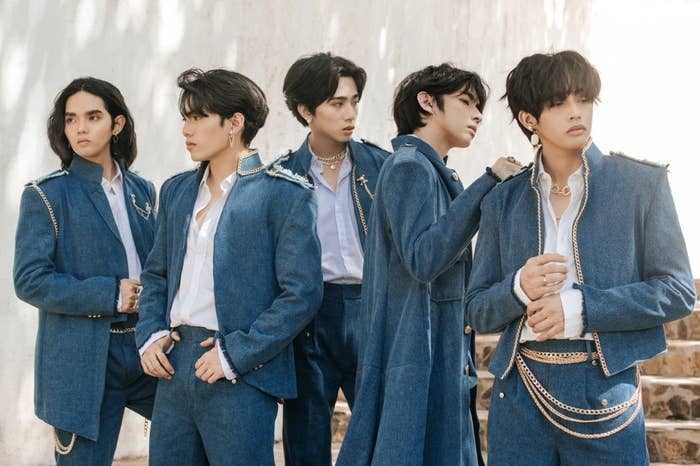 Without a doubt, one of the great things that K-pop is doing for the world right now is highlighting the movements in Asian music as a whole. From K-hip-hop labels to scenes like J-rock and indie artists, there is so much more music to be enjoyed, and the explosion of K-pop is lighting the way for Asian artists who are ready to tell their story. One milestone of this path was the Billboard Music Award acknowledgment of Pinoy pop (P-pop) group SB19.
The quintet is exemplary; members Pablo, Ken, Stell, Josh, and Justin were selected from thousands of hopefuls to pioneer the growing global interest in the idol trainee system. Trained in the Philippines under Korean agency direction, the boys are triple threats — they self produce, perform elaborate choreography, and as I soon witnessed firsthand, can really belt out a note. Undoubtedly, they are at the top of their field and global voices for P-pop now. Over Zoom, BuzzFeed sat down with the stars to chat about their favorite K-pop artists, the changes in Asian music right now, and what it means to them to be a part of this unique point in music history.
You have grown so much over the last year, a lot of people might recognize you now from your BBMA nomination — congratulations, by the way. How did you feel when you first found out the news?
Ken: It feels surreal — the fact that we have been nominated for the Billboard Music Awards, it's such an internationally known award-giving body. To recognize us alongside artists like Ariana Grande, Seventeen, BTS, Blackpink — we are very, very grateful and thankful to all the people that helped us reach this milestone. One of our goals is to bring Filipino art to the global scene, and we consider this as our first step.
Pablo: Josh was streaming at the time, waiting for the announcement, and at the time Bretman Rock announced that we were also nominated, he cried so hard.
Josh: I broke down. It's the biggest achievement for us so far; it was very overwhelming.
Stell: Like what Ken said — it's so surreal. Because every day we're just doing our normal training, and we don't expect anything extravagant. We are so thankful and feel very blessed with this great news and achievements.
Josh: Yeah, the nomination was also for the whole Philippines — not just the group. For the community, for artists. It opens up opportunities for everyone in the country.
You're a Pinoy pop group trained under a Korean agency, so while you are a P-pop band, I understand you listen to a lot of K-pop. Do you have a favorite K-pop artist?

Josh: I love Twice. Big Bang as well. But I really love Twice. I love Twice.
Stell: I'm a big fan of BTS, Seventeen. Other groups like Beast, TVXQ. I was a fan of K-pop before — I think a lot of our fans know that I started as a K-pop cover choreographer. People know I was a fan before I started training with SB19.
Writers note: Here, I need to add an addendum that is hard to transcribe. Offhandedly, I asked if they knew any dances. They were enthusiastic, so Justin and Stell kindly performed "TT" for me, followed by a very raucous version of "Dynamite," where Pablo and Ken joined in on vocals and finished with Stell teasing, "I said dance number, not vocals–"

Let's talk about your music, though. You recently came back with a mini album, Pagsibol. The title track, "What?", was very dark and hard-hitting. What was your favorite part of recording this project?

Pablo: When I first heard the songs with all the vocals and beats together. When I was composing the songs, I was just singing with the guitar and imagining what would happen when the group sang it fully. It's amazing, I really get excited when I hear the dynamics in our voices on one song, all the variation.
Ken: We were covered in blankets to record some of the tracks!
Pablo: Yeah, we recorded two of the songs in my home, using blankets to control the reverberation in the room. When we recorded the chants, it was really fun. Once, when we were really loud, my neighbor shouted the lyrics of our song! [laughs] It's really funny because they already got the melody and lyrics from us repeating and repeating and repeating.
A lot of your songs are very strong and dark. Will we ever see a cutesy concept from SB19?
Justin: We have some more bubbly concepts, and we are hoping our next song will be more cutesy and playful as well.
Stell: We're open to doing that...
Writer's note: I wondered if it might be a collaboration with Twice. They all cheered. "That would be a dream come true, wouldn't it, Josh?" says Pablo. "I love them, especially Sana and Nayeon," says Josh. To the camera, he gives a thumbs up. "See you soon, guys!" They all laugh.

There is an overwhelming amount of prejudice against Southeast Asian idols in the K-pop world, and in society at large. Do those instances affect you?
Pablo: Asian racism is present not just in other countries but in Asian countries as well. It's really saddening. At first, we were really affected by the comments and hate speech, but we try to motivate each other that we're doing the right thing, to keep pushing no matter what. We were actually able to make a song based off of [the hate]. As much as possible, we want to put lessons in our music and educate people with our music. So people can know racism and discrimination is a bad thing, and helping them realize those things are not okay.
With your new music and project, how do you think that speaks to the direction of music?

Josh: Training in the Philippines, we didn't have to adjust to Korean culture, but we follow our own version of a trainee system. We incorporate our own soul and inspiration in the music we make and what we do.
Stell: Being labeled as the forefront, or trailblazer — if I may say [laughs] — of P-pop right now, it is such an honor. We work hard to further advance our industry and ourselves, and show ourselves to the country and the world.
What are some goals you have for the rest of this year?
Justin: Of course, the release of Pagsibol, and if possible to release the second EP for it. Other than that, we of course would like to have more performances!
Josh: Breaking into the international scene, and keep on pushing until we achieve it.
Stell: Someday, doing face-to-face concert performances. We really miss performing for our fans. We hope the world will be better — we're not sure, but we hope! ASAP!
Pablo: Before the pandemic, we had six more cities to go to [on our tour], but it was canceled. We hope we can continue it soon, but for now, we will just say hi to you virtually.
What does K-Pop — and P-pop — mean to you?
Josh: K-pop has been the benchmark for everyone. It has raised the standards. It's our inspiration, we want P-pop to be as established as K-pop and promote our culture.
Pablo: K-pop, and K-hip-hop, is what led me to auditioning. I'm thankful. P-pop mirrors the culture of the Filipinos. Everything we write and incorporate into our music are our experiences, and we try to tell our country and the world about our culture. "We are who we are." P-pop means the world to us. I hope it will help notice Filipino and Southeast Asian artists.
Stell: Like I said, I started as a K-pop choreography cover dancer. It helped me boost my confidence. I learned to accept myself. And having these wonderful guys with me [gestures at members], I feel so special and loved. That's also what K-pop means to me. P-pop means, well, me. Watching other idols in other countries makes me feel inspired, but being a part of SB19 makes me want to inspire others. What K-pop did for me, P-pop is what I want to do for others.
Justin: We will never stop trying to improve ourselves, and we are so thankful.