When we launched the BuzzFeed News app for iOS in June, we had one key goal in mind: provide our mobile audience with an easy, accessible, interesting (and emoji-riffic) way to quickly catch up with what's happening around the world.
We on #teamnewsapp are committed to delivering delightful news experiences, just as everyone at BuzzFeed News is committed to being a reliable news source for our international audiences in the pursuit of having a positive impact on the world.
That means being excellent on mobile, because that's where 70% of BuzzFeed's audience is. And of the 25 million people who visit BuzzFeed News each month, more than half are on some kind of mobile device.
We've made some headway toward achieving that goal, thanks to the more than 350,000 of you who've downloaded the app so far, and helped us reach the top position in the News category in the App Store the week we launched.
Being excellent on mobile and accessible to our audiences also means being on the platform that's used by hundreds of millions of people around the world — so, as of today, we are available for Android devices via Google Play.
We built BuzzFeed News for Android to be faithful to the core tenets of Material Design, Google's recommended principles for apps on its platform, and to be wicked fast for our audiences no matter how EDGE-y their data connections. This is just our opening gambit — there's even more to come.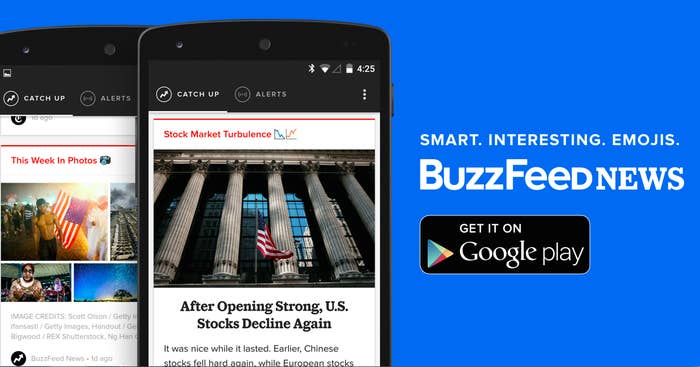 Oh — and since delivering the news to our audiences wherever they are also requires a bit of ~offline thinking~, BuzzFeed News is hitting the road. We know that two-thirds of BuzzFeed News app downloads have been by people between the ages of 18 and 34. College-age students have embraced us on iOS with special abandon: they are the largest demographic group of news app users so far. As a thank you, we will be visiting college campuses around the United States and interviewing presidential candidates, live and in-person.
The BuzzFeed #CandidateCollegeTour will feature live interviews in October and November with 2016 presidential candidates in front of audiences of college students. So if you're a student (or you know any), we want your questions for the candidates. You'll be able to send them to us via our social channels (and of course, the BuzzFeed News apps). We'll also be distributing video clips from the college tour on our Snapchat channels and Discover - which has become the third most-popular way for our audiences to interact with us.
Hillary Clinton has signed on to participate, and we'll reveal more names and tour stops for the #CandidateCollegeTour on the BuzzFeed blog (and all our social channels) in the coming weeks.
Till then, get the BuzzFeed News app for Android, iOS (and the Apple Watch!) to keep up with the most interesting and important stories from around the world.