Omprakash Mishra is an aspiring rapper, whose 2015 release "Aunty Ki Ghanti" shot to popularity earlier this year.
The track was embraced by Indian meme communities, and mock adoration for it became a meme in itself.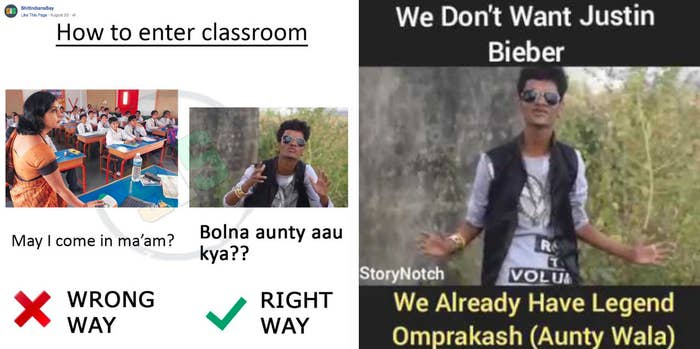 Last week, in a display of obsession with the song, meme page Shit Indians Say organised an event for fans to meet up at Connaught Place in New Delhi and yell its lyrics.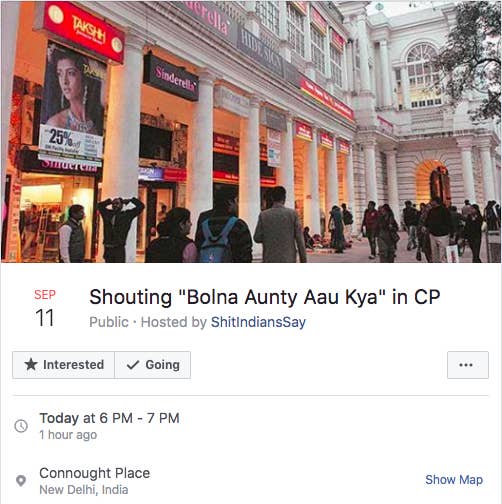 15,000 people said they were "interested" in the event, and eventually hundreds actually showed up at the designated time and place, and actually shouted "Bol na aunty, aau kya?"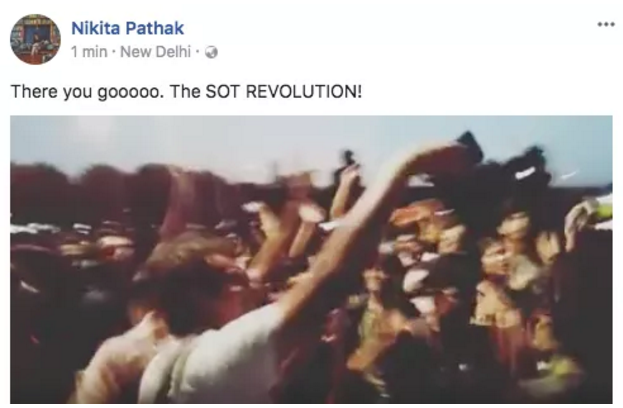 The public meet-ups drew attention to the song, and specifically to its lyrics, which a lot of media houses rightly pointed out as being deeply misogynistic.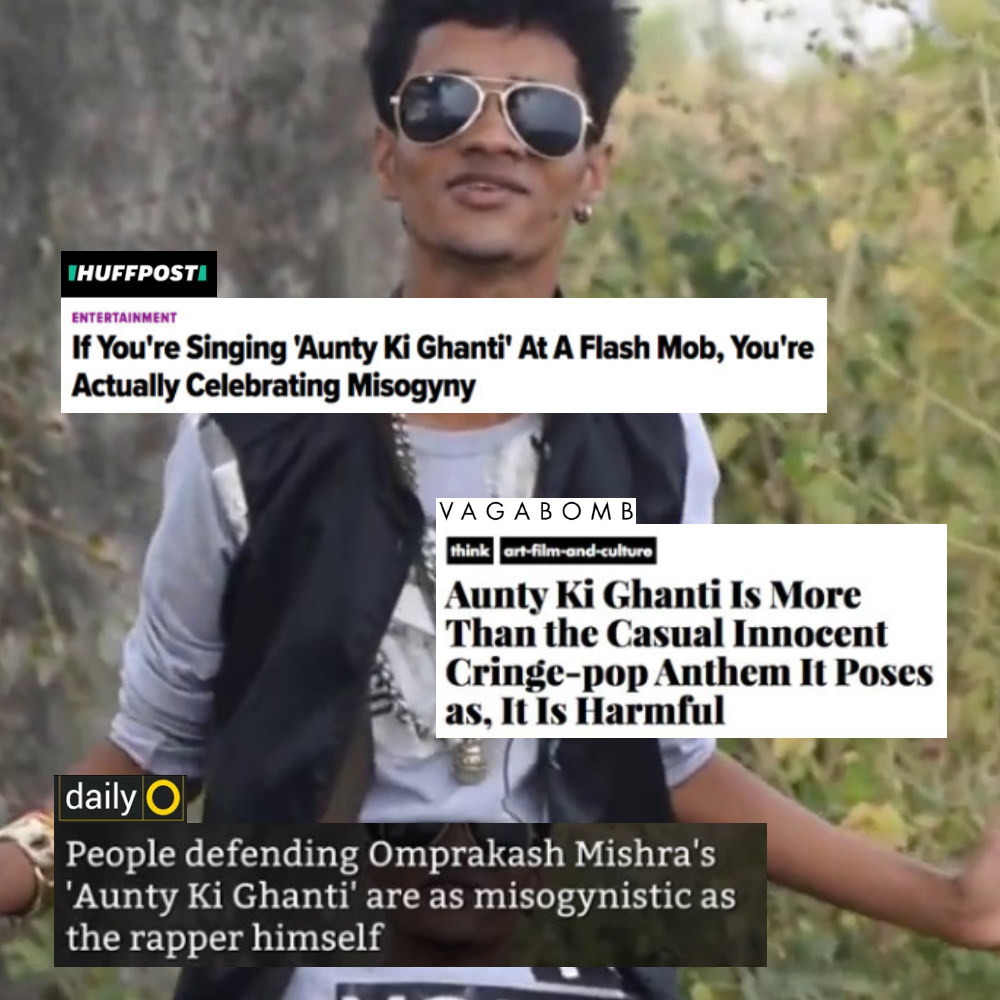 Reporter Deeksha Sharma made a video for The Quint demanding the song be taken down from YouTube because of its violent attitudes towards women.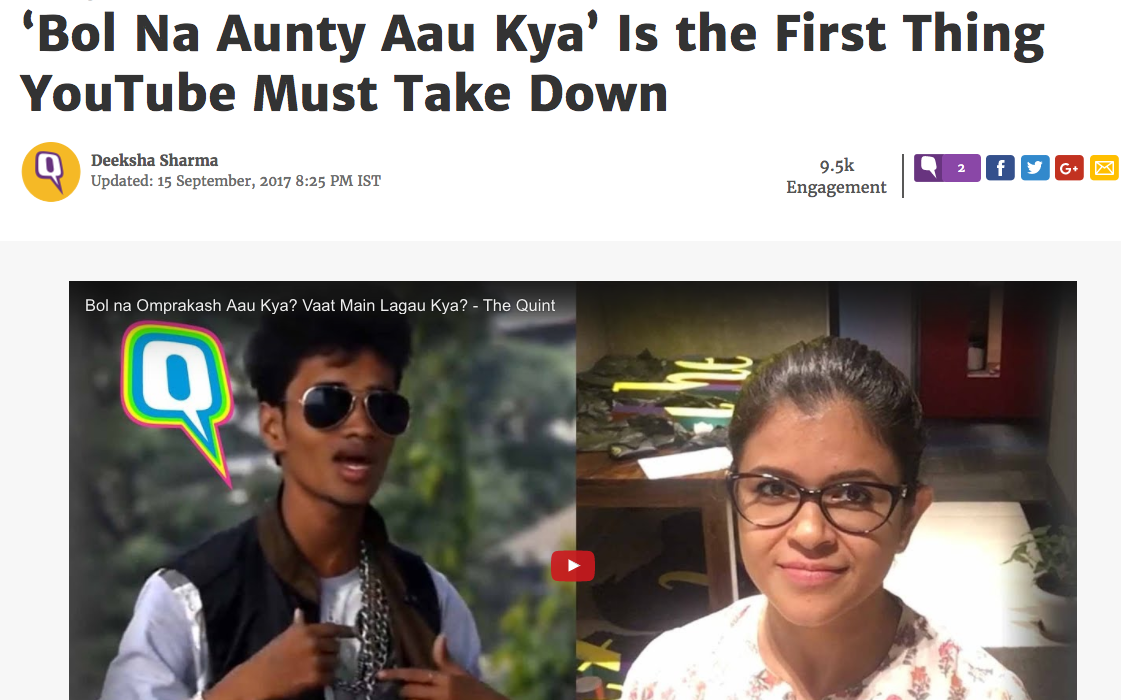 The video was uploaded to Quint Neon, a page run by The Quint.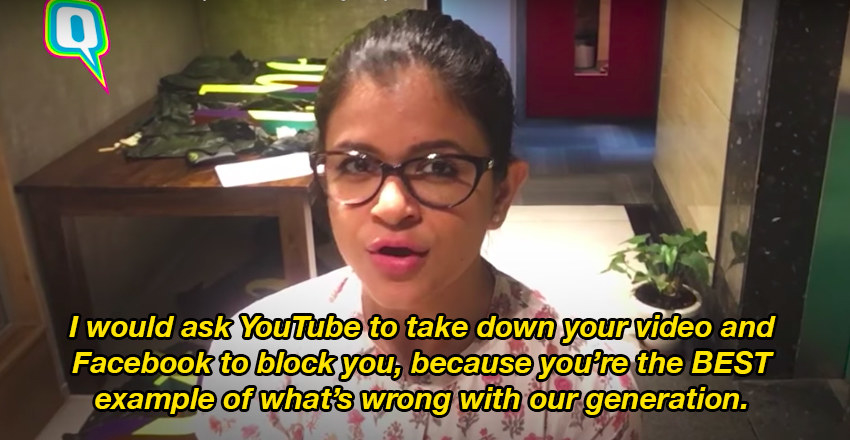 Shortly thereafter, the song was taken down from YouTube, but not because of Deeksha Sharma or The Quint. It was taken down over a copyright claim by YouTube user Smokedlime.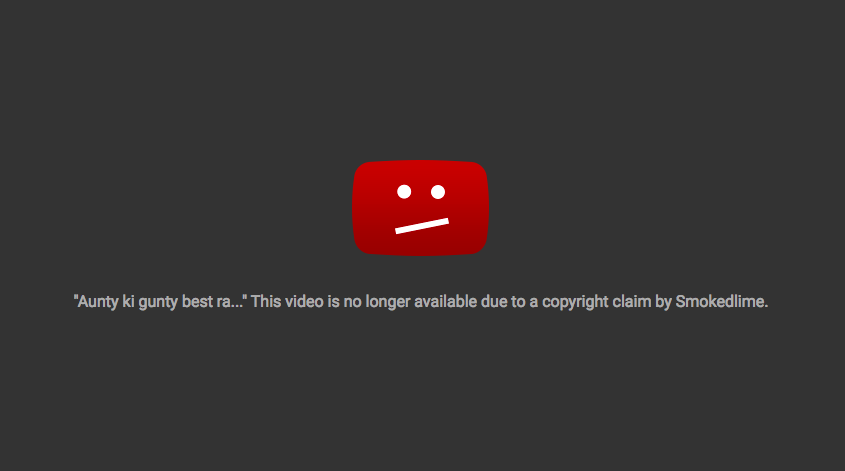 Despite the fact that The Quint and Deeksha Sharma have no connection with the video being taken down, several meme pages started targeting Deeksha Sharma as the reason the video was taken down.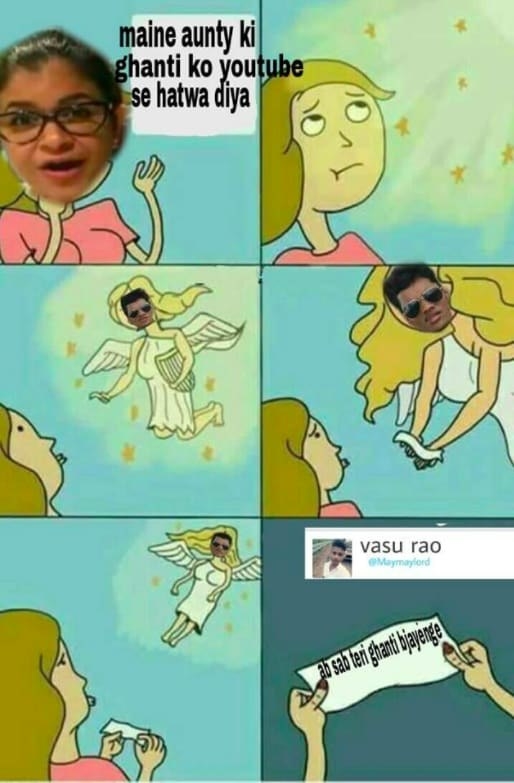 Sexist memes using Sharma's images started popping up across a network of meme pages.
She was subjected to horrifically sexist comments across platforms.
A police complaint filed by The Quint indicates that she even received death threats via WhatsApp, on her personal phone number.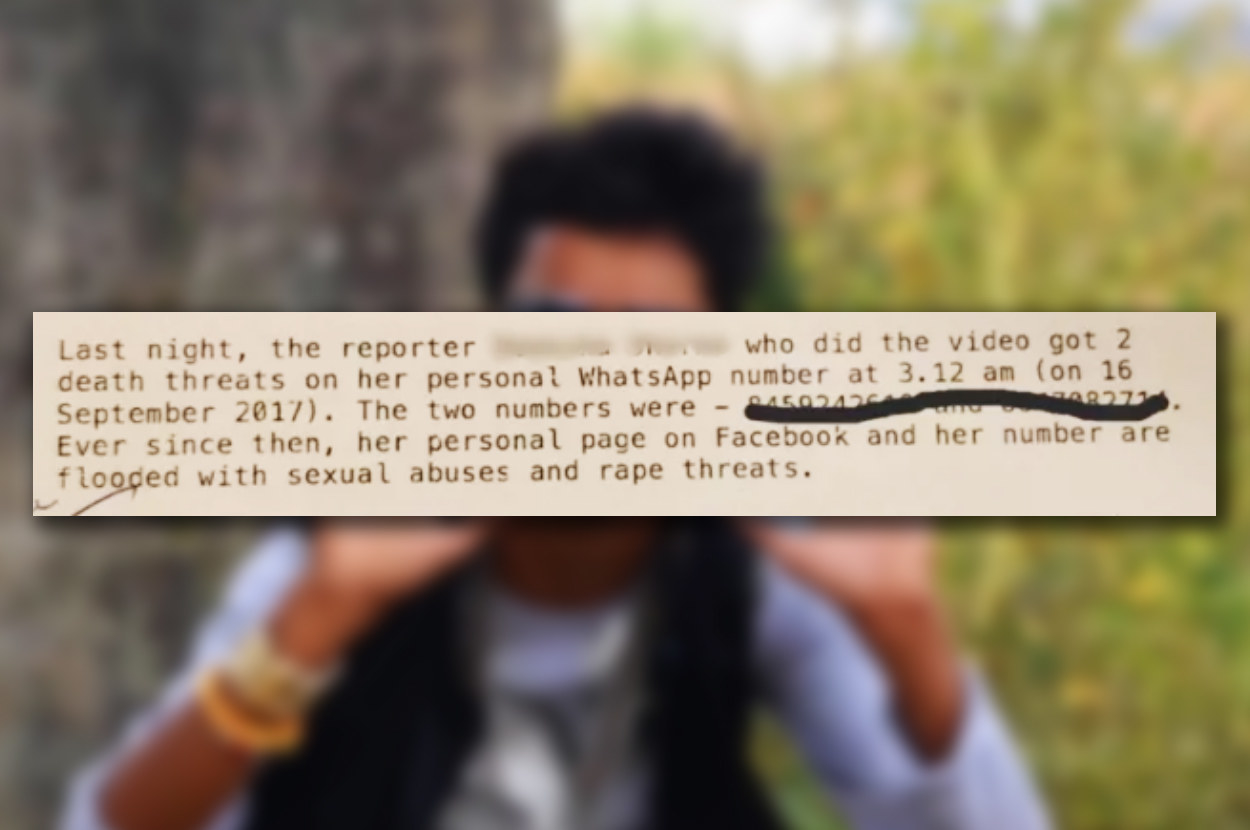 Comments indicate that there was an organised effort by multiple meme pages to "raid" The Quint and avenge the video's takedown.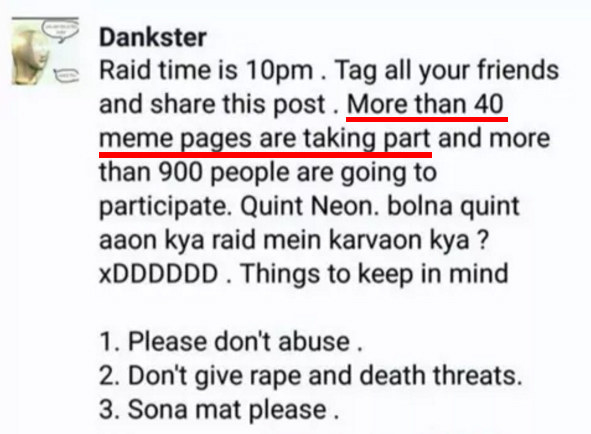 BuzzFeed was able to find posts by upwards of ten different pages planning for a "raid", most of whom were also posting sexist memes using images of Sharma.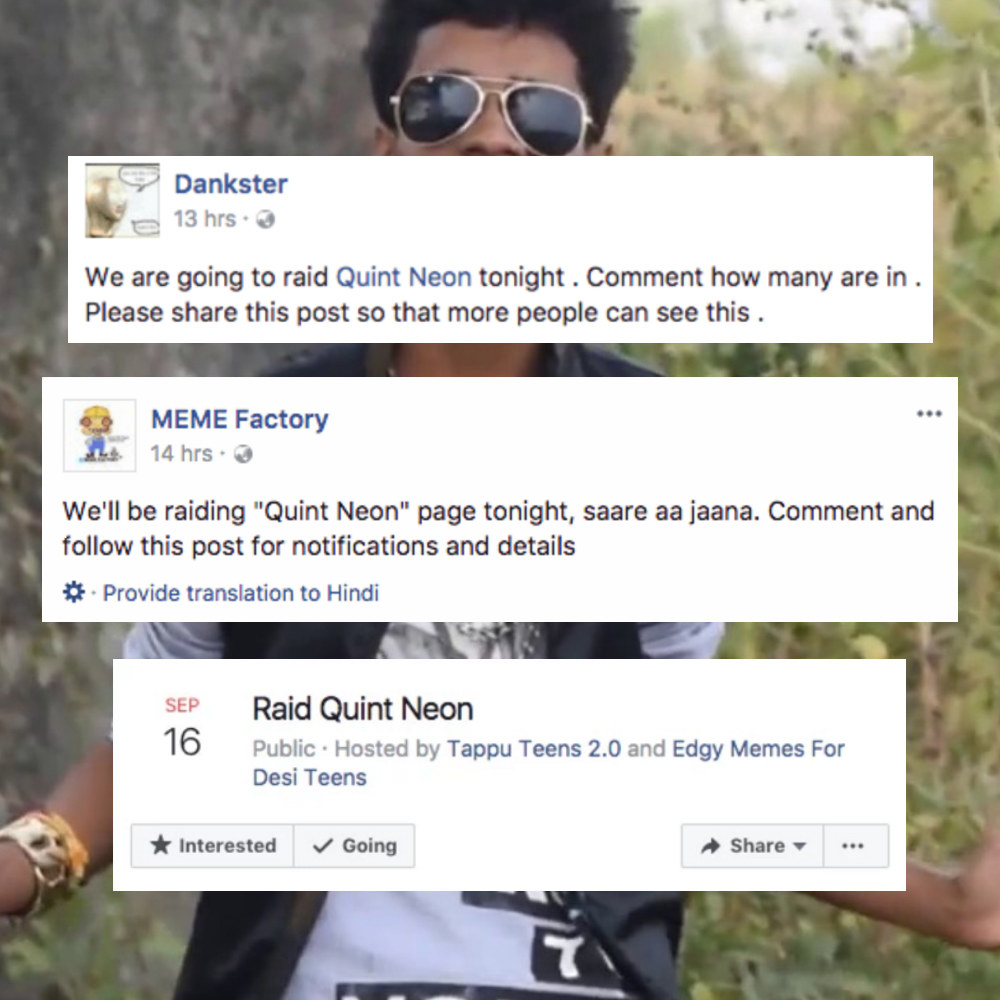 While the organisers themselves didn't explicitly call for a mass-harassment of Sharma, links to her profile were circulated in comments.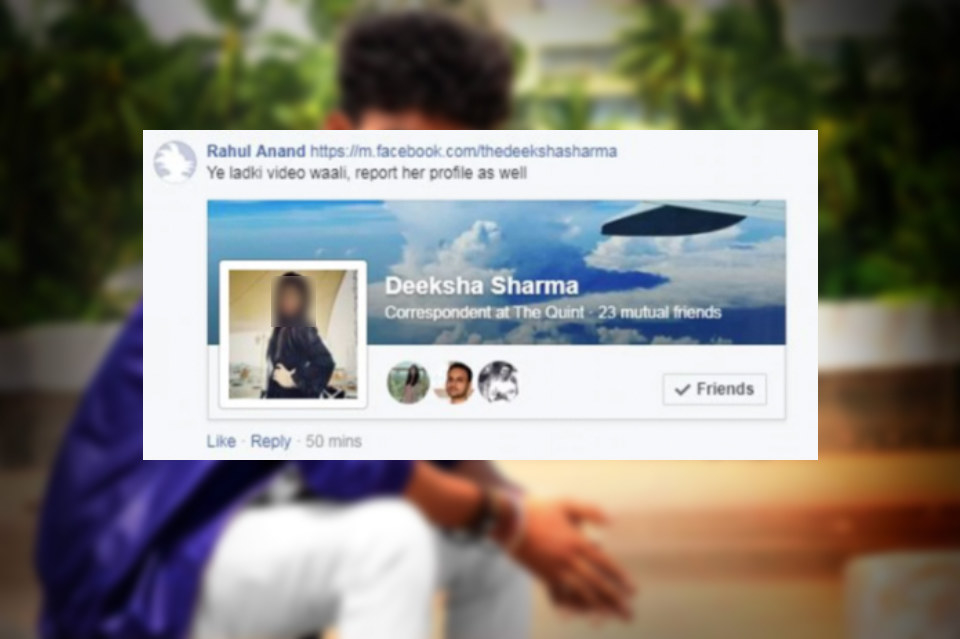 Several organisers used a language of violent sexual assault to describe their plans and sentiments.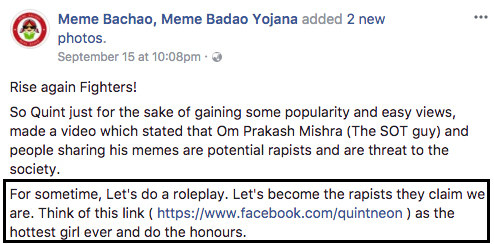 Some pages which had themselves issued sexual threats later claimed they hadn't condoned or called for abuse.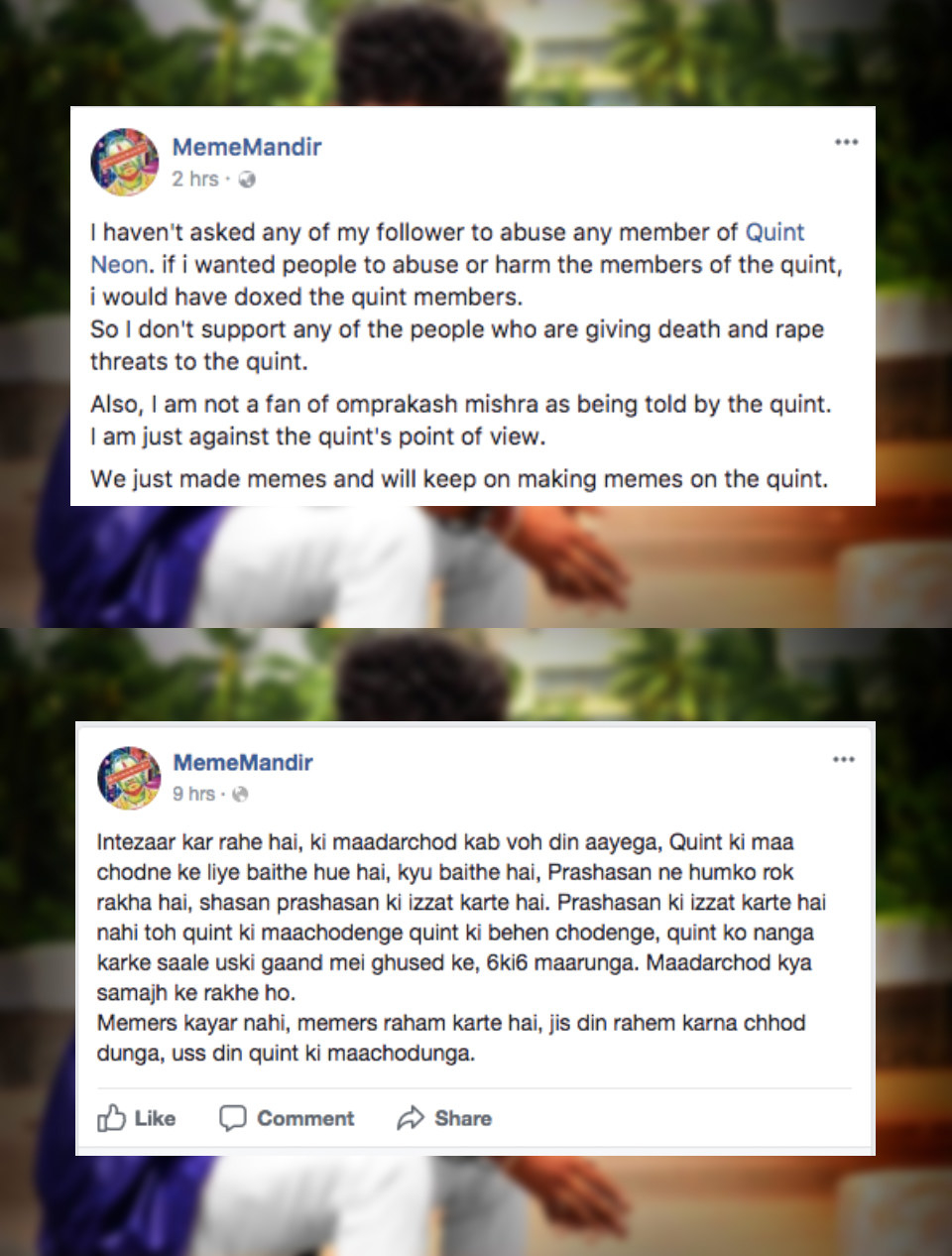 We reached out to the admins of multiple pages involved in the harassment. One responded, explaining that the harassment was organised in Facebook groups of multiple meme pages and members of their communities.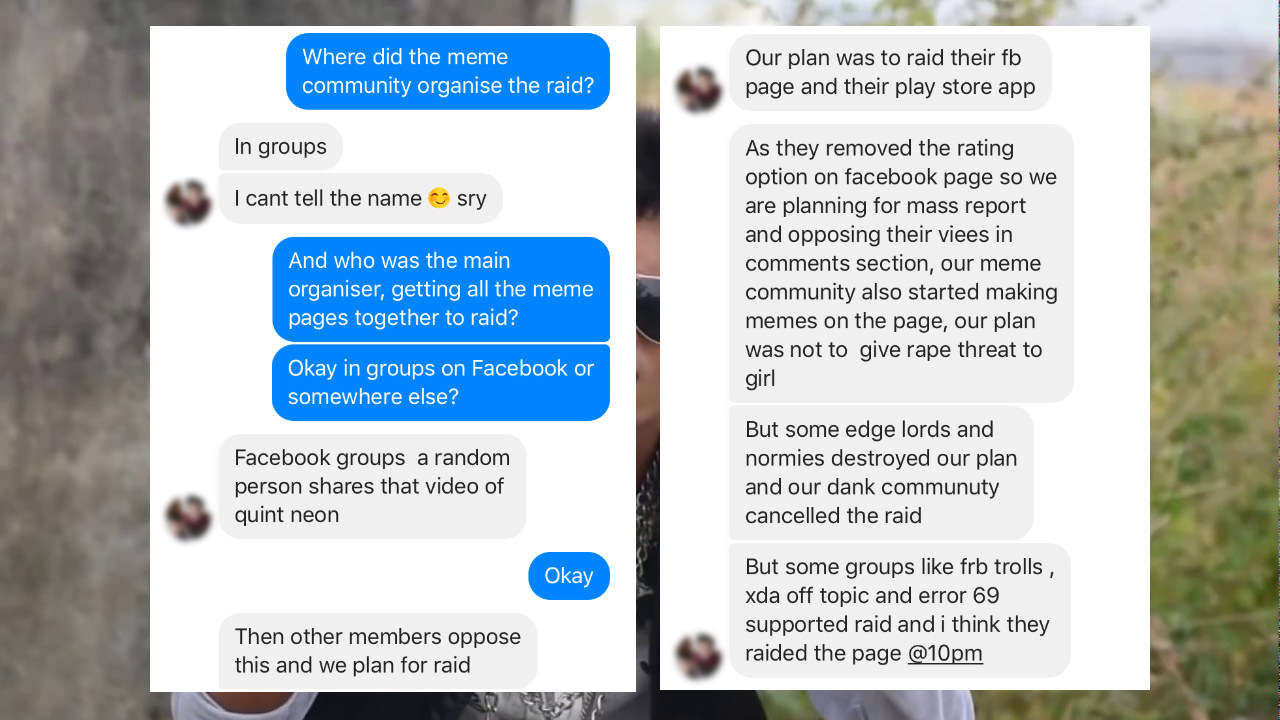 The network of pages appeared to have made contact with rapper Omprakash Mishra, who himself incited the attacks.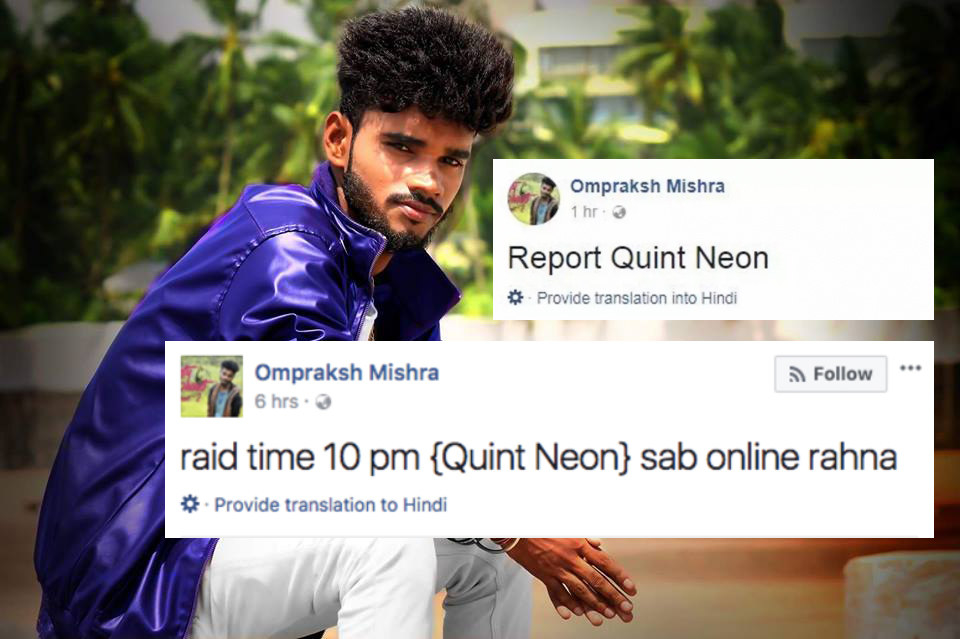 Followers of the pages prepared for 10pm on September 16. The plan was to downrate The Quint's Facebook page.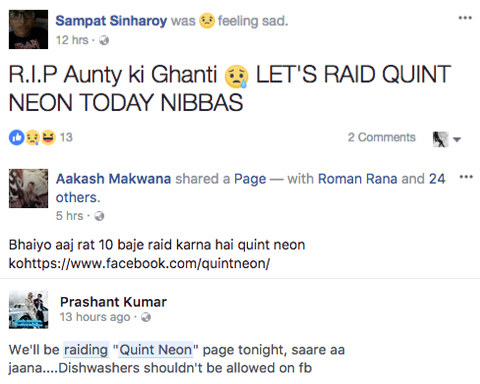 The meme group members downrated Quint Neon's Facebook page.
And an event to shout "Bol na aunty aaun kya" at The Quint's office was set up by meme page MemeMandir.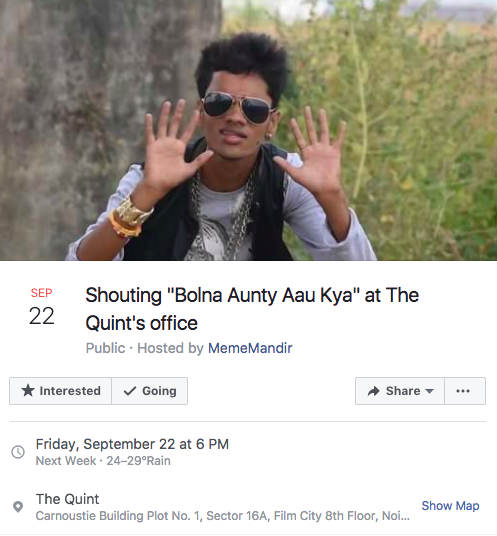 Their cause itself seems undefined. Some meme pages mistook Quint Neon for a rival meme page and attacked it.
A majority of the meme pages are protesting Quint for "ruining a meme" by calling for its takedown.
Others seem to fall into the trope of defending their freedom to have "fun" by trolling the "feminazi" who's threatening to "ruin" it.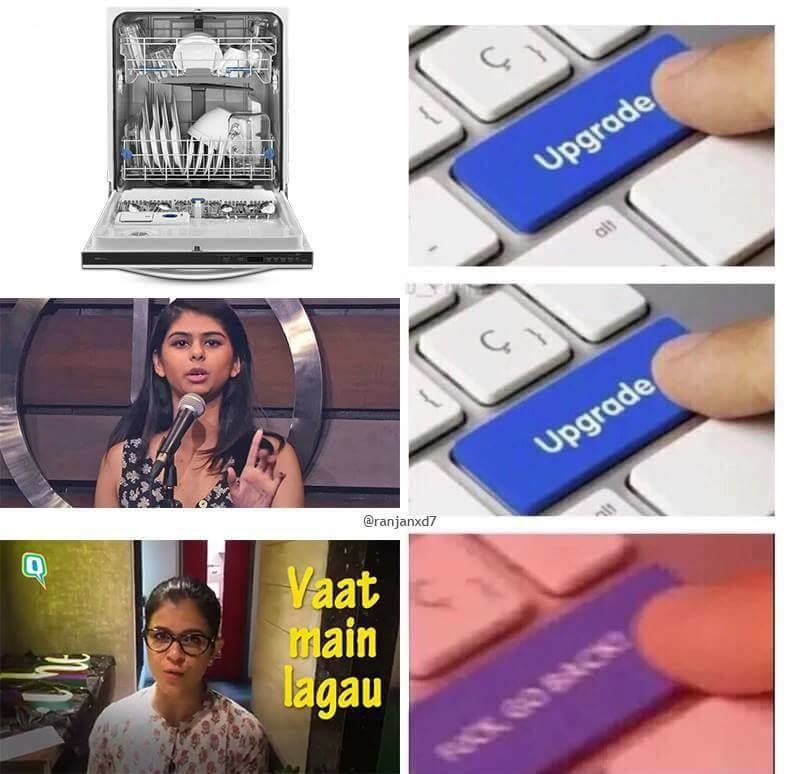 As far as we can tell, pages and groups involved in the mass-harassment include (but are not limited to):
• MemeMandir
• Meme Factory
• Meme Bachao, Meme Badao Yojana
• Error 69!
• Best Indian Starter Pack
• Blond Maymays
• Dankster
• Edgy Memes for Desi Teens
• Caltron Gags
• Memerable Indian Pundits
• Memestan
Members of this self-identified "community" have revealed that they've carried out similar "raids" before.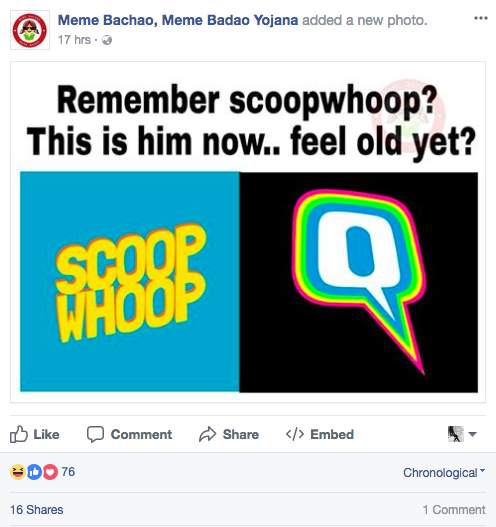 Deeksha Sharma and The Quint have filed complaints with the police and the cybercell. Sharma told BuzzFeed she could tell that this was an organised, not organic, act of harassment.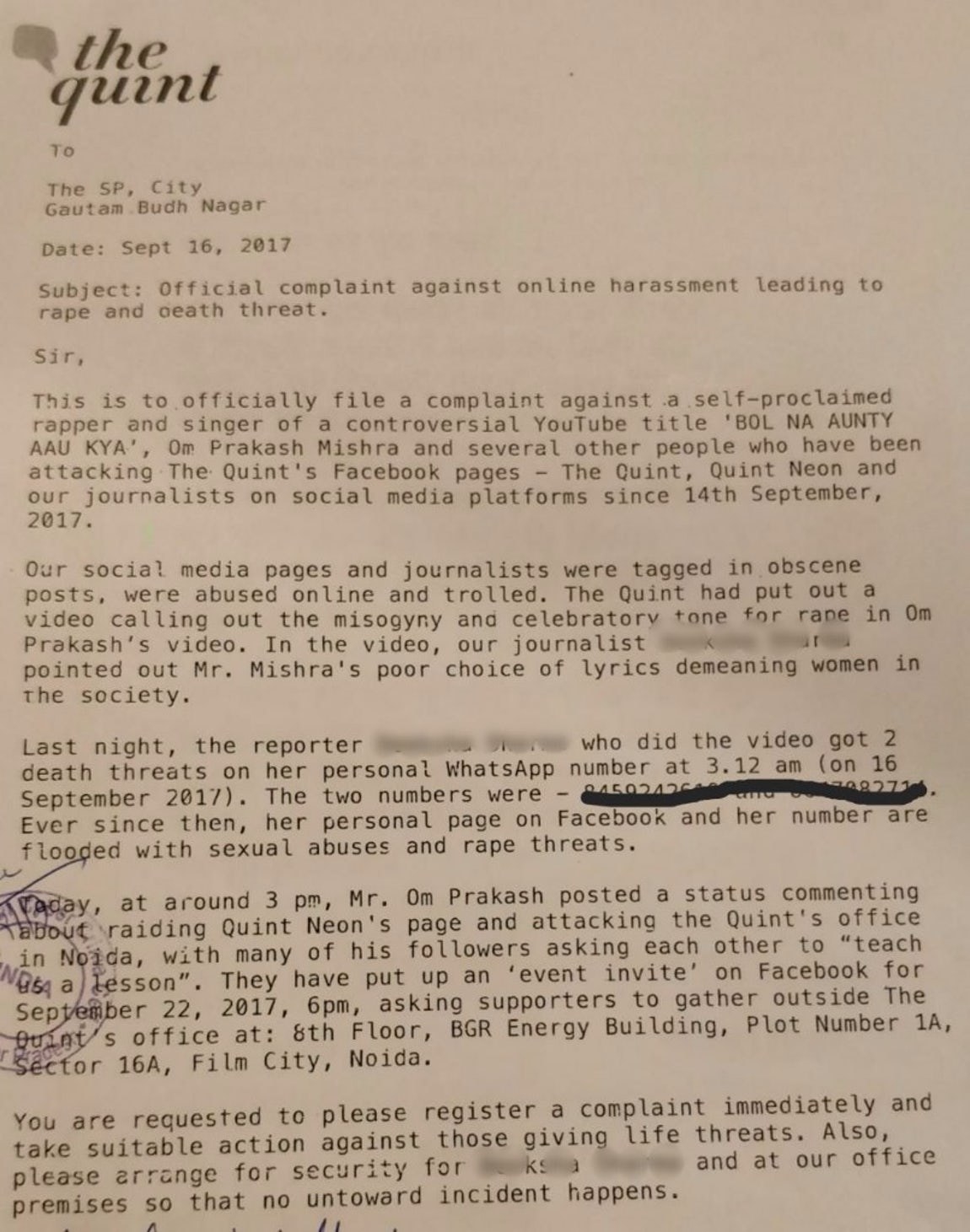 BuzzFeed has reached out to Omprakash Mishra, multiple page admins, and to Facebook for comment. This post will be updated if and when they respond.
UPDATE
Administrators of the following pages have reached out to BuzzFeed to deny involvement in the harassment: FRB Trolls, Shit Indians Say, XDA-OT, Urban Fictionary, and Tappu Teens 2.0.
UPDATE
A Facebook spokesperson told BuzzFeed: "We want Facebook to be a safe environment for everyone in our community and will remove reported content or profiles that violate our Community Standards. These standards do not allow hate speech or credible threats, which includes content that threatens sexual violence. We're reviewing reported content and profiles and removing any that violate. We also recently introduced Facebook Safety for Journalists – resources developed in association with journalists – to help them remain secure and safe on Facebook."