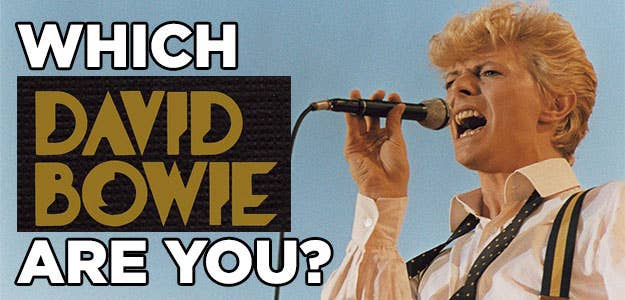 Think you know which Bowie you might be? Boogie onward to find out!
1.

Hulton Archive / Via Getty

Band practice (marching OR garage)

Owning everyone in the cafeteria without saying a word

Dominating student council

Trying something new every quarter

Plugging away at home after class

2.

Stephen Morley / Via Rex USA

Helping the host by cleaning up along the way

Introducing yourself to strangers

None of your business (and don't mind the locked door)

I wasn't invited, but it's not my scene and that's OK

Playing DJ and conducting the epic singalong everyone will remember

Nerding out with a cutie in the corner

3.

Moviestore Collection / Via Rex USA / 978405a

A battery booster for your cell phone

At least one little thing that sparkles

Your top-of-the-line headphones

Wait... I actually have to leave the house?

A change of clothes — you don't know where the day may take you

The most comfortable pair of shoes

The trinket you just got for your friend while traveling

4.

Andre Csillag / Via Rex USA

Iman (for a little while)

Your high school sweetheart

Whoever has the best record collection

5.

Hulton Archive / Via Getty

Oh no, I don't DO airplanes

I'll make the best of anywhere — it's an adventure, right?

6.

Patrick Riviere / Via Getty Images

As if I CARE what anyone else thinks of me

A giving and loyal friend

7.

Ilpo Musto / Via Rex USA

A slush fund for throwing epic ragers

I can't choose one thing — the world is my oyster

Admission to a Broadway master class

A vintage wardrobe and rare rock & roll memorabilia

8.

Ilpo Musto / Via Rex USA

All the possibilities in front of you

How much better you are than everyone else

Fear you may be spreading yourself too thin

Whether or not you're pushing it too far

I don't need to sleep — every day is a dream

How much you're going to blow everyone's minds, and how they have absoutely no clue

Debating if you're really ready or not to flip the switch

The vastness of the universe

Whether or not you're having as much fun as possible

9.

Richard Young / Via Rex USA

"Strawberry Fields Forever"

"Happiness Is a Warm Gun"

"With a Little Help from My Friends"
Start streaming selections from your spirit animal Bowie era right now on Spotify!