If you're familiar with Tig Notaro, you know the comedian is having the best year of her professional life, following probably the worst years of her personal life.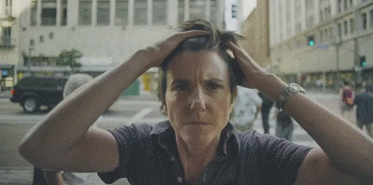 Only Notaro could turn personal experiences like the loss of her mother and a breast cancer diagnosis into life-changing comedy.
This week, ahead of the premiere of her "Boyish Girl Interrupted" HBO special, Notaro finally joined Twitter:
But the comedian has made it clear right from the start, tweeting isn't really something she's interested in.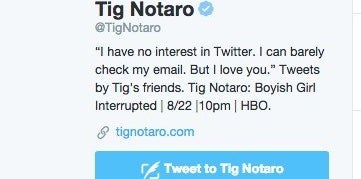 So what's a comedian with a brand new twitter who doesn't really want one to do? Have your hilarious comedian friends tweet for you, of course:
Sarah Silverman was first to lend a helping hand:
She revealed that 29 other comedians would be taking control of the account, each for a full twenty-four hours.
Next up? Kumail Nanjiani of Silicon Valley and Adventure Time:
Notaro has some seriously funny friends, so the entire month of August looks like it's going to be a really good time.
Yep, it's time to get on the Tig Twitter Train:
We can only hope that someday she will come around and bless us with her very own tweets.
Seriously though, Tig. * Prayer Hands Emoji *