British YouTuber Calum McSwiggan was charged in Los Angeles Wednesday with filing a false police report after claiming he had been beaten outside a gay nightclub.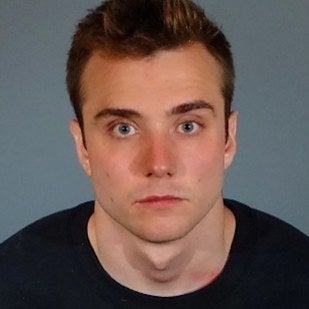 McSwiggan reported that he was assaulted by three men after leaving the Abbey early Monday morning, but responding officers said they were not able to substantiate the claim.
McSwiggan was arrested by Los Angeles County Sheriff's deputies a short time later after he was seen allegedly vandalizing a parked car. At the jail, officials said they observed McSwiggan "injuring himself with the handle and receiver to a payphone inside the cell," after which he was taken to a local hospital.
The 26 year old, known for his personal YouTube videos, pleaded not guilty to the charges of falsely reporting a crime and is due back in court on July 19, according to the Los Angeles County District Attorney's Office.
He faces a maximum 364 days in jail if convicted in the case, which remains under investigation, prosecutors said.
McSwiggan did not immediately respond to requests for comment regarding the charge of making a false police report.
A spokesperson for The Abbey told BuzzFeed News: "We are deferring all questions on this to the West Hollywood Sheriff."
McSwiggan, however, insisted earlier Wednesday that he was attacked, telling BuzzFeed News: "I just want people to believe I was actually attacked. That for me is the most important thing."
For that reason, he agreed to share his version of events.
After drinking with fellow YouTubers at the Abbey in West Hollywood on Sunday night, McSwiggan said he left the bar with a man and walked to a car nearby. He described himself as being mildly intoxicated at the time — "more than tipsy, happy, but not falling over."
"There we were joined by two other guys, who went over to the car. At that point, they decided to attack me," McSwiggan said in the phone interview.
McSwiggan also claims the man he walked over with had the keys to the car and vaguely remembers him getting in and out of the car during the attack.
"I was talking to the main guy and he kept saying my friend Melanie's name, I don't remember why," McSwiggan said. "I just remember him saying it over and over again and then he suddenly turned from being friendly to hitting me straight in the mouth."
McSwiggan claims he blacked out shortly after the other two began kicking him. They did not take any cash off from him although he claims to have had more than $100 on him.
When he came to, he said, "I remember getting up. The guys were nowhere in sight. I noticed that my front tooth was broken and I was upset and angry and overwhelmed and in that moment I attacked their car and I ripped the wing mirror off and scratched it down the side," he said.
When sheriff's deputies arrived, McSwiggan said he explained what happened, including damaging the parked car, but couldn't provide an accurate description of his attackers because he could not remember what they looked like.
According to McSwiggan, after showing the damage to the officers, he was arrested and put in the back of the police car.
"I was the victim of a hate crime and I was being treated like a criminal," McSwiggan said. "I understood I had done that to the car, but it didn't take away form the fact that I was still a victim and I needed support and I wanted to talk to my friends and they wouldn't let me. They confiscated my phone and belongings."
At the police station, McSwiggan claims he was placed in a holding cell and his requests for medical attention or a lawyer were ignored. He said his father called the station and there was discussion of the bond that would need to be paid for him to be let out. He also said the officer there told him it didn't look like he had been the victim of a hate crime.
That's when he said he took the payphone receiver off the wall and hit himself as hard as he could in the head with it.
"[T]he next thing I remember is being facedown in a pool of my own blood, and paramedics coming to get me and taking me to hospital," McSwiggan said.
His only self-inflicted injury was from the payphone, he added.
McSwiggan claims other injuries included three broken teeth, although he only noticed two of them the next day while attempting to eat, and extensive bruising.
"I know how people are going to try and twist this, but all the information is there and when you put it all together it makes sense and I really hope people see that," he said of all of the discussion of the events.
Melanie Murphy corroborated much of McSwiggan's account in a Facebook message posted Wednesday.