Senior Tory Says Leadership Candidates Must Pledge Not To Run Divisive Campaigns
Conservative peer Sayeeda Warsi said it was crucial for any new leader to unite the country.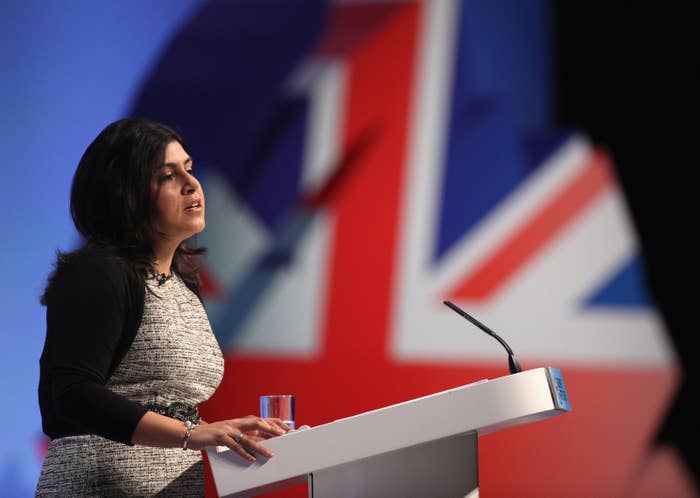 MPs who want to replace David Cameron as prime minister must pledge not to run divisive campaigns "that have consequences on our streets", a senior Conservative peer has said.
Former party chair Sayeeda Warsi told BuzzFeed News that in the wake of the EU referendum and London mayoral campaigns, both of which were accused of "dog-whistle xenophobia", any MP who wants to be the next Conservative leader should commit to "positive" campaigning.
Her comments come as reports of hate crime across the UK following the Brexit vote are on the rise.
"I want the leadership contenders to come out and say, 'I absolutely condemn racism and xenophobia.' Day after day, we're seeing hate crime on our news channels and people reporting it [online]," Warsi said.
"Where are the strong voices condemning all of that, calling for unity? Will they come forward and will they acknowledge that this kind of xenophobic, divisive, dog-whistle politics does have consequences on our streets and will they commit not to campaign like that in the future if they become the leader of the party?"

Warsi, who originally supported a Leave vote, has been openly critical of the campaign to leave the EU as well as Zac Goldsmith's unsuccessful mayoral bid in London. Just days before the crucial vote to leave the EU, she quit the campaign and accused it of fuelling "hate and xenophobia".
Cameron triggered a leadership election within the Conservative party after he said he would resign as prime minister following Britain's decision to vote to leave the EU.

Warsi wants those who want to replace him to answer 13 questions, which largely revolve around the outcomes of the EU, the way the party would campaign, and their overall vision for the party.
Warsi, a former Foreign Office minister, said the Leave campaign has already backtracked on a series of promises and the public need a leader who could both restore trust in politicians and unite the country. Laying out answers to her questions would bring an element of accountability, she said.

"I think there's a real anxiety in the country as to whether or not people believe what politicians say they are going to do," said Warsi, as she called for "no more games".

She added: "It's important for us not to go to a leadership election on lies, half-truths, and semi-truths. It's important that we have very specific answers."
Warsi said it was especially important that the 150,000 Conservative members understood what each candidate would do before voting for them because the new party leader would have a key role to play in uniting the country.
Former London mayor Boris Johnson, a chief Leave campaigner, and home secretary Theresa May are expected to be key contenders in the leadership battle but other MPs are considering putting themselves forward.

Work and pensions secretary Stephen Crabb announced his leadership bid on Wednesday morning, and said that a key first step for any new leader was to build bridges in the party. "I look at what's happened in our party, the insults, accusations, and I worry about stitching it back together," he said.