Dutch football legend Johan Cruyff, widely considered to be one of the greatest football players of all time, has died of cancer aged 68.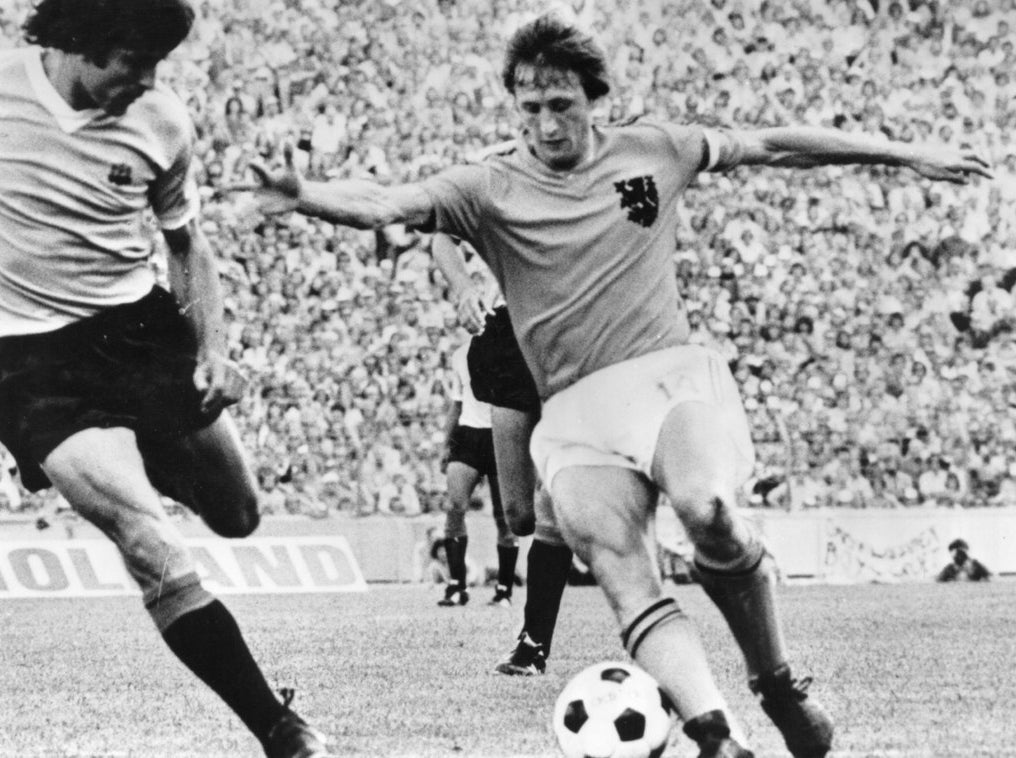 Cruyff in action against Uruguay in 1974.
A statement on his website confirmed his death.
"On March 24 2016 Johan Cruyff died peacefully in Barcelona, surrounded by his family after a hard fought battle with cancer," the statement said.
"It's with great sadness that we ask you to respect the family's privacy during their time of grief."
The former Barcelona, Ajax, and Netherlands star was told that he had lung cancer in October and had been receiving treatment.
He spoke of his optimism about his health last month. "Right now, I have the feeling that I am 2-0 up in the first half of a match that has not finished yet," he said. "But I am sure I will end up winning."
Some of the world's best players and managers have cited Cruyff, who won the Ballon d'Or trophy three times, as having a great influence on their careers.
Xavi, considered to be one of the greatest midfielders of recent years, has spoken about how Cruyff's coaching methods were used at Barcelona.
"Some youth academies worry about winning, we worry about education. You see a kid who lifts his head up, who plays the pass first time, pum, and you think, 'Yep, he'll do.' Bring him in, coach him. Our model was imposed by Cruyff; it's an Ajax model," he said in an interview with The Guardian.
"It's all about rondos [piggy in the middle]. Rondo, rondo, rondo. Every. Single. Day. It's the best exercise there is. You learn responsibility and not to lose the ball. If you lose the ball, you go in the middle. Pum-pum-pum-pum, always one touch. If you go in the middle, it's humiliating, the rest applaud and laugh at you."
Cruyff helped his country reach the World Cup final in 1974, which the Netherlands lost to West Germany 2–1.
Cruyff had a double heart bypass in 1991 and quit smoking after the surgery. He was often seen in the dugout with a lollipop in his managerial days.
Barcelona won four successive La Liga trophies and the European championship when he was manager. His latest managerial spell was with the Catalonian national team. As a player he also helped Ajax win three consecutive European Cup finals, from 1971 to 1973.
People have been sharing clips of Cruyff as a means of paying tribute to him.
Other footballing icons have also paid their respects to him.