EU Referendum Vote Registration Deadline Extended
The decision came after thousands of people were unable to register online when the government's website crashed due to higher-than-expected traffic.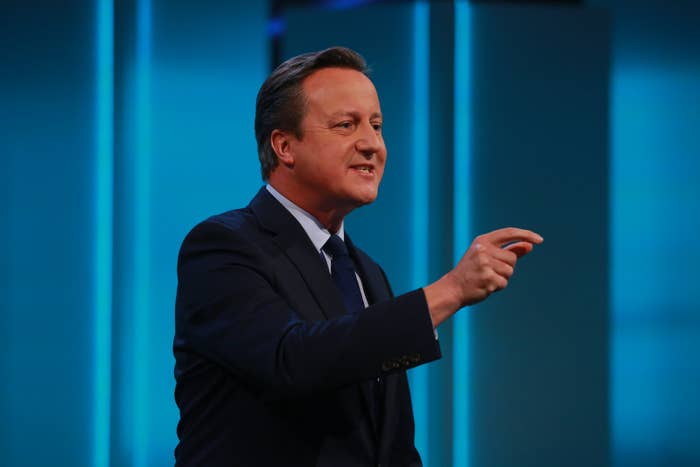 The deadline to register to vote in the EU referendum will be extended to midnight on Thursday, a government minister has announced.
Matt Hancock, minister for the cabinet office, said in a statement on Wednesday that the government plans to bring in emergency legislation to extend the deadline after its website crashed on Tuesday night, leaving thousands of people unable to fill in online applications by the midnight deadline.
"Following discussions with the Electoral Commission and strong cross party support expressed in the House of Commons, we will introduce secondary legislation to extend the deadline for voter registration until midnight tomorrow," Hancock said in a statement.
"Having taken the decision today, we think it is right to extend to midnight tomorrow (9 June) to allow people who have not yet registered time to get the message that registration is still open and get themselves registered."
People can apply to register to vote online. Any applications submitted today will now be eligible for the EU referendum once emergency legislation is passed.
Hancock followed up the statement with a tweet urging voters to register "now" instead of waiting until the deadline at midnight.
MPs will have to vote on passing the emergency legislation but opposition parties have indicated support for supporting the government.

Alex Robertson, director of communications at the Electoral Commission watchdog said: "No one should miss out on voting in this historic referendum because of the problem with the government's registration website last night.
"We said this morning that legislation should be introduced to extend the registration deadline and we're pleased the government will now be making this change."
The first indication that the government would extend the deadline came just before midday on Wednesday, when the prime minister urged voters to register, even though the deadline had passed.
Cameron's remarks came after opposition leaders and the elections watchdog called for an extension to the deadline on Wednesday morning.
"I'm told gov.uk/register-to-vote site has crashed so people can't register to vote for #EUreferendum. If so, deadline has to be extended," Labour leader Jeremy Corbyn said on Twitter last night. His call was echoed by the SNP's Westminster leader and Lib Dem leader Tim Farron.

Voters had been warned that they should register on the government website before midnight last night if they wanted a say in the EU referendum on 23 June.
But less than two hours before the deadline on Tuesday, the website was refusing to let many users submit applications as it struggled to cope with larger-than-average numbers on the site.
The government website tracking voter registration shows exactly when the website crashed.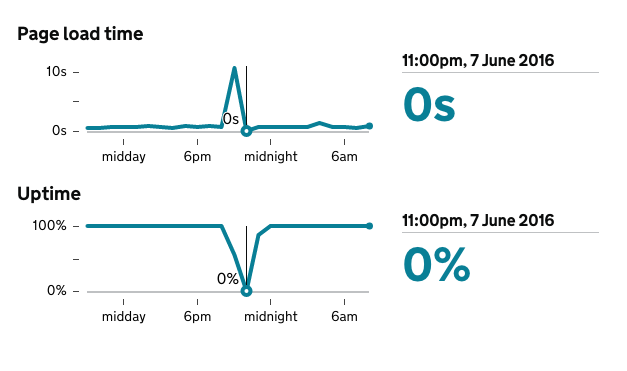 More than 50,000 people were accessing the website at 10:15pm, according to government data.
One individual who tried to register to vote last night told BuzzFeed News he spent two hours trying to register but kept receiving a timeout message. He managed to complete the whole process just after midnight, which means the application to register would be inapplicable for the EU referendum if the deadline wasn't extended.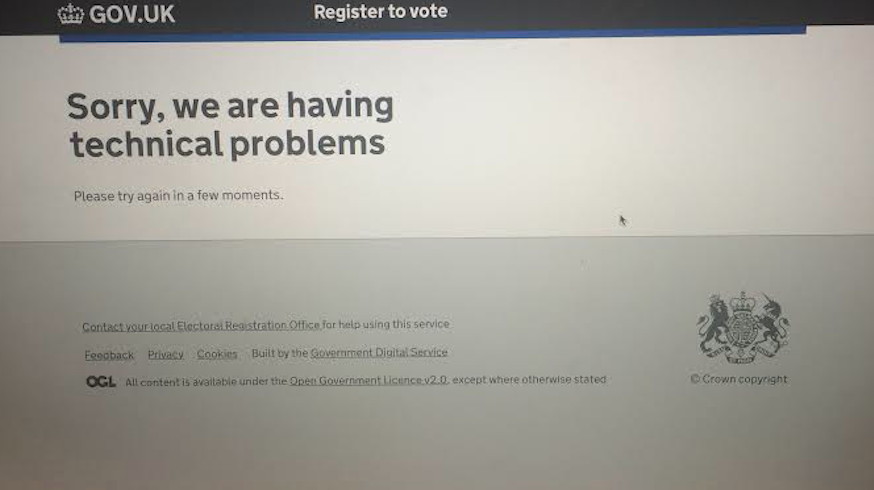 Around 525,000 people submitted applications to register to vote on Tuesday, more than 300,000 of whom were under 35 years old.
Campaigners, particularly those who want Britain to remain in the EU have stressed the importance of registering to vote in recent days. This is because while young people are typically more likely to back Britain's membership of the EU, they are also less likely to turn out to vote.