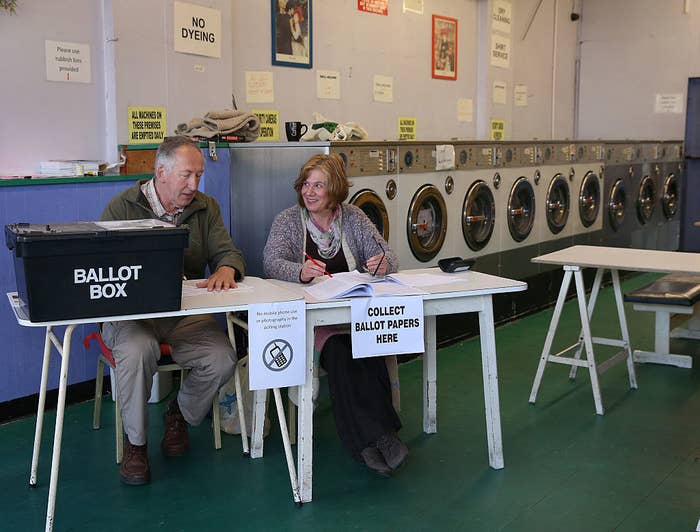 The Electoral Commission expects to receive record numbers of applications to register to vote in the EU referendum before the deadline at midnight tonight.

There has been a surge in the number of people registering to vote in the last five days, particularly those aged under 35, as campaigners urge them to exercise their right to decide on 23 June whether the UK should leave the EU.
Some 226,000 people submitted applications to register on Monday alone, almost 150,000 of whom were under 35 years of age.
However, not all applications to register will be successful – some will be duplicates and others could be filled out incorrectly or not eligible to vote.

Ensuring young voters are registered has been a key goal for the Remain camp, as polls indicate young people typically favour the UK staying in the EU – but are less likely to vote than older people.
Boosting young voters has become even more pressing for Remain campaigners after a series of polls suggested momentum is moving towards the Leave camp. A survey for YouGov carried out for The Times put Remain ahead by only one point, on 43%, compared to 42% for Leave.
The government has published an online tracker of the number of people who have applied to register to vote.
Matt Singh, a political blogger who accurately predicted the results of last year's general election, said the sharp uptick in applications among young people was a positive sign for the Remain camp.
"If we compare it with the penultimate day in 2015 [before the general election], back then there were 124,000 signups, of which 87,000 were under-35s," he told BuzzFeed News.
"Yesterday it was 226,000 total and 148,000 under 35, so in relative terms it looks like young people are getting engaged. It could be that they care about this referendum in a way they wouldn't about partisan politics, but it's hard to be sure.

"On its own, this should help the In side, because younger voters lean heavily their way, by a ratio of something like 2:1."
Singh said the lack of data around the new signups – beyond age range – could actually help the Leave campaign.
"If it's a solid turnout, which is looking increasingly likely, there might also be other 'low probability' voters – like less affluent people and those with lower levels of education, across the age range – signing up and voting in greater numbers, which would probably help Leave."
Turnout has played a central role in analysis of whether Britain will vote to Leave or stay in the EU.
YouGov compiled a list of groups who are strongly in favour of remaining in the EU, such as those aged between 18–39 and London residents. But according to the data, these people are more unlikely to turn out to vote.
About 7.5 million people have not correctly registered to vote, according to the Electoral Commission's latest estimate, and in a speech on Tuesday, the prime minister urged people not to "sit on the sidelines" in the referendum.
People can register to vote at this link until midnight tonight.