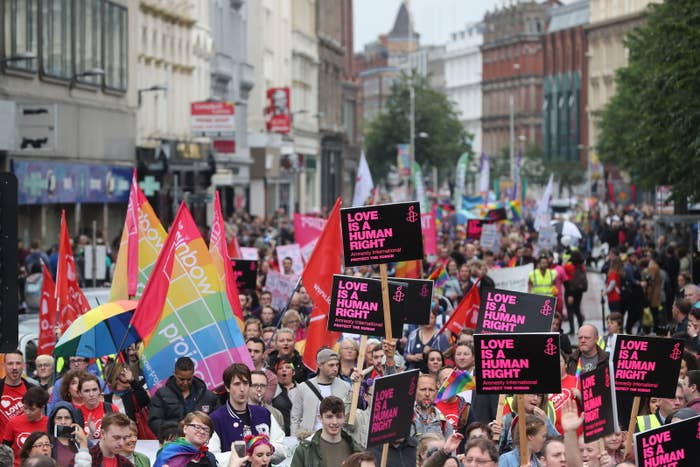 Thousands of people have marched in Belfast to protest against the Democratic Unionist Party blocking marriage equality for same-sex couples in Northern Ireland.

Unlike the rest of the UK and the Republic of Ireland, same-sex couples in Northern Ireland do not have the legal right to marry. Legislation extending equal marriage rights has been brought to the floor of the Northern Irish assembly five times. It has previously failed to gain enough support from politicians at Stormont. However, in November 2015 it received sufficient votes but was subsequently blocked by the DUP using a special veto mechanism that is part of power-sharing structures at Stormont.
Draped in rainbow flags and wielding placards stating "love is a human right", thousands of supporters marched through Belfast from Writer's Square in the Cathedral Quarter, culminating in a rally outside Belfast City Hall.
The rally was led by Northern Irish actor Bronagh Waugh. Speakers who addressed the crowds included local same-sex couples who have been unable to marry, the father of a local gay man, and representatives from trade unions and Amnesty International UK.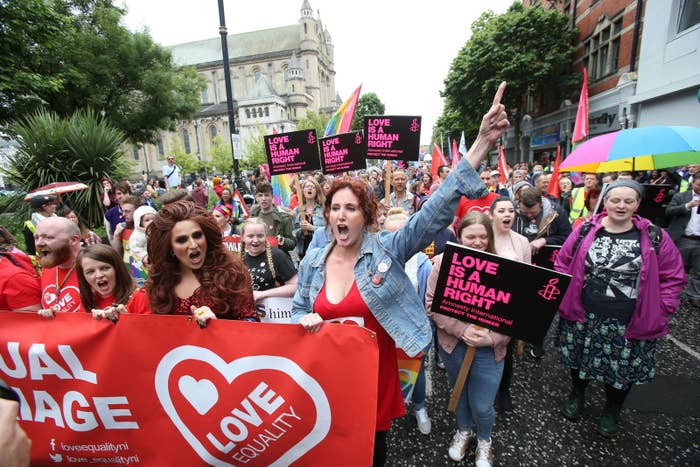 Speakers called on the DUP to end their use of veto and to allow marriage equality to pass. Recently engaged local couple Shane O'Neill and Eoin Griffin told the crowd: "Why do we have to go to England, Wales, Scotland or the South of Ireland to be treated as human beings? We have thought about going down to Dublin to get married or maybe to England, but then it struck us – why should we?"

Gesturing towards Belfast City Hall, they said: "These are our streets, these are our homes, these are our communities. That building behind us is ours, and we're getting married in it."
Dermott Rafferty told the crowd: "I'm the proud father of a gay young man who wants to marry his partner here in Northern Ireland. He should be allowed to get married to the man that he loves."
Waugh, a well-known local actor who starred in BBC drama The Fall, told the rally: "This is not about religion, this is not about politics, this is about human rights. I can feel change coming and we will see equal marriage come finally to Northern Ireland."
Public opinion polls place support for marriage equality in Northern Ireland at around 72%. The majority of Northern Irish political parties support it, including Sinn Féin, the SDLP, Alliance, the Green Party, and People Before Profit.

The DUP remains the only large party in Northern Ireland opposed to marriage equality, reflecting the party's evangelical Christian ethos. A number of DUP politicians have been subject to criticism after making controversial comments about the LGBT community, including suggestions that they are "unnatural", or more likely to abuse children.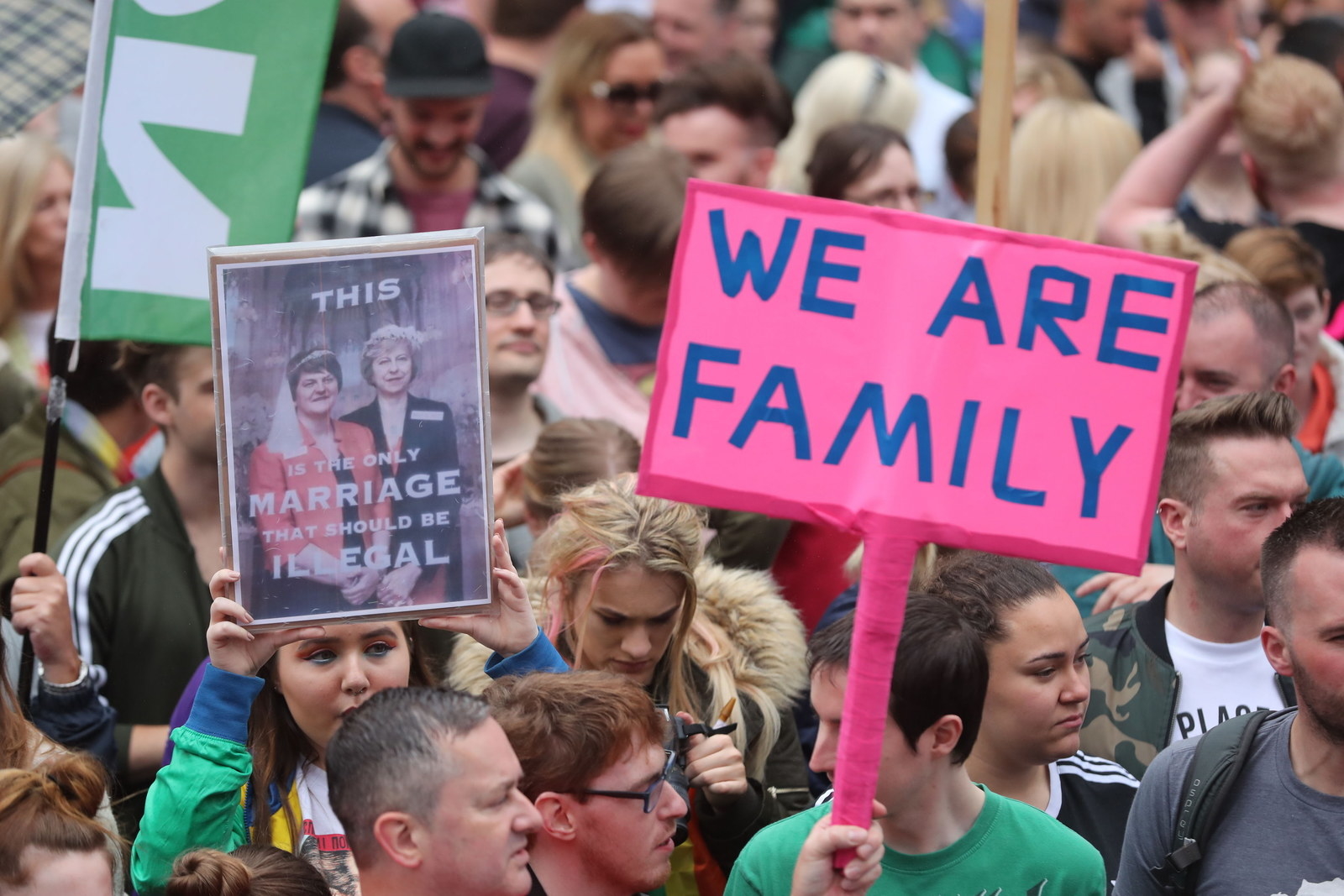 Following news of the DUP's pact to support Theresa May's minority government in Westminster, the party's stance on LGBT rights has come under increased scrutiny.
Leader of the Scottish Conservatives Ruth Davidson said she has sought assurances from the prime minister that the pact would not see LGBT rights rolled back in the rest of the UK.
The power-sharing assembly at Stormont collapsed in January, with talks ongoing between parties in an attempt to restore devolution. If the assembly is restored it is expected that marriage equality will be brought forward again as a private member's bill.
Following a snap election in March, the DUP lost the required number of seats to continue to veto any such legislation. However, it is possible that other parties (particularly from traditional Christian elements of the Ulster Unionist Parties) could defect to help the DUP gain the required numbers, meaning the legislation is still vetoed.
If power-sharing is not restored then direct rule may be imposed from London, upon which focus will turn to politicians at Westminster to pass the bill instead.