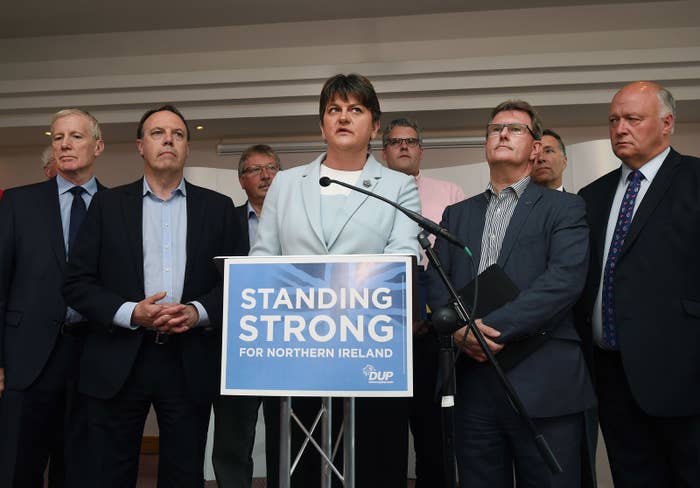 Theresa May's decision to seek an agreement with the Democratic Unionist Party to prop up her government risks causing lasting damage to the Northern Irish peace process, politicians have warned.
After failing to secure enough votes to command a majority at Westminster, May has announced she will attempt to run a minority government through support from the controversial Northern Irish party's 10 MPs.
But Northern Irish politicians say they fear that means Conservatives will no longer be seen as impartial facilitators of the Northern Ireland peace process, endangering ongoing talks to try reach a power-sharing deal in the region.
Northern Ireland is currently without a government as power-sharing between nationalists and unionists collapsed in January. The parties have been in intensive negotiations to reach an agreement to return to power-sharing. The talks were paused during the general election campaign but are due to resume on Monday.
Confirming her party will attend talks on Monday, Sinn Féin's Northern leader Michelle O'Neill said the DUP-Conservative relationship meant nationalists would turn away from the British government and instead look to the Republic of Ireland for impartial support in peace talks. She said: "Nationalist opinion is looking to leadership at home and across Ireland not Britain.
"The current issue of a hung British parliament is transitory. It is no surprise that the DUP have sided with the Tories... They have achieved little propping up Tory governments in the past and put their own interests before those of the people."
Leader of the anti-sectarianism Alliance party Naomi Long said May's reliance on the DUP means there is now a "real danger" no deal will be struck for the parties to return to power-sharing. She said the DUP-Conservative coalition "has made the possibility of successful talks more remote – there is now no credibility for the Tory government to be an independent chair, putting the entire process in real danger of collapsing."
She added: "This region only works on the basis of sharing and interdependence. That is made all the more difficult when one side of the two diametrically opposed parties here has untold influence over the government."
Deputy leader of the Northern Irish Green party Clare Bailey echoed those concerns, telling BuzzFeed News: "The resolution of legacy issues should not be compromised by any arrangement between the DUP and Conservatives. Any British government is not a neutral observer on these matters."
She said the DUP's right-wing, Christian conservative ideology means its views are more extreme than most Northern Irish people, yet may find its views given undue prominence in policy for this parliament because it holds the balance of power. "I would hope that the DUP put the best interests of Northern Ireland forward in any future arrangement with the Conservative party," she said.
"I am concerned about the DUP's track record on equality issues. They have proven themselves to be socially regressive when it comes to LGBTQ matters, women's reproductive rights, and their attitude towards indigenous languages.
"I suspect they will find themselves isolated on these issues in Westminster. It is likely that equality issues could prove a stumbling block going forward."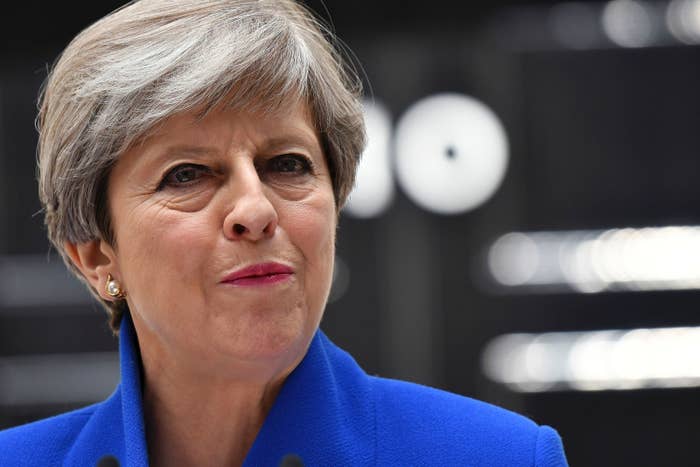 Northern Irish political commentator David McCann told Buzzfeed News: "There is a real danger that this relationship could undermine the 'honest broker' role played by British governments in Northern Ireland. It will be difficult for Sinn Féin to agree a deal with a government which owes its existence to the DUP."
He added that the prospect of a power-sharing deal in the foreseeable future is now thin. "It is unlikely that Stormont will be back in the near future," he said. "Both Sinn Féin and the DUP will hang on before agreeing to reach a final deal – if something happens before Christmas we will be lucky."
The peace process faced a considerable setback in January this year after Sinn Féin pulled out of power-sharing with the DUP following allegations that the latter was involved in a major financial scandal. As power-sharing rules dictate that both parties must both be in power at the same time in order for the institutions to be valid, Sinn Féin's withdrawal meant the DUP also lost its places in government.
In March a snap election was called in a bid to elect a new government willing to return to government; however, the same parties were returned following the poll. The parties have been in intensive talks aimed at restoring power-sharing, but they have so far failed to reach a deal. They currently have until later this month to do so.
May has so far not commented on the exact nature of the DUP-Conservative arrangement, nor on whether the relationship will impact on power-sharing negotiations. In a short statement outside Downing Street after she confirmed that her party had failed to achieve a majority government, she called the DUP "friends" of the Conservatives.
"Our two parties have enjoyed a strong relationship over many years," May said. "And this gives me the confidence to believe that we will be able to work together in the interests of the whole United Kingdom."