Murder Witness Says Theresa May's Reliance On The DUP Is "Utterly Horrifying"
A witness to an Ulster Defence Association killing told BuzzFeed News: "The Conservative party should be ashamed at themselves."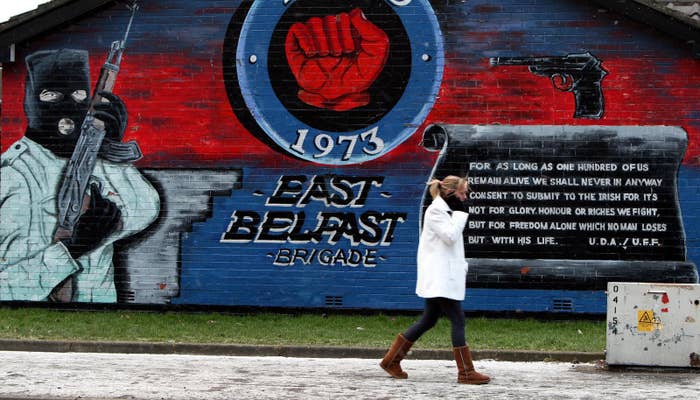 Theresa May's partnership with the Democratic Unionists (DUP) has been condemned as "utterly horrifying" by a witness of an Ulster Defence Association (UDA) killing, due to concerns over the party's alleged links to the terror group.
The DUP has been endorsed by the paramilitary UDA, a loyalist terror gang that has been responsible for much of the bloodshed during the Troubles conflict. The party has since said it did not seek the endorsement and that it completely distances itself from any paramilitary groups.
However, DUP leader Arlene Foster met with a UDA chief during the election, just days after the group is thought to have murdered a man in Northern Ireland, reigniting concerns.
The witness, who grew up in Belfast and who requested to remain anonymous, witnessed the murder of a friend, who was shot dead by the UDA while he was talking to a group of Protestant and Catholic friends. They told BuzzFeed News they were deeply concerned by Theresa May's decision to enter a pact with the party.
They said: "My friend was killed by an organisation who openly support the DUP and their candidates. The Conservative party should be ashamed at themselves for putting a fragile peace at peril. I can imagine that loyalist paramilitaries are delighted. The Good Friday Agreement, something which changed life in my country for the better, is in great peril."
They went on: "I believe that we are walking into the destruction of the Good Friday Agreement, something so seminal, so important for equality of the nationalist and loyalist communities that I fear Mrs May's quest to hold on to power in London signals catastrophe for [Northern Ireland]."
And they added that they were concerned many in Great Britain are unaware of the DUP's alleged links: "Where Sinn Féin are often overt about their connection to the IRA, a violent past, the DUP hide their questionable past connections. They were caught many times on backroom handshakes. I don't see how they could be different now."
The witness called on May to: "Fall on your sword. Call another election. And leave Northern Ireland to get on with governing themselves. We have too much to do to maintain our fragile peace without the UK government becoming sponsors of one side, rather than mentors of the peace."
During the general election campaign, a man was shot dead in Northern Ireland in a supermarket car park in front of his 3-year-old son, in what police believe to be UDA murder.
Less than 48 hours after the supermarket car park murder, Arlene Foster met with a UDA chief, sparking criticism from victims. The paramilitary group also issued a statement during the election campaign backing the DUP.
Today, the prime minister is set to meet Foster in Downing Street to lay out the terms for the DUP's backing for her minority government. May says the DUP will not be able to veto key Conservative policies. Last night she told a meeting of Tory MPs that there would be "no watering down" of LGBT rights as a result of the arrangement with the DUP.