Let's get straight to it, shall we? As you know, Ariana Grande and Pete Davidson are engaged.
But, what you might not know is that Ariana named a song after him on her upcoming album, Sweetener.
It's actually pretty sweet. The song was originally just called "Pete," but she added his last name to the track title. She explained the change to a fan, saying, "I like the way it looks. I love his name and I love him."
Anywayyyy, why am I telling you this? Well, yesterday, Ariana was just minding her own business and interacting with fans on Instagram when a hater commented, "'Pete Davidson' will be the song I will skip all the time." But, don't worry, your fave CLAPPED. BACK.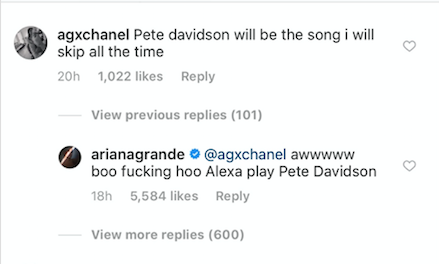 "Awwwww book fucking hoo. Alexa, play 'Pete Davidson." ☠️☠️☠️☠️
Despite Ari's response, the troll came back for more and accused the "God Is A Woman" singer of cheating on her ex-boyfriend Mac Miller, and Ariana was 👏 not 👏 having 👏 it 👏.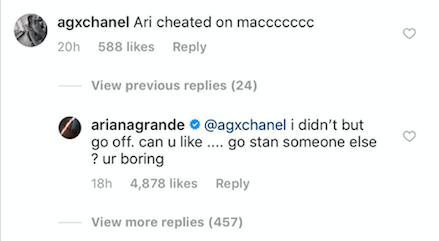 Likeeeee, can we all just agree to be happy for Ariana and Pete?? 'Cause honestly, I'm tired.