Rishi Kapoor: The Casteist, Khandaani, Besharam Boy Of Bollywood
Why I, a female Dalit meme-maker, got an abusive message from the patriarch of Bollywood's largest dynasty.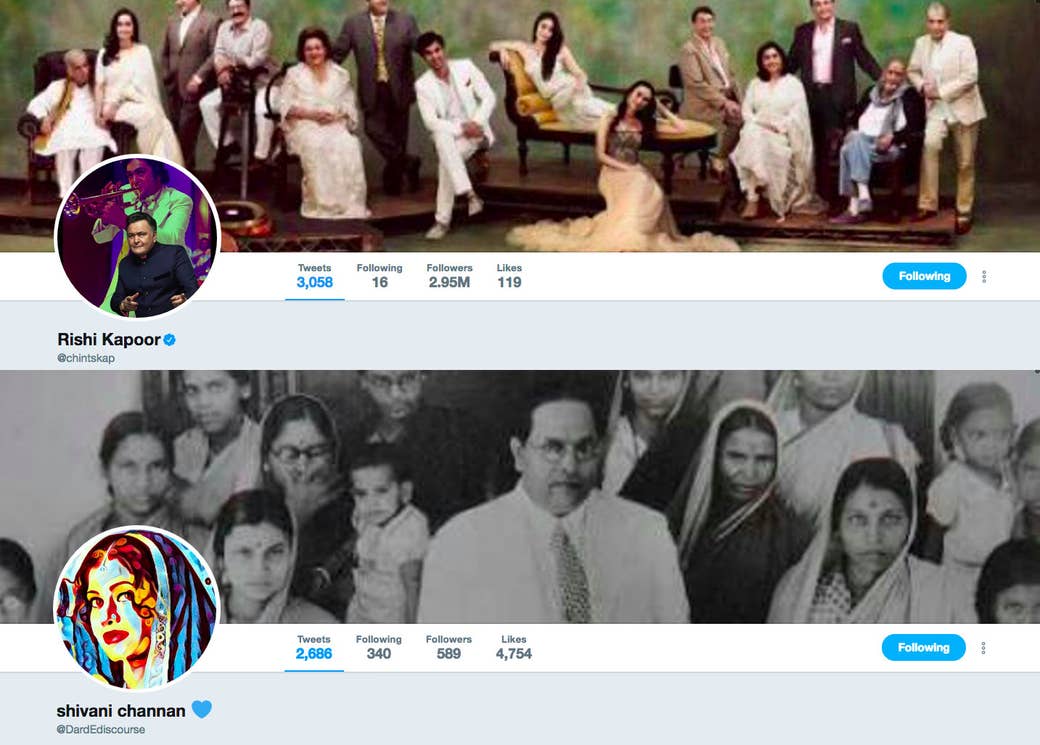 Last week, a besharam Bollywood boi hailed as the choco-romantic lead of his times, had too much whiskey and tweeted at privilege posterboy Rahul Gandhi about his own family's merit.

(His merit is clearly depicted in the phrase "Indian cinema of India".)

Setting aside grammatical mistakes, of which we're all guilty, he came across as a khandaani chauvinist, taking strange pride in the "Kapoor" surname and merit. It was typical of cis hetero savarna uncles who get off on only two things – whiskey and merit-mongering.
This narrative of getting ahead on "merit" reminds me of the snooty savarnas who merit-shamed a young Dalit girl called Anitha, until she took her own life. She, too, was let down by a system that claimed to reward merit even while favouring certain people and excluding others.

Unlike the Kapoors, I am a well-read person and yet zaalim zamana has informed me that my identity is not as likely to succeed as theirs. Close-knit fields, from cricket to the corporate sector, are dominated by hetero savarna males. The Hindi film industry is no exception.

As a savvy person well-versed in Rishi Kapoor's khandaan's mediocrity, I chose to do a Twitter thread on his family, repeating the phrase "eff yo merit".

Meanwhile, he couldn't control his urges to merit-monger. He tweeted again:

"God's grace": a standard elite-hetero-savarana-male's method of denying caste, class and gender privilege.

Hard work is minimal when caste, class, and gender play in your favour at every doorstep you knock at. Superstars often downplay the first chance they got because of their dad's surname. But don't ask them about the importance of that first chance. Ask Bombay's millions of struggling actors.

Success in Bollywood isn't by god's grace or by hard work. It's by caste grace or by class grace. Although according to the khandaan's jamai raja, it was by eugenics. How many fascists can one khandaan have, I wonder?
To call out Rishi Kapoor's merit narrative, I made a meme using an image from "Besharam," a film which clearly showcased the Kapoors' merit in burning their audience's brain cells.

"Nawaz ka badla le liya" refers to a diss he took at Nawazuddin Siddiqui while the latter was struggling. He said Nawaz didn't have the looks or "image" to be a hero. It was because so many chances were given, "by god's grace", to people like Rishi Kapoor's son and Amitabh Bachchan's son, that it took 15 years for Nawaz to make it. Next time a Ranbir Kapoor film flops, remember what merit is: his privilege to flop and still get more chances, while talented actors like Nawaz sell vegetables and work as security guards.

A few days after my tweets and memes calling Rishi Kapoor out for misstating privilege as merit, I received this direct message from him:
After that DM, I was blocked, unable to reply. His technique was like a coward's, who slyly looks for a chance to attack a girl then runs away on a motorbike.

Savarna male comics have joked frequently about how bad Besharam was. Savarna critics reviewed it brutally. Audiences went "thoo thoo". Ranbir Kapoor has joked about that disastrous film a couple of times, and Rishi Kapoor himself has said he regrets doing it. I am far from the first person to joke about the film Besharam.
Rather, what stung him was my attack on their idea of khandaani merit, which the very mediocre but over-privileged family can't stop yapping about.
Why this personal threat in DM for a meme mocking khandaani privilege?
What gives him the audacity to fire those words at me?
Is it because my display picture was Dalit rights activist and pop sensation Ginni Mahi? Or that my cover photo is of my idol, Dr. B.R. Ambedkar, which clearly points at my social location?
Kapoor's touchiness and caste-pride is easily explained. He is deeply Brahminical, as pointed out by Shashi Tharoor in this anecdote he recounts in his HuffPost piece, "Why Caste Won't Disappear From India":
I was a ten-year-old representing the 6th Standard in an inter-class theatrical event at which the 8th Standard's sketch featured "Chintu" (Rishi) Kapoor, younger son of the matinee idol and producer Raj Kapoor, later to become a successful screen heartthrob in his own right. I had acted, elocuted a humorous poem and MCed my class's efforts to generous applause, and the younger Kapoor was either intrigued or disconcerted, for he sought me out the next morning at school.

"Tharoor," he asked me at the head of the steps near the toilet, "what caste are you?"

I blinked my nervousness at the Great Man. "I - - I don't know," I stammered. My father, who never mentioned anyone's religion, let alone caste, had not bothered to enlighten me on such matters.

"You don't know?" the actor's son demanded in astonishment. "What do you mean, you don't know? Everybody knows their own caste."

I shamefacedly confessed I didn't.

"You mean you're not a Brahmin or something?"

I couldn't even avow I was a something. Chintu Kapoor never spoke to me again in school.
After reading that piece, I'm not just suspicious of Rishi Kapoor's caste supremacy, I'm certain of it.
Khandaani privilege is everything to him. It has given extraordinary wealth and public adoration to him and his extended family.
Khandaani privilege allows him to be rude, tasteless, and short-tempered, and still maintain his stardom.
The same privilege allows him to be misogynistic and still be revered. Remember when he fat-shamed Huma Qureshi? And remember his own domestic violence allegations? He also wanted to change the heroine in Wake Up Sid to someone younger, Ranbir Kapoor once said in an interview.
Khandaani privilege allows him to blame directors (and call them "monkeys") for his son's flop movies, because his own son, of course, couldn't be the flopping factor. Eugenics!
Rishi Kapoor couldn't stand me, a girl with "fighting against caste" in her bio and Ambedkar in her cover photo, pointing out how unmeritorious him and his khandaan have actually been.
Because his khandaani privilege, held up by the false and fragile narrative of merit that he keeps pushing in his tweets, is what made him an erstwhile king of the orthodox village called Bollywood.
The author's name has been changed. She is a Dalit meme maker, poet and writer, who tweets at @DardEdiscourse and posts poetry at @shivani.channan. If you are pro-caste and anti-LGBT, you might feature in her next meme.