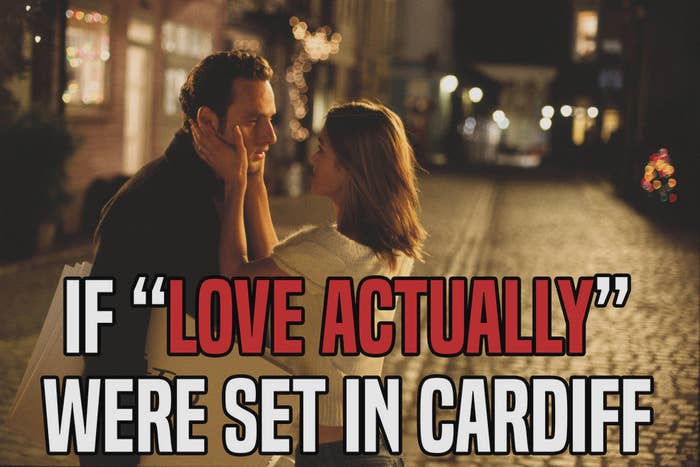 1. "Whenever I feel gutted about the state of the world, I think of the arrivals gate at Cardiff Airport," booms Rob Brydon, who plays the first minister of Wales.
2. As he speaks, we see images of an almost empty airport, with three hen dos staggering blearily off an Amsterdam flight.
3. Shakin' Stevens, playing Billy Mack, is recording a cover of "Love Is All Around", but crowbarring "Nadolig" rather than "Christmas" into the lyrics, resulting in a whole new level of pain.
4. Everyone's like "Shakin', why didn't you just re-record 'Merry Christmas Everyone'?", but he's not having any of it.
5. Daniel is depressed because his wife has just died. He stares lovingly at a photo of the night they met in Rev's.
6. Instead of telling him to "GTF over it" like Emma Thompson's character, Welsh Karen – played by Ruth Jones – has plenty of time for tea, doughnuts, and a sob whenever he fancies it.
7. Although she is slightly distracted when her daughter comes home announcing she's got the role of third leek in the nativity play. "There was more than one leek present at the birth of Jesus?"
8. A plonker called Carwyn is wandering around the offices of Cardiff trying to flog over-priced ciabattas. Everyone's like, "Look, my lovely, if it's not a sausage roll, we're not interested."
9. Stacey off Gavin & Stacey is having her boobs rubbed by Bilbo Baggins in some dodgy studio in Splott. Unclear why.
10. Two bleary-eyed blokes in suits stand at the front of Cardiff Registry Office.
11. "Do you admit the strippers from Swansea were a mistake and it would have been much better if they hadn't turned out to be men?" asks one, uncertainly.
12. As newlyweds Peter and Juliet walk down the aisle, a Welsh male voice choir do a surprise Beatles cover. Relieved, everyone now realises why there were one hundred unfamiliar men in their seventies sitting in the congregation.
13. Jamie, played by Ioan Gruffudd, gets home from the wedding to discover a nasty surprise.
14. "Crack on, big boy, I'm naked and I want you at least twice before Jamie gets back, isn't it?"
15. Carwyn is having equally bad luck chatting up the wedding caterer. "Looks like a dead babi's finger, dunnit?"
16. He decides to move to England, where the chicks will dig his exotic accent.
17. Marc is filming the happy couple on the dancefloor. "I'm not being funny, but are you in love with him or wah?" demands a complete stranger.
18. The stranger, it turns out, is called Sara, and she works for Professor Snape.
19. When Snape orders her to chat up the company's "enigmatic chief designer" she tells him to F-off and mind his own business.
20. Snape gets over it by perving on Mair, an office manager who is seriously into manspreading.
21. "Christ, you haven't got some horrible, tight T-shirt wearing boyfriend have you?" he asks her while planning the Christmas party.
22. "Umm, well that is literally 95% of the guys in Cardiff," she points out, "but I'll just be hanging around the mistletoe, hoping to cop off with basically anyone".
23. Meanwhile, Stacey's still being fondled and making awkward conversation with Bilbo. "The M4 slip road is just murder, isn't it?"
24. At his wife's funeral, Daniel announces that she's chosen to be carried out to "Total Eclipse of the Heart", to shouts of "TUUUUUNE" from the congregation.
25. He cries to Karen about his stepson Sam's grief and she gives him a lovely cwtch rather than heartlessly decrying his behaviour as distinctly unfuckable.
26. Daniel and Sam sit in Cardiff Bay, trying to discuss Sam's problem – he is in love with a schoolgirl called Joanna – while being dive-bombed by a thousand seagulls.
27. Fellow heartbroken moaner Jamie runs off to his parents' holiday home in North Wales, where he starts writing a script to pitch to his mate at BBC Radio Wales.
28. Jamie's cleaner, Arianwen, pretends she can only speak Welsh so she doesn't have to listen to his whinging.
29. At one point, the script he's writing flies off into the lake because *duh* he's in Wales not Mauritius. Arianwen rolls her eyes and heads indoors to watch Pobol Y Cwm.
30. "Where to do you live?" Rob Brydon asks Nia, a member of his staff who everyone agrees needs to gain a few pounds in order to withstand the Welsh winter. "Rumney, the dodgy end," she tells him.
31. The British prime minister visits Wales and gets handsy with Nia. Being from Cardiff, she knows how to handle herself and slaps him in the face.
32. Nevertheless, Rob is horrified. "We may be a small country, but we are a great one. The country of Dylan Thomas, Aneurin Bevan, the Stereophonics, Anthony Hopkins, SuperTed, Gareth Bale's left foot – Gareth Bale's right foot, come to that. From now onwards I'm prepared to be much stronger – and the PM must prepare for that."
33. The prime minister yawns and is like "Yeah whatevs, Wales".
34. Rob Brydon dances around the Welsh Assembly to Tom Jones' "Sex Bomb" to cheer himself up.
35. Juliet pops round to Marc's offering a Burger King in exchange for his wedding video, because the one she paid for came out "all blue and wibbly-wobbly". She explains that she's gonna get Lucy and Rhodri off X-Ray on the case.
36. "I look lush, don't I?"
37. When she realises the whole video is just her face, Juliet is like 'What the bloody hell is wrong with you, boy?" and runs off to tell all the girls in the work toilets what a weirdo he is.
38. Later, Marc Snapchats Juliet a few dickpics with the caption "To me, you are proper tidy" and she phones the police.
39. Mair wears a cowboy hat emblazoned with a glittery red dragon and the words "Welsh bird" to the Christmas party, which is in Walkabout, a place "full of dark corners for doing dark deeds".
40. "Mair's well trashy," Karen comments to Snape. "Don't pretend you haven't noticed."
41. Someone punches the DJ after he decides to play slow tunes while Sara and Karl are dancing. "Screw the ballads, we want 'Proud Mary,'" shouts the entire crowd in unison.
42. Sara takes Karl back to her flat in the Bay, where she quickly runs upstairs and hides her life-size cardboard cut-out of Leigh Halfpenny behind her wardrobe.
43. When Karl finds out Sara has family crap to deal with he's like "Yeah that's fine let's just go to Chiquito's next week instead", because he's not a complete shitbag.
44. The next day, Snape goes to Ann Summers to buy a pair of diamante handcuffs for Mair.
45. Karen cries when she realises the handcuffs aren't for her and Snape has got her another bloody Shirley Bassey CD.
46. "How can he not know I've got this one already?" she sobs into her ill-fitting cardigan.
47. Meanwhile, Carwyn's train arrives at Reading, where he immediately sets out to seduce the ladies.
48. "Berkshire watch out, here comes Carwyn Griffiths!" he shouts, irritatingly. All the girls are like "What? I can't even understand what he's saying" and give him a wide berth.
49. Jamie rocks up at his posh family home in Llandaff only to realise that Arianwen is in fact the love of his life.
50. Unfortunately, all the trains are cancelled due to Christmas engineering works so he'll have to wait until the New Year to go and scare the living daylights out of her.
51. Shakin' Stevens gets to number one and the Welsh celebrate as if they've won the Six Nations.
52. Rob Brydon drives round Rumney singing carols to small children in the hope of locating Nia. When he finally tracks her down, she invites him to the local school play.

53. The school is nowhere near fancy enough to have a backstage area so they end up snogging in the caretaker's cupboard, where an off-duty South Wales Echo photographer spots them and thinks all his Christmases have actually come at once.
54. Sam, who has broken all world records by learning the harp in two weeks in order to impress Joanna, is shocked to discover his seduction plan has failed.
55. Daniel and Sam hotfoot it to Cardiff Airport where the security staff smile at him fondly and say, "Oh sure, pop through and give Joanna a cwtch."
56. Instead of ending at the airport, the film ends in Chippy Lane, because that's where EVERY great night in Cardiff ends.