This is Rob Kardashian. And this is Blac Chyna. They are currently engaged and expecting a daughter. There's been a lot of drama surrounding the couple — Rob is a member of the ancient Kardashian/Jenner clan, who can trace their roots all the way back to 1980s Calabasas, California.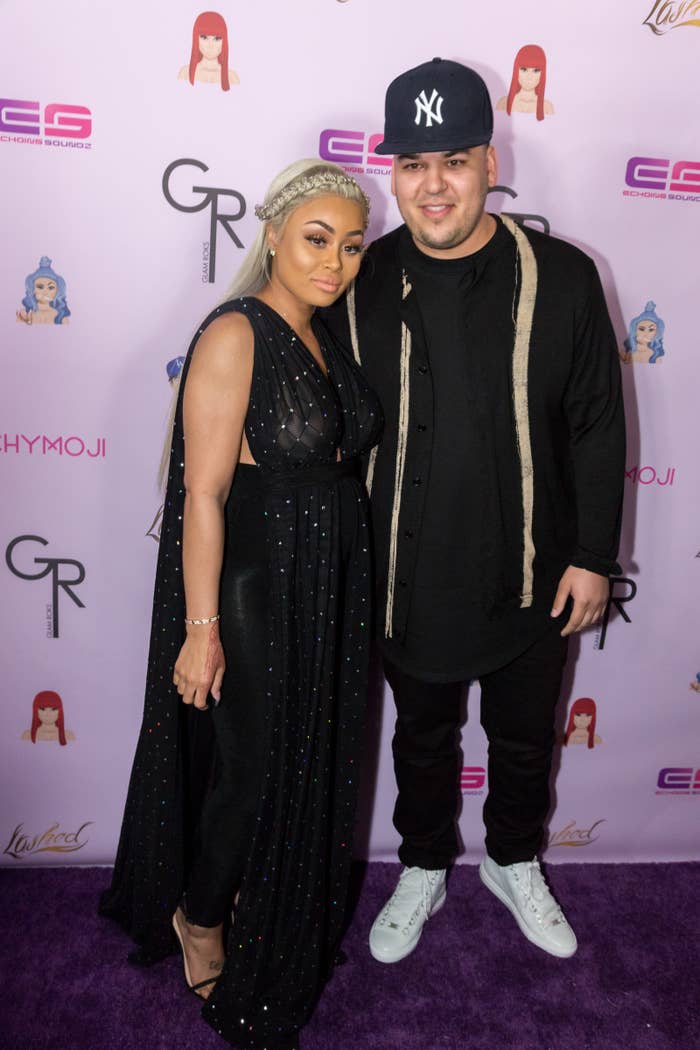 Lemme try to catch you up real quick: Blac Chyna, soon to be Angela Kardashian, used to be engaged to a man named Tyga, who apparently raps. They had a child together named King. During this time, Chyna was BFFs with Kim Kardashian.
But then Tyga and Chyna broke up and Tyga started dating the youngest Kardashian/Jenner, Kylie, when she was still a couple years away from being 18. So when Rob and Chyna got together, shit got real.
Rob and Chyna are currently starring in their own reality series called...Rob & Chyna. Not going to lie, while the two share some cute moments, there are a shit ton of fights.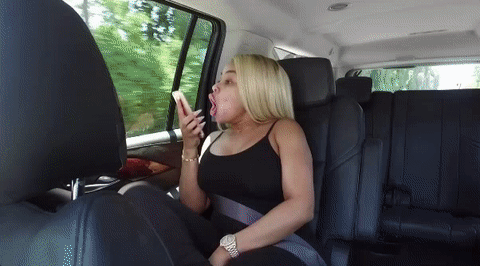 You know who looooooves drama? Talk show host Wendy Williams! She kind of loves talking about it, so she decided to have a lil' chat about Rob and Chyna's relationship on her show.
In the video, Wendy says:
Chyna get 'em. You know my thought is, I really do love Rob and for those of us have been there since the beginning when Rob was thin, when Rob was smarter, when Rob was more of a go... When Rob had more confidence, when Rob was dating Adrienne Bailon and he just seemed to be a different kind of guy. Now Rob has just kind of given up. So as long as he's given up and listen — Chyna comes from the world of the pole. Can we talk? I feel like this is a great come up for Chyna. Not every woman can be marching on Congress or running for president or having a talk show or being a professor at Harvard. There are some women who are left to their own devices and apparently that was Chyna. That's why a woman goes to the pole — can we not laugh about that? can we talk? — and her come up is she runs into this guy and she's taking full advantage of everything. So I'm glad she's not my kin. It's very fun to watch she and her mom, Tokyo Toni, come up off the backs of people who don't see through their ruse. Oh, she's not attracted to him. Rob, and here's my thought with you, Rob. It's not even about Rob being overweight because personally speaking, I like a little something to hold onto and I've met and seen larger guys than Rob. It's about Rob's lack of confidence. A woman likes a man to take control. Gov. Chris Christie over in Jersey is twice as large as Rob even after Lap-Band surgery but he's got a certain manly thing, a certain take charge thing...
Yep, Wendy somehow managed to talk about pole dancing, body image, and Chris Christie all in one speech. She also "tells" Rob, "Put some bass in your voice and don't let her run over you. It's not attractive."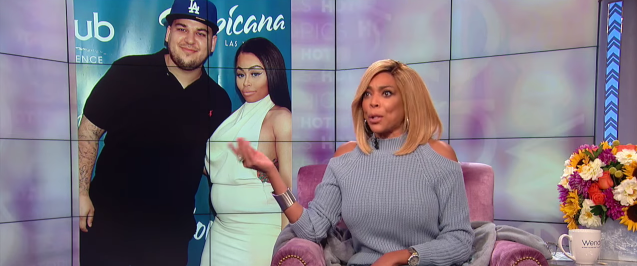 Can we talk? Do you think Chyna liked Wendy's advice? Well, if you guessed, "Hell fucking no," then you are correct! On Instagram, Chyna went O-F-F:
Chyna's caption reads:
Wendy.. Wendy.. Wendy....you lost your motherfuckin mind hoe? How dare you speak on me, my fiancé, and my mom like you were at the Christmas table with us?! I find it so funny how you love to talk about Rob and his insecurities like at a point in time you wasn't a fat 400 pound ass bitch on the radio! You telling him to put some some bass in his voice? You want him to be like Kevin? Right you want Rob to put some bass in his voice and a fist upside my head next right? You want him to be like your husband? Rob is MY MAN! MINE! I love him for who he is which is why we are together. Therefore it doesn't fucking matter what you "Think" or "Want" him to be he's not for you Bitch! Then let's not talk about this Lil vendetta you have with my mom. Wendy Bitch you're cruisin' Honestly, truly.. You go out there talking about my family like you just hit the pipe backstage! When I decided to do this show I knew I would be letting the world see us. But your horse face ass woke up on the wrong side of the stable and decide to go overboard with your fuck boy comments. Bitch fuck you ! "P" body ass hoe 😂 @wendyshow @wendyshow @wendyshow
Wendy has yet to respond, but I'm pretty sure we're all waiting for it.