Kaitlyn Murdock, a 20-year-old college student from Canada, experienced what just about every woman has had to deal with at some point in their life when she went out to celebrate a friend's birthday — unwanted harassment from men.
But then, after the celebration was over and Kaitlyn was alone, another man she didn't know approached her while she was on the phone with a friend and also proceeded to harass her.
@kaitlyn199913 / Via tiktok.com
The TikTok shows Kaitlyn looking visibly uncomfortable while the man asks her if she can give him some "warmth" (EW). She politely tells him she doesn't "have any warmth to give" in order to make him go away.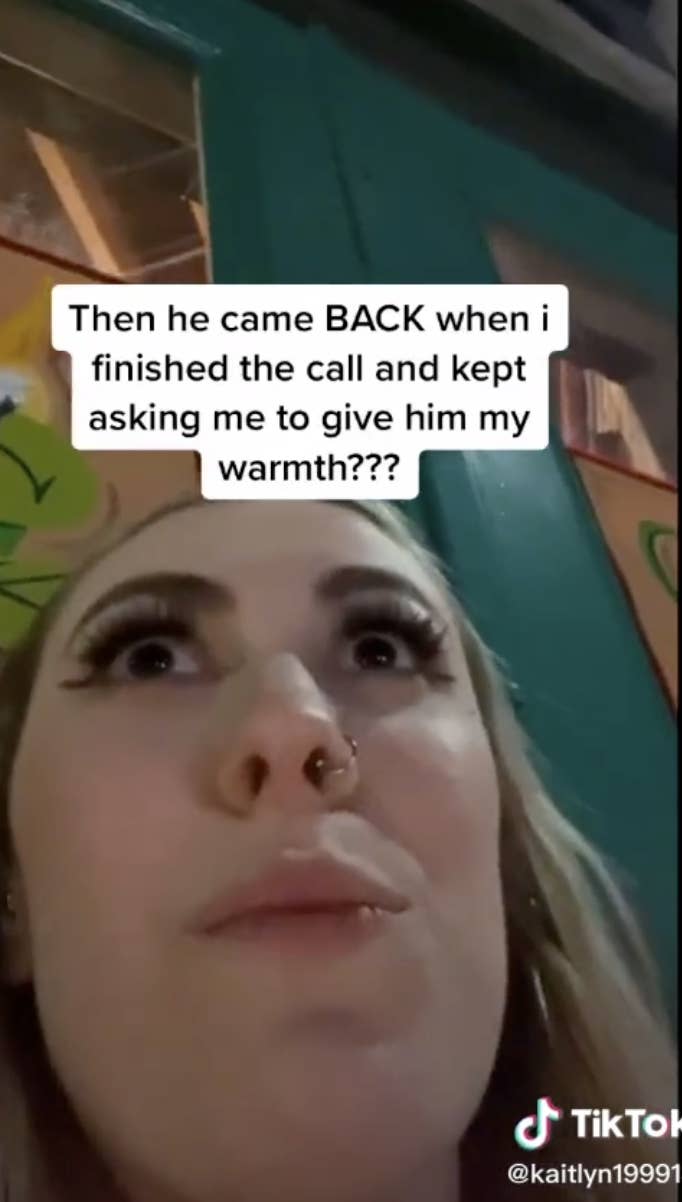 But when he persists, Kaitlyn gets bolder and eventually tells him she doesn't want to have a conversation with him, causing him to get upset and eventually leave, calling her a "bitch."
Kaitlyn told BuzzFeed she originally filmed the video in order to show her friends, as "proof of what he was saying and how unsettling it was," but decided to share it on TikTok to show what women have to go through when they're out in public.
She also hopes that her TikTok will be relatable to other women and inspire them to "come together to raise more awareness of the issue."
If you're a woman reading this, chances are this narrative is wayyy too familiar. And as someone who's had to deal with this exact same thing MANY times, I'd like to commend Kaitlyn for sharing her story. Certified Queen.™
And to all the men out there: Take this as a lesson to keep your eyes, hands, and creepy words to yourself, ESPECIALLY if a woman seems uncomfortable.