LGBT Activists On Trans Student Guidelines: "This Is More Than A Bathroom Issue"
At a rally this week in front of the Stonewall Inn, trans New Yorkers asked for support from the broader LGBT community — something they haven't always gotten.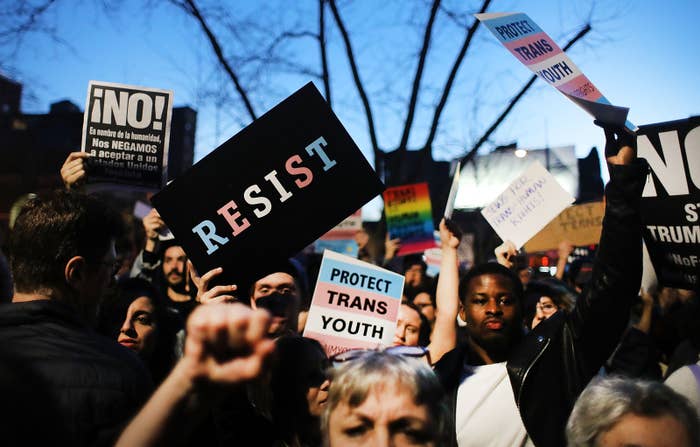 On Thursday night, as dusk fell over Greenwich Village, a crowd of hundreds began to form in front of the Stonewall Inn. It was an unseasonably warm evening, perfect jean jacket weather, and so jean jackets abounded: some covered with pins — pink triangles; the trans pride flag; "not gay as in happy, but queer as in fuck you" — and some covered with back patches, like a set spelling out "QUEER TRANS* RESISTANCE," embellished with lightning bolts. A girl around 6 or 7 wore pink kitten ears and held up a hand-drawn sign: "No cruelty to kids."

An emergency rally had been announced earlier that day in response to the Trump administration's decision on Wednesday to withdraw Obama-era guidelines protecting transgender students. The Department of Justice and Department of Education said in a joint letter to public school officials that they "have decided to withdraw and rescind the … guidance documents in order to further and more completely consider the legal issues involved." Against a backdrop of public outcry, the White House defended the move on Thursday; press secretary Sean Spicer repeatedly referred to the concerns of trans students in bathrooms as "a states rights issue."
In response to the rollbacks, several states — New York included — made it clear they would continue to enforce bans on trans discrimination in schools. Amy Spitalnick, a spokesperson for New York Attorney General Eric Schneiderman, told BuzzFeed News on Wednesday that trans students in New York will still be protected by Title IX (which prevents discrimination on the basis of sex) and other state laws, including the Dignity for All Students Act: "The Attorney General will continue to ensure that Title IX and New York's own civil rights protections are enforced, because we know that policies that ensure equality for transgender New Yorkers promote safe and inclusive schools, workplaces, and communities — benefiting everyone."
Long before the guidance withdrawals, many trans kids in New York and across the country have struggled to thrive. Nearly half of trans and gender-nonconforming young people have considered suicide, and 25% have made an attempt. According to one GLSEN study, an organization devoted to promoting safe schools for students of all sexual orientations and gender identities, 75% of trans young people say they feel unsafe at school. Trans youth who are bullied, misgendered, or forced to dress and act in a way that doesn't correspond with their gender identity report that everything from their grades to their mental health are negatively impacted.
"An attack on one trans person is an attack on the entire LGBT community. This is more than a bathroom issue — this is a human and civil rights issue that needs to be addressed in this country."
The immediate future of trans protections in schools goes beyond the actions of Trump administration. Several states are considering new anti-trans bathroom bills this year. The Supreme Court will also soon hear a critical challenge over trans rights, brought by a trans student in Virginia named Gavin Grimm; Grimm sued his school district over its policy stating that students must use the bathroom that corresponds with their biological sex.
In front of Stonewall, New Yorkers gathered to send the message that they would stand up for trans kids. Many held signs distributed by GLSEN, while others went the homemade route. After nightfall, one sign rigged with rainbow lighting still shone brightly in the darkness: "TRANS YOUTH ARE LOVED."
A young couple was giving out rainbow "RESIST" signs to whoever came empty-handed. Mataya Josephson, who is trans, and his girlfriend Kerri George were there to show their support for trans rights, and to "fight harder for who Trump thinks is the weakest." When asked for a photo, they held up their signs and gave each other a kiss.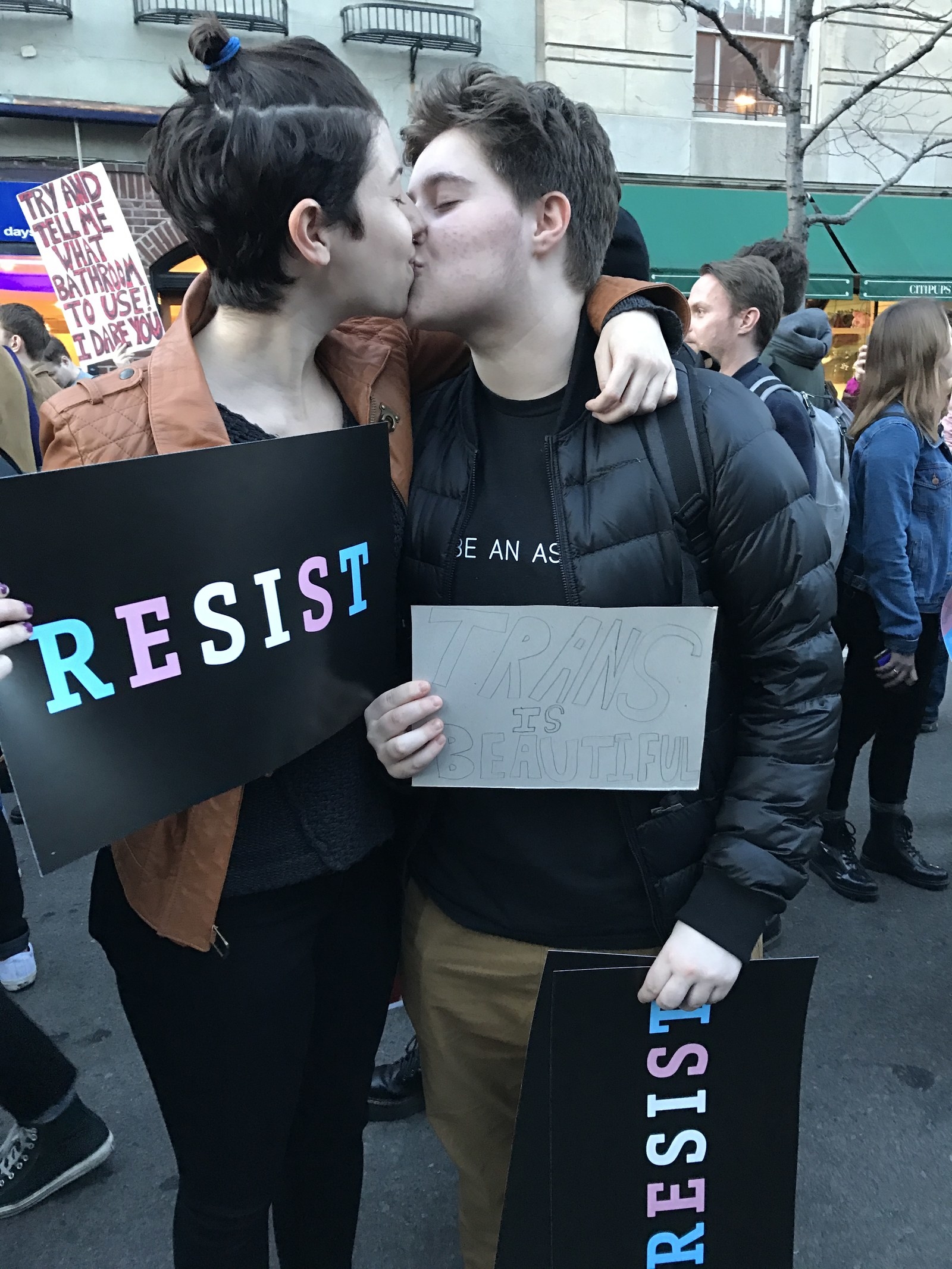 The crowd was made up of couples and friend groups, families and protesters riding solo, trans people and queer people and their allies. Tanya Walker, a co-founder of the New York Trans Advocacy Group, addressed the crowd: "An attack on one trans person is an attack on the entire LGBT community. This is more than a bathroom issue — this is a human and civil rights issue that needs to be addressed in this country."
Other speakers — including politicians and officials like Manhattan Borough president Gale Brewer and Congressman Jerrold Nadler, as well as representatives from the Trans Education Fund, the Anti-Violence Project, and the city's LGBT Center — made similar points. So did Laverne Cox, speaking on Hardball and quoting American Civil Liberties Union lawyer Chase Strangio on Thursday: "These anti-trans bathroom bills are not really about bathrooms; they're about whether or not we want and believe that trans people have a right to exist in public space."
The most successful anti-trans campaigns, which have been gaining extraordinary momentum in recent years, have always relegated actual trans people to the shadows. In 2015, Houston voters repealed a city anti-discrimination law that protected LGBT people and others, largely thanks to Christian conservative messaging which alleged the law would allow men to prey on girls in women's bathrooms. Millions in LGBT advocacy funding wasn't able to topple the bugbear of the trans predator — and hasn't been able to since — even though trans people are overwhelmingly often the victims, rather than the perpetrators, of violence and harassment in public restrooms.
The rally at Stonewall, like other protests that have swept across the country since the election, physically legitimized the reality of both trans existence and trans resistance. Mothers of trans children spoke at the lectern, decrying the administration's decision. Sadie, an 8-year-old trans girl, stood at her mother's side, holding her own sign: "Please let me use the girl's room." Among a sea of "PROTECT TRANS YOUTH" messages waved in the air, trans kids were not just theoretical pawns for a spirited debate between pundits or politicians, but real, live children, holding their parents' hands and standing up for other kids like them.
Geena Rocero, the model and trans advocate, spoke about growing up in the Philippines, where, she said, her femininity was constantly policed, but she stayed true to herself anyway. "Trans youth and gender-nonconforming youth know who they are," she said. "We have to affirm them."
"Trans youth and gender-nonconforming youth know who they are. We have to affirm them."
It's been nearly 50 years since patrons at Stonewall — led by trans women of color, femmes, drag queens, and butch lesbians — incited a rebellion in response to police raids at one of the few bars where queer people could openly be themselves. In 2015, hundreds of revelers gathered at the site of the riots to celebrate the Supreme Court's marriage equality decision; a year later, Obama declared Stonewall a national monument. But long after the first brick was thrown in 1969, trans people (particularly trans people of color) are still facing monumental health and economic disparities, even as many continue to be on the forefront of LGBT rights organizing — and even as the broader LGBT rights movement so often fails the community's most vulnerable members.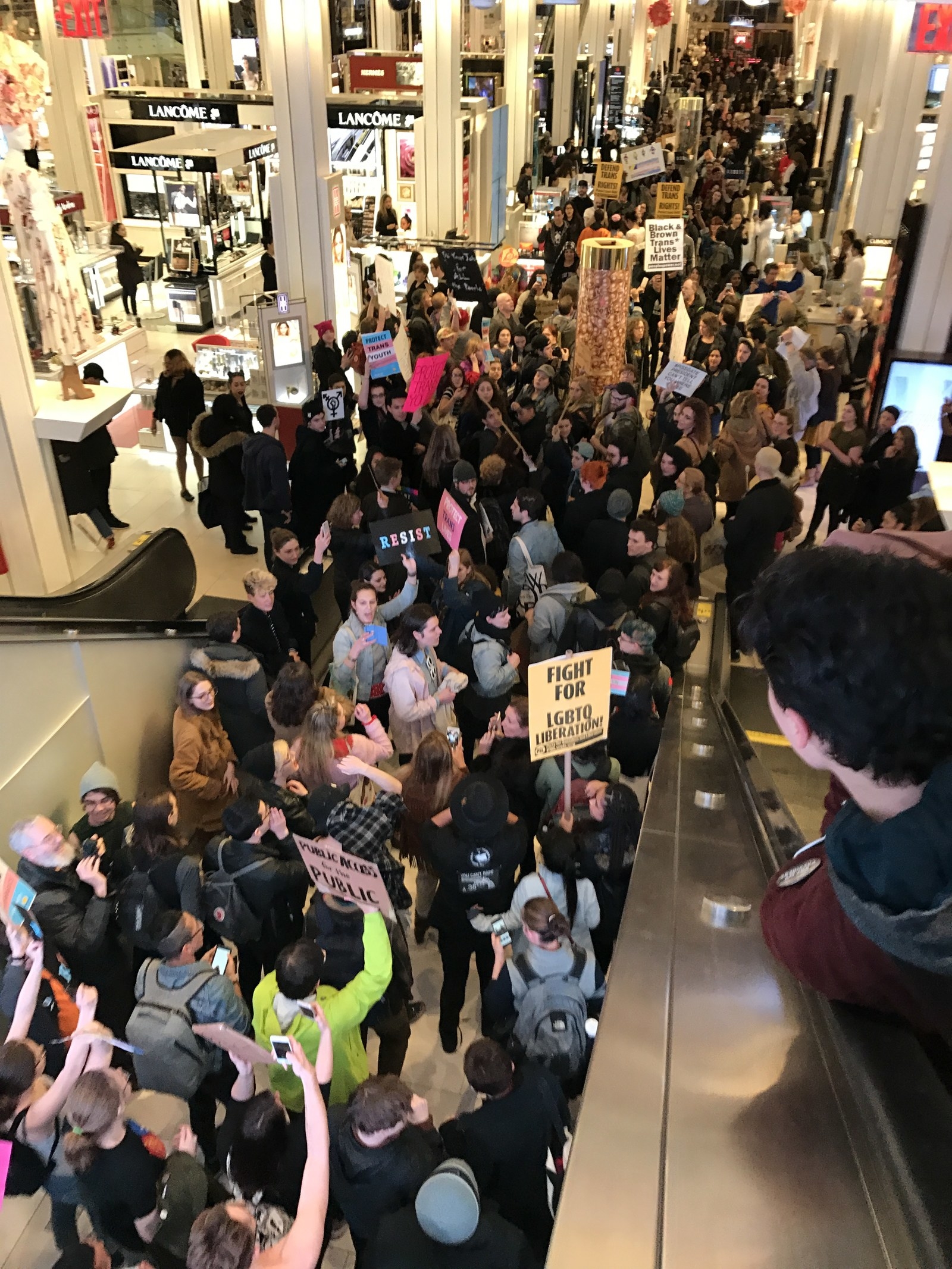 Sasha Washington, a performer and trans activist, was one of the last people to take the mic. After a dozen speeches that cast New York City as a bastion of progressiveness and resistance, Washington's speech was sobering: "I'm not going to sugarcoat this," she said. "We all knew this was coming. I have to keep it real. We do not all get along in NYC." She lambasted nonprofits who use trans people to make themselves look good, or to fill a quota, but don't use enough of their resources to help trans people who are barely hanging on. "We need to help each other get employment — we need to come together and stop fighting each other. We need our LGBTQI...ABZ to help us."
The mainstream LGBT rights movement has long since put trans issues on the backburner. Now, certain cisgender gay people seem more concerned with whether Trump will roll back marriage equality than the latest trans rights crisis, while other cis gays consider having sex — something they already do anyway, mostly in the privacy of their own homes — the greatest possible act of resistance to mass injustice. Debate rages on about what actually counts as meaningful activism in the Trump era, and at Stonewall, New Yorkers had to decide where they'd go from here.
After the official speeches ended, chants of "March! March! March!" swept a few hundred people up Eighth Avenue, chanting and banging drums and, in at least one person's case, spiritedly playing a tuba. An enormous group spilled into the Macy's on 34th Street to the bewilderment of evening shoppers, taking up residence on the first floor for a few impromptu speeches. "Cis people!" someone screamed. "Step the fuck up!" Cheers exploded in the makeup aisle. Stepping the fuck up will involve more than just marching, but trans allies had their call to arms.