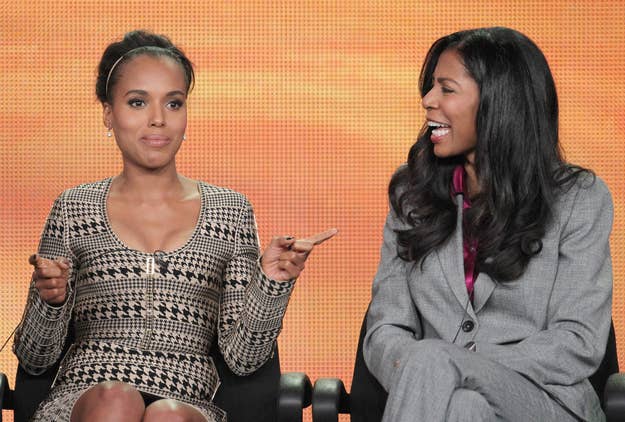 Today marks the start of a rough few weeks for the gladiators among us — "gladiators" being the term used to describe hardcore fans of Shonda Rhimes' surprise ABC hit Scandal. Tonight will be the first of three Thursdays without a new installment before it wraps the second season with seven sure-to-be-insane episodes, starting March 21.
The lack of a new episode is doubly disappointing for many of Scandal's viewers, who will have to find something else to talk about on Twitter tonight.
If you follow the right people on Twitter, at around 10 p.m. on Thursdays you'll likely be overwhelmed with Scandal tweets. Some are coherent, some are just exclamations or emoji with the hashtag #scandal attached. Watching the show unfold on Twitter is a visceral experience that gets more intense each week. In January, Scandal was generating about 2,200 tweets a minute, or 132,000 an episode. And because of its viral nature, Scandal's appeal to a wider audience has only grown — an unusual feat for a drama in the current television landscape.
Using tweets to monitor television watching is about to go legit. Nielsen — the company that tracks popularity of shows — is planning to start rating television through a partnership with Twitter. The new program won't launch until this fall, but ABC told BuzzFeed their internal numbers found that a stunning 221,747 tweets were sent during the Feb. 21 episode, "Boom Goes The Dynamite."
It's not a coincidence that the episode also made Scandal the number one scripted drama on Twitter last Thursday (and number two overall, after American Idol).
A quick catch-up for the uninitiated: Scandal is the story of Olivia Pope, a Washington "fixer" who runs a crisis management firm that is called upon in each episode to solve the problems of the nation's political elite. Olivia, played by Kerry Washington, is based on actual Washington fixer Judy Smith — a woman who worked for George H.W. Bush's administration, and later with clients like Monica Lewinsky and Michael Vick.
Some of the show's plots are ripped from the headlines, often with a twist: the intern who sleeps with the president (she ends up pregnant, then is killed), the conservative hero who turns out to be gay (he comes out, proudly). But Olivia's messy personal life is the core of the show, and that's where things get wild. Her turn as the president's off-and-on mistress is only the tip of the iceberg.
Nielsen notes that Scandal is the top show among African Americans, after American Idol. And it's no secret that black people use Twitter disproportionately. Which means it's not a surprise that Twitter would become a hotbed for talking about the first show in decades that features an African American woman as the lead.
But Scandal's buzz and the ratings are also thanks to calculated moves by the show's staff, who are clearly picking up on social media trends. Cast and crew tweet using #AskScandal and other plot-related hashtags while it's on the air, and even some of the show's promos mention Twitter.
Rhimes recently told The Hollywood Reporter, "People heard about the show from other people — Oprah Winfrey heard about it from Twitter — and that got other people watching. That really helped us."
What's fascinating is how Scandal's popularity has spread beyond a core of dedicated black viewers.
Part of the show's success is likely due to its refusal to buy into stereotypical racial dynamics. The cast is diverse, but everyone is at about the same level of crazy. And only a handful of lines have ever referred to the fact that Olivia is black and her lover, Republican President Fitzgerald Grant is white. Though when they land, they really land:
The upside to this tack is obvious: When done right, a diverse cast and a black lead can add up to a hit show. And it's a sign to networks and advertisers that the race of the stars isn't a barrier to picking up a wider audience. Ultimately, that could lead to better representation. (On the other hand, NBC premiered a midseason replacement in January starring black actress Meagan Good — but Deception, which feels like a combination of Revenge, Scandal, and Veronica Mars, seems to be suffering from the network's current ratings curse.)
Since the show debuted, it's become clear that Scandal and Twitter are a match made in heaven — and a model other dramas might want to emulate. Even tonight, while the show is on hiatus, its cast isn't taking a break:
Correction: this story misstated the number of episodes remaining in season two.