2.

Are you currently serving as Minister of State for Democratic Reform and Minister of Employment and Social Development?

Twitter: @pierrepoilievre

In spirit, absolutely yes.

This government staunchly defends and celebrates the right of Canadians to pronounce words and proper nouns in any way that they see fit.

For years, tactics like these have been employed by elites within Canada's Media Party to disparage the core values of everyday Canadians.

The prospect of Justin Trudeau's untested leadership threatens our very economic freedom as a people.

Our very economic freedom is, as a people, threatened by the prospect of Justin Trudeau's untested leadership.

9.

OK, not only were those not "Yes" or "No" answers and completely unrelated to the question asked, they were also functionally identical.

Twitter: @pierrepoilievre

Being Prime Minister is not an entry level job.

Can we trust the Democratic Socialists not to raise taxes to 100%?

Do we know Justin Trudeau won't give in to calls from jihadi extremists and online predators to cancel income splitting for Canadian families?

When I sit down with everyday Canadians at their kitchen table, they want to talk about kitchen table issues, like the government's new Kitchen Table Tax Credit*.

(*Pending Parliamentary Approval)

12.

You're right, of course not. That was silly. Changing gears, do you find that strong magnets cause you to forget information or interfere with your ability to communicate?

Twitter: @pierrepoilievre

For too long, the Canadian Audio-Visual Production industry has been isolated from free market success by cumbersome and restrictive government handouts.

The second half of 2001: A Space Odyssey.

15.

...can you read this?

01001110 01101111 00100000 01110011 01100101 01110010 01101001 01101111 01110101 01110011 01101100 01111001 00100000 01100001 01110010 01100101 00100000 01111001 01101111 01110101 00100000 01100001 00100000 01110010 01101111 01100010 01101111 01110100
Are You Pierre Poilievre?
You got:

Yes, you are quite likely Pierre Poilievre
Congratulations on your impending winter Cabinet/Shadow Cabinet appointment!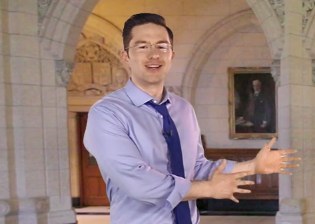 You got:

No, you are probably not Pierre Poilievre
You are almost certainly not Pierre Poilievre. If you believe you received this message in error, please contact CSIS directly.