We Illustrated Some Of The Weirdest Moments From "My Dad Wrote A Porno"
"I'm Cristina. And here's my ass."
by
,
My Dad Wrote a Porno, the hit British podcast where a guy called Jamie Morton reads out his dad's erotic fiction to his friends Alice Levine and James Cooper, is currently on its third season.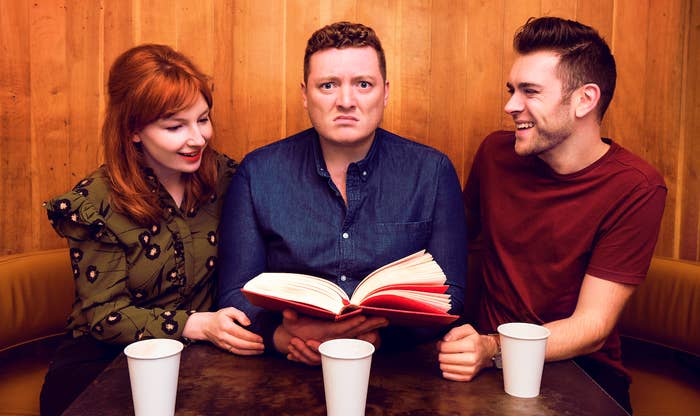 As well as attracting guests like Daisy Ridley and Michael Sheen on to their podcast they're now performing and reading chapters aloud onstage. Last week they were at the Royal Festival Hall in London. Later this year they'll be at the Sydney Opera House in Australia.
"My Dad Wrote a Porno could have been quite a one-trick-pony, gimmicky thing, which to be fair we probably expected," says Morton. "What we didn't expect was the fact that my dad created this world that people get so invested in that they're there for the whole story now… That's been the most surprising thing about this whole thing."
Last year we illustrated some of the most WTF passages of the first book: lines like "her tits hung freely, like pomegranates" and a crude simile about the 3-inch rivets that held the Titanic together. And we've decided to do it again. We found six of our favourite excerpts, illustrated them, and got Morton and Cooper to tell us their thoughts.
1. "'I'm Cristina. And here's my ass.' Cristina quickly pulled down her skirt and knickers and bent over to allow Belinda to rub her tits over her ass cheeks."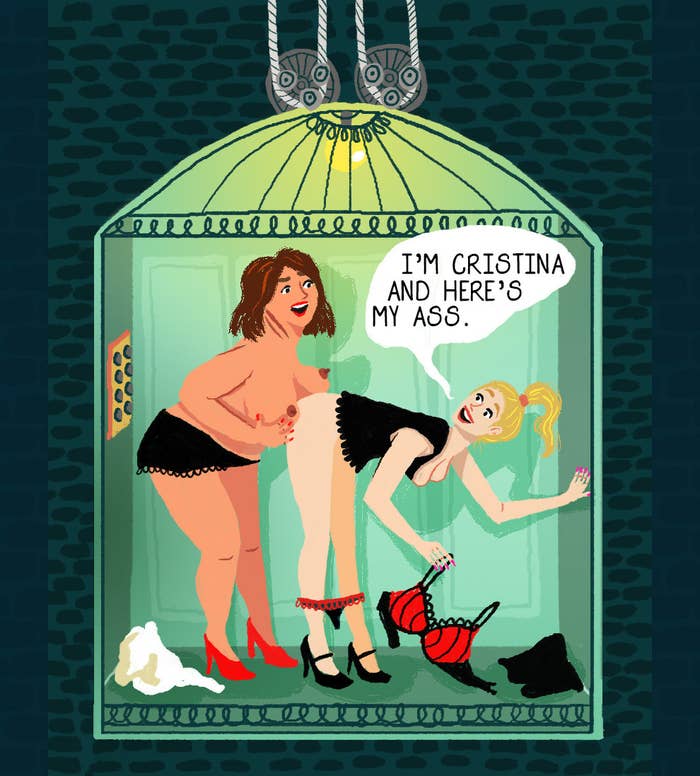 James Cooper: Now you see it for real...

Jamie Morton: Rubbing her tits.
JC: It's weird!
JM: That's an odd fetish, isn't it, that? But you know, it is probably up there with the most iconic of introductions in all of literature.
2. "Hazel started to move her fitted, tight skirt up her thighs and Belinda unbuttoned a lower section of her blouse. A change in the note of the engine prompted Hazel to say: 'We're halfway back, the plane started to descend. Rub my clit Belinda, please.'"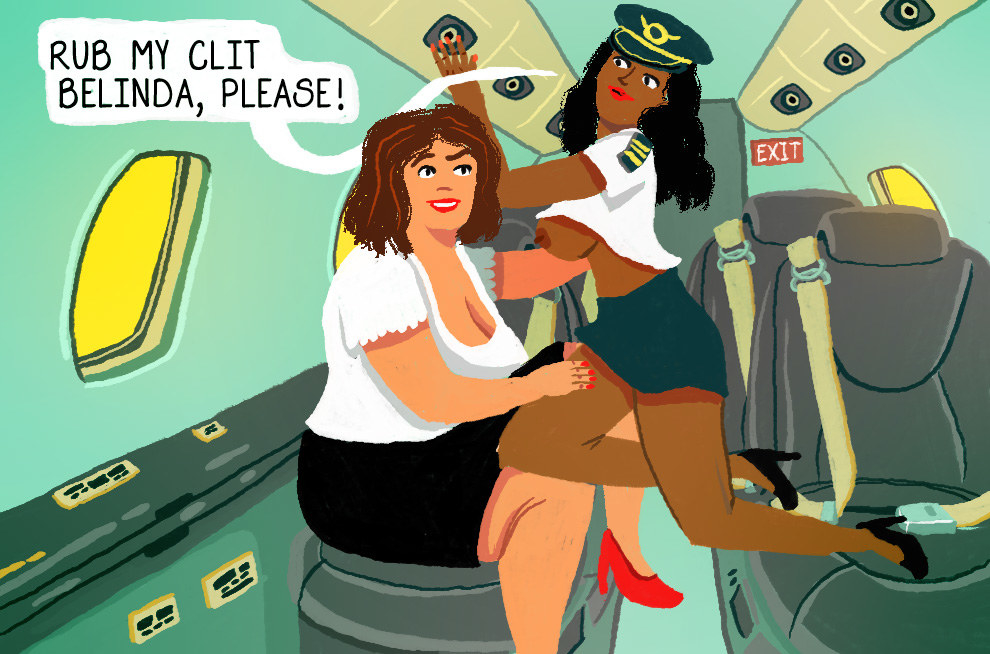 JC: In this picture it seems that there was no one else on this flight, when there were definitely other people on this flight. This is not appropriate behaviour.
JM: But do you know what? It was only going to be a matter of time before Dad weaved in the Mile High Club. It was going to happen at some point.
JC: But yeah, normally people just go into toilets or, like, go somewhere a bit discreet.
JM: Hazel's one of my favourite periphery characters, because she kind of appeared then disappeared then came back then went away again. I think this is someone that my dad is obviously still attached to, but obviously not enough to give her a lead role.
BuzzFeed: She just never seems to fly a plane, despite being on one.
JC: And obviously she is on every flight. She seems to fly every plane, long or short-haul.
JM: She does it all and she's only a copilot.

3. "A small spiral staircase led up to a cramped area above the first class passenger section ... Hazel headed immediately to B3, and went inside. To their surprise the whole area was a large bed, nothing else, but it was big enough for three people... B3. 'Does B3 mean Bonking capacity for three people?' 'Exactly', replied Hazel, 'Do you think us air crew are stupid?'"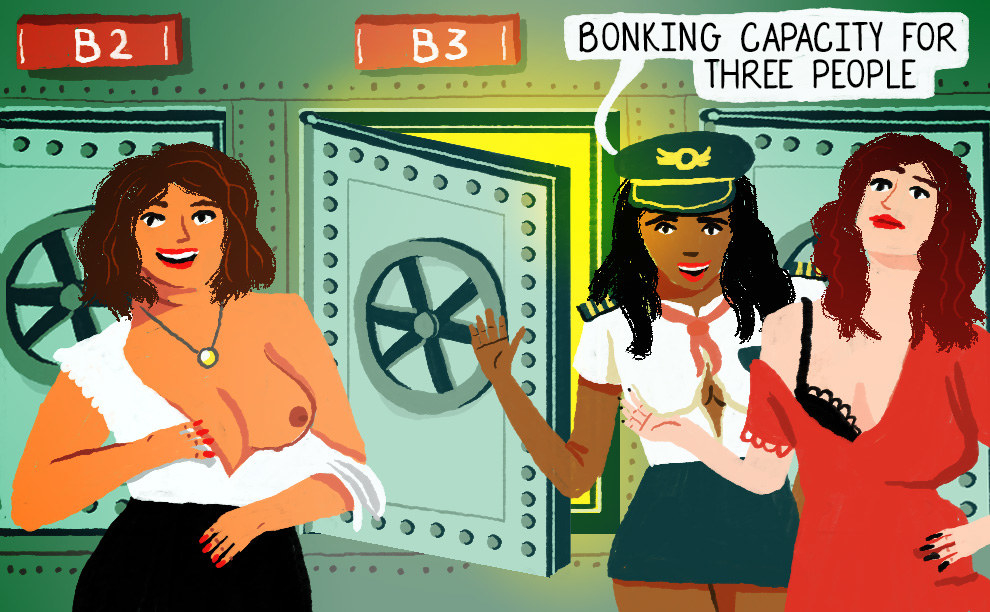 JM: This is an example of my dad's imagination, because apparently we chastised him for there being no rooms on planes…
JC: We thought that this doesn't exist.
JM: Turns out it does exist.
JC: Well, they are not for bonking.
JM: No, but there are rooms above the plane, which I actually saw. I flew back from Australia quite recently and I saw an air hostess walk into a cupboard and there was a spiral staircase that she walked up and I was like "Goddamnit, my dad. He's a genius." Who knew?
BuzzFeed: I guess after that podcast went out, you got a lot of feedback from people saying that you were wrong.
JM: So much.
JC: Still now. Still we get emails.
4. "The intensity of the situation was too much even for a Madame of her quality and she soon fell back on the leather sofa. 'Fuck me, Grigor, Belinda, come down and give me my feast.'"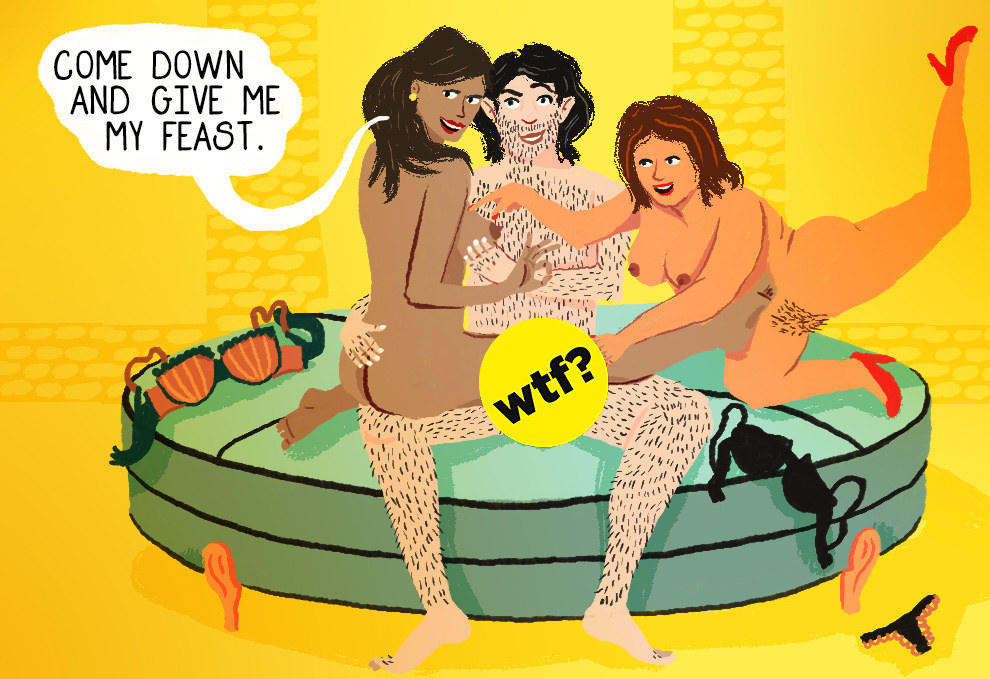 JC: Fucking hell.

JM: Oh god.
JC: There is a lot to talk about here.... It feels like we're the spectators watching through the window cos this is literally what was happening. They were being watched through a window, so this is what they could see, which is disturbing.
JM: You know what, what I like about this whole scenario was that this was the first time I felt my dad actually had a twist that worked, with the reveal of them being watched, because so often when the sex happens and then it's like "thanks for that, see you later" or "never see you again" as the case may be. But this one actually had a cause and effect to the sex, which caused outrage…
JC: Look at the size of Grigor's BALLS! Fucking hell! They're huge!
5. "Belinda gave into nature, not once but twice before the inevitable blue ejaculation cut across their dreams."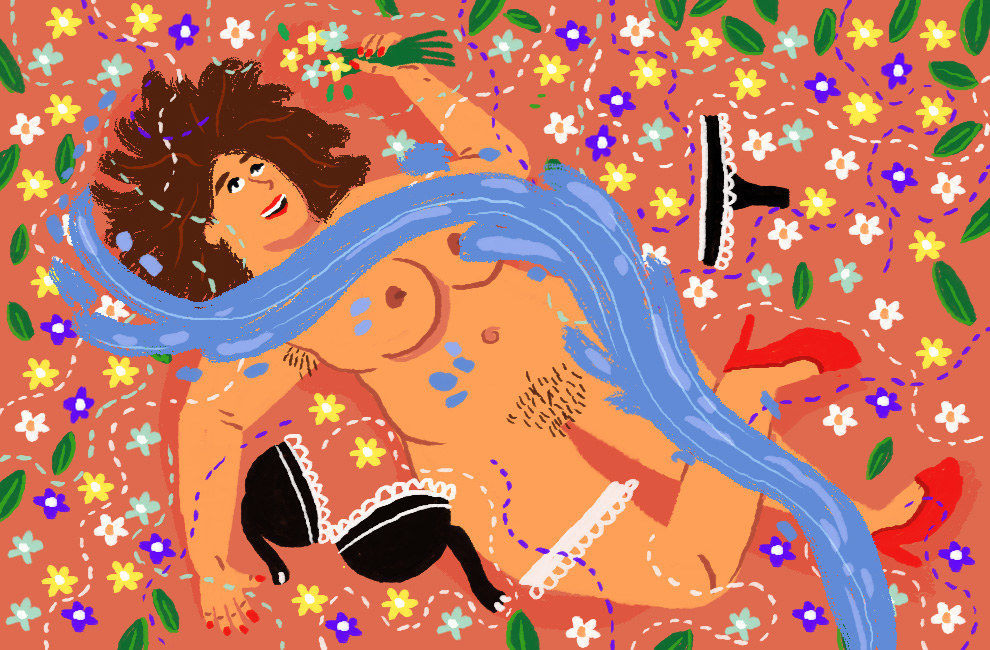 JM: I really feel like this was a moment when the podcast went into a different realm.
JC: A different genre!
JM: Because everything up to this point could have happened, like, it's physically possible. I'm not convinced blue semen is possible. Or even a cock transplant.
6. "In fact, everyone here today is going home with a non-stick tin wok. If you look under your seats."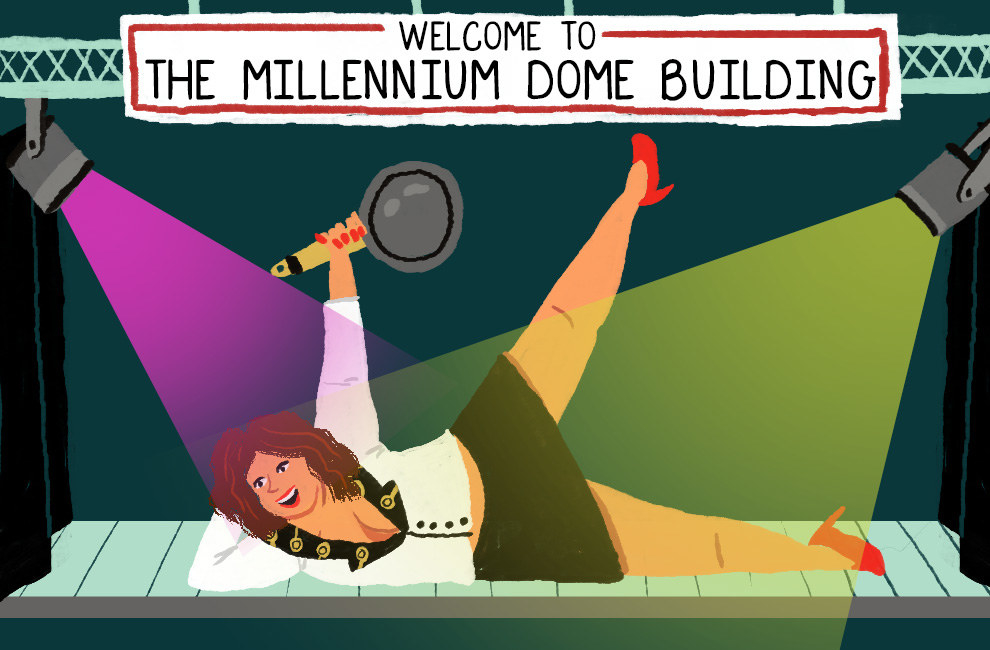 JC: So basically, she did this 12, 13-second speech at the Millennium Dome building. She said her name and the name of her company and then she said 'If you look under your seats you will find a free non-stick tin wok', which must have cost her company a fortune.
JM: She is the worst sales director in history. She's sold nothing but she's given away 20,000 non-stick tin woks.
JC: She hasn't brought in that many orders since she's been there. She's given away more than she's sold.
JM: I just like that she's joined the likes of Adele and Beyoncé, Lady Gaga in playing there. That's quite an achievement. Even for a fictional character.
BuzzFeed: Have you ever found out what a tin wok is?
JM: I am not sure it exists. I am not sure if you should ever cook with tin. I think it is quite an old-fashioned metal.
JC: Non-stick though.
JM: This has become the stand-out moment of book three by far. I think this is the thing so far that has really stayed with people.
JC: When Céline Dion was recently playing at the O2 and things like that, people tweet us under their seats and are like "Can't see a wok!"