Inside The New BBC "Radio 1 Breakfast Show" With Greg James
BuzzFeed News went behind the scenes as Greg James and his team prepared to take over the Radio 1 Breakfast Show, widely regarded as the most prestigious job in British radio.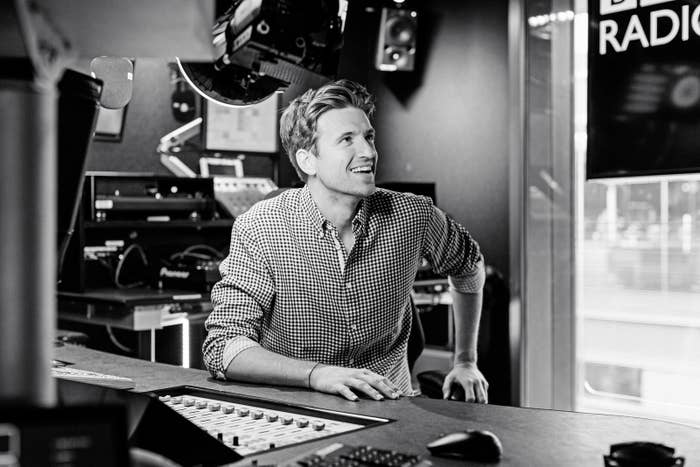 Radio 1 Breakfast With Greg James has been already broadcasting for nearly a week to absolutely nobody, on purpose. The radio show doesn't leave the building. They're pilots, to see how well the new show works, and for the team to get used to the jingles. The texts are fake, the callers aren't real (some of them are staff members calling within the office), and, weirder still, they've been producing these shows from 6:30 to 10 a.m. — the time of day the show will actually air.

"We're going to get so confused next week when we're going to be referencing things from this fake week," Greg James told BuzzFeed News in the BBC Radio 1 studio. "'Remember last week when'... nope of course you don't."
Next week, Greg officially takes over as host of the Radio 1 Breakfast Show, regarded as the most prestigious job in British radio. BuzzFeed News joined Greg, longtime producer Chris Sawyer, and new producer Will Foster, as well as new assistant producers Nichola Ntim and Daisy Jarrett, to review that day's fake show.
Clips were replayed in the studio. First on the list for discussion: a new quiz where a listener had to correctly answer questions on pop culture. To me, the quiz sounded great. To the team? Not there yet. "I was within two seconds of going 'Ah fuck it, let's start again,'" Greg said. The quiz timer didn't work, the tension music didn't sound quite right, and they couldn't just stop — they treat these fake shows as if they're live. "But it shows we can still do it even if there's a mess-up" Daisy said. The preamble is tweaked. They contemplate replacing the entire quiz concept. Then, as quickly as the feature would have aired on the radio, it's on to the next thing.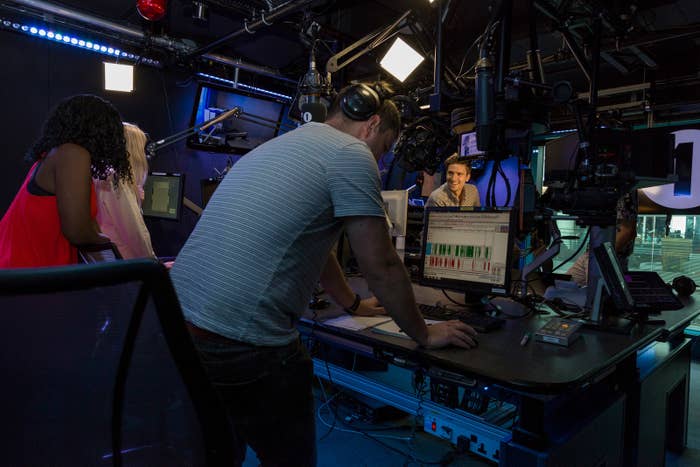 They have access to an A-list celebrity for an interview. What can they do with them? Make this A-lister read the BBC News in the studio with the autocue? Make them do the weather? "I think we have got everyone on our side, in this building, with our policy of doing stupid stuff all the time," Chris said. And if the talent can only do a straight interview because of the restrictions by a publicist? It might be not worth doing anything. The point is to get the star into the show's world, not the other way round — the interview has to track with the feel of the show. "It's weirdly more impressive to get a big A-lister to do something stupid than just having an A-lister on," Greg said. "Even when we had [David] Attenborough on we formatted it and made him into a Radio 1 DJ."
Nick Grimshaw, who has spent six years hosting Radio 1 Breakfast, positioned the show at the heart of celebrity culture. He regularly discussed his famous gang of friends, and kept viewers up-to-date with his showbiz antics with Pixie Geldof and Harry Styles via Instagram. In fact, Harry Styles once famously copresented a show with Nick the morning after the Brit Awards. Greg, on the other hand, who has been on Radio 1 since he was 21 and presented the drivetime show for six years, has a different outlook on celebrity. He prefers to act like he's as much of an outsider as his listeners. "I always think that if you join the circus, you can't take the piss out of the circus, because you're in it," Greg explained. In fact, last year Greg and his team decided to present their warm-up Brit Awards coverage from their usual studio, rather than on the red carpet. They lightly took the piss and enjoyed it more. "We actually decided it was a far better way of covering the Brits being back here, laughing at everyone making idiots of themselves," Chris said.
Making listeners, not celebrities, the focus of the show has been a mainstay across Greg's presenting history at Radio 1. Case in point: The time when Greg took a listener's advice and bought a four-slice toaster in which to cook fish fingers live on air. Or the time a listener found a lookalike of him in a painting from 1866 so he enlisted amateur artists to re-create the scene by painting him in full costume, while broadcasting. "One of our favourite things is to take something that is innocuous and nothing, and then exploding it," Greg said.
In fact, Greg's previous show was known for driving listener interaction to, quite frankly, absurd levels. His last stunt, shortly before leaving the drive time slot, featured him and Nick Grimshaw playing the "biggest game of hide and seek." They went to a secret location and gave subtle on-air clues to find them. Texts from listeners went into overdrive. Reddit threads were created in a bid to work it out. Other Radio 1 staff didn't know where they were. There were conspiracy theories. Not even Greg's fiancé, Bella, had a clue where he was. With Greg and Nick's commitment to carry on until they were found, the game lasted more than 22 hours, with time for a kip in the middle. It was eventually revealed that they'd been hunkering down in the Liver Building in Liverpool all along. The timing of the stunt was not coincidental. The scale of the audience interaction then is a sign of what's to come with this new show, even if it is unpredictable as hell to produce.
And of course, you can spin this form of listener interaction into something more meaningful too. Earlier this year Greg took part in the Gregathlon: Pedal to the Peaks, a Sport Relief challenge in aid of mental health charities, where he climbed the Three Peaks and then, even more arduously, cycled between them over five days. In circumstances that not even the team could have predicted, the mission had to be temporarily abandoned due to poor weather conditions caused by the Beast From the East. But with the focus on mental health, and Greg opening up about his experiences during the challenge, listeners began doing the same. Greg went on to complete the challenge two weeks later and raised over £1 million for charity. By that point, the story was less about physical endurance and more a national conversation about mental health.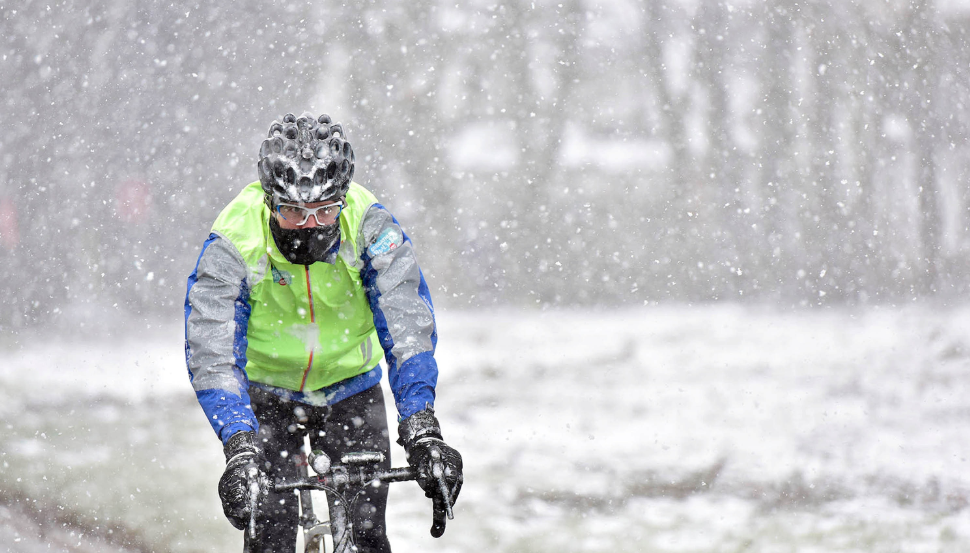 With the listeners at the core of the show, Greg's next challenge is to grow the audience. Nick Grimshaw was introduced in a bid to attract a younger audience after growing concerns that, at 30, the average age of a Radio 1 listener was too old. As a result, the audience went into decline. In October last year, the Radio 1 Breakfast Show recorded its worst ever listening figures according to RAJAR, a figure that has since slightly improved. The BBC management has defended the decline, pointing towards the success of the social media accounts and YouTube videos as being new drivers of the station's success.

When asked about this, James emphasised that it is their ambition to increase listeners as much as possible, but not be distracted by aiming for a specific audience: "Naturally with the music that we play and the things that we talk about, traditionally you would say it appeals to a certain age group. But if you're interested in funny things, pop culture, and guests, I'm not saying you have to be a certain age to listen or not listen. That's quite dangerous. If you want to listen to Radio 1, you shouldn't feel guilty about it."

It was also the case, growing up, he never cared how old the DJs were. "I never gave a shit about how old my favourite people on the radio were. Until you get to the BBC and they start talking about demographics, you never think about it."
He said there won't be an accurate representation of how well the show is performing for a while, as listeners get accustomed to the new show. "What really, really excites me is the idea that somebody listening on that Monday who has never heard of me or even Radio 1, I think that's cool. I keep that in my head."
"A couple of years ago I was sort of over the idea of getting the Breakfast Show."
And there are daily challenges for the team as well. On the drivetime slot they were able to riff on social media news that had been bubbling throughout the day, or on memes that everyone had been taking the piss out of. Now they have to collate some of it at 5 a.m. "You have to be really disciplined about it," Chris said. "There's only going to be ever five minutes to scroll through Instagram and that's it." The team has got into the habit of sharing stuff to one another just before they head to bed. "There's a little habit of where our mad WhatsApp group is now late-night ramblings of Oh my god have you seen..." Greg said.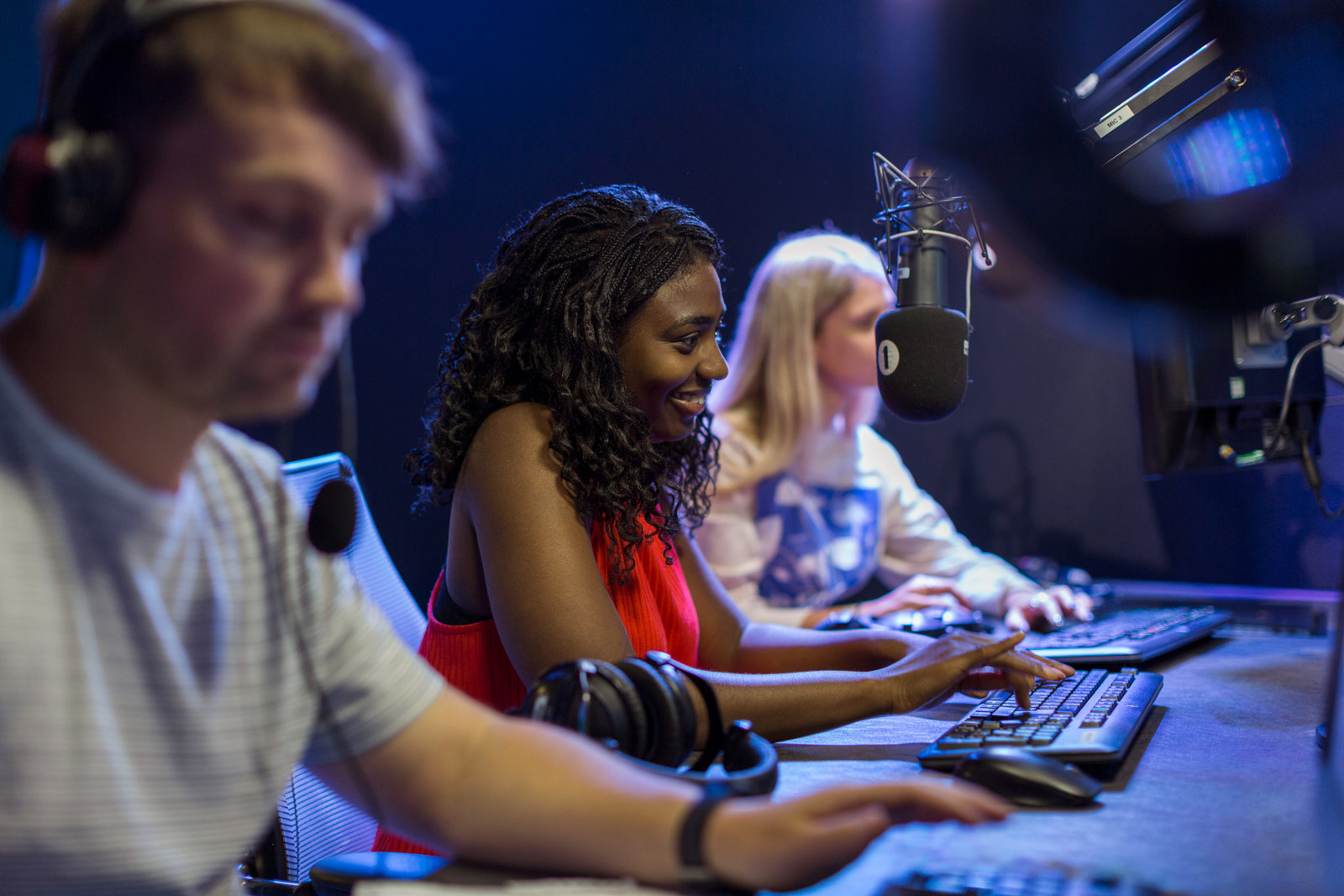 It's a challenge Greg never thought he would have. "A couple of years ago I was sort of over the idea of getting the Breakfast Show. I was like, 'I'm happy if I get it, I'm happy if I don't get it,' because you shouldn't be so dependent on things for your happiness. If I get it I'm going to give it everything and have such an amazing time and it would be a complete honour. If I don't get it, I'm happy. I have still got a really great job."
When Chris Moyles, Radio 1's longest-serving Breakfast Show host, stepped down from the role in 2012, it was widely speculated that the position would be handed to Greg who had just taken over drivetime. Of course, in the end it went to Nick Grimshaw — something Greg is glad about on reflection. "I absolutely wasn't ready for it. I was barely ready for the drive time show," he said. "There was a lot of chat about, 'Oh is he going to replace Moyles,' and actually I knew I was never going to replace Moyles because I had just been given this new show and I also didn't really want to, but I read it and thought Oh shit maybe I do want to, maybe I should act like I do or something. And that's just immaturity.
"I just didn't know myself. I didn't know enough about the world and radio and now I feel like I do."
At the time, Greg stopped thinking about it, and started knuckling down to shape his show into the best it could be.

"The minute I stopped giving a shit about it, it all happened because I was focused on just doing a good job and having fun," he said. "It's funny that when you stop worrying about something. It's like a relationship, isn't it? The minute you stop looking for a boyfriend or girlfriend it tends to be the time when someone comes along."
Radio 1 Breakfast Show With Greg James starts on Monday, Aug. 20, from 6:30 to 10am on BBC Radio 1.